Organize your trip to Argentina
Visiting Patagonia has always been a dream of ours and that has only grown over time due to the passionate tales of people that went here. While we were planning our two-week trip to Patagonia in March, we quickly realized that we needed to cut back on stops and destinations, because the country is just too big. First of all, we decided to stick to Argentine Patagonia, since Chile still had some stricter entry rules due to COVID.
As for the planning of the trip, the only activity that we needed to book in advance was the hike on the Perito Moreno glacier. If you'd like to hike on the glacier, you will have to book with the Hielo y Aventura agency which is the only one to own the permission to step on the glacier. Places are obviously limited with the purpose of preserving the glacier and they sell out quickly, especially in the case of the long hikes called Big Ice, for which only 10 people are allowed per group, whereas for the shorter hike called Mini trekking, the availability of places is higher. Both hikes include the bus trip from El Calafate, the tour on the boardwalk with view on the glacier and the 20-minute-long boat trip under the glacier leading you to the starting point of the hike. Only the type of hike differs: the mini trekking only includes a 3-hour hike, of which 1 hour 30 is on the glacier itself, while the long hike includes a 5-hour trek, of which 3 hours are spent on the glacier. Please note that the mini trekking is not available from beginning of June until mid-July, while the long hike is not available from beginning of May until mid-September.

You can also visit the glacier without doing the hike. Hielo y Aventura, just like many other agencies, offers all kinds of visits.
This trip to Patagonia did not include many stops; we only slept in three cities, apart from Buenos Aires where we landed: El Calafate, from which the tour of the Perito Moreno glacier departs, El Chaltén, the perfect destination for all hike lovers and Ushuaia, the main city in the Tierra del Fuego, the southernmost province of South America.
After having read some travel blogs, we also decided to add an overnight stay in an Estancia. Estancias are ranches with huge land plots located in the Patagonian steppe. Following the advices of a couple of travel blogs, we picked the Estancia La Estela, because of its handy location in between El Chaltén and El Calafate and because they organise horseback riding tours, which was another thing we wanted to do during this trip in Argentina.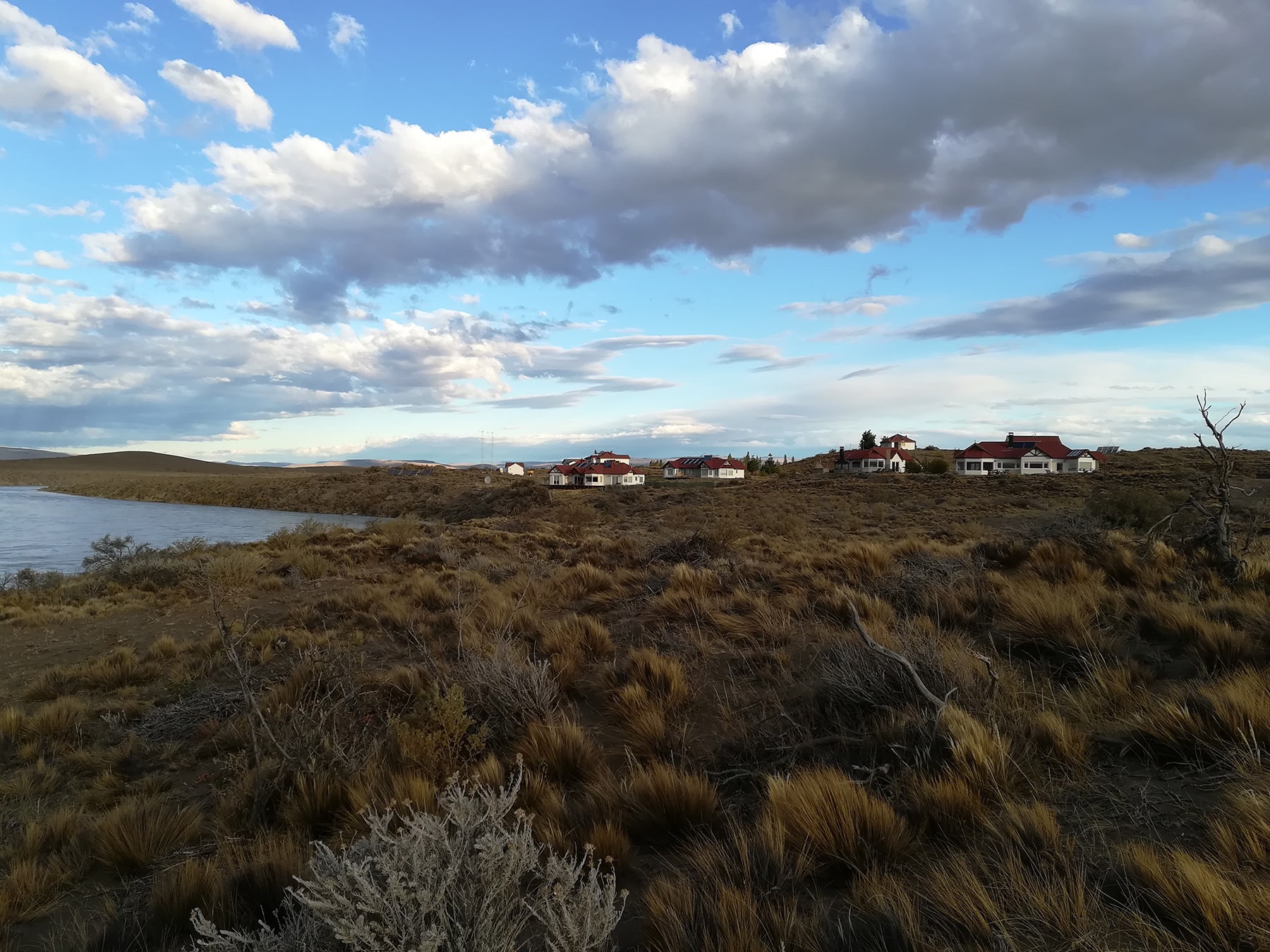 Estancias are usually located very far away from cities in the middle of nowhere, so you will need to either rent a car or book a private transfer to get there. The Estancia La Estela, and very likely the other estancias as well, organise private transfers in cars driven by locals.
Ironically, the number one danger on the huge roads of Patagonia is guanacos suddenly crossing the roads.

As far as the hikes in El Chaltén are concerned, if you want to choose which hikes you would like to do, you can look them up on the website of the tourism office, which is very well done, or you can scan the QR code which will show you a map of all hikes with relevant info.

If you want to know all stops of our Patagonia trip, check out our travel itinerary to Patagonia!
USEFUL INFO FOR CASH EXCHANGE AND WITHDRAWAL
One thing that we want to explain straight away is how cash exchange works. Since we had completely underestimated this problem before leaving, we were left quite confused at the beginning of our trip. The Argentine currency, the Argentine pesos ($), is highly volatile; all prices written in our 2019 guide book had increased tenfold over the course of three years and have probably increased even more since our trip. All tourist attractions cost much more and natural parks often charged more for tourists than for Argentines.
However, the most difficult thing to manage was the currency exchange or cash withdrawal. In order to fully understand the issue, we first need to explain that there are two different exchange rates of the Argentine pesos: the banks' official exchange rate and the so-called "blue dollar" or "blue euro", which is the non-official rate on the black market. The official rate during our trip was around 105 to 120 pesos for 1€, while on the black market one euro was worth around 210 to 230 pesos. Obviously, the value of things one buys changes considerably depending on the exchange rate that is being applied. When withdrawing cash from an ATM, the official exchange rate is applied, to which you then have to add the commissions of the bank in Argentina and those of your own bank. Furthermore, banks in Argentina only allow a limited cash withdrawal for foreign credit cards, which during our trip was 4,000 Argentine $, that is 18.5€ more or less. To sum up, if you withdraw money from an ATM, you are not only paying a very disadvantageous exchange rate, but also huge commissions, since you have to withdraw many times to get enough cash. Moreover, since there is an overall lack of cash, many ATMs are empty at the end of the weekend.
There are two solutions to this issue: 1- bring cash in euros or dollars with you or 2- transfer money with Western Union or Moneygram.
Bringing cash in euros/dollars: Some hotels accept, or even prefer, being paid in euros or dollars, since these currencies are less volatile and are able to keep their value over time. Sometimes they even grant a discount if you pay in these currencies. You can exchange euros or dollars with the blue dollar exchange rate in hotels and in some bus stations. Be careful not to end up having too many pesos at the end of your trip. We withdrew too much cash, since it was so difficult to get some, and we ended up having too much at the airport before leaving. The bank inside the airport refused to change the money back to euros (under the pretext that "it wasn't working") and we had to exchange it with a couple that had just landed.
Sending money through Western Union: We used this solution twice, in El Calafate and Ushuaia. The Western Union exchange rate was very good (1 € - 230 pesos) and it allowed us to withdraw higher sums of cash. In small cities, such as El Calafate, even the cash withdrawals with Western Union are restricted since there isn't enough cash for everyone, while in Ushuaia there are no restrictions. In El Calafate, instead of queueing in front of the post office where many tourists go, we went to a petrol station just outside the city centre. In Ushuaia, since the Western Union service had been interrupted in the post office, we walked to the Carrefour shop, a few km away from the centre.

All in all, we reckon that the best solution is to bring some cash in euro or dollars with you, as long as you feel safe, and withdraw everything else with Western Union. Since there could still be some issues, such as lack of cash or closed places, we recommend withdrawing money before you run out of cash. In any way, credit cards are accepted everywhere, so you can always pay by card in case of an emergency, but bear in mind that the exchange rate will be very bad.
When to visit Argentina
| | Jan | Feb | Mar | Apr | May | Jun | Jul | Aug | Sep | Oct | Nov | Dec |
| --- | --- | --- | --- | --- | --- | --- | --- | --- | --- | --- | --- | --- |
| Patagonia | | | | | | | | | | | | |
| Ushuaia | | | | | | | | | | | | |
We visited Patagonia in the first half of the month of May, towards the end of the high season. In Argentina, March is more or less the end of the Southern summer, so temperatures were quite warm, especially in Buenos Aires. On the contrary, in Patagonia, although it was often sunny, the wind never stopped blowing, so a wooden hat to cover your ears with and a scarf are must-haves. Always bring some warm clothes with you when you go for a hike, since it can get cold when it's windy and you stop for a break. If you decide to walk on the glacier, bring some gloves with you. If you don't have them, the agency will give them to you anyway, since the surface of the glacier is very scraping and you could get hurt if you fall. It is much colder in Ushuaia, especially during the boat trip where the wind is icy cold.

Visa
You don't need a visa to enter Argentina; tourists can stay up to 90 days with six-month passport validity.
For our trip, apart from all documents specific to COVID-19, we also had to fill a document called "DDJJ" to go in and out the country, but it apparently isn't necessary anymore.
If you take the bus from El Calafate to Ushuaia, you will cross the border with Chile; the bus company will give you a document to fill in Rio Gallegos, while you wait to board the second bus, listing everything that you can't bring into Chile. It is important not to bring any fresh fruit or vegetable products. You can find a list of products you are allowed to bring with you on the official website SAG. If the border police finds some forbidden items while checking, they will throw them away and they could potentially give you a 100 US $ fine. At the border you will only need to show your passport to get the entry stamp to Chile and afterwards, the exit stamp and then you will go through baggage check.
If you need further information on necessary documents or some precautions to take, please visit Argentina's tourism website.
Vaccines
You don't need any specific vaccine to travel to Argentina.

Budget
Travelling to Patagonia is not cheap, starting from the flights which are very long and, hence, quite expensive, and tourist attractions. Many attractions, such as national parks, apply different prices for Argentines and foreign people.
Budget trip to Argentina 14 days per person (flights not included): ±879€



±63€/ day
NB – These expenses were calculated by applying an exchange rate of one euro for 215 pesos. Expenses increase notably if you apply the official exchange rate of 105-120$ for one euro. Please read the section about Cash Exchange for more information.
Sharing of expenses
Total cost per person of:
Accommodation: 210€



15€ / day
Food: 240€



17€ / day (groceries and water included)
Sites and monuments: 258€



18€ / day, hike on the glacier included (118€ per person)
Miscellaneous: 13€ (souvenirs)
Transportation: 155€ (by car, bus and taxi, flights not included, see below).
Budget return plane ticket Milan-Buenos Aires per person: 940€
Budget return plane ticket Buenos Aires- El Calafate per person: 150€
Travel Insurance: 85€ per person
Hotels
During our trip to Argentina, we mainly chose cheap/mid-range hotels or hostels which we all booked in advance. In Buenos Aires, where prices are higher, we stayed in the Palermo neighbourhood, a very safe neighbourhood with many restaurants and bars, as well as a buzzing nightlife.
Generally speaking, accommodation in Argentina has a good value for money. In El Calafate and El Chaltén, we stayed in hostels for hikers; both cities are very small and we always stayed in the central area; there are some more luxurious hotels around the city, but they are located further away from the city centre and from the starting points of hikes.
In Ushuaia, we stayed a bit further away from the city centre. Ushuaia is made of parallel roads; there is the harbour at the bottom with the kiosks of agencies selling boat trips and the shuttle bus bringing you to the main tourist attractions, while the rest of the city lies on a hill. Our hotel, which was called "Parada de la fin del mundo" (stop at the end of the world) was located on top of the hill. It is a family-run hotel with a very characteristic interior design.

In general, in Patagonia a room costs around 32€ a night during the middle-high season.
Average price hotel / each: ±16€
Food
The main food speciality all around Argentina is meat obviously. Argentines are big meat eaters (whether it be beef, lamb etc.) and meat is ever present in any restaurant. The asado or parilla is the meat barbecue that you can eat in every city in Argentina in all middle to high-quality restaurants. These restaurants usually display in their windows some lamb meat stretched out roasting on the fire for several hours at low temperatures.

We tried the asado once. We went to a restaurant called "La Tablita" in El Calafate; it's quite a fancy restaurant that offers many kinds of meat. We chose the mixed barbecue so as to try a little bit of everything. The meat portion, which included several cuts of beef and lamb, was very generous and we ate it with roasted potatoes and sweet potato purée. We also seized the opportunity to try out a local wine. Overall, we paid 12,150$ (56€).

We had the opportunity to eat grilled meat once again during the horseback riding tour at the Estancia La Estela, as our gaucho grilled some peppers and steaks and served them in a sandwich for lunch.

If you don't like eating "bien hecha" meat, well-cooked meat, as people usually eat it in Argentina, remember to specify the degree of doneness that you prefer. When we told the gaucho that we liked undercooked meat, he looked surprised and a little bit disgusted, but he still complied.
Another meat-based specialty is choripan, a hot dog usually sold on the streets throughout Patagonia. The scent of chorizo sizzling on the grill fills the air, making everyone salivate.
A food specialty we tried out in El Chaltén is locro, a soup made of pumpkin, beans, corn, pieces of bacon, onion, carrots etc. It's a hearty and warm dish that is a great alternative to grilled meat.

In Ushuaia, given its location, there obviously are many fish specialties. Apart from fried calamari, other prized (and expensive) specialties are black cod and red king crab. Two fancy restaurants, which are a bit more expensive than the average restaurant in Ushuaia, are Paso Garibaldi and the famous Volver.

Another specialty you should not forget about is Argentine wine, coming mainly from the region of Mendoza, which we tasted, together with local cheeses, in Buenos Aires at the restaurant "La Malbequeria". The most famous local wine varieties are Malbec, but also Bonarda and the renowned Cabernet Sauvignon and Franc, Merlot and Pinot Noir.

An honourable mention goes to Ushuaia's Cap Horn beer made with glacier water in the southernmost brewery in the world.
Average price basic restaurant/each (drinks included): from 3,000 to 7,000$ (from 14 to 32.5€)
Average price fancy restaurant /each (drinks included): from 10,000 to 12,000$ (from 46.5 to 56€)
Transportation
After having landed in Buenos Aires, we had to take another plane to go to Patagonia, to El Calafate. We travelled with Aerolineas Argentina and the return trip was more or less 150€ each. At the beginning we didn't want to take a domestic flight, but the bus journey would have taken three days.
To go from El Chaltén to El Calafate, there are many bus companies leaving at any time. The trip lasts more or less 2 hours 45 min and costs 11€ each one way. We took a bus with the company El Chaltén Travel, which was spacious and comfortable.
To get to the Estancia la Estela, which is located half way from El Chaltén to El Calafate, we organised a private transfer with the estancia itself, which cost 43€ one way and which allowed us to chat with local people that told us a lot about the history, management and geography of Patagonia, and gave us very useful tips.
Last but not least, to get to Ushuaia, we took a 16-hour-long bus journey with the company Marga Taqsa. This journey was split into two parts: the first bus leaving El Calafate at 3 a.m. at and stopping in Rio Gallegos at the border with Chile, where the second bus leaves, reaching Ushuaia at 7 pm. During the second journey, the bus crosses the border with Chile and then goes back into Argentina. At the border you will have to get off the bus and cross the border by foot. For all info about border controls, read the section "Visa" above. The bus does not offer food or water. The journey costs 48€ each one way. You can check the timetable on the company Marga Taqsa's website and potentially even book online, even though online bookings were not working during our trip and we had to go to the bus station to get our tickets 5 days before our trip, just to make sure that we could find a place.

Now let's briefly explain how to move around the cities. In Ushuaia we used the bus service called transporte regular, which is a shuttle leaving from the harbour and bringing you to all main tourist attractions near Ushuaia. We booked a ticket for the Parque Nacional Tierra del Fuego, where you can walk many hikes, and the Esmeralda Lagoon. By booking both tickets at the same time, we were given a discount.

As far as Buenos Aires is concerned, there is a magnetic card called Sube for buses and metros that you can buy and recharge in tobacco shops or newsagents. Travelling across one zone by bus costs 0.21$; when you get on the bus, you tell your destination to the bus drivers and they will automatically calculate how many zones you cross; then, you have to pay by sliding the card on the magnetic reader. It happened, however, that these magnetic cards were sold out everywhere; in this case, you can either ask your hotel if you can borrow one, or you ask a passer-by taking the same bus if they can slide their card for you and you pay them back in cash, like we had to do once. The bus numbers and stops that we found on Google did not really match the real ones, but people always helped us to find the right bus to take.
Security
We never felt unsafe in Argentina. Be careful in some neighbourhoods in Buenos Aires, but we strolled in the evening around the Palermo neighbourhood and had no issues.
Argentines were always very friendly and willing to help us.
TIPS FOR SOUVENIRS
We did not buy many souvenirs during this trip, but some nice and unique gifts could be: Calafate berry jam, which we bought in El Calafate. It is a sweet berry similar to blackberry that you can only find here. In Ushuaia there is an artisan market close to the harbour, where you will find many handmade gifts, or the southernmost post office of the world in the Tierra del Fuego Park sells magnets and postcards. Receiving a postcard from the southernmost post office of the world must be a great surprise! Last, some shops in Ushuaia sell jars of red king crabs and other seafood specialties packed in oil.
Here are all our tips for a trip to Argentina, Patagonia and Tierra del Fuego. If you need any other information, don't hesitate to contact us and enjoy your trip!