Organize your trip
To organise our 10-day trip to Marrakech and the desert, we went over our guidebook with a fine tooth comb and selected the cities we found interesting; we have then calculated the distances that we had to cover by car. Even though it was low season, we decided to book ahead all our hotels online, because we knew that we were going to travel to more isolated places.
When to visit Morocco
| Jan | Feb | Mar | Apr | May | Jun | Jul | Aug | Sep | Oct | Nov | Dec |
| --- | --- | --- | --- | --- | --- | --- | --- | --- | --- | --- | --- |
| | | | | | | | | | | | |
We travelled around the country during the month of December. We were lucky because we had 10 full days of sun, even though the thermometer didn't climb over the 15°C mark. To survive this meteorological paradox, you have to dress like an onion, that is with layers. Indeed, temperature changes quickly from the sun to the shade. To really get the picture of this climate absurdity, here is an example: if you're sitting at a table with one side to the sun and one in the shade, you'll have one roasted leg and the other will be frozen. Remember that it gets cold in the evening and at night time in the desert; bring jumpers, jackets, hats, scarves and gloves!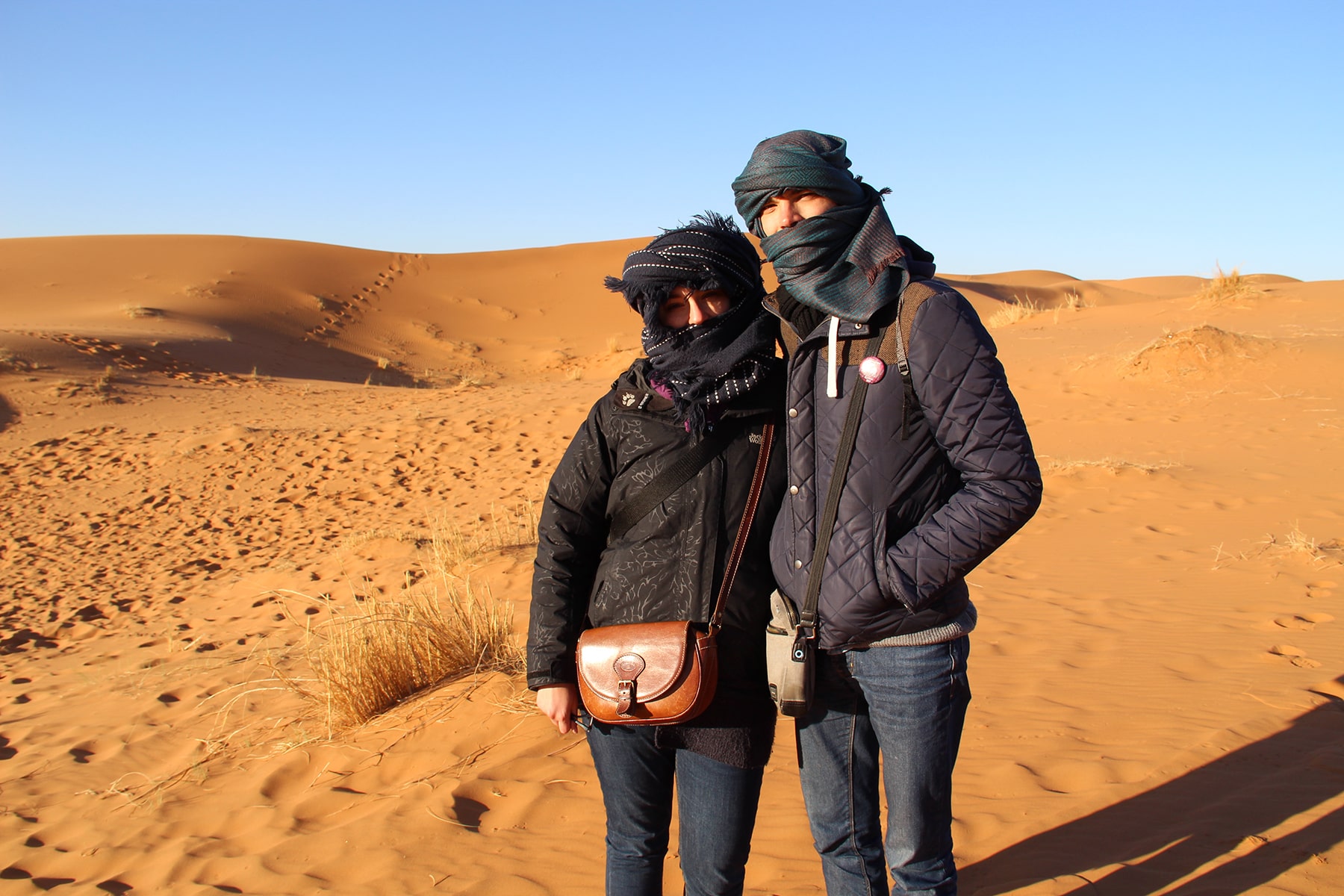 Visa
EU-citizens don't need to obtain a visa before travelling to Morocco and it is possible to stay in the country for tourism purposes for 3 months. Once we got to the airport, we had to wait around 40 minutes- 1 hour in the queue to get our passports checked. During the plane trip or at the airport, you will be given a paper that you have to fill with your details and then give to the police official to get your passport stamped. You are asked to provide the name and address of the hotel you are staying in so keep it within reach. Even for your return trip you will be asked to fill an exit paper where you will need to give your hotel's address; we gave the same hotel name for the way in and out of the country, even though we moved a lot during our trip. For the return trip, even though passport control was a little quicker, you still need to count in at least 30-40 minutes of queuing to get the exit stamp and remember that you have to fill the exit paper before getting to the police control, otherwise you will have to queue again.
For some more information about documents or some general requirements, check the website of the Moroccan National Office of Tourism.
Vaccines
No particular vaccine is obligatory to travel to Morocco. It is not advisable to drink tap water in Morocco, so always buy bottled water (average price for a water bottle: 6 dirhams, 50 cents).

Budget
Total budget for a 10-day trip per person: 6525 dirhams (±€593) => 652 dirhams (±€60) / day*
*Exchange rate during our trip to Morocco in December 2017: €1 = 11 dirhams.
Sharing of expenses
Total cost per person for:
Hotels: 1,220 dirhams (±€110) => 122 dirhams (±€11) / day
Food: 1,320 dirhams (±€120) => 132 dirhams (±€12) / day (includes tea and water bottles)
Sites and monuments: 300 dirhams (±€27) => 31 dirhams (±€2.7) / day
Miscellaneous: 470 dirhams (±42 €) => 47 dirhams (±4 €) / jour (achat des souvenirs, etc.)
Transportation: 1,000 dirhams (±€90) => 100 dirhams (€9) per day, included:

Flight to Morocco, return ticket: 2200 dirhams (±€200) / person
Renting a car for 10 days: 550 dirhams (±€50) / person (divided by 3)
Fuel for 10 days: 235 dirhams (±€22) / person ( ! fuel price increases as you get nearer the desert)
Train Marrakech - Casablanca Casa Voyageur: 80 dirhams (±€7) / person
Train Casablanca Casa Voyageur - Mohammed V airport: 44.5 dirhams (±€4)/ person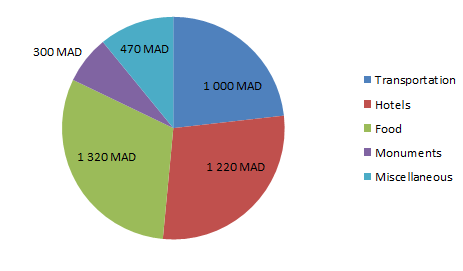 Hotels
For this 10-day trip to Morocco, we have booked all our hotels online, mainly through Booking.com. We were very lucky and found very nice hotels at rather reduced prices because we were in low season. We often chose double or triple rooms, since we travelled in a group of 3 people. The most isolated hotels often offer dinner; prices are a bit higher than those of small city restaurants, but we were never disappointed by the food quality. Upon your arrival at the hotel, your host will welcome you with a nice mint tea, symbol of Moroccan hospitality.
Average price of hotel / person: 122 dirhams (±€11)

Food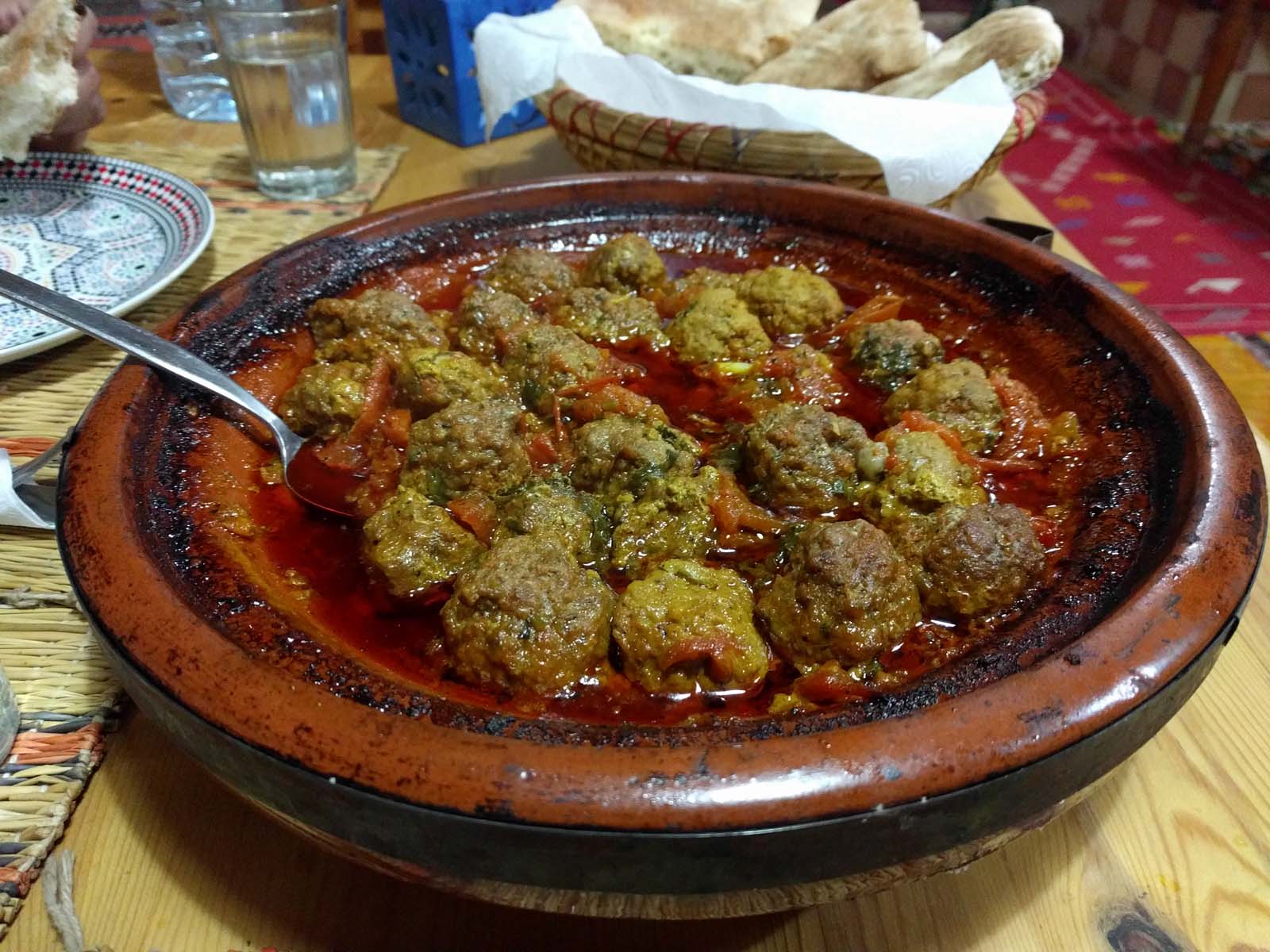 You're in for a treat with Moroccan cuisine: vegetarian or chicken tajines, mountains of couscous, meatballs of kefta: each dish is a real explosion of taste. Try to taste every dish and don't forget to wash your food down with one or several mint tea cups. Moroccan tea is usually served with a lot of sugar; if you're given a tea pot and some sugar cubes beside it, it means that no sugar has been added to the tea yet. You will surely be surprised in seeing how many sugar cubes are necessary to obtain the real taste of Moroccan tea. Perhaps it's better not to know! Before tasting the tea, pour it into a cup by getting the tea pot closer and further away to create a little foam. Then pour the content of the cup back into the teapot and repeat every step for 2-3 times. At the end of this ritual, the tea will be ready!
Average price of restaurant / person: 90 dirhams (±€8)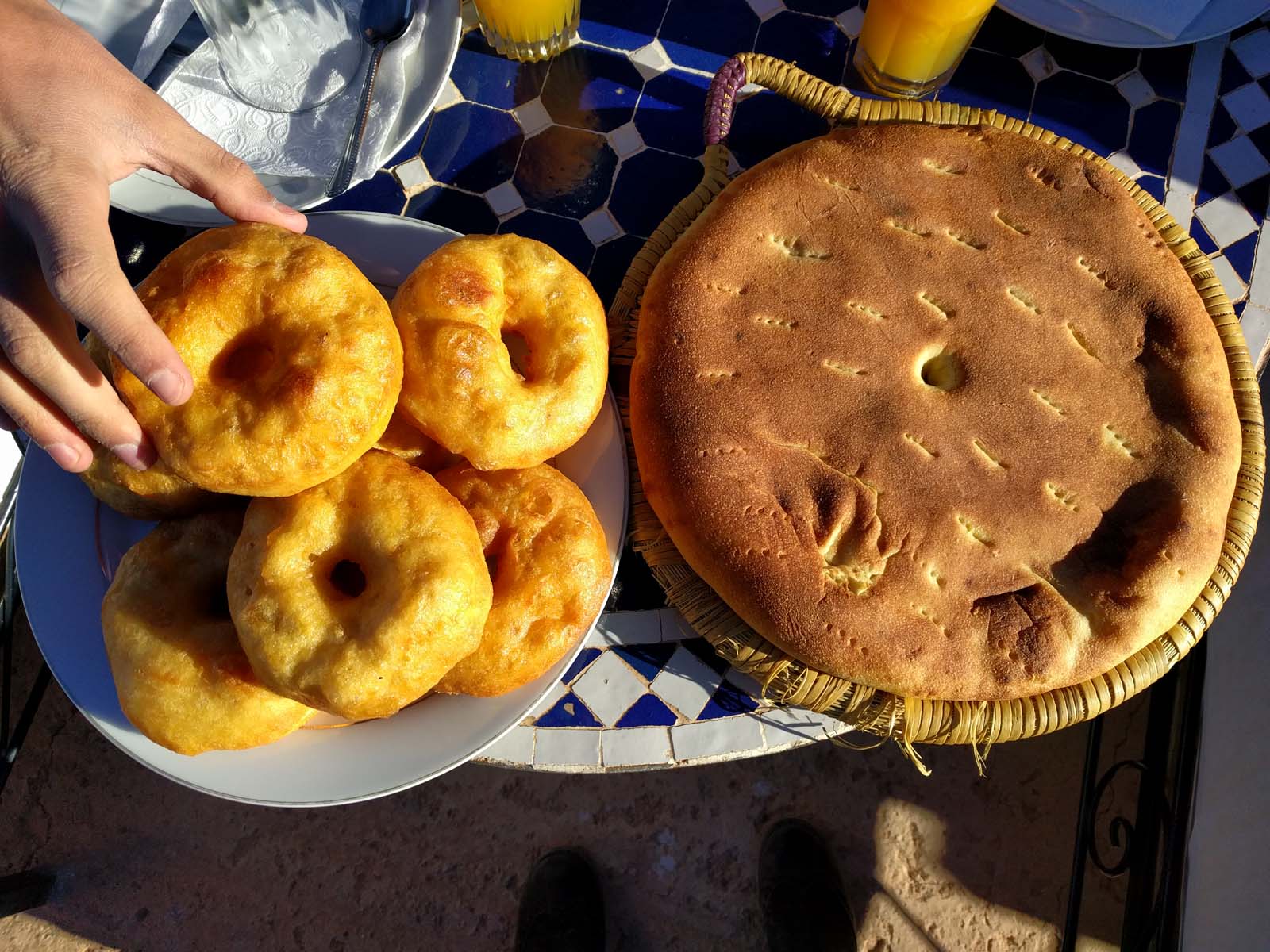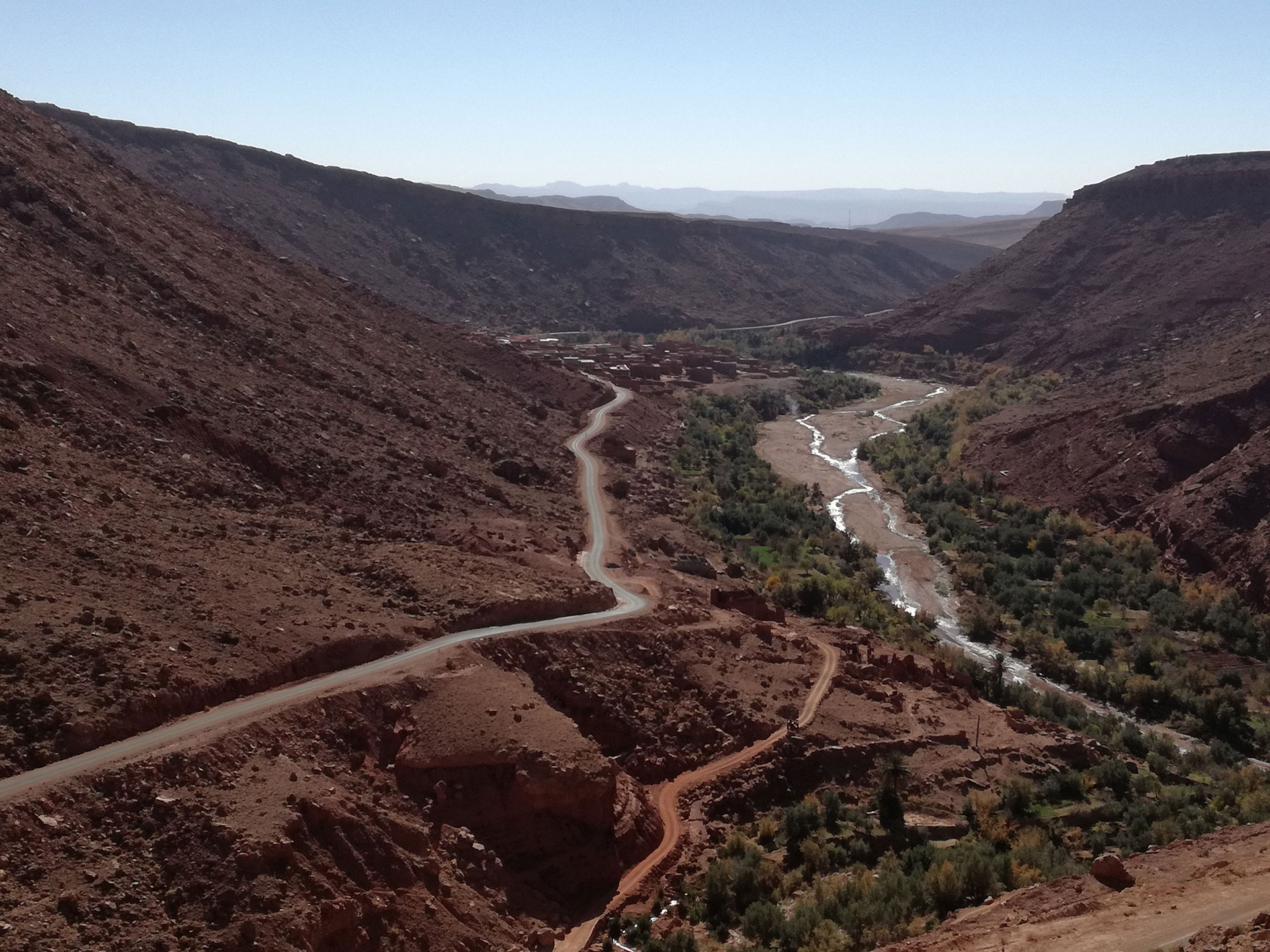 We decided to rent a car to travel between Marrakech and the desert. Comparing prices online, we chose an international company because, even if it's more expensive, we wanted to have an all-inclusive insurance, especially given that we were going to the desert. However, we must admit that the car we have been given was everything but reassuring. First of all, several warning lights turned on as soon as we left Marrakech, causing general panic. Then, it started making weird noises as we were going uphill. But in the end it managed to resist the trip between the mountains and the desert. Moreover, the roads between Marrakech and the desert had been recently renovated and we had no traffic problems. Needless to say, the roads we took gave us wonderful views on the Moroccan landscapes.
On the roads there are several police barrages. They stopped us 3 times (once because of an "illicit" overtaking, oops); police asks for the driver's licence and the car's documents, so make sure to get all necessary papers when you rent the car.

Security
We didn't have any particular safety problems in the cities we visited. For what concerns Marrakech it is important to remember that people offering to help you find a street of bring you to a monument or market will surely asked to be paid. They might use threatening tones when they ask for money, but don't get scared, leave as much as you want and walk away.
In Casablanca in a work area near the Hassan II mosque, we witnessed from very close-by an attempt of bag-snatching. Be careful when you walk at night in dark, isolated areas (like you would do at home).