Organize your trip
Thailand was the first destination of our three-month trip to South-east Asia from March to June 2018. We had only booked our one-way tickets and we had roughly 3 months to visit four countries: Thailand, Laos, Cambodia and Vietnam. Given the size of Thailand, we had planned to spend more or less a month in the country. As per usual, we had flickered through our guidebook as well as some blogs to see what to visit and we had traced a temporary itinerary which was going to develop during the trip, also thanks to the tips of other tourists and local people we met along the way. As a matter of fact, during your trip you will surely meet many other tourists that will tell you what they visited and perhaps, inspire you to visit a place that you had not chosen before. So be flexible!
If you want to be inspired by our trip, check out our travel itinerary in Thailand.
When to visit Thailand
| Jan | Feb | Mar | Apr | May | Jun | Jul | Aug | Sep | Oct | Nov | Dec |
| --- | --- | --- | --- | --- | --- | --- | --- | --- | --- | --- | --- |
| | | | | | | | | | | | |
We went to Thailand from March until the beginning of April, the end of the high season. We were lucky and the weather was always nice and sunny: in the islands the temperature was very pleasant, with a nice breeze and the sea. The water wasn't very refreshing, but it still felt nice. Visiting archaeological sites was, however, more complicated; starting from our very first visit to Bangkok's Grand Palace, where we frantically looked for shade under the scorching sun. In Bangkok the temperature was roughly 35 °C, so we really enjoyed visiting sites with a lot of shade, like Wat Pho. In the North, the temperature was even higher; in Chiang Mai it was around 38 °C. There is air conditioning or fans everywhere though, even in temples.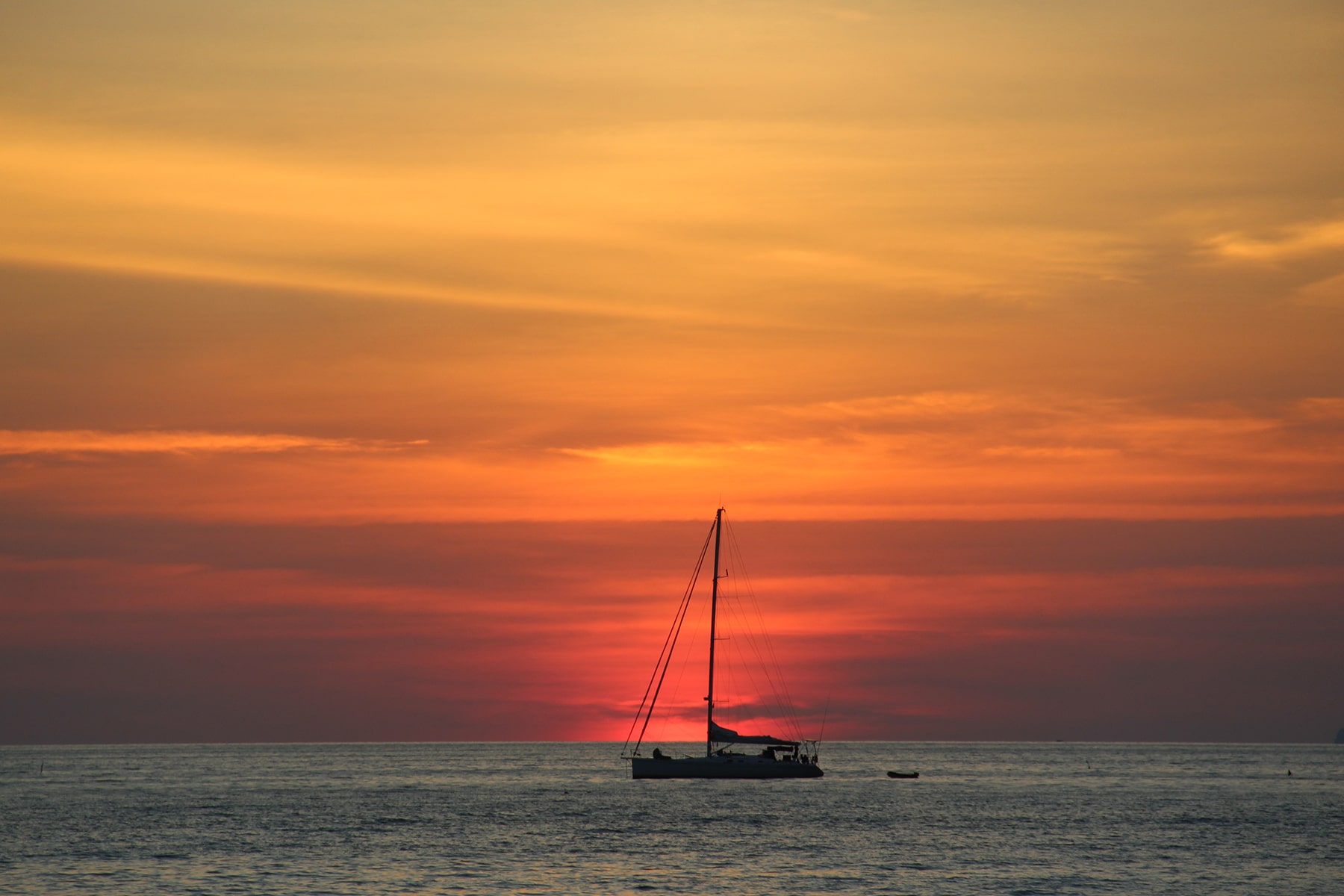 Visa
Thailand offers a free 30-day visa. We entered the country twice (at the beginning and at the end of our trip to South-east Asia), crossing the airport border both times. We also crossed a land border once, when we left Thailand to enter Laos, and we must admit that Thai police has always been very nice and honest (policemen never asked for money, unlike guards from Cambodia or Laos). When you enter the country through the airport, you are given a sheet to fill with your name and address of the hotel where you are staying. They should also ask you a proof of exit from the country, such as return flights. We didn't have any (because we wanted to exit through the land border with Laos), but they didn't ask us anyway.
If you need further information on necessary documents or some precautions to take, please visit the official Thailand website, where you can find other general info (e.g. e-cigarettes are not allowed in Thailand, bet you didn't know!).
Vaccines
In order to travel to Thailand, you will need the following vaccines: tetanus, Japanese encephalitis, hepatitis A and yellow fever. Bring your vaccination record with you during your trip; sometimes border guards ask to see it. Generally speaking, drinking tap water or brushing your teeth with tap water is not recommended; however, since we had to stay three whole months in Asia, we used tap water to brush our teeth and had no problem whatsoever (average price for a water bottle: 13 bahts (0.3€)).
Budget
Budget trip to Thailand 27 days each (flights not included): 21674 bahts (±555.7€) => 802.7 bahts (±20.6€) / day.
Budget return ticket plane Milan-Bangkok: 523€
Budget return ticket plane Bangkok Phuket: 84€
*Exchange rate during our trip to Thailand in the March 2018: 1€ = 39 bahts.
Sharing of expenses
Total cost per person for:
Hotel: 5798 bahts (±148.6€) => 214.7 bahts (±5.5€) / day
Food: 6967.3 bahts (±178.6€) =>258 bahts (±6.6€) / day (water included)
Sites and monuments: 1533.3 bahts (±39.3€) => 56.8 bahts (±1.4€) / day
Miscellaneous: 1708 bahts (±43.8€) => 63 bahts (±1.6€) / day (laundry, shampoos, sunscreen, plasters, fixing the scooter etc.)
Transportation: 5668 bahts (±145.3€) => 210 bahts (5.4€) / day (bus trips, renting bicycles, renting scooters, boat trips, planes are not included, see above).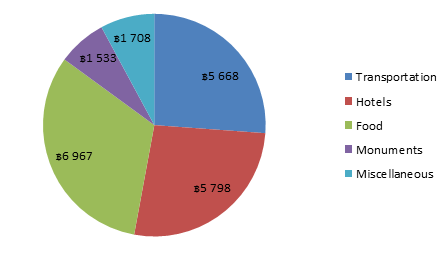 Hotels
During our trip to Thailand, we usually booked accommodation a day before arriving in a specific place. To book we used Booking.com or more seldom, Agoda.com, which is pretty common in Asia. The range of accommodation in Thailand is very wide and prices vary a lot. You can find very cheap beds (3-4€ per night in Bangkok or even less in other towns), but they are not always clean, like it was the case of a hostel in Bangkok, where we almost caught bed bugs. That's why we always chose private double bedrooms in basic hotels or dorms in slightly more expensive hostels. We loved staying with local people: there are a lot of B&BS and family hotels where you can find nice people ready to give you lots of advice. You can also decide not to book beforehand and go directly to the hotel, but during this trip we preferred booking to avoid stress and bad surprises.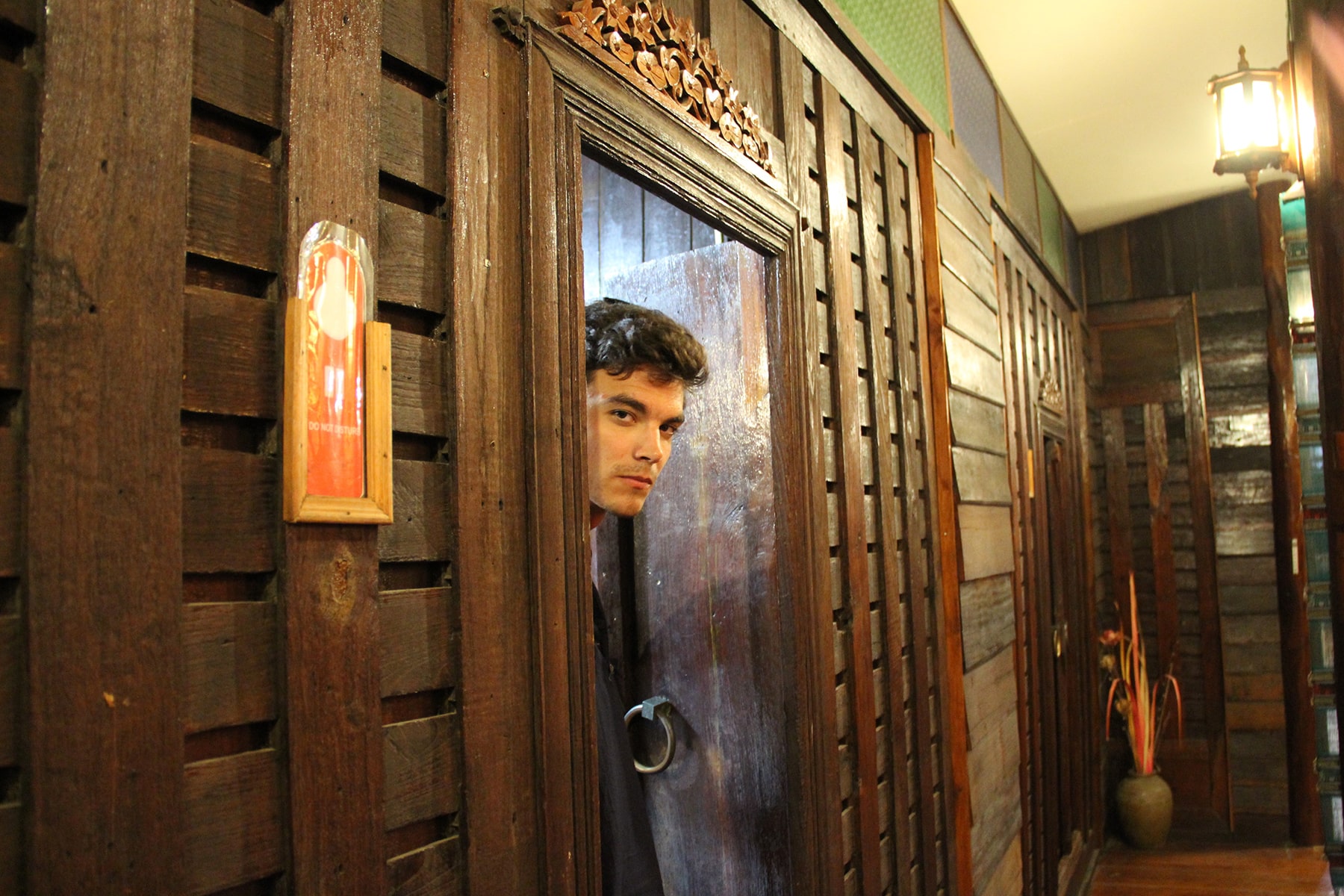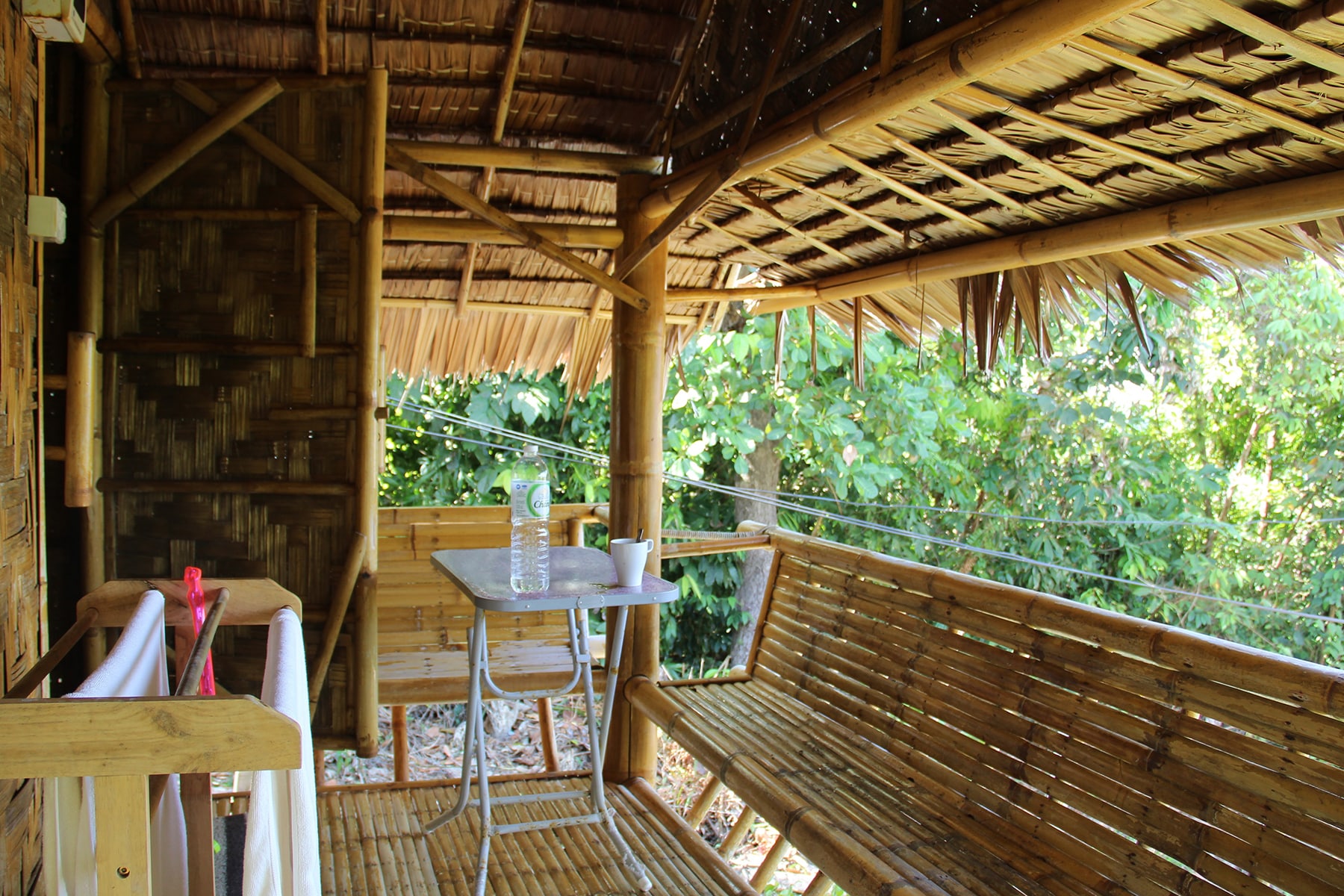 Average price hotel / each: 210 bahts (±5.4€)

Food
Thailand has an incredible variety of food specialties. From the very famous Pad Thai, to the chicken soups and noodles, to the Pad kra pao moo sap, also called basil rice, because it is made with a local variety of basil. On market stands you can find countless types of fried sweet cakes, like the Rotee, a kind of pancake that costs between 20 bahts (0.5€) in non-touristic areas, to 50 bahts (1.5€) in more crowded areas. Another great classic dish, ideal to finish a meal on a sweet note, is mango with sticky rice: thin mango slices with rice cooked in coconut milk. If you prefer healthier food, Thai markets are full of exotic fruit, like pineapple, jackfruit and durian, the stinkiest fruit in the world. It stinks so much, that it is forbidden to eat it indoor.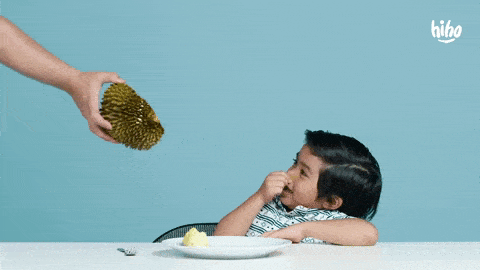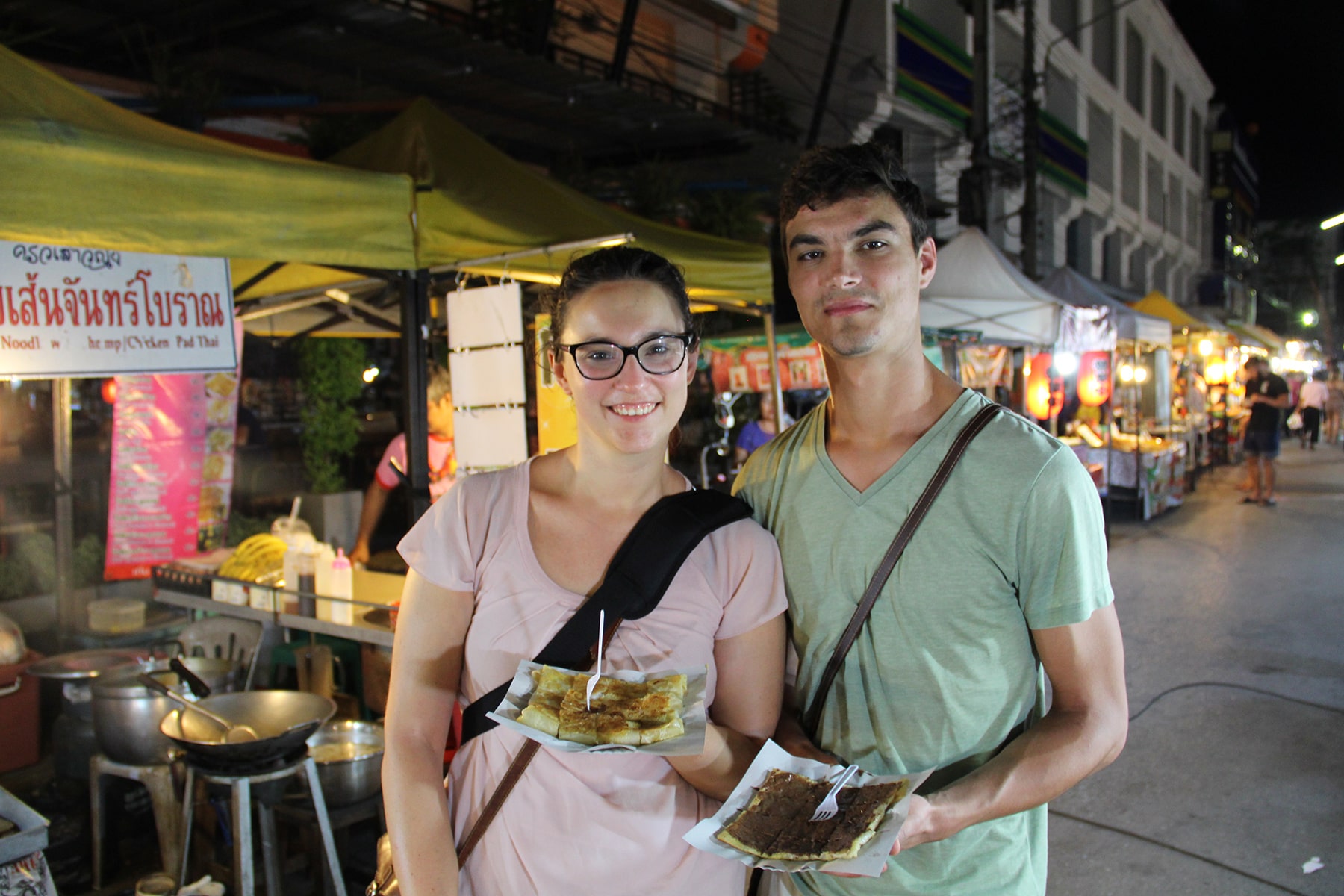 You are spoilt for choice if you are looking for places to eat. We have often chosen tiny restaurants, made up of tables set outside and a family preparing food with two pans, where all dishes are cooked. Dishes in these restaurants usually cost around 40-50 bahts (1-1.3€), depending on the choice between vegetarian dish, chicken, pork or shrimps. We also always took fruit smoothies, made on the spot with, for example, some mango, banana, pineapple or lemon, costing around 25 to 50 bahts (0.6-1.3€). As an alternative to these tiny restaurants, there are night markets in all Thai towns, where you can taste many specialties at an even cheaper price. In these markets you can also find fried insects, if you fancy tasting some.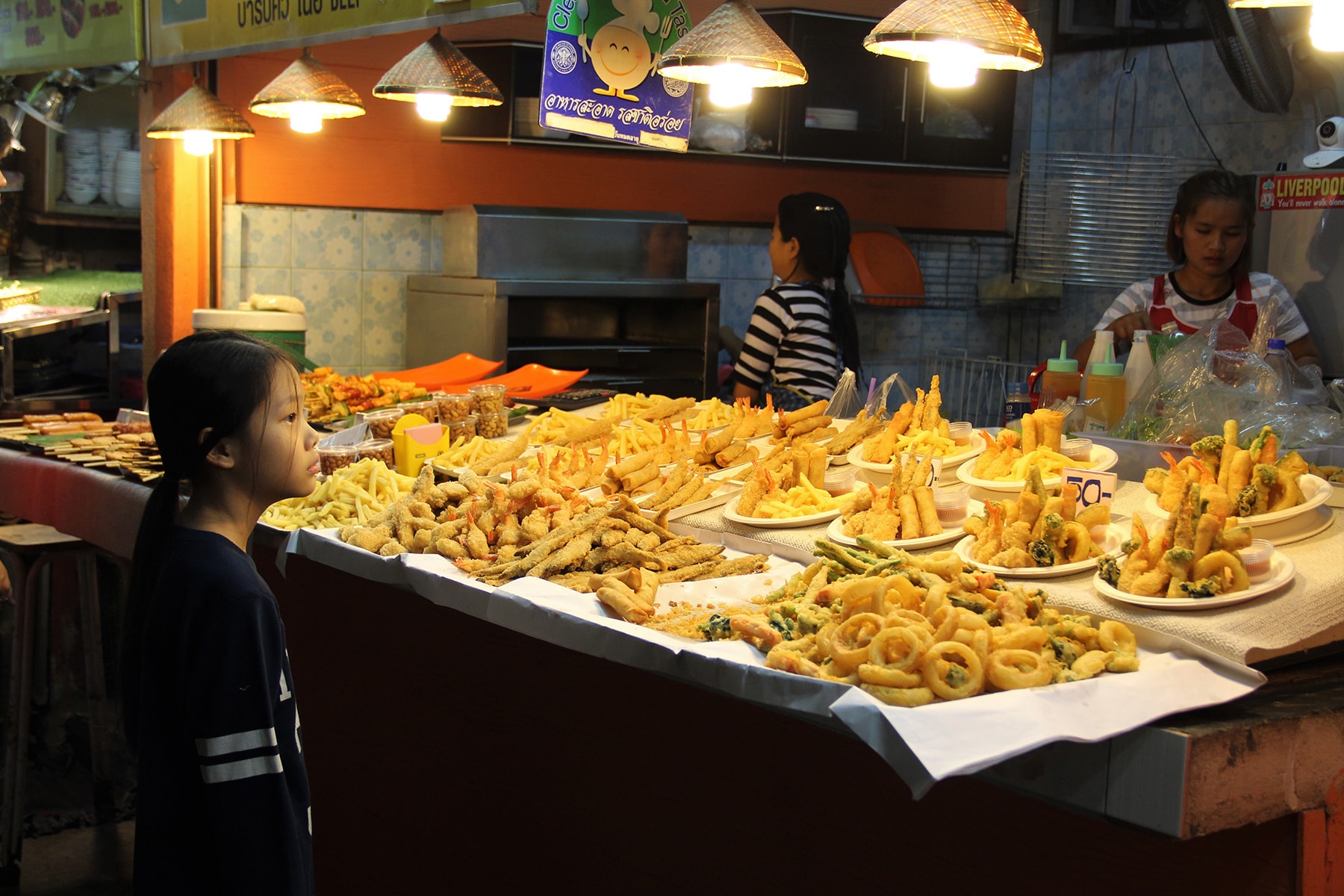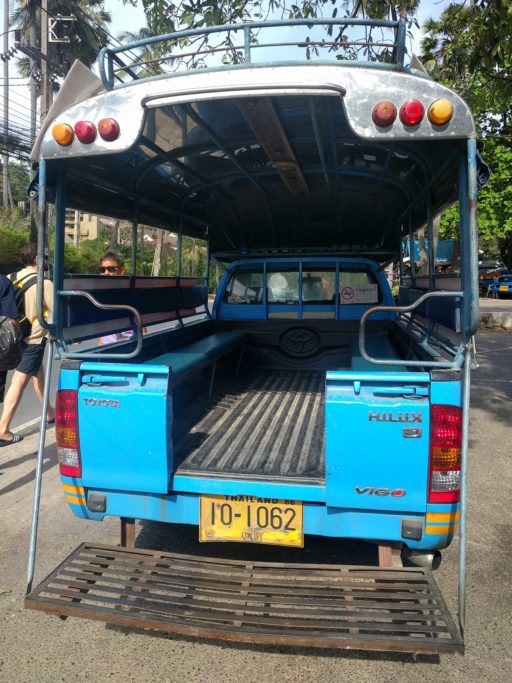 Moving around the city
To move around the city, you can always use a taxi or tuk-tuk (you will have to ask the taxi driver to switch the taximeter on or negotiate intensely), but we recommend using the bus, much cheaper and still comfortable. In Bangkok there are many bus routes which prices varying between 13 bahts (0.3€) and 30 bahts (0.75€), depending on whether there is air-con. On the bus, tickets inspectors sell tickets; they are usually very nice and ready to help you figure out stops (we have always used Google Maps as reference). In other cities, there are red or blue buses that cost from 20 bahts (0.5€) to 40 bahts (1€); you get on from behind and you sit on some sort of bench. You show the driver where you have to go and the driver will tour all the passengers destinations (Thai people call it bus, but it's like a shared taxi). It will probably take a longer route and it will surely take a longer time, but it will save you a lot of money.
Moving between cities
To move between cities, there are many first-class or second-class bus companies; both buses are comfortable, the only difference being that they give you a little blanket, a water bottle and a snack in the 1st class, surely appreciated in 6/7-hour long drives, but not essential. There are also local buses, a little less comfortable, connecting closer cities. We advise you to go directly to the bus station to buy tickets in advance in case of journeys to more touristic cities, like Ayutthaya and Sukhothai, but reservation is not mandatory. If you can, it would be ideal to buy tickets the evening before a morning bus for example, or buy tickets in the morning for a bus in the afternoon.
We made the journey from Bangkok airport to Ayutthaya by train; 2nd-class and 3rd-class tickets were available for this journey, but the price difference was huge: 200 bahts (5€) for 2nd class and 11 bahts (0.30€) for 3rd class. We chose 3rd class, which was actually very spacious and comfortable; instead of having air-con, doors and windows were open, but the train didn't go very fast.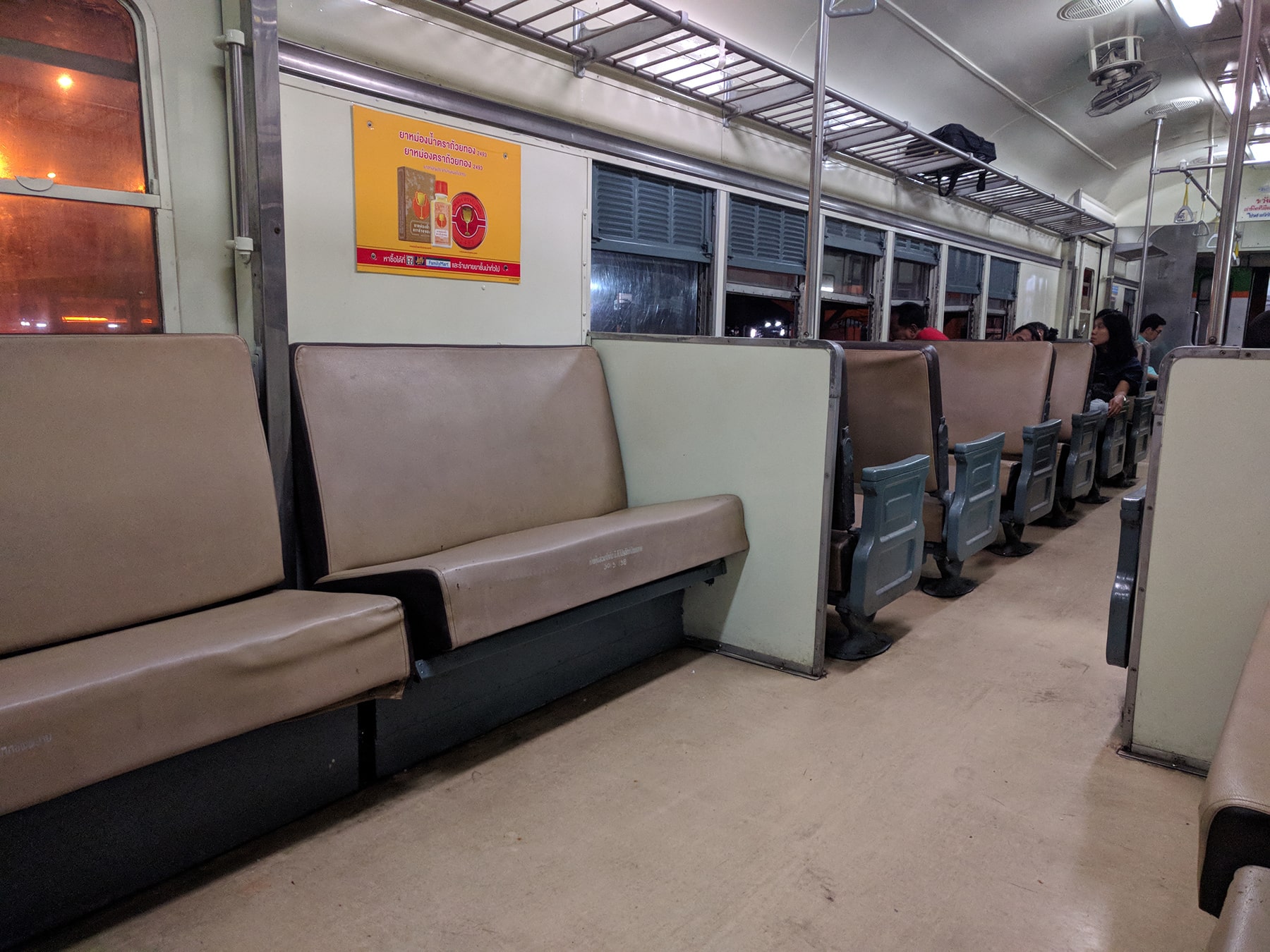 Going to Phuket
To move from Bangkok to the South of Thailand, we took the plane. The bus to Phuket, departing point to the Southern islands, would have taken too long. Moreover, there are lots of low-cost Asian airlines connecting Bangkok to Phuket, such as Lion Air and Air Asia, the companies we chose. Prices varied between 20 and 50€ max, booking two days in advance.
Moving between islands
To move from one island to another, there are many ferries: from the smallest and beaten-down ones to go to less touristic islands such as Koh Yao Yai, to bigger ferries for journeys with many tourists, like Koh Lanta and Phuket. We advise you to check ferry prices and timetables beforehand. Prices vary depending on the seller and sometimes it is difficult to know their real value. If you ask tourist agencies, they will surely give you a higher price; so try to ask directly in the harbour and ask multiple people and other tourists to compare prices.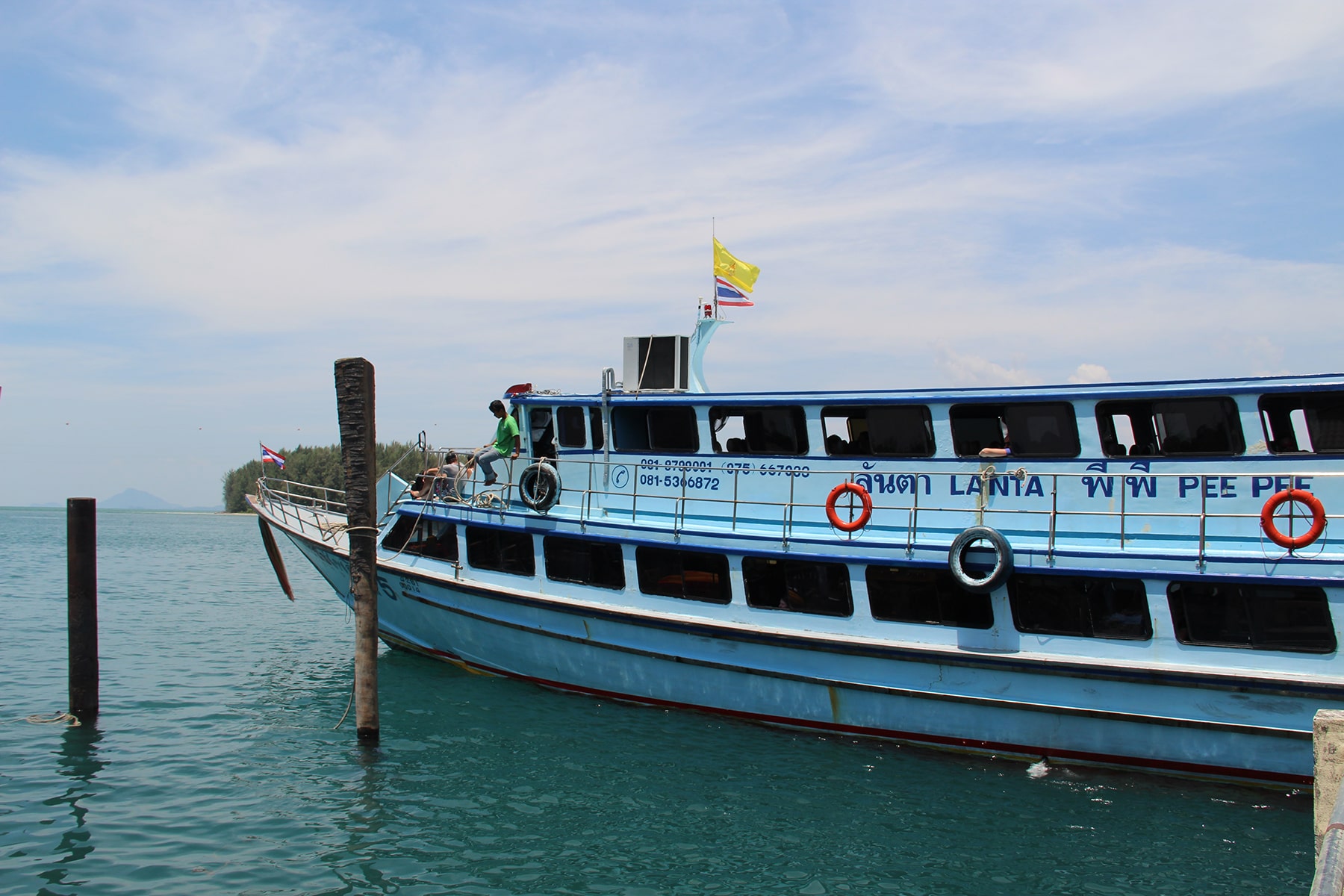 Moving within islands or in the city surroundings
To explore islands and city surroundings on our own, we have always rented scooters (average price to rent scooter: 250-300 bahts (6.4€ - 7.7€) depending on the city). Renting agencies are everywhere; they will ask you to fill in a paper for the rent, which will make you responsible in case the scooter breaks down. It happened to us once, and we had to repair a punctured tyre; no panic, mechanics are everywhere and prices are very low. To know more about how to avoid bad surprises when renting a scooter, please read the Safety paragraph of this article. To visit archaeological sites, we rented bicycles (price to rent bicycles: 50 baht (1,3€)).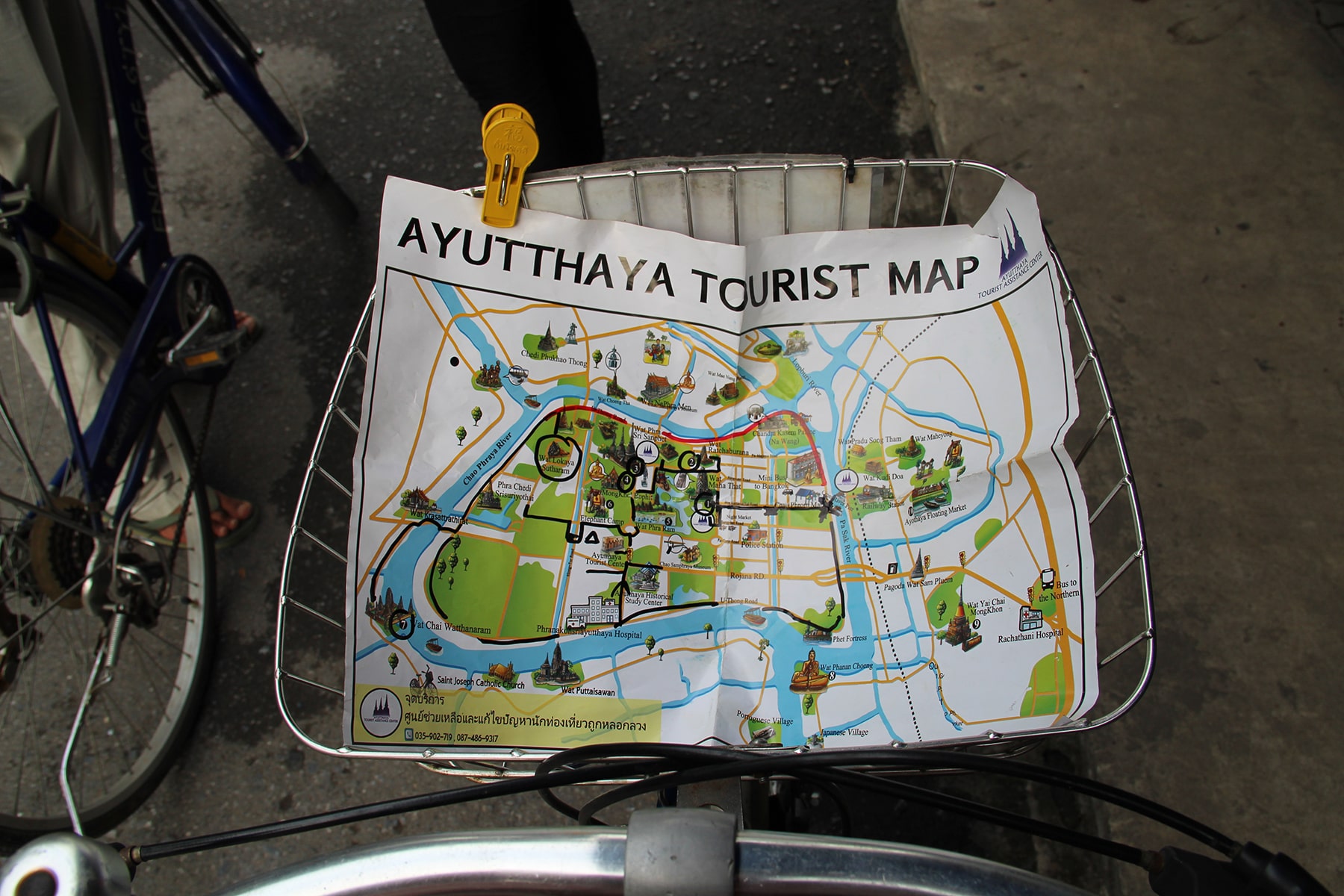 Security
Thailand, and generally speaking South-east Asia, is a safe country. The main danger you can encounter is a scooter accident. If you are not an expert rider, be very careful; road are usually in good condition, but there might be big holes, gravel or animals on the road. We met a lot of tourists who got hurt on scooters… When you rent a scooter, don't leave your passport as deposit, but always leave some money (they will ask you to leave around 3000 and 5000 bahts (77€-128€), negotiable). Your passport is too precious! Take some pictures of the scooters you rent to avoid problems when you give it back. The majority of renting agencies are honest, but it's better to be safe than sorry. Like a bit everywhere in South-east Asia, touristic sites and trekking paths are not secured; be careful!
Another problem that you may run into is falling for little scams, nothing too dramatic. However, if you have serious problems, Thailand offers an excellent service of tourist police. An English-speaking person will be able to help you solve your problem; there is also a phone line, if the police station is closed or far away. Generally speaking, during our stay in Asia we have learnt that people fear karma and avoid doing bad things to people in fear of retaliations from the karma, or so we were told… All in all, we had no serious problems during our one-month-stay. Furthermore, people are very nice and ready to help if you need it. One example: when we punctured our scooter tyre, a man approached us straight away to show us the nearest mechanic with a smile (maybe mocking us a little bit, which was comprehensible!).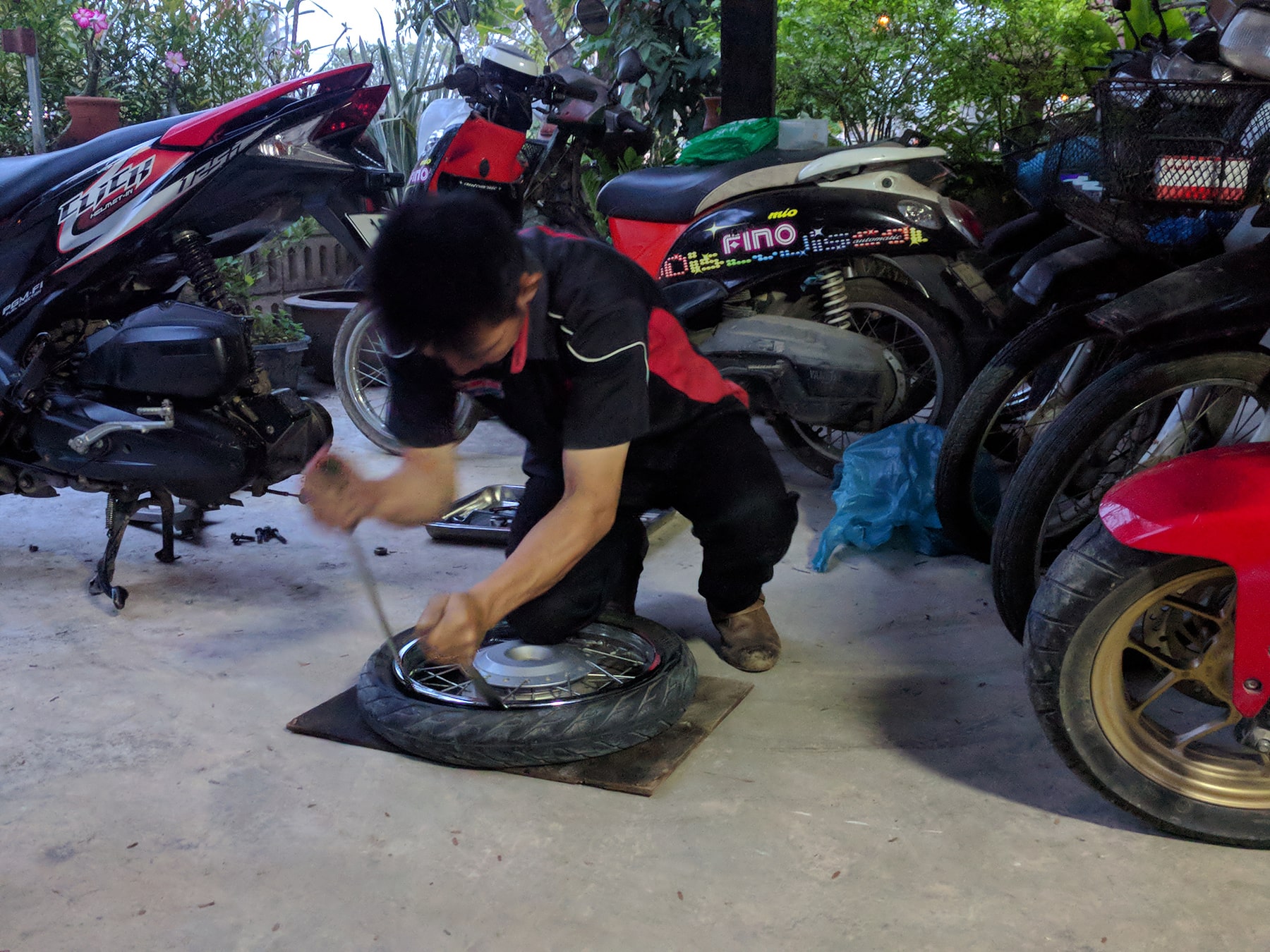 Here you have all useful tips for a trip to Thailand, a beautiful and charming country. Let us know if you have some questions or doubts and have a nice trip!