Thailand is one of the most touristic countries of South-East Asia; as a result, there are now countless direct flights linking European cities to Bangkok. We have chosen this country as the first destination of our 3-month trip to South-East Asia; we spent roughly 27 days in Thailand during our first visit in the month of March and then 3 days at the end of our whole trip before leaving back to Europe. In this one-month travel itinerary, we are going to show you what to visit and what to do in Thailand. We had decided to visit both more famous destinations as well as less touristic ones to get an as-real-as-possible overview of the country and its culture. We didn't visit any party-islands, because they were not what we were looking for in this trip.
Don't forget to check out our article about Thailand travel tips for all practical info.
Here is our itinerary in Thailand in the month of March. Enjoy!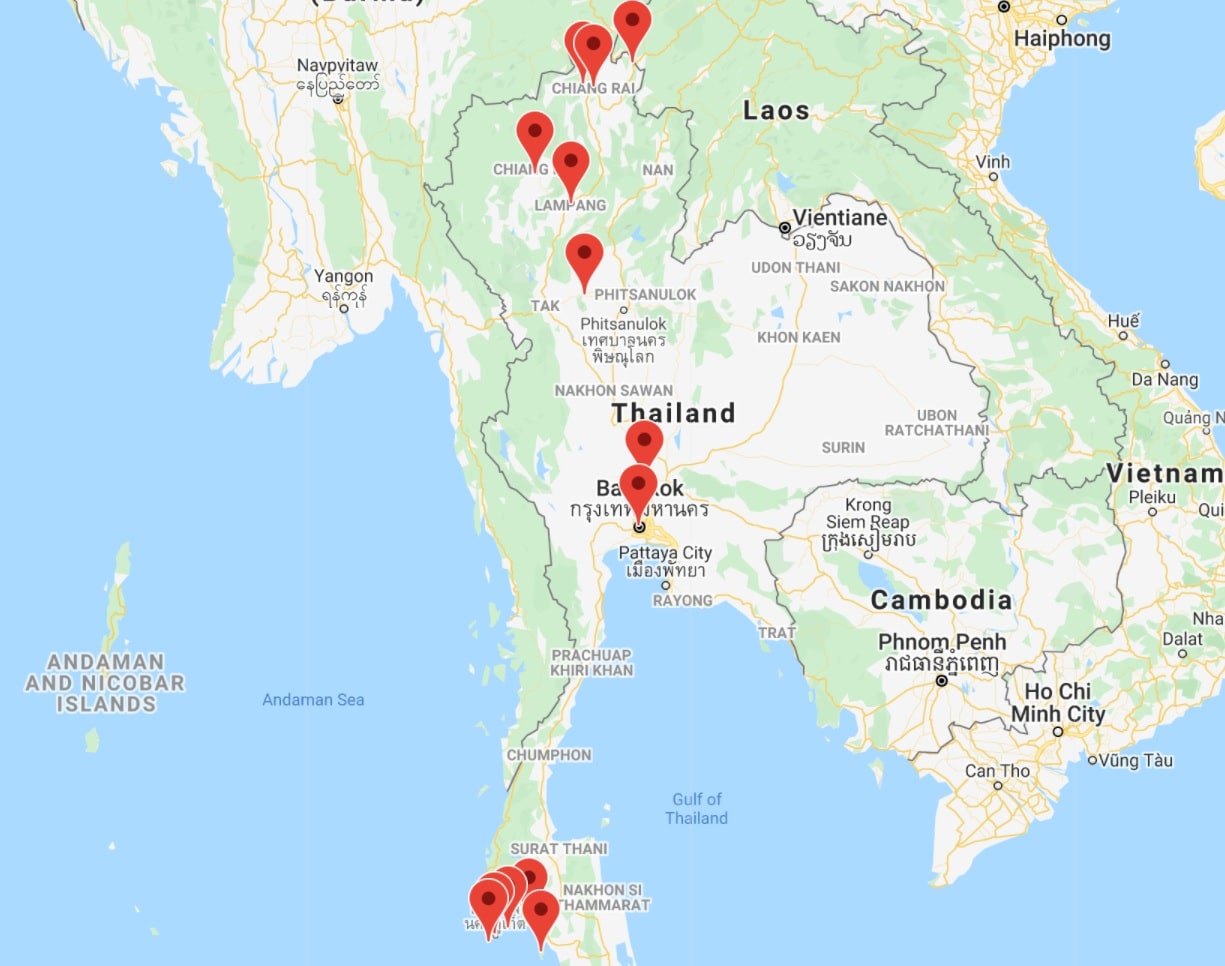 | DISTANCE | TRAVEL TIME |
| --- | --- |
| Bangkok-Phuket | 1 hour |
| Phuket-Koh Yao Yai | 2 hours |
| Koh Yao Yai-Krabi | 45 min |
| Krabi-Koh Lanta | 3 hours |
| Koh Lanta-Phuket | 5 hours |
| Bangkok-Ayutthaya | 30 min |
| Ayutthaya-Sukhothai | 6 hours |
| Sukhothai-Lampang | 4 hours |
| Lampang-Chiang Mai | 2 hours |
| Chiang Mai-Chiang Rai | 3 hours |
| Chiang Rai-Chiang Khong | 2 hours |
Day 1: Arriving to Thailand, Bangkok
Arrival: Bangkok airport Suvarnabhumi.
We booked a taxi online; price: 5€ each; journey time airport - Bangkok city (old city): roughly 45 minutes (there is a metro line linking the airport with the new city, too).
We landed in Bangkok at around 5 o'clock in the morning after a 10-hour flight, and jet lag immediately hit us hard. The humid climate was not much of a help either; the only thing we managed to do on the first day of our trip to Thailand was to take a stroll in the China Town district.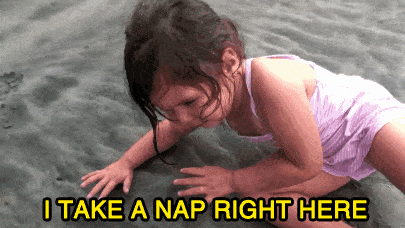 Day 2: Bangkok
Bangkok may seem intimidating at first: this metropolis is just too big to know where to begin visiting! On our second day in Bangkok we chose to follow a rather common itinerary, strolling along the river, passing by the amulet market and walking until the Grand Palace.
Bangkok Grand Palace is a chaos of golden buildings, a maze of precious stones, an explosion of religious and royal statues. It's a place that ought to be explored and discovered in all its little shining details, but arm yourself with patience because it is extremely crowded. Do not miss the Emerald Buddha, symbol of Thai monarchy.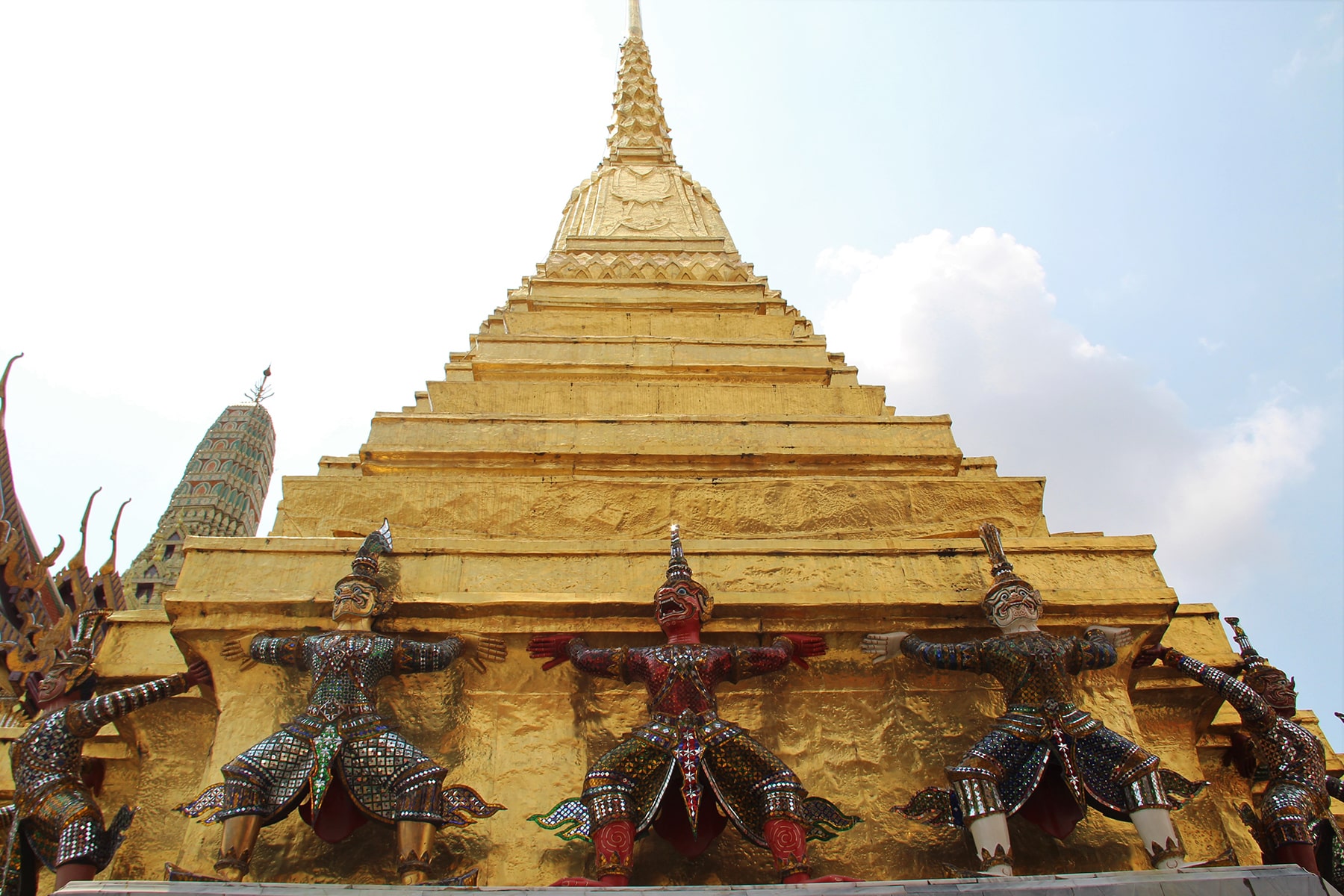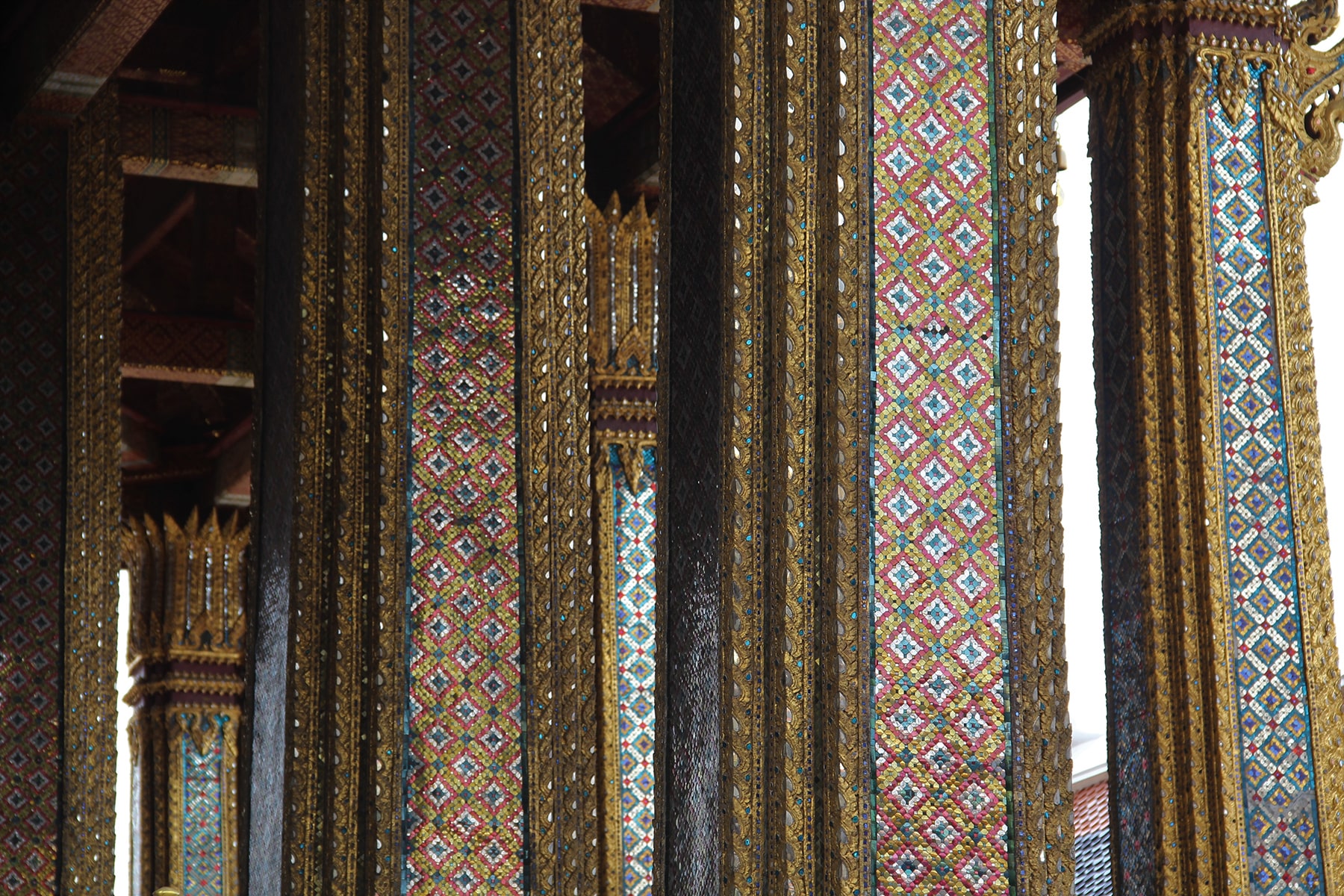 Next to the Grand Palace of Bangkok, there is the magnificent religious complex of Wat Pho. Unlike the Grand Palace, chaotic and crowded, this huge complex of temples, courtyards and stupas lies in a serene environment, sharply contrasting with the frenzy of the surrounding city. Walking around the flowery stupas and the courtyards full of golden Buddha statues, we found ourselves in a place of serenity and peace. Do not miss the Reclining Buddha, the biggest statue of Buddha in Thailand.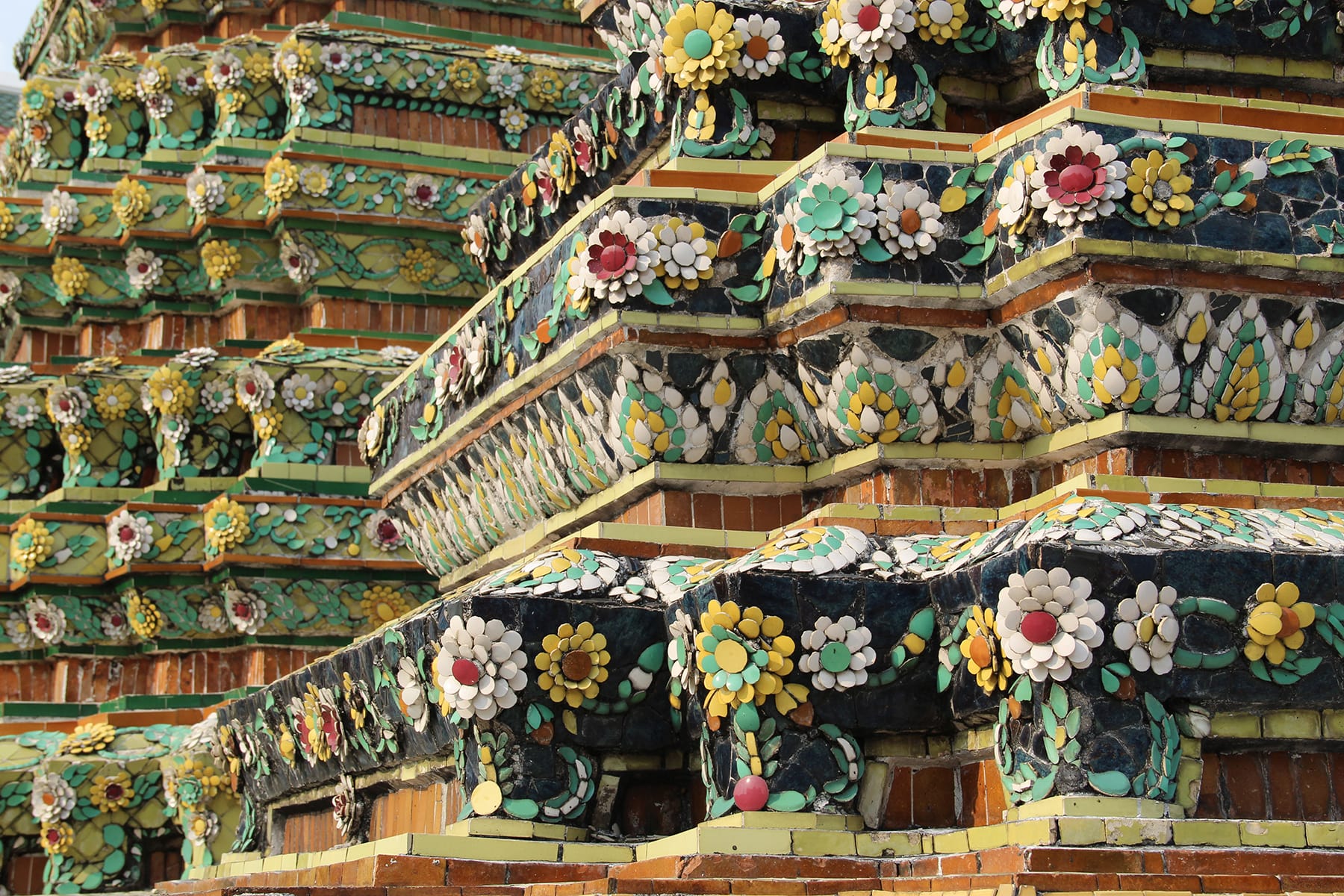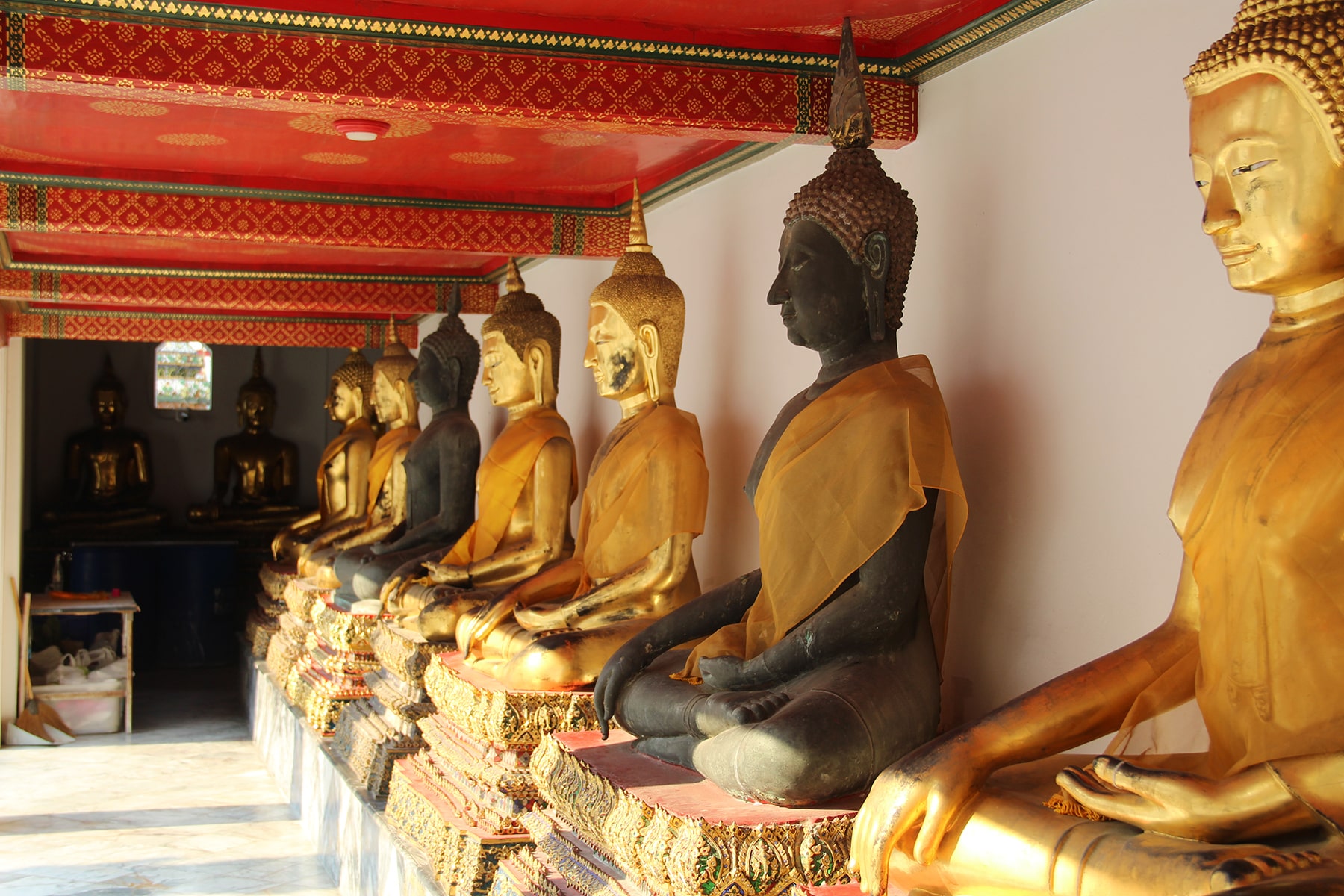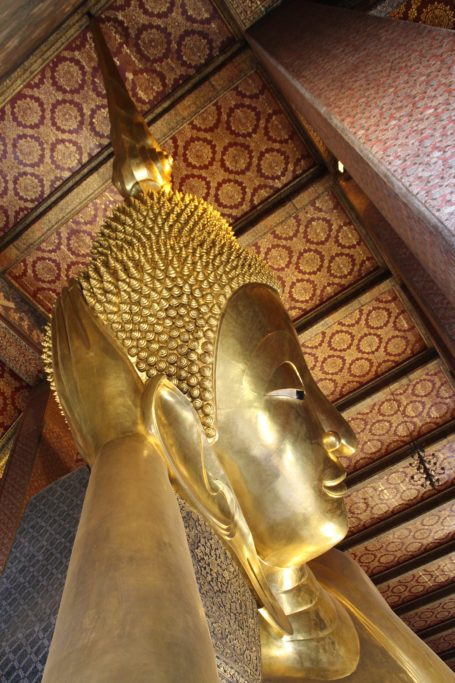 Ticket price Grand Palace Bangkok: 500 bahts (13€); Grand Palace Bangkok visit duration: 3-4 hours.
Ticket price Wat Pho Bangkok: 100 bahts (2.5€); Wat Pho Bangkok visit duration: 3 hours.

Do not feel intimated by the dimension or chaos of the city of Bangkok and try to fall for its irresistible charm.
Refrain from using only tuk-tuks to move around: yes, they are handy, but you will always end up paying a tourist price even if you negotiate. Use public transportation; it's far cheaper and ticket inspectors are nice and keen to help. If you want to use a taxi, make sure that the taxi driver switches on the taximeter and tell him/her to do it, if he/she hasn't done so.
At the end of our three-month trip to South-east Asia, we came back to Bangkok for three days; don't forget to check out the end of this (very long) article to see what else we visited in the city of Bangkok.
Day 3: Leaving for Phuket
During the third day of our trip, we took off from Don Muang airport in Bangkok and flew to Phuket, second destination of our Thailand itinerary.
Phuket is an old colonial town with little colourful houses and is scattered with Chinese red lamps swinging in the wind. The city is very lively and there are plenty of bars; we spent the evening in a bar called Rastabar, where a band was playing some live music.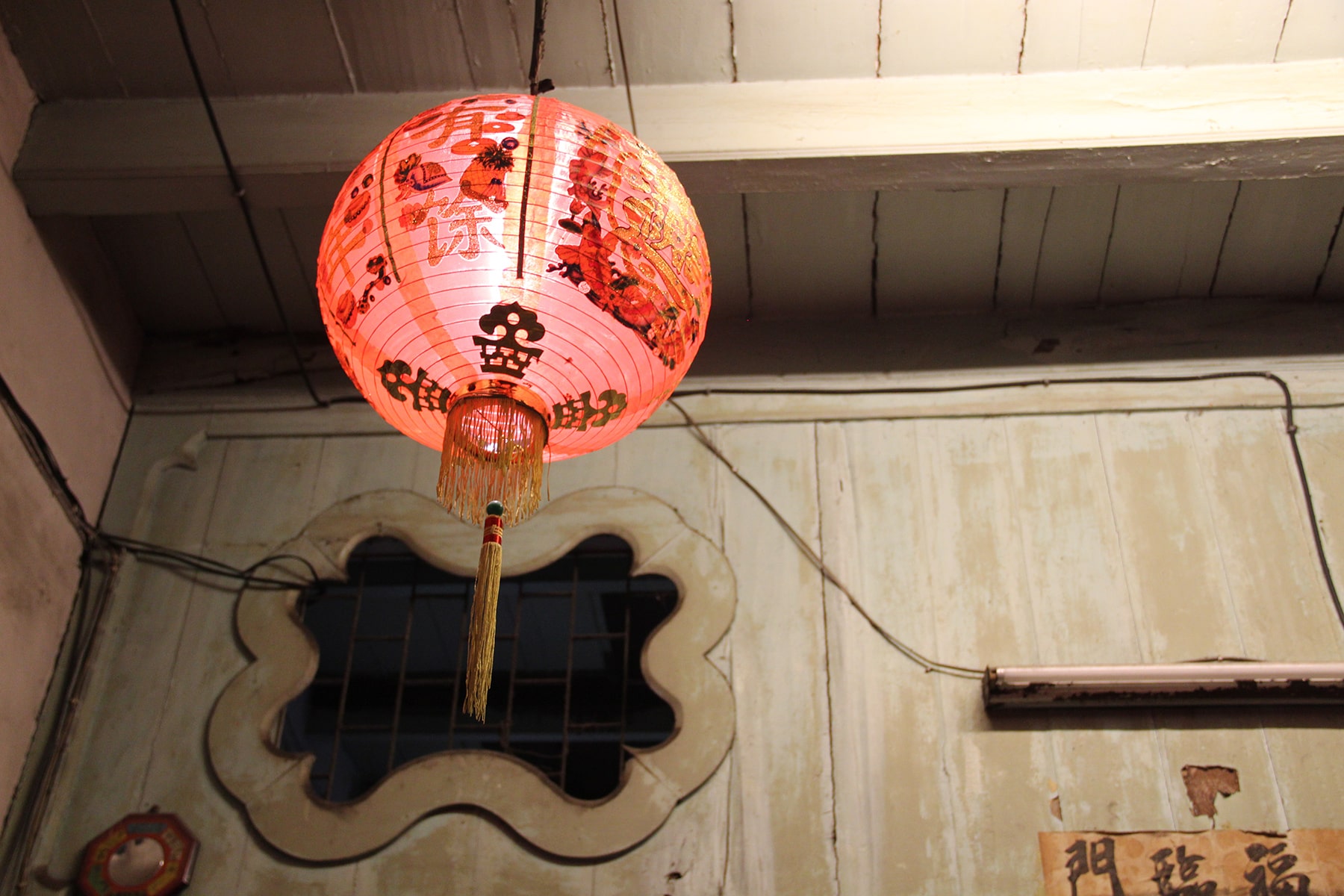 Journey time Bangkok-Phuket Town with Thai Lion Air : 45 min roughly. (Tickets costs from 20 to 50€ depending on how soon you book the ticket).
Shuttle (orange bus) from airport to Phuket Town : 100 bahts (roughly 2.5€); journey time airport-Phuket town: 1h20min roughly.

Day 4: Phuket and Harn Nai beach
Phuket was actually supposed to be just a base from which we could travel on to other islands, but since we needed more time to decide where to go, we ended up staying one day and exploring a bit the surrounding area. A blue bus drove us in one hour to Harn Nai beach, with very white and sticky sand. There were some restaurants behind the beach trying to attract tourists in pretty explicit ways, but in the end the food was actually pretty good. Careful, the last bus is at 4:30 pm!
Blue bus to Harn Nai: 40 bahts (roughly 4€); journey time: roughly one hour (if the bus doesn't break down in the middle of the road).
Day 5: Leaving for Koh Yao Yai and visiting Ao Muan Phang Nga Beach
A beaten-up blue ferry brought us from Phuket harbour to Koh Yao Yai island.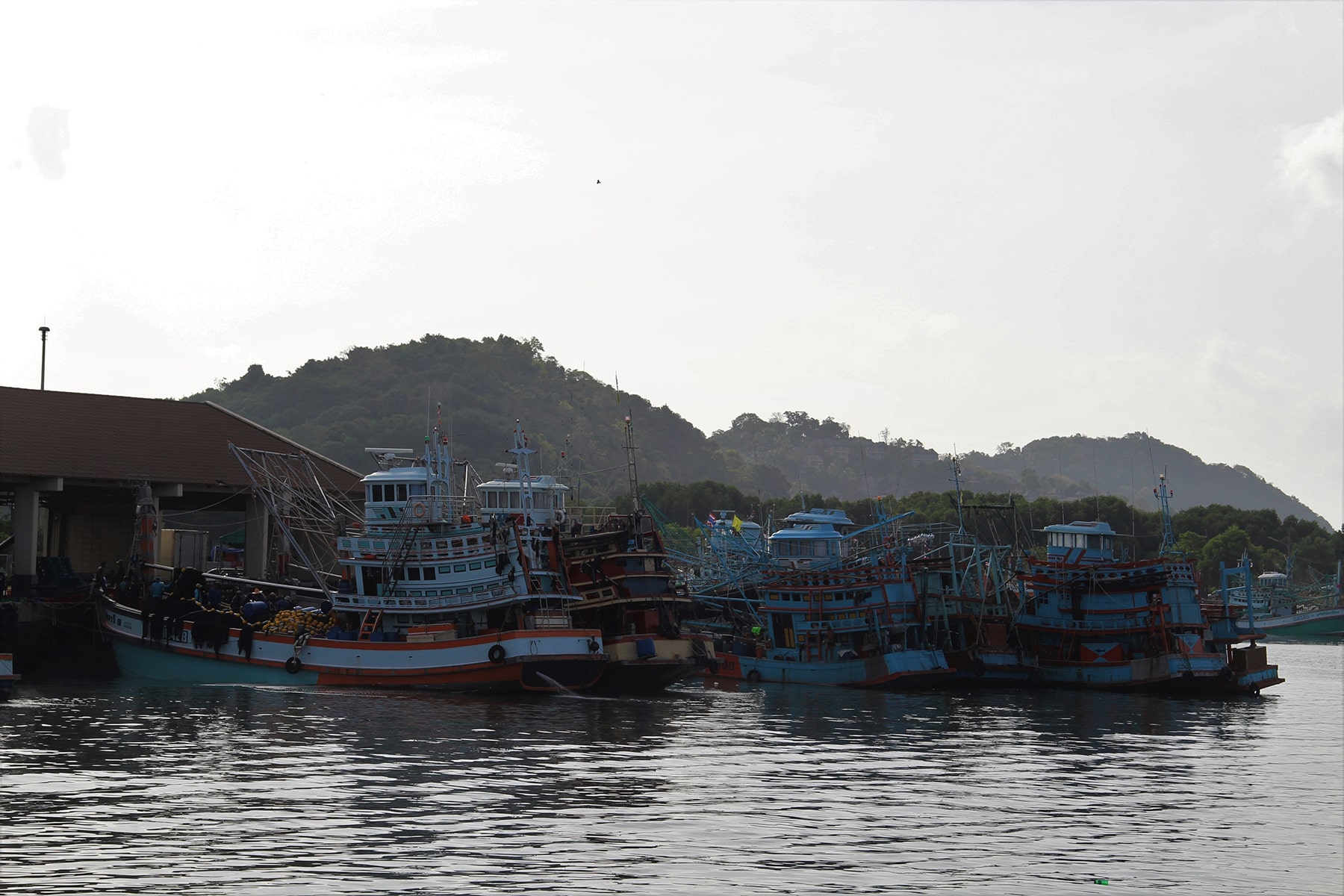 Koh Yao Yai is a less well-known island, compared to other ultra touristic Thai islands, and is still partly plunged in the jungle. With a semi-automatic scooter (help!), we set off to discover the island and visited Ao Muan Phang Nga Beach and Loh Jark Beach. During our stay on Koh Yao Yai island, the tide was very low in the afternoon, but the beaches were still very picturesque and the nearby jungle nothing short of majestic. It was simply amazing to drive around the quiet island streets with the scooter; little villages alternated with fresh jungle areas, where the street became one big green tunnel.
Taxi to Phuket harbour: 100 bahts each (roughly 2.5€) ; journey time: 10 min (can be negotiated!).
Ticket ferry Phuket-Koh Yao Yai: 140 bahts (3.7€); journey time ferry Phuket-Koh Yao Yai: 2 hours roughly.
Taxi harbour-hotel Koh Yao Yai: 100 bahts each; journey time: 15 min. (after having negotiated).
Cost to rent scooter in Koh Yao Yai: 200 bahts (5.3€)/day.
Day 6: Koh Yao Yai - Hua Lam Beach, Khlong Son Beach
We kept on exploring Koh Yao Yai beaches and visited the very famous Hua Lam Beach. With the low tide, a little strip of white sand resurfaces, (almost) linking Koh Yao Yai to the nearby island of Koh Yao Noi. We also visited what was to become our favourite beach of Koh Yao Yai island, Khlong Son Beach, where the jungle trees peep out and an absolute peace reigns.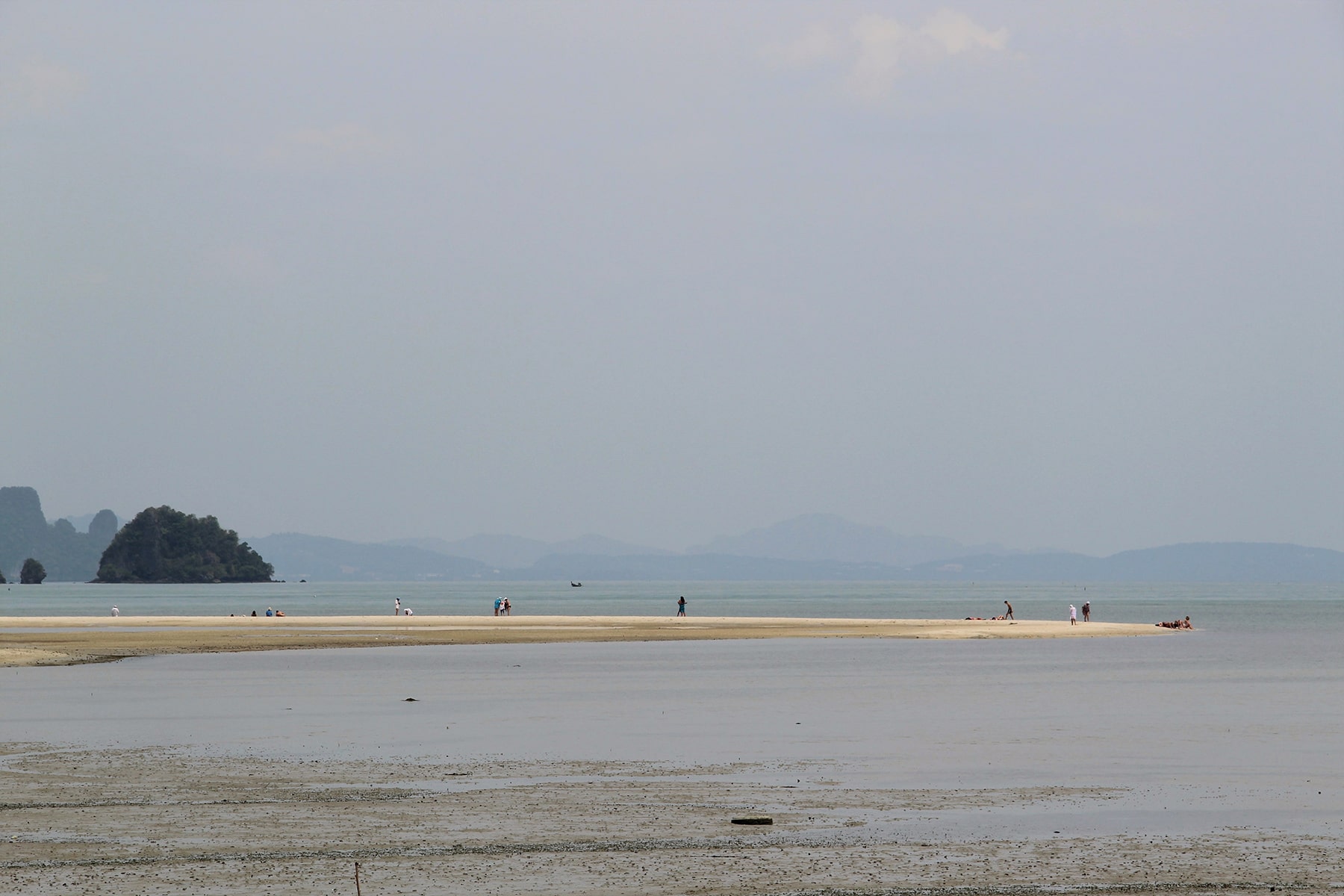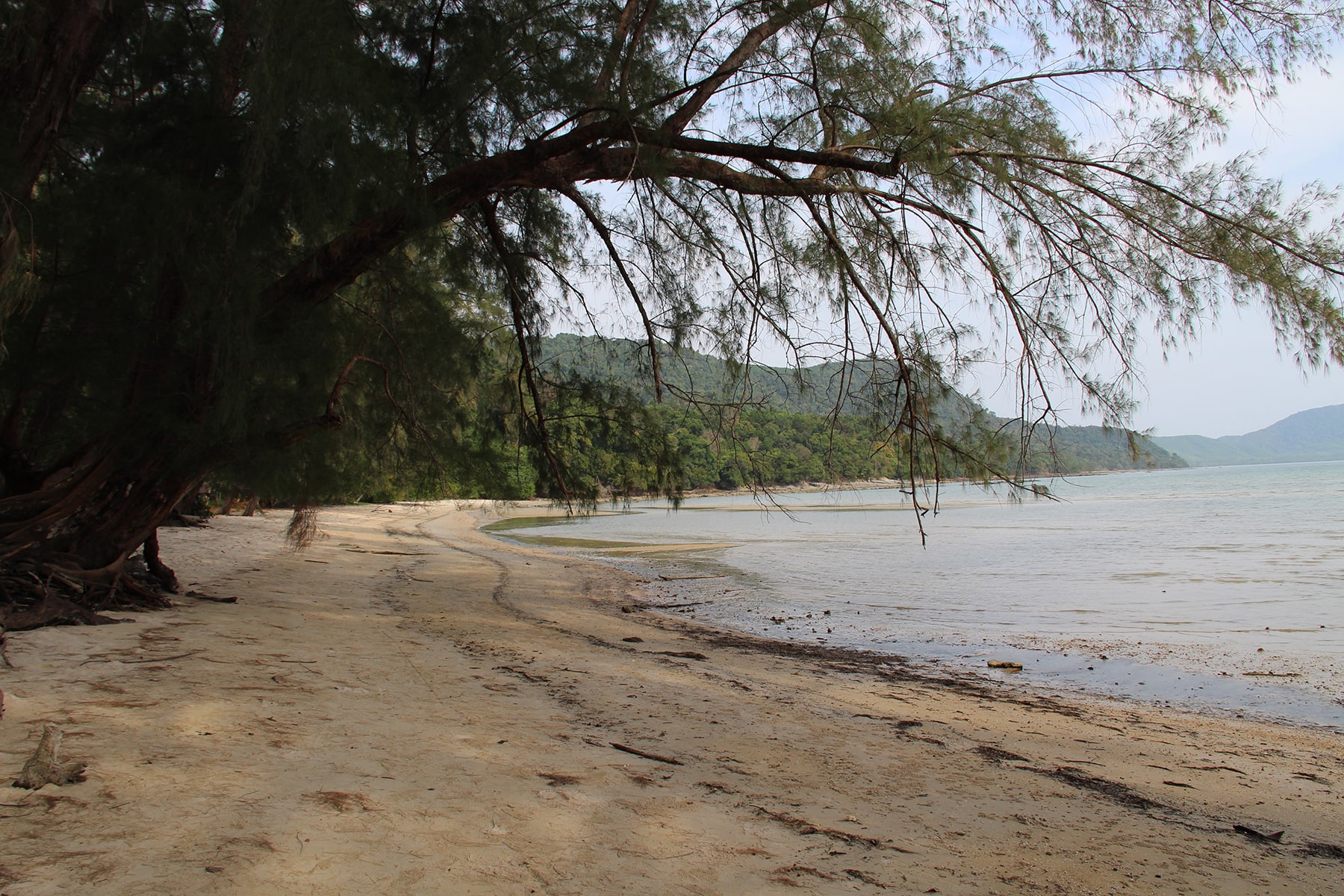 Day 7: Koh Yao Yai - Fishermen's Village and leaving for Krabi
We woke up early to visit the Fishermen's village, a picturesque cluster of little wooden stilt houses. In the centre of the village, a little quay harbours some longtail boats, traditional Thai boats. Their bows are adorned with colourful flowers and tissues as a symbol of good luck. The village houses are full of objects related to fishing, the livelihood of its inhabitants.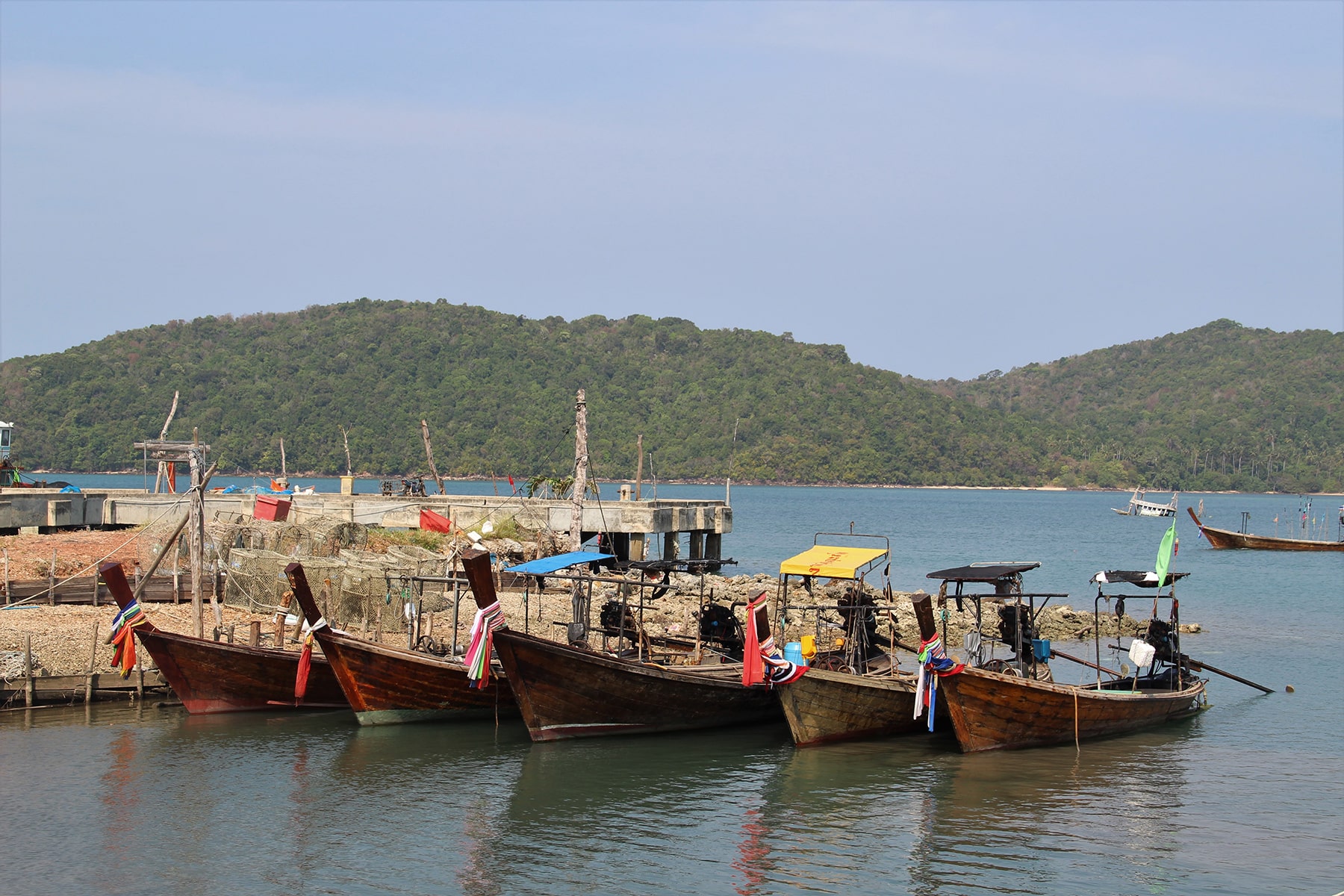 We went to eat the best Pad Thai of our whole trip in Thailand one last time in our favourite restaurant of the island, right beside the main port where we then embarked for Krabi, next stop of our itinerary in Thailand.
Krabi
Krabi is a lively little city crossed by big avenues. It's not a very picturesque city in itself, but the seafront with the famous crab statue is a nice walk. On this boardwalk we stumbled upon a boatman who offered to bring us on a boat tour in the mangroves. We visited a national park with some prehistoric caves, located on a little island just off the shore, and then entered into the tangled world of the mangroves. Absorbed in a creaking silence, nature observed us from behind the tree branches which looked like claws.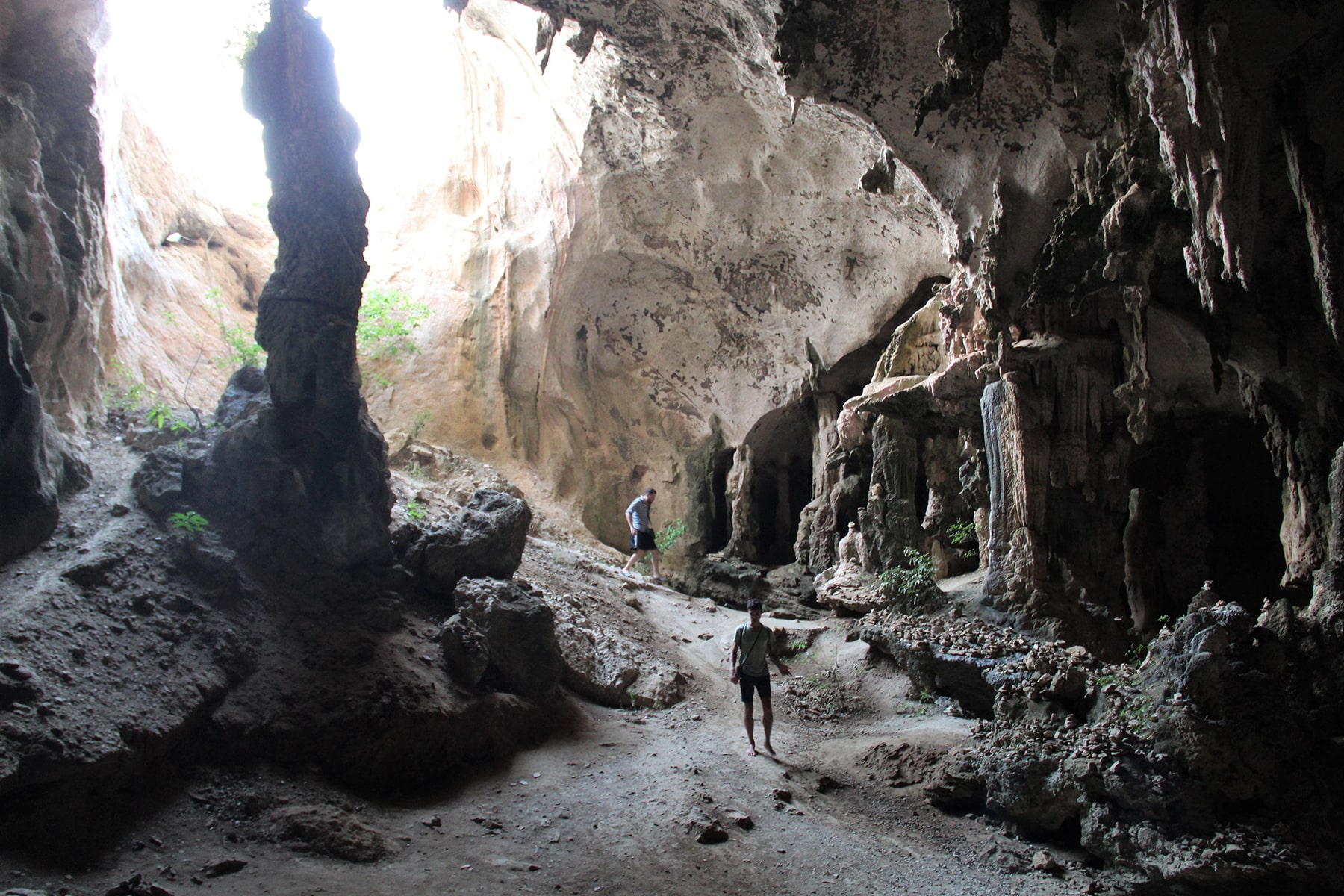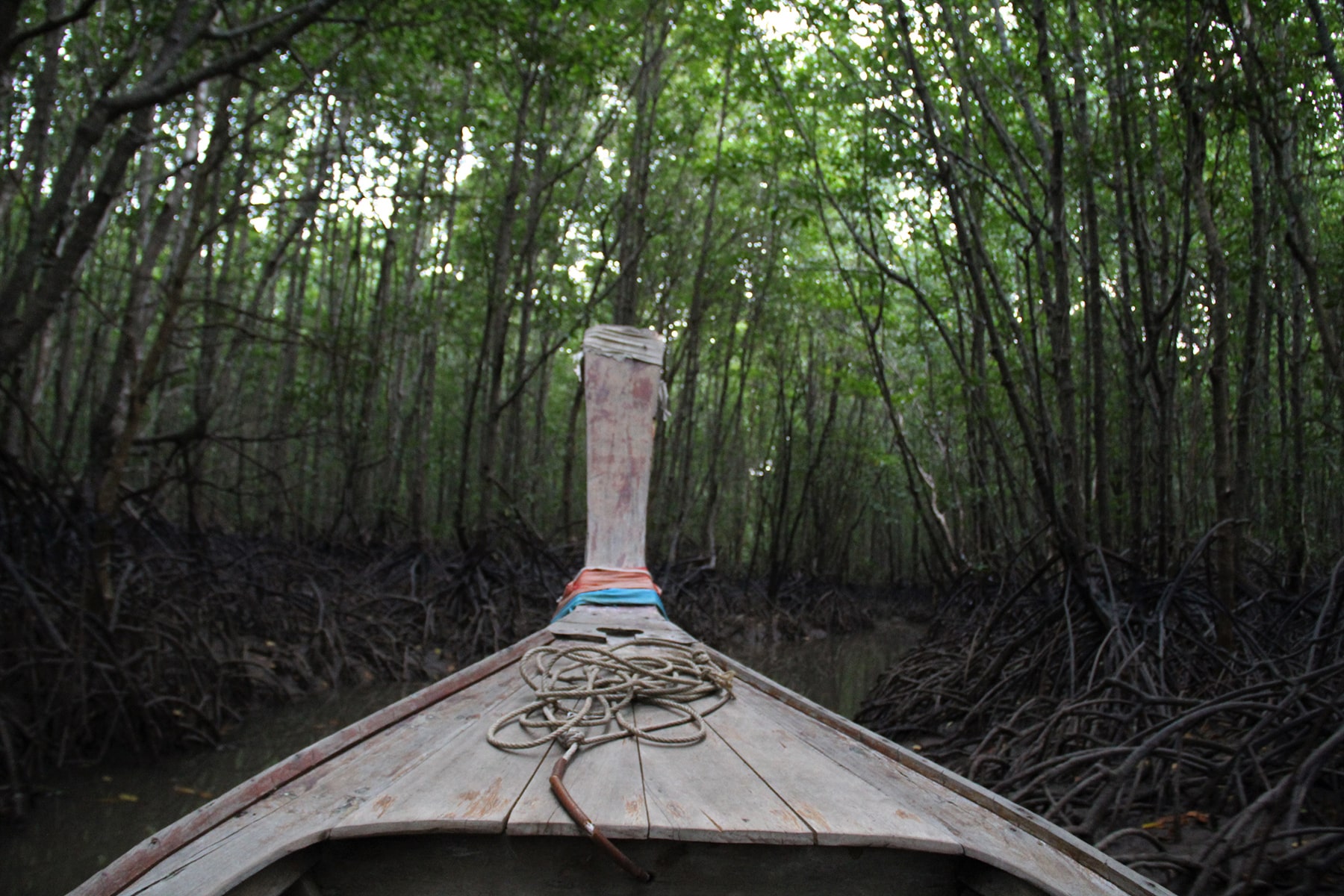 On the boardwalk there is a small night market, where you can taste some local delicacies and where we spent our evening.
Taxi to Koh Yao Yai harbour: 135 baths (3.5€) each.
Ticket ferry Koh Yao Yai-Krabi: 200 bahts (5.3€); journey time ferry Koh Yao Yai-Krabi: 45 min.
Local bus port-city centre: 100 bahts (2.6€).
Price mangrove tour: 110 baths (2.9€) each; duration mangrove tour: 1h30 (including the national park tour).
Ticket national park of Krabi: 30 bahts (0.8€); duration visit: 30 min.
Day 8: Krabi - Tiger Cave Temple and Ao Nang Beach
We woke up at the crack of dawn to go visit the Wat Tham Seua Temple, also called Tiger Cave Temple in Krabi. This religious site takes its name from a cave at the bottom of the hill, where a tiger is said to have lived, and is commemorated by a rather kitsch statue.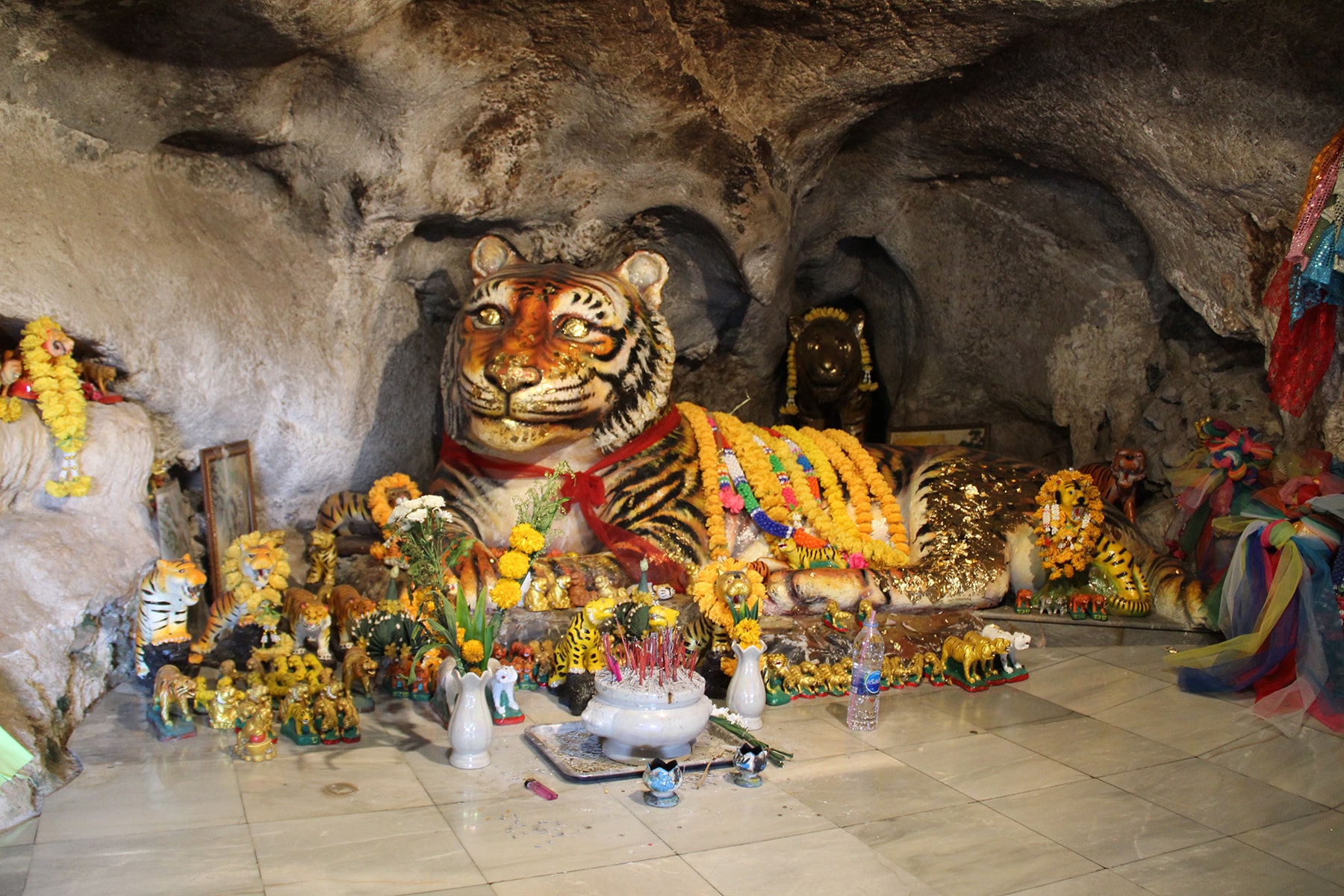 After 1,200 very steep steps, we conquered the top of the hill. It was tiring, but the beautiful view surely paid off!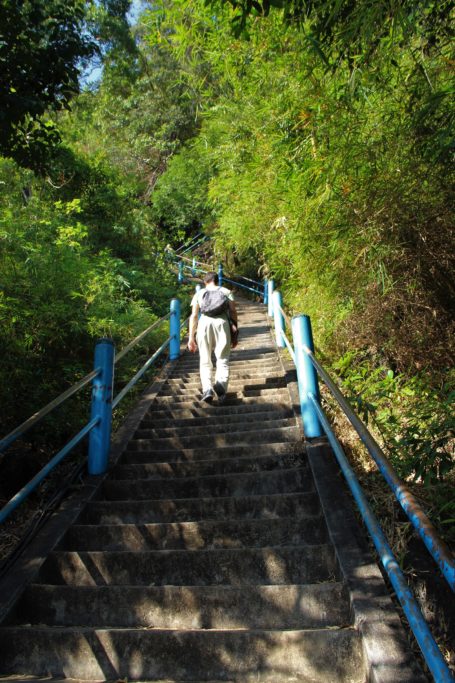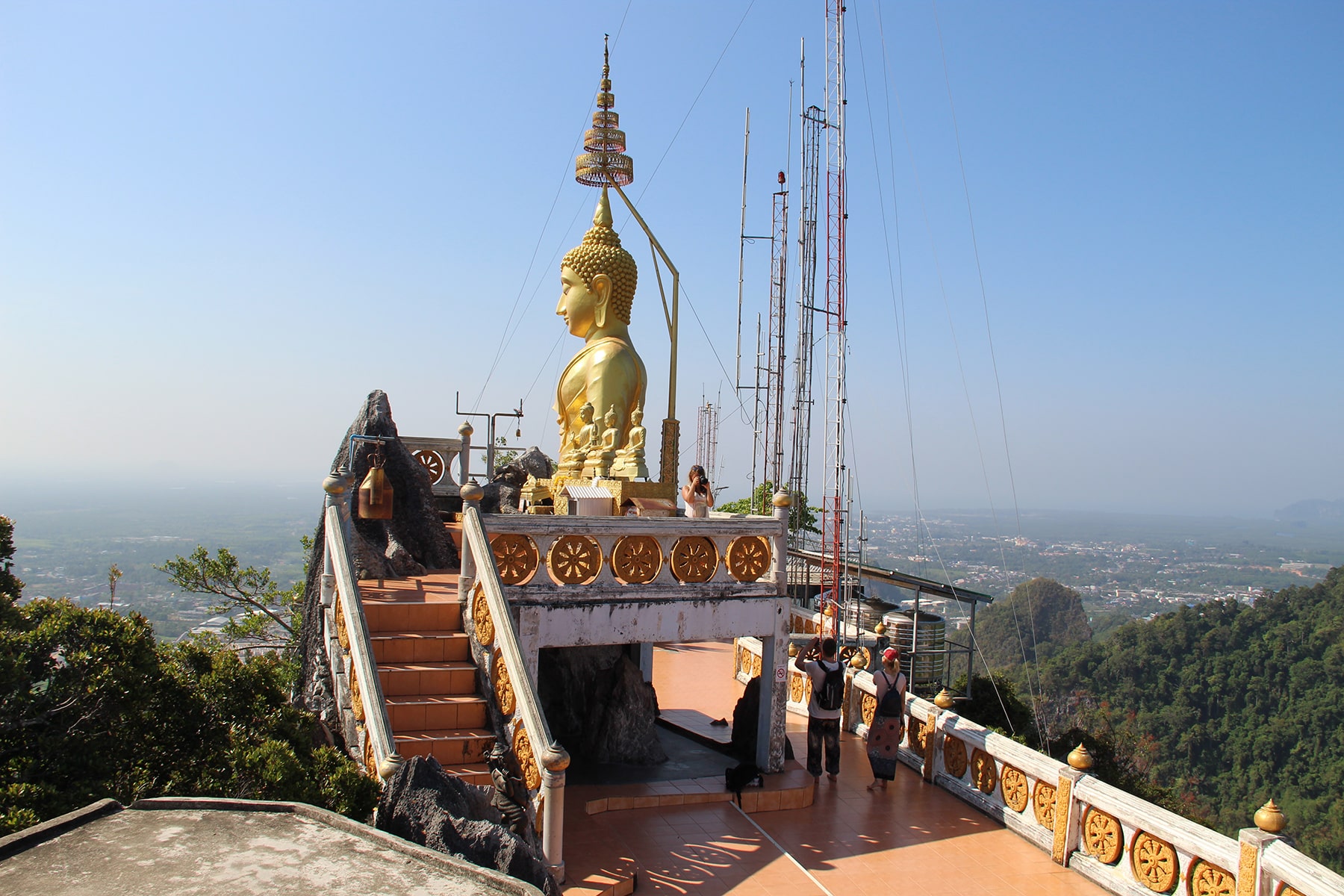 In the afternoon we wanted to go see the famous Riley Beach, but the last bus was at 2:30 pm, so we didn't have enough time. We visited Ao Nang Beach, just outside the city.
Bus to Tiger Cave: 50 bahts (1.3€); journey time Krabi-Tiger Cave : 30 minutes.
Ticket Tiger Cave Krabi: FREE; visit duration Tiger Cave Krabi: 2 hours roughly.
Bus to Ao Nang Beach: 50 bahts (1.3€).
Day 9: Leaving for Koh Lanta
Leaving for Koh Lanta was very confusing. It was hard to find someone that would give us clear and transparent information on how to get there. After various events, and after having wasted 150 bahts, we managed to take the ferry to Koh Lanta.
Koh Lanta - Ao Kantiang beach
One of the best thing to do in the island of Koh Lanta in Thailand is just sit down and enjoy the wonderful sunsets, which we did on our first day on the island on Ao Kantiang beach.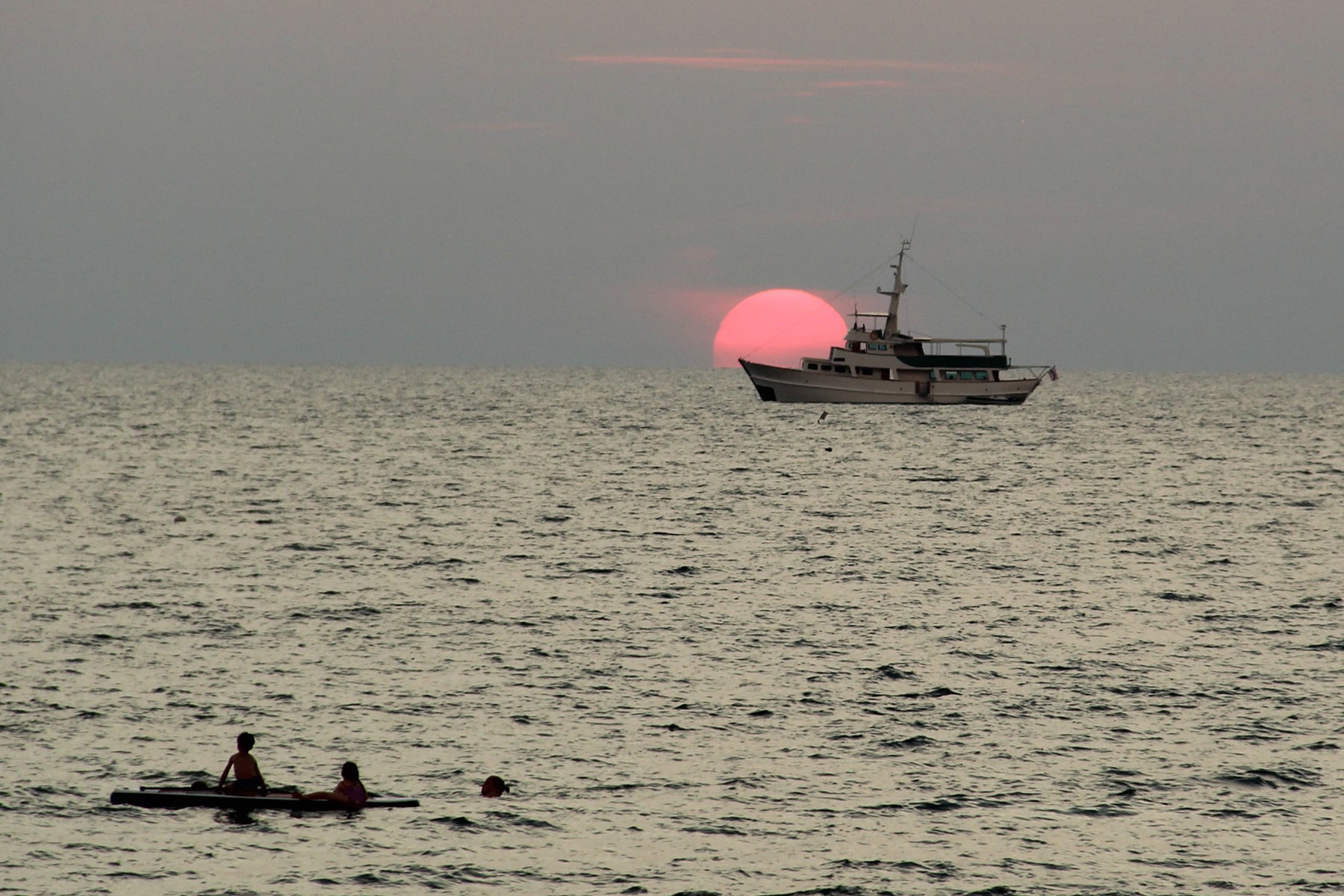 Bus to Krabi harbour: 50 bahts (1.3€) (we went to the wrong harbour, you can reach the right one by foot from the city centre).
Ticket ferry Krabi-Koh Lanta: 450 bahts (12€) (350 bahts from the right harbour); journey time ferry Krabi-Koh Lanta: roughly 3 hours.
Entry tax to Koh Lanta island: 10 bahts (0.25€).
Cost to rent a scooter in Koh Lanta: 170 bahts (4.5€)/day.
Day 10-14: Koh Lanta - kayak, Long Beach and Diamond Beach…
The days spent in Koh Lanta were focused on relax: our routine included going to the beach, swimming in the sea, eating and admiring splendid sunsets on the beach. We visited more or less all the beaches on the island, including Khlong Dao, the perfect beach to look at Koh Lanta sunsets, Long Beach, the best beach to swim and Diamond Beach, a tiny creek with a very beautiful restaurant overlooking a cliff.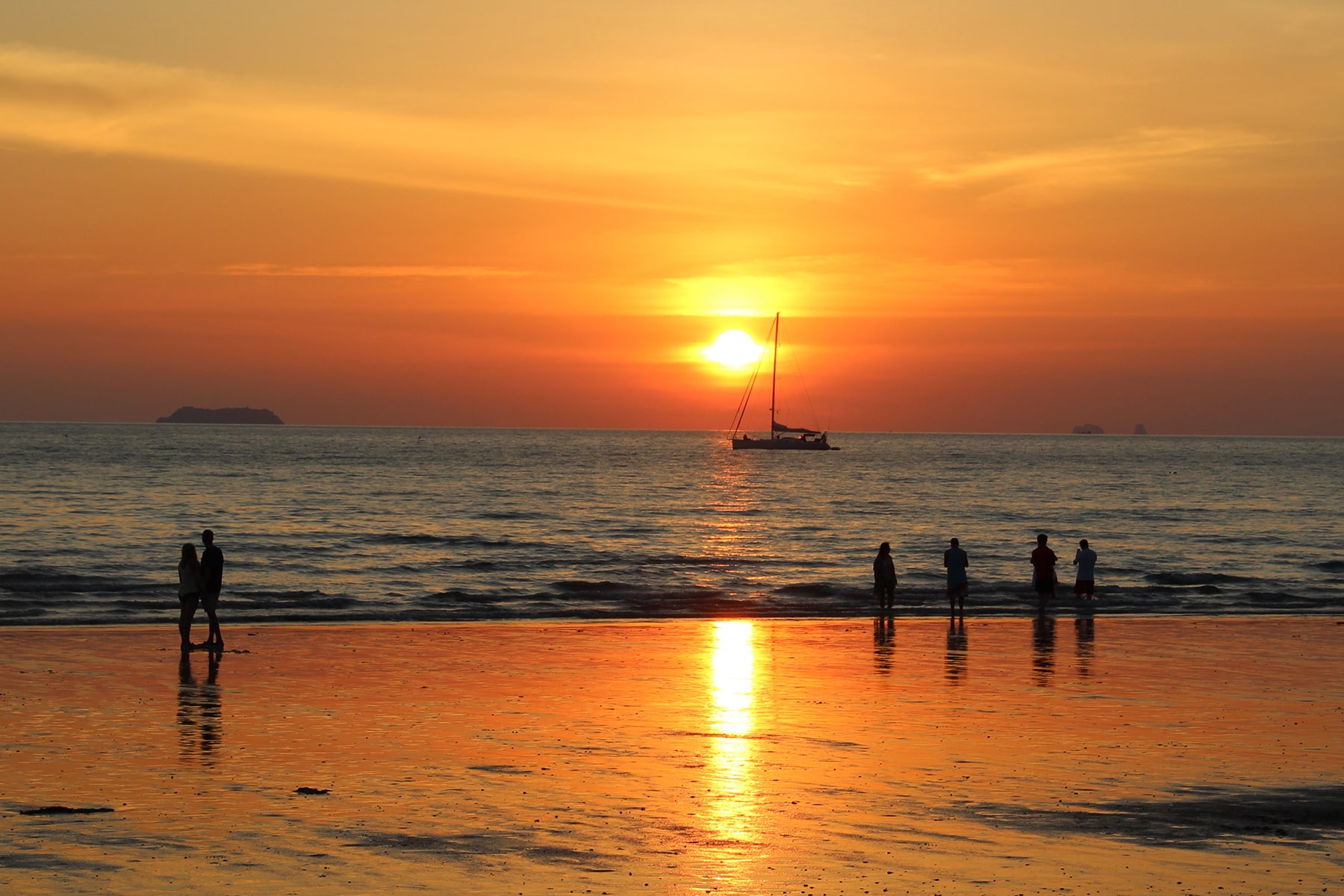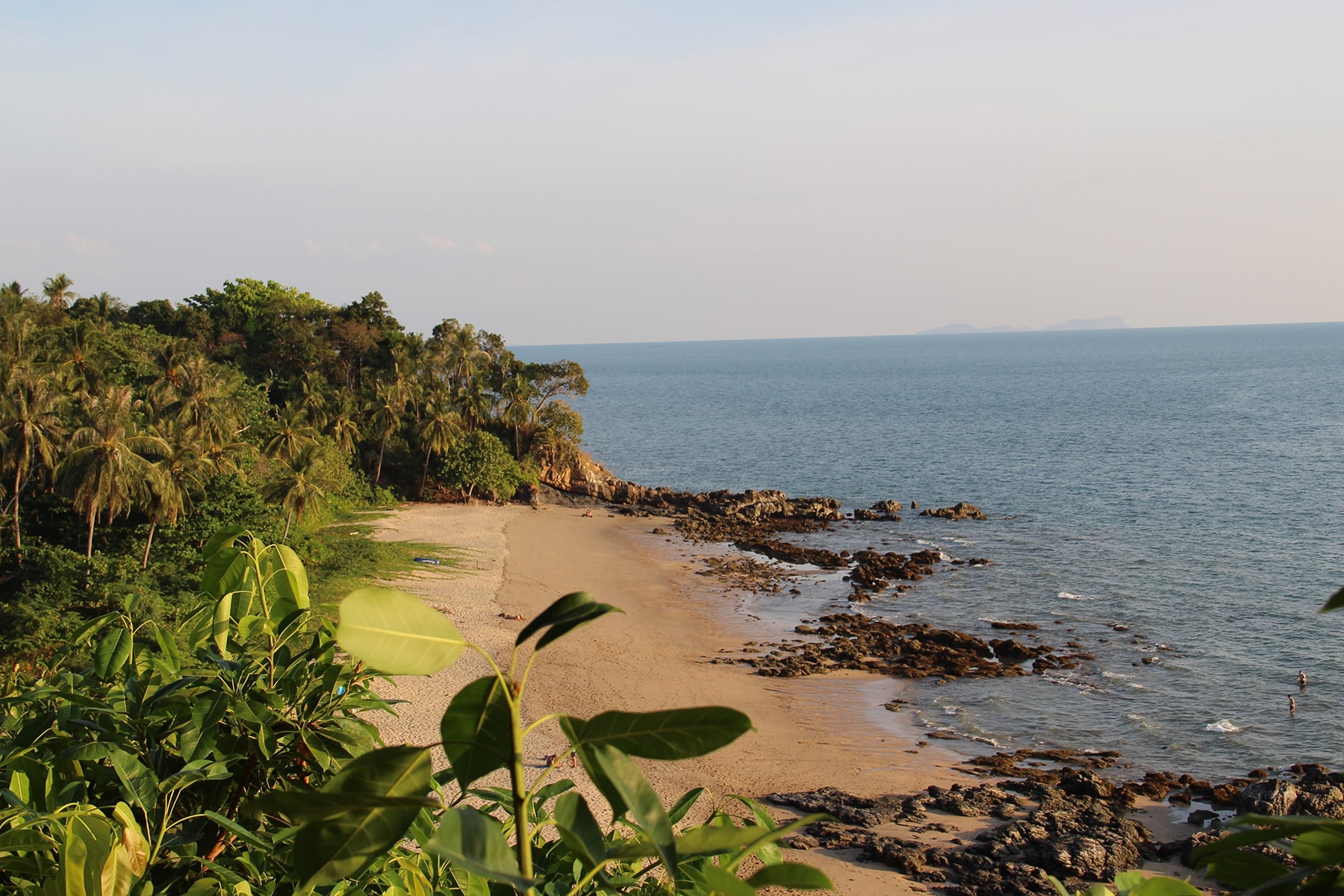 Another activity to do in Koh Lanta is renting a kayak to go around the island mangroves. You can take a look at what's left of the floating island, once a hostel made out of wood and plastic barrels. You will also be able to go inside the mangroves and have incredibly close encounters with monkeys observing you from tree branches creaking under their weight.
Cost to rent 4 hours kayak + park ticket : 300 bahts (environ 8€) /each.
Day 15-16: Towards northern Thailand
Two days full of travelling in our Thailand itinerary. We took a ferry back to Phuket, from where the next day we took a plane that brought us back to Bangkok. Once in Bangkok, we took a train directly from the airport to Ayutthaya. At the airport ticket counter, we were asked to pay either 200 bahts (5.2€) for a 2nd class train ticket or only 11 bahts (0.30€) (yes, you read it right) for a 3rd class ticket. Try and guess which one we chose… In the end the 3rd class turned out to be very comfortable and spacious!
Ticket ferry Koh Lanta-Phuket: 550 bahts (14.5€) (bought from the scooter renting place, at the harbour it cost 700 bahts); journey time ferry Koh Lanta-Phuket: roughly 5 hours.
Ticket bus Phuket port-city: 100 bahts (2.6€).
Shuttle (orange bus) from airport to Phuket Town: 100 bahts (roughly 2.5€); journey time shuttle from airport to Phuket Town: 1h20 min approx.
Ticket train Bangkok airport-Ayutthaya: 11 bahts (0.30€), very comfy 3rd class; journey time train Bangkok airport-Ayutthaya: 30 min roughly.
Day 17: Ayutthaya and bus to Sukhothai
The very famous site of Ayutthaya is made of several small temples scattered around the city centre with paid admission. From our hotel next to the train station, we took a ferry to cross the river (no pedestrian bridge exists) and we rented a bicycle to move freely around the city.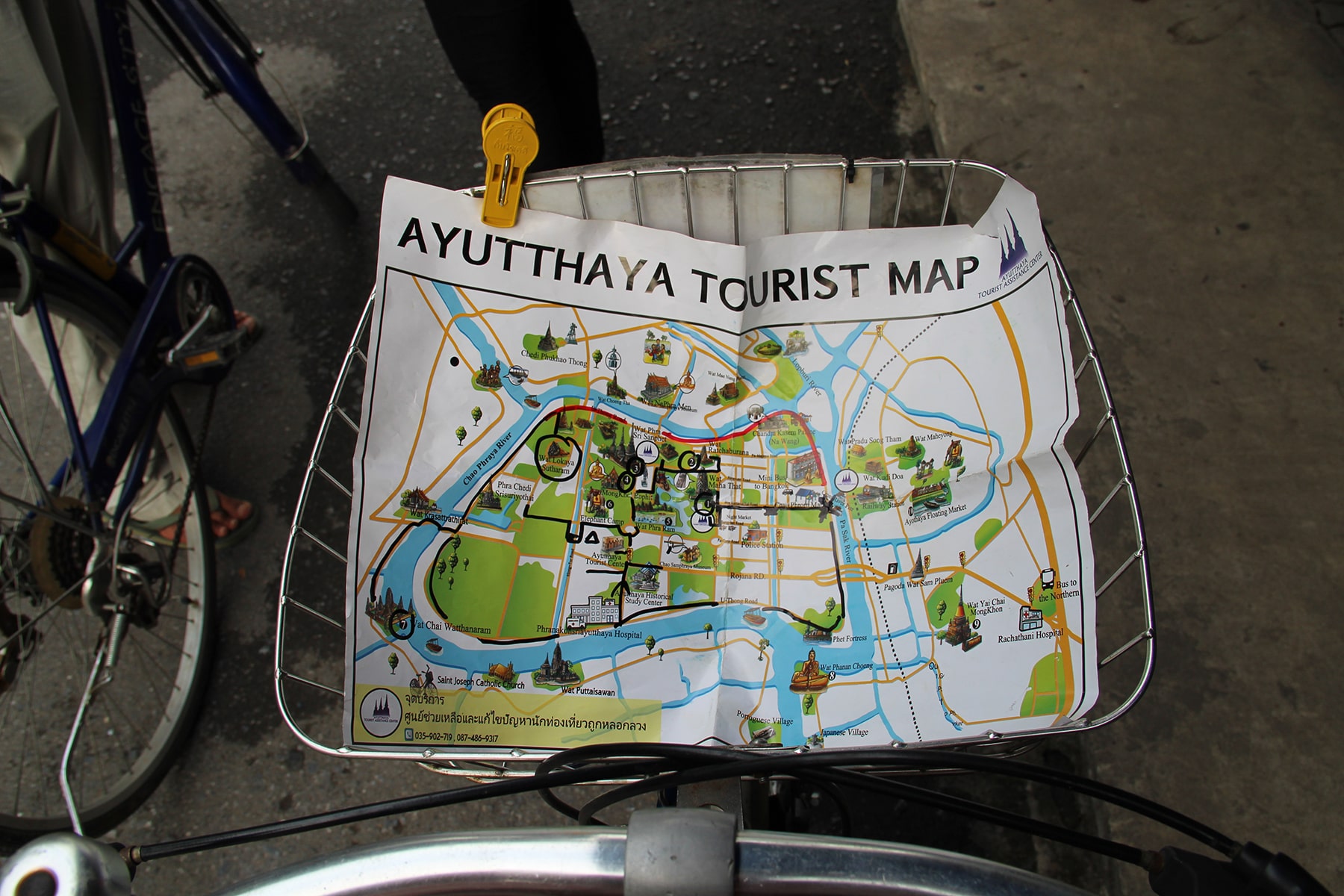 We visited the Wat Mahathat temple, whose Buddha head intertwined in tree roots has become a symbol of the city, as well as the Wat Ratchaburana with a remarkable stupa decorated with frescoes. We went on to visit the Wat Phra Si Sanphet with three big white stupas and the Reclining Buddha of Wat Lokayasutharam.  Slightly outside the city centre, we also visited the site of Wat Chai Wattanaram with a Khmer-style tower surrounded by many headless statues.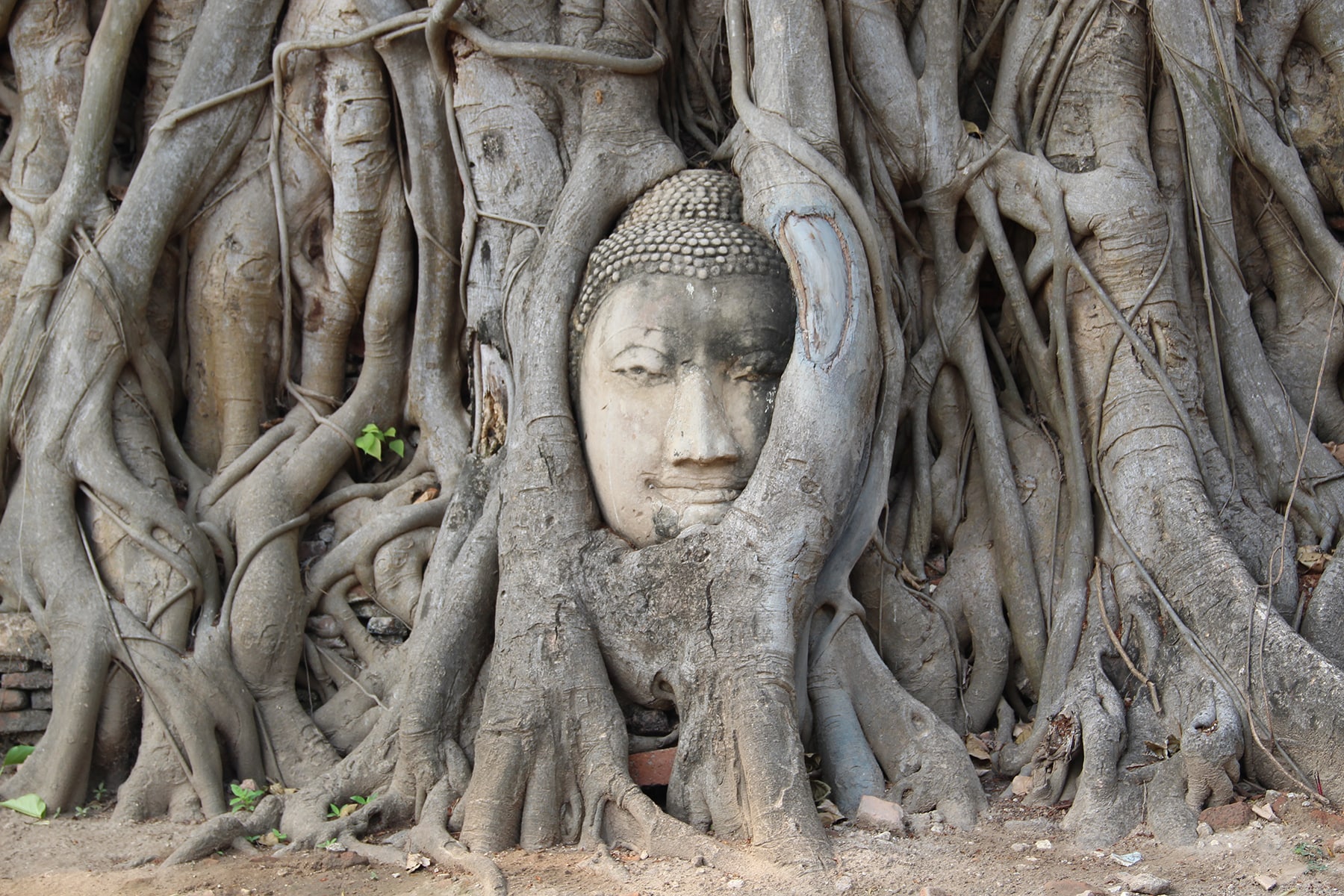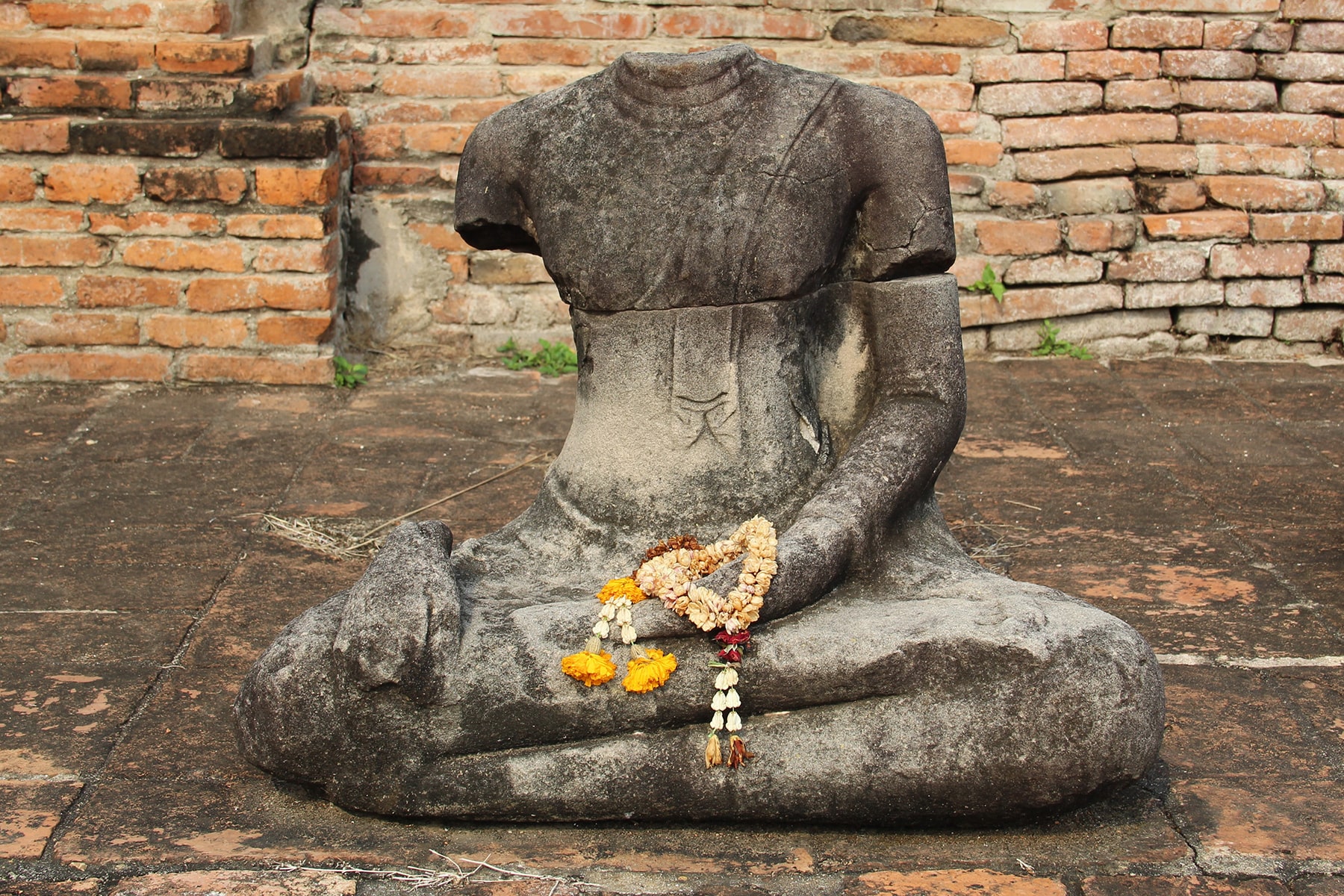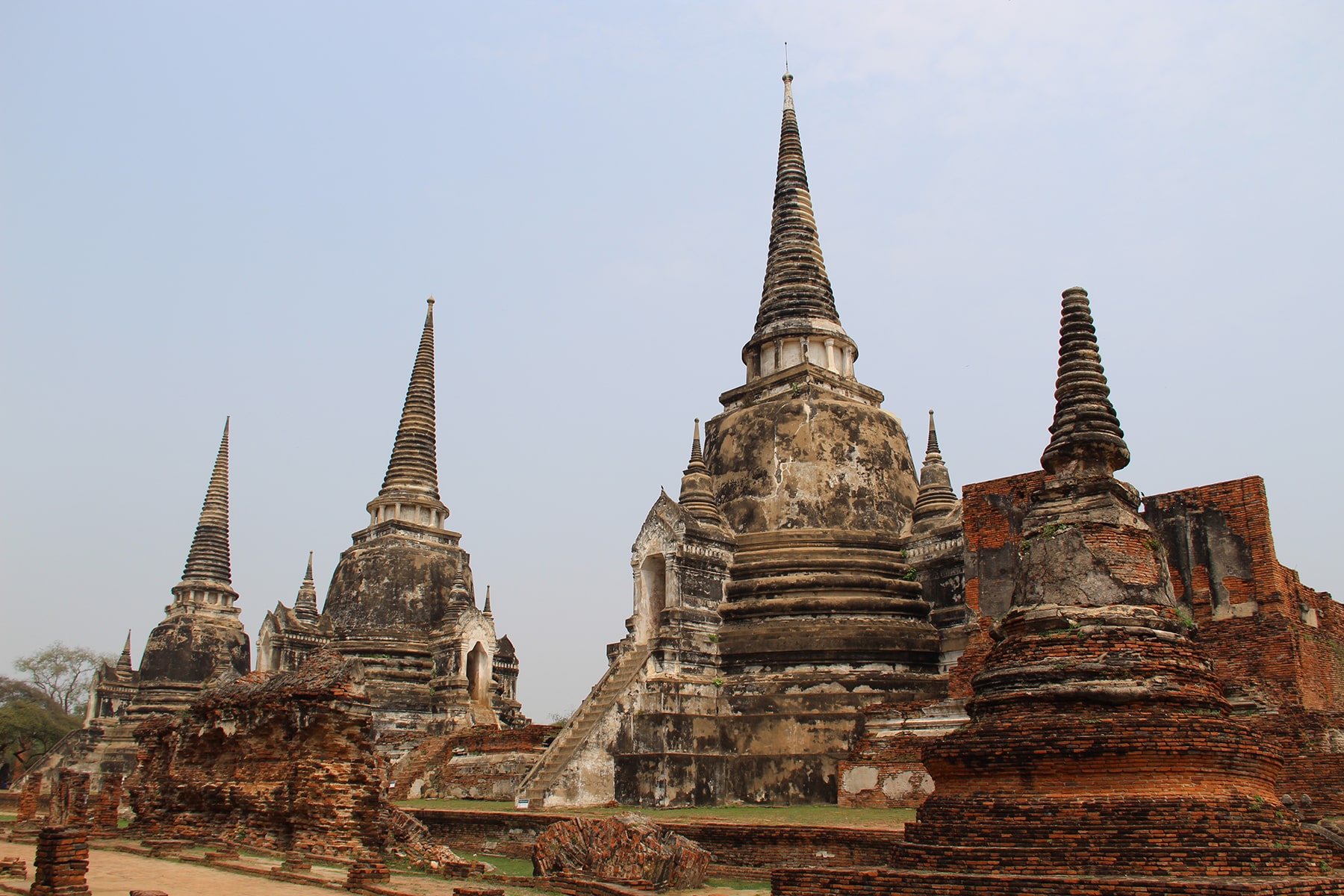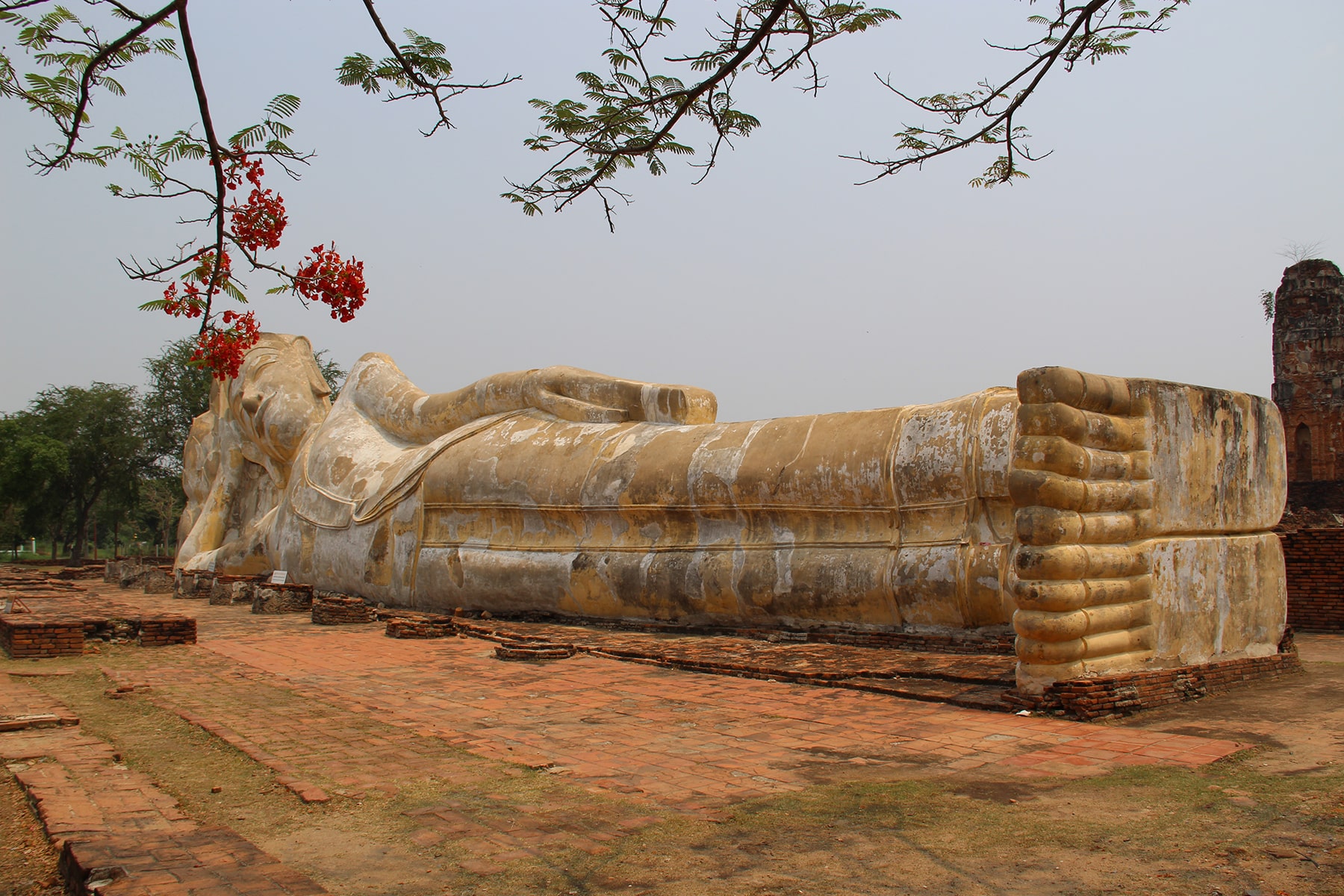 We then took a tuk-tuk to the bus station (far from the centre) and we waited for two free seats to become available on a bus to Sukhothai, where we arrived in the middle of the night.
Boat to cross the river: 5 bahts (0.1€).
Cost to rent a bike in Ayutthaya: 50 bahts (1.3€).
Ticket Ayutthaya temples visit: 50 bahts (1.3€)/temple; duration visit Ayutthaya (5-6 temples with bike): roughly 5 hours-half a day.
Tuk-tuk to bus station Ayutthaya: 75 bahts (2€); journey time: roughly 15 min.
Ticket bus Ayutthaya-Sukhothai: 310 bahts (8€); journey time bus Ayutthaya-Sukhothai: roughly 6 hours.
Tuk-tuk Sukhothai bus station-hotel: 120 bahts (3.1€).
Day 18-19: Sukhothai and leaving for Lampang
After our arrival at 3 o' clock in the morning, we spent a day relaxing in the hotel swimming pool and in the night market of Sukhothai.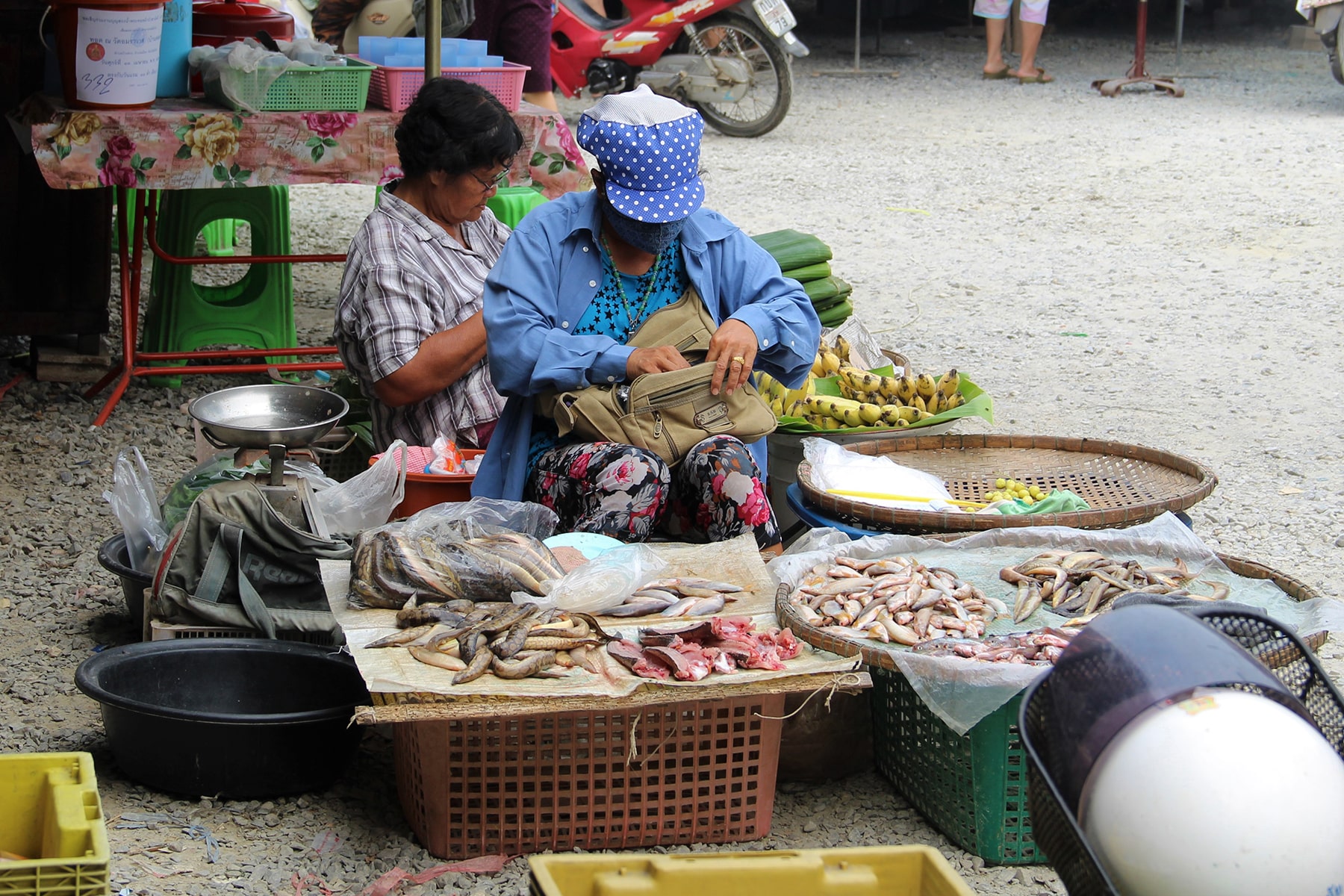 The following day we left early in the morning to visit the Sukhothai archaeological site. Unlike Ayutthaya, which is made of temples scattered around the city centre, Sukhothai ruins are all located inside an enclosed site just outside the city centre. A little shuttle bus connects the site with the city. The site can be visited by foot, but renting a bike allows you to move faster between temples and be able to reach the further ones. The visit is really mind-blowing; the ruins are located inside a very beautiful park with many trees and lakes. The most beautiful part of the site is the Wat Mahathat, full of stupas and Buddha statues. In the central part a little "tower" with bas relief decorations stands tall, just behind a praying hall with a magnificent white Buddha.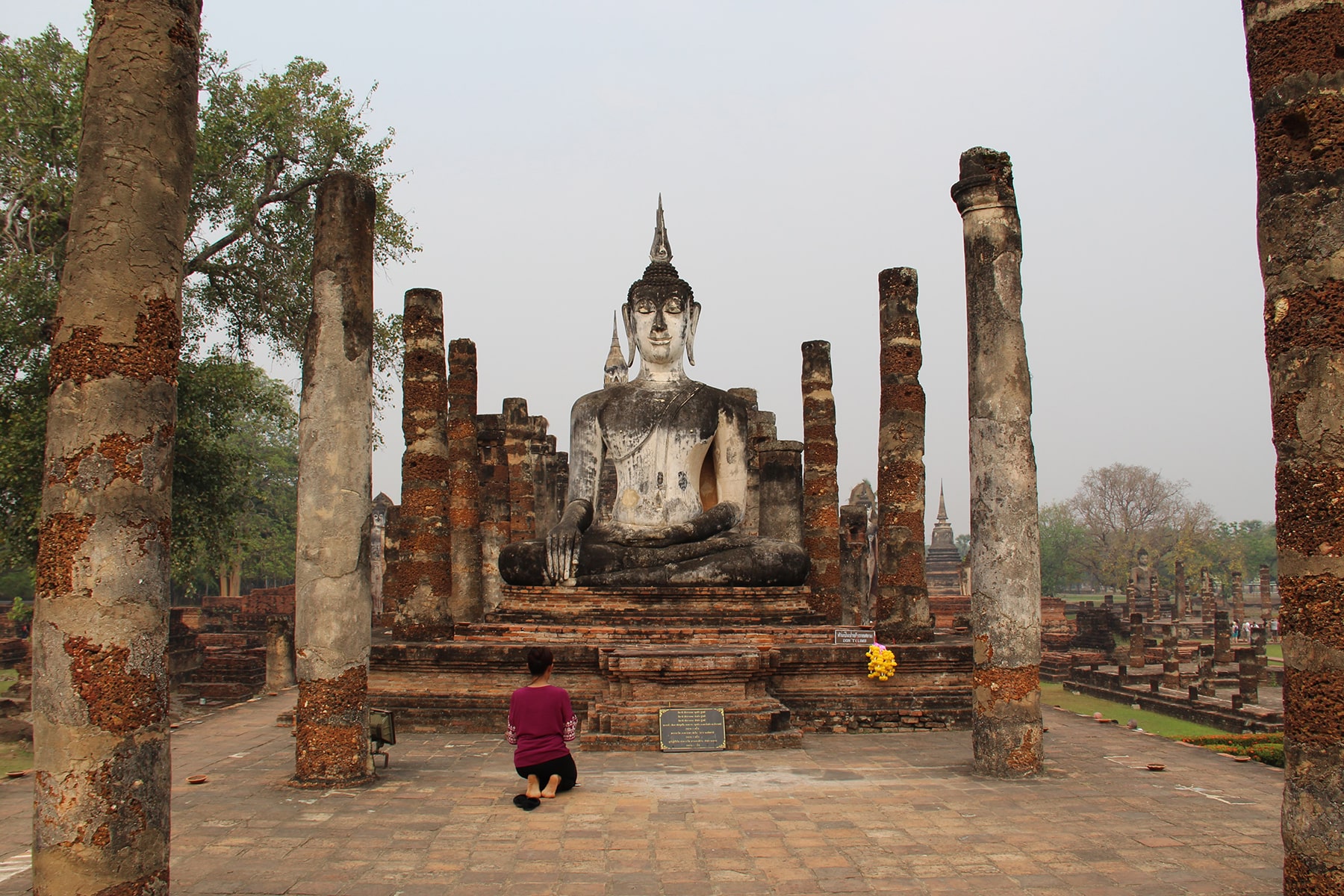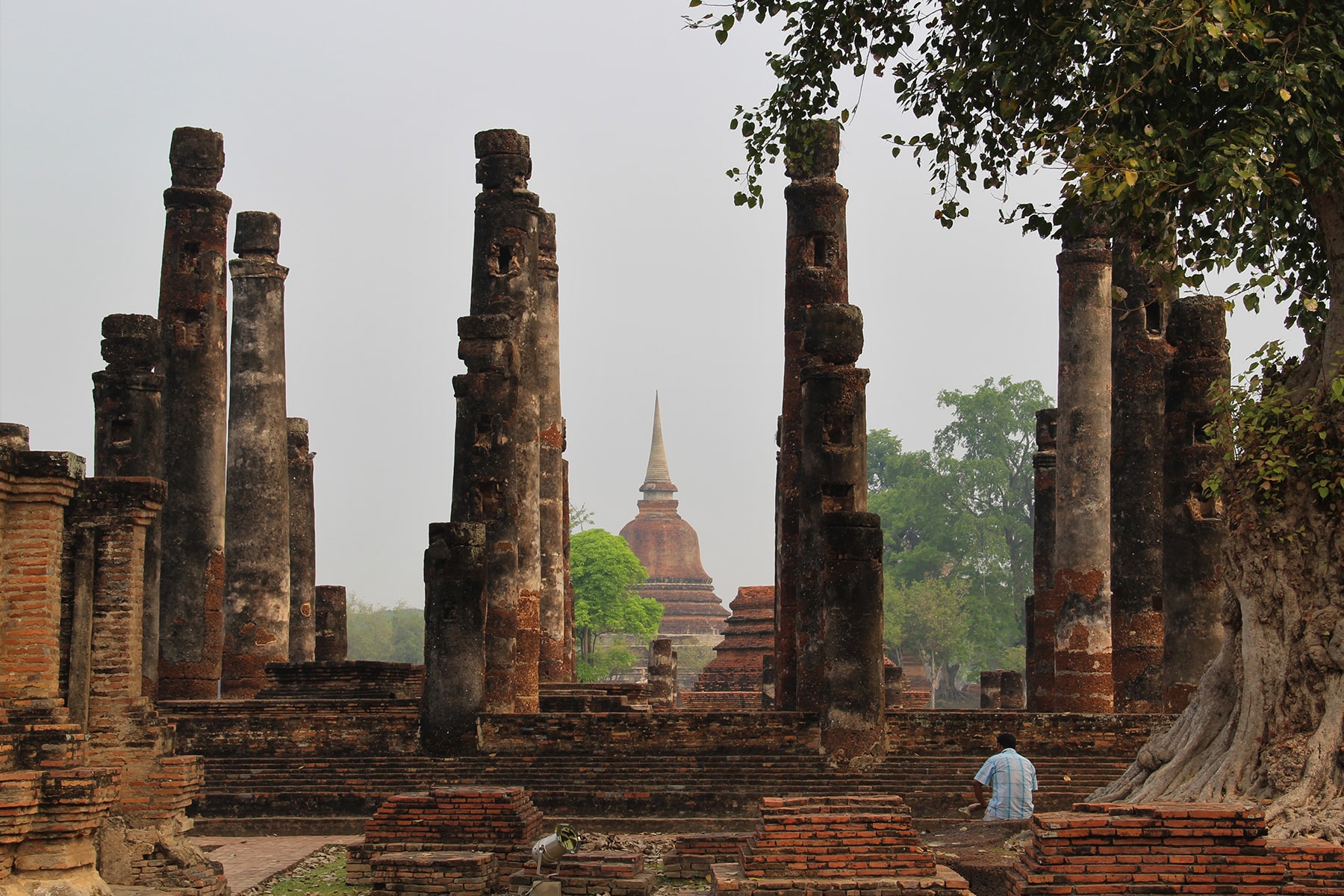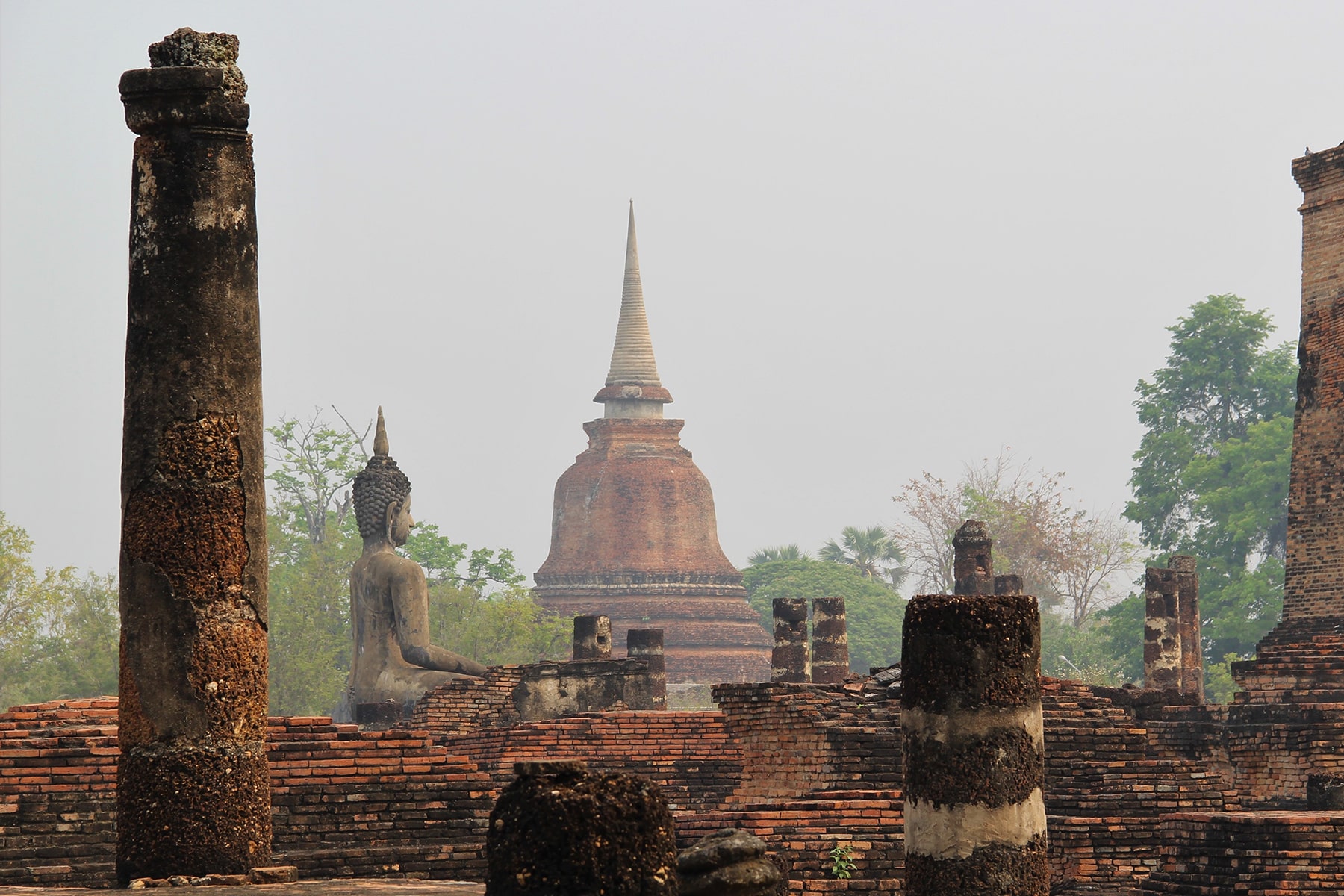 Then we checked out the Wat Si Sawat, a temple with three towers with a Khmer style.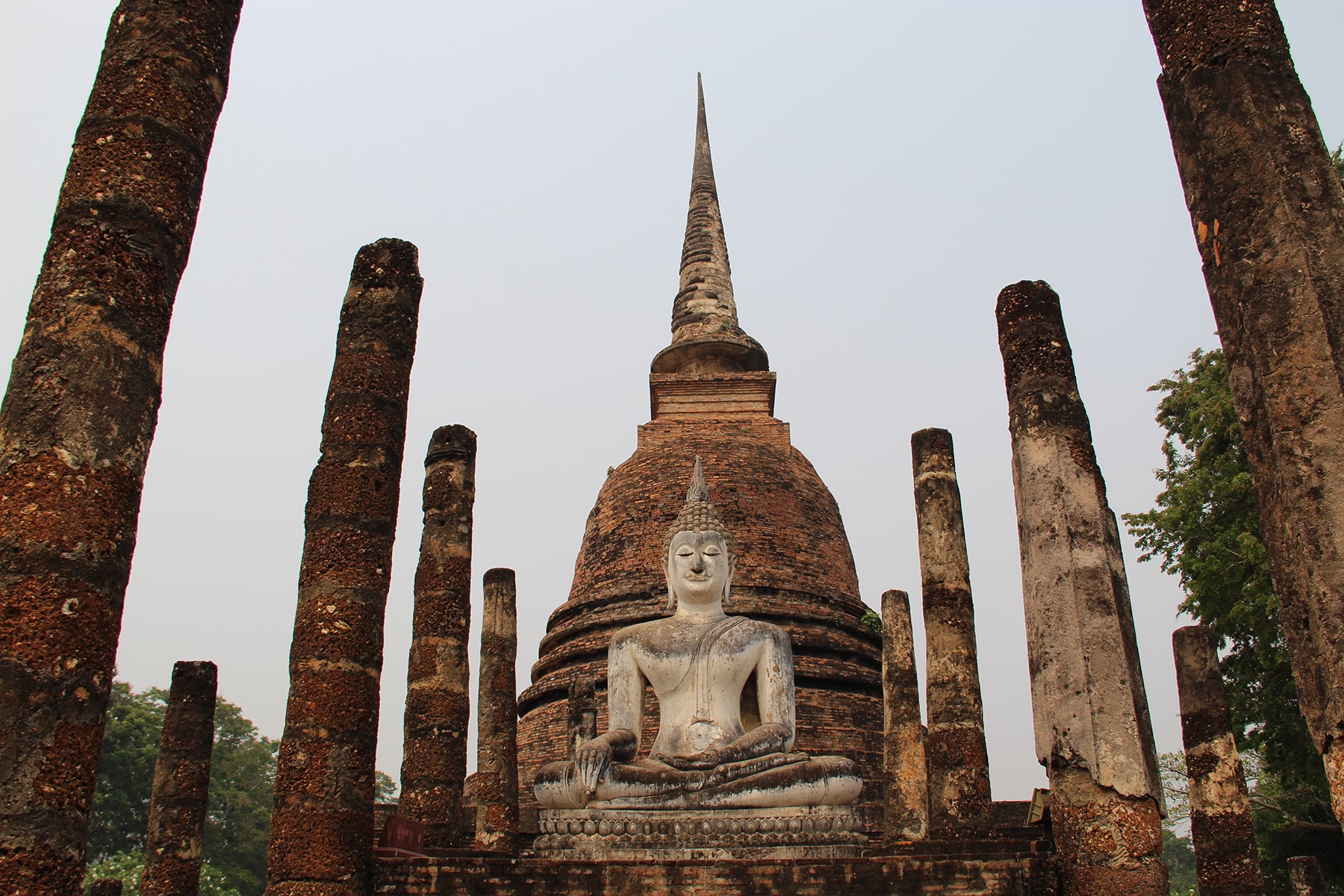 We left the central site and after 15 minutes of cycling, we reached the Wat Si Chum site in the Northern part. It is a very large site with many ruins, but we came specifically to see the giant white Buddha peeking through a triangle window of the building where he dwells. This Buddha with a peaceful air is sitting with his legs crossed and his right hand rests on his knee; visitors touch his hand for good luck and his fingers have become golden as a result.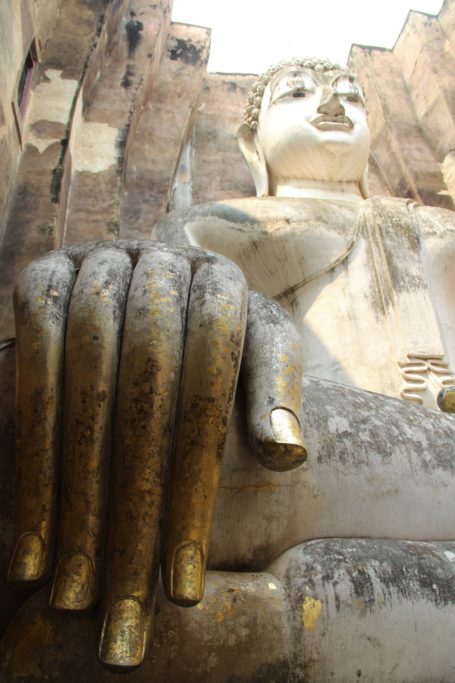 We visited the Sukhothai site (the parts that we were interested in) in 2h40. We think that it is the most beautiful archaeological site of Thailand for both the quality of the ruins, especially the magnificent statues, and the idyllic environments where they are located.
We then took the bus to Lampang, a city renowned for its horse chariots. Lampang is not part of a classic touristic itinerary, but we decided to stop there to split up the long journey to Chiang Mai.
Lampang is a nice city and you can perhaps perceive it as a little bit more authentic compared to other more touristic cities of the country.
Shuttle Sukhothai city centre-archaeological site of Sukhothai: 60 bahts (1.6€)/one way ; journey time Sukhothai city centre-archaeological site of Sukhothai: minimum 30 min, maximum one hour if the driver decides to change route.
Ticket Sukhothai archaeological site: Central part : 110 bahts (2.9€); Wat Si Chum: 100 bahts (2.6€); duration visit Sukhothai archaeological site: 2h45 roughly.
Ticket bus Sukhothai-Lampang: 155 bahts (4€); journey time bus Sukhothai-Lampang: 4 hours roughly.
Local bus Lampang city centre: 20 bahts (0.5€).
Day 20: Lampang and leaving for Chiang Mai
In Lampang, we visited the temple of Wat Pongsanook and we walked along the main road flanked by colonial wooden houses. Afterwards we took a bus to Chiang Mai, next stop on our itinerary in Thailand.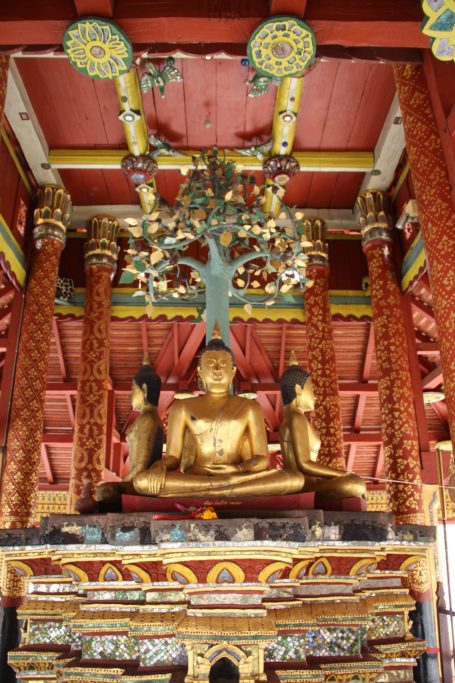 Chiang Mai is one of the top touristic Thai cities and you must be a little bit careful in order to avoid unpleasant situations. Some examples: at the bus station the bus drivers wanted to charge us 150 bahts (3.9€) each to bring us to the hotel, even if by waiting for the bus to fill up, you only have to pay 30 bahts (0.80€). Furthermore, some Thai people during our stay in Chiang Mai talked to us in front of temples trying to convince us to buy tours with agencies or go to a suit shop, pretending to give us exclusive advice. It's nothing dangerous but it's important to be aware of these potential situations to be able to fully enjoy your stay in Chiang Mai without any worries.
Ticket bus Lampang-Chiang Mai: 60 bahts (1.6€); journey time bus Lampang-Chiang Mai: roughly 2 hours.
Local bus to the centre of Chiang Mai: 30 bahts (0.8€).
Day 21-23: Chiang Mai
Touristic capital of Northern Thailand, Chiang Mai has an endless number of temples scattered around the city centre. Just to mention some of the ones we saw, we suggest visiting Wat Phan Tao, a very beautiful temple made of dark wood, where golden Buddha statues shine in the hot dim light; this temple can be easily recognised by the big decorated peacock on the façade.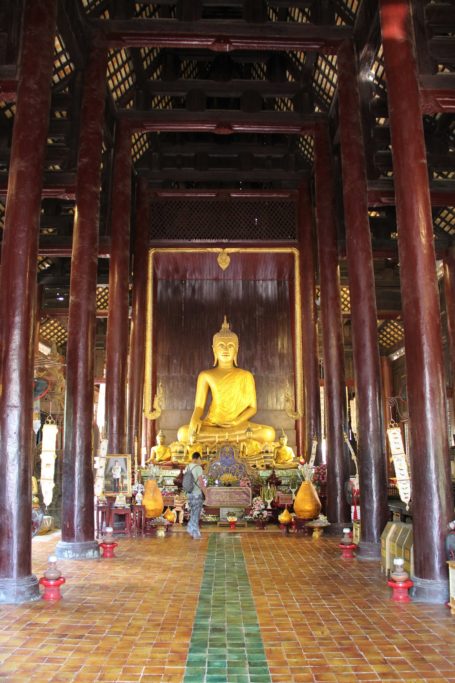 One of the most important temples of the city is the Wat Chedi Luang which also includes the city pillar, a little shrine decorated with frescoes and statues (where women aren't allowed to enter). In this temple there is also an absolutely magnificent ordination hall with huge golden columns.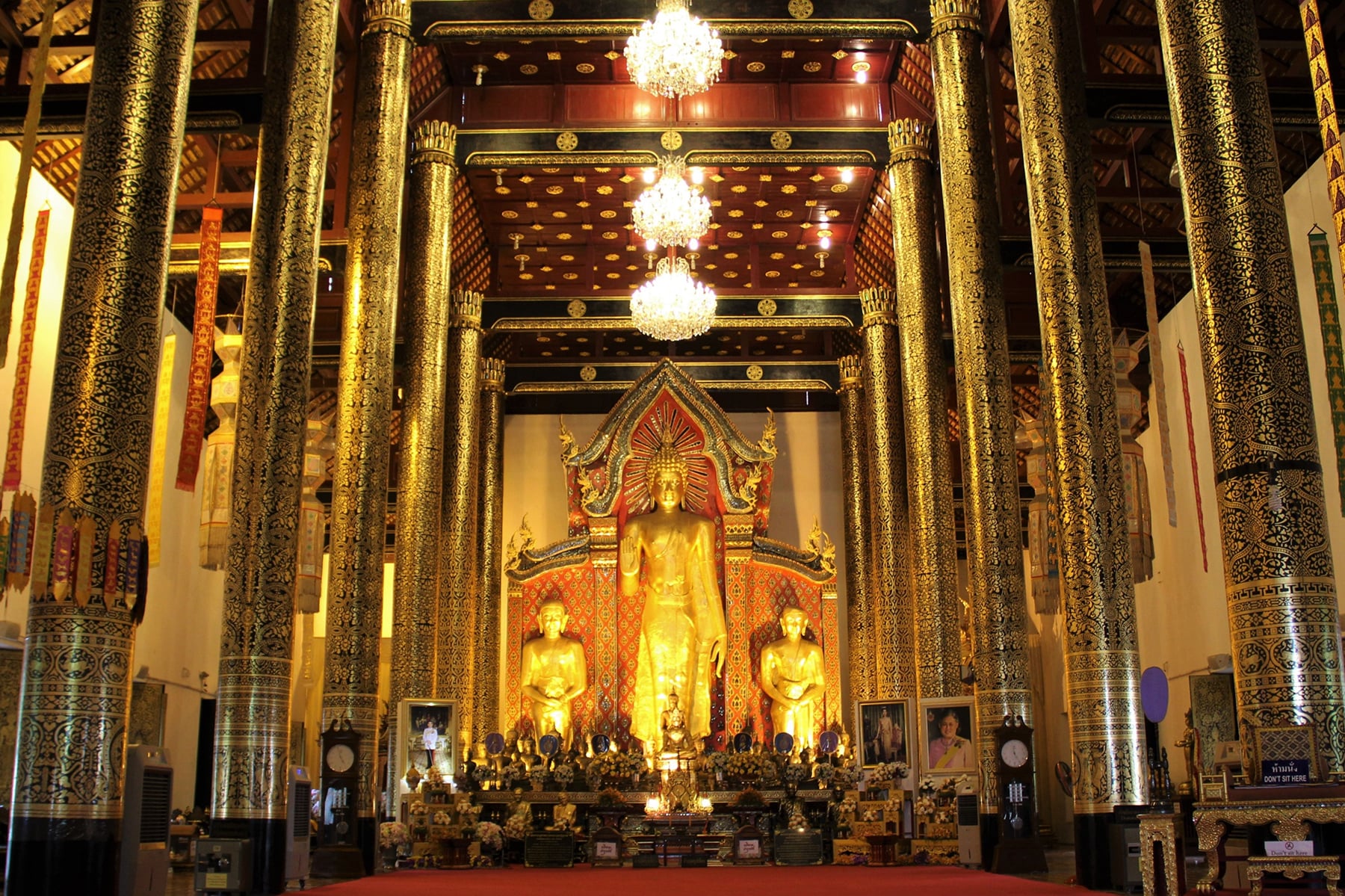 Another evocative part of this temple is a brick and stone stupa with some decorative elephants. This temple offers a monk chat service, a dialogue for tourists with young monks.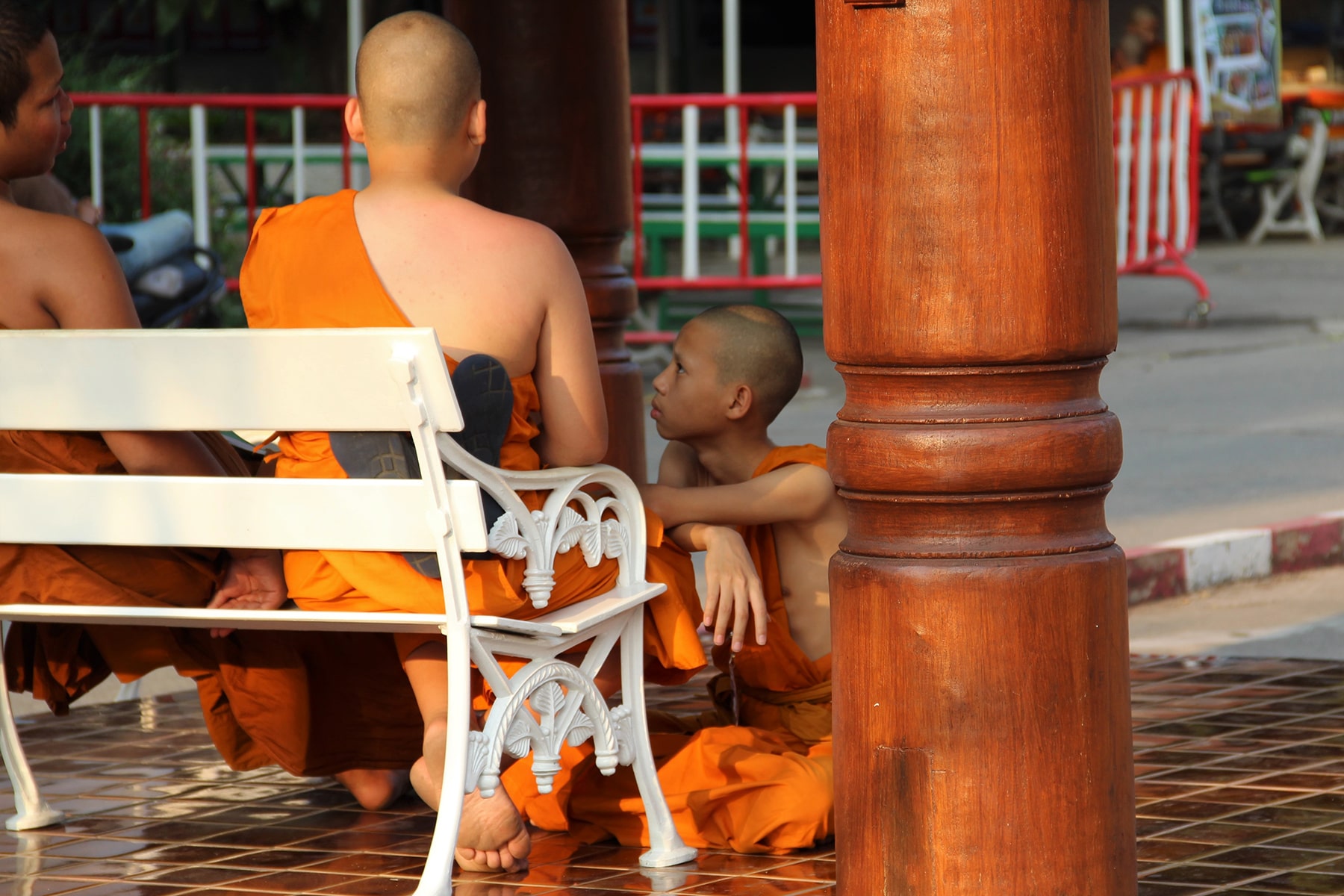 Another important temple in the history of Chiang Mai is the Wat Phra Singh; apart from the central area with a huge Buddha statue, the little elevated library with many detailed decorations is particularly striking, as well as the little temple completely covered in frescoes containing the Phra Singh, a highly venerated Buddha coming from Sri Lanka.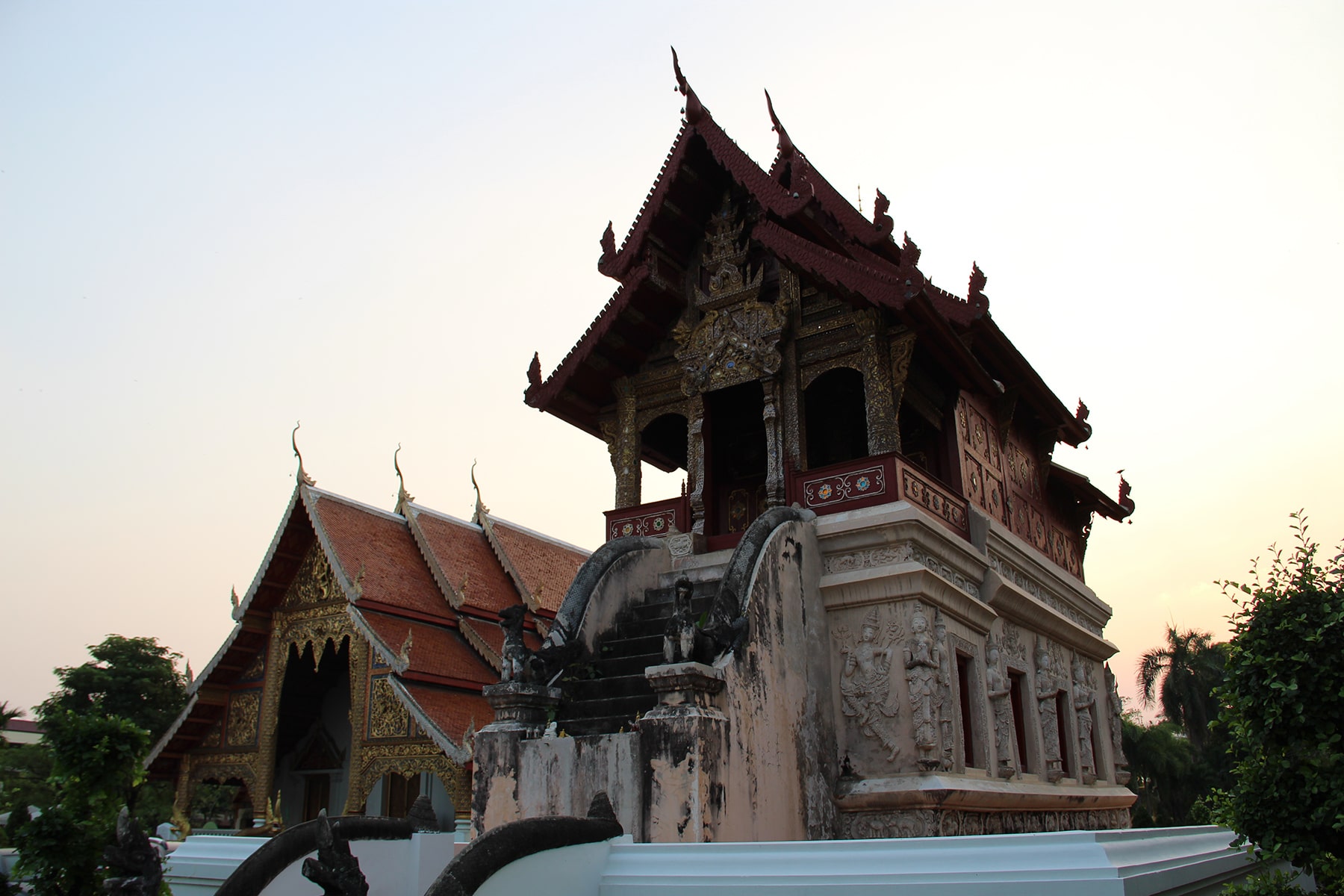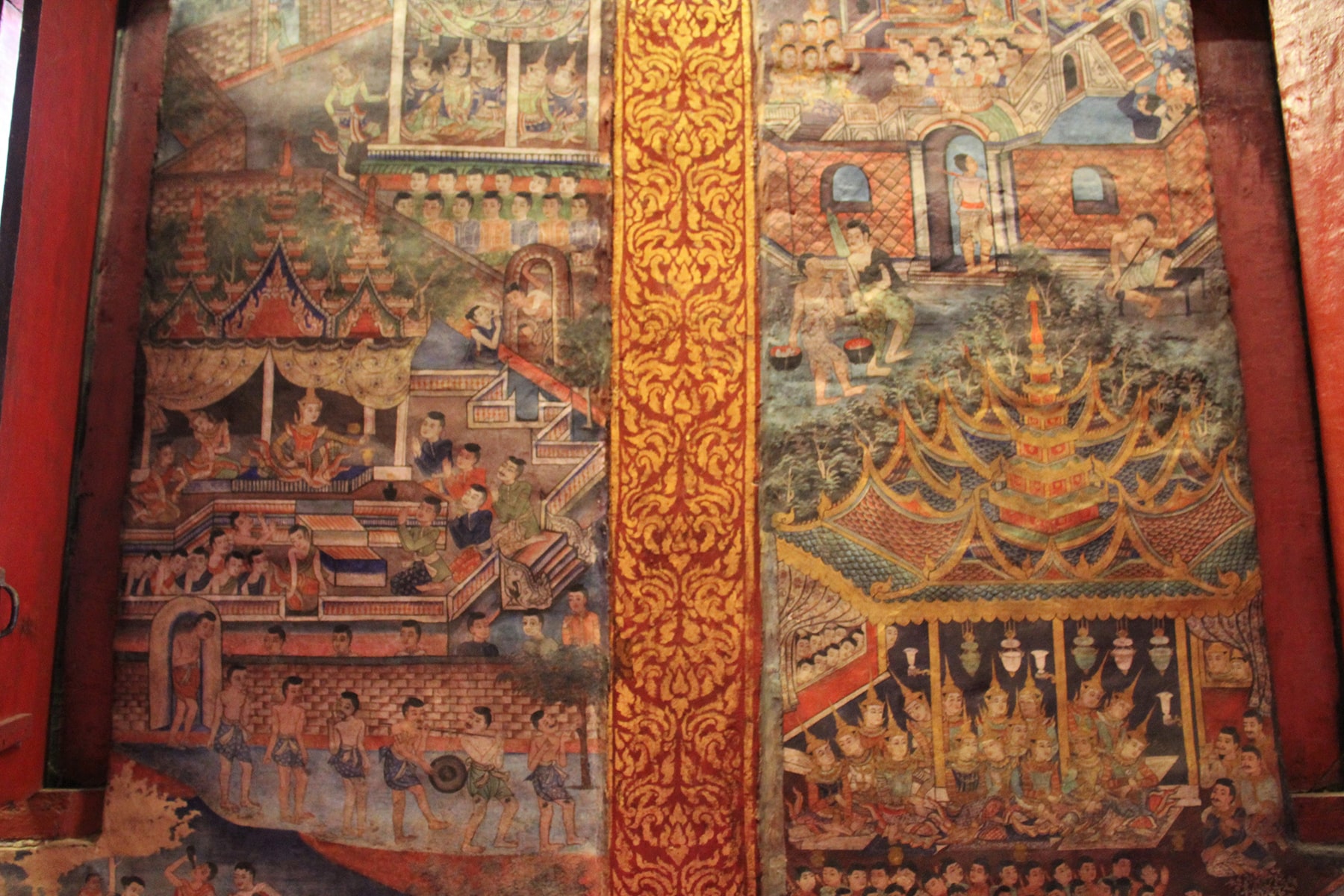 But Chiang Mai is not only temples; the city is full of markets, such as for example the famous Talat Warorot, and bars.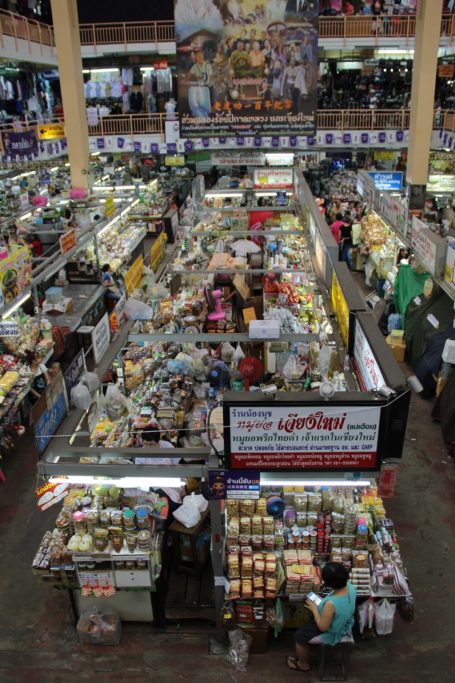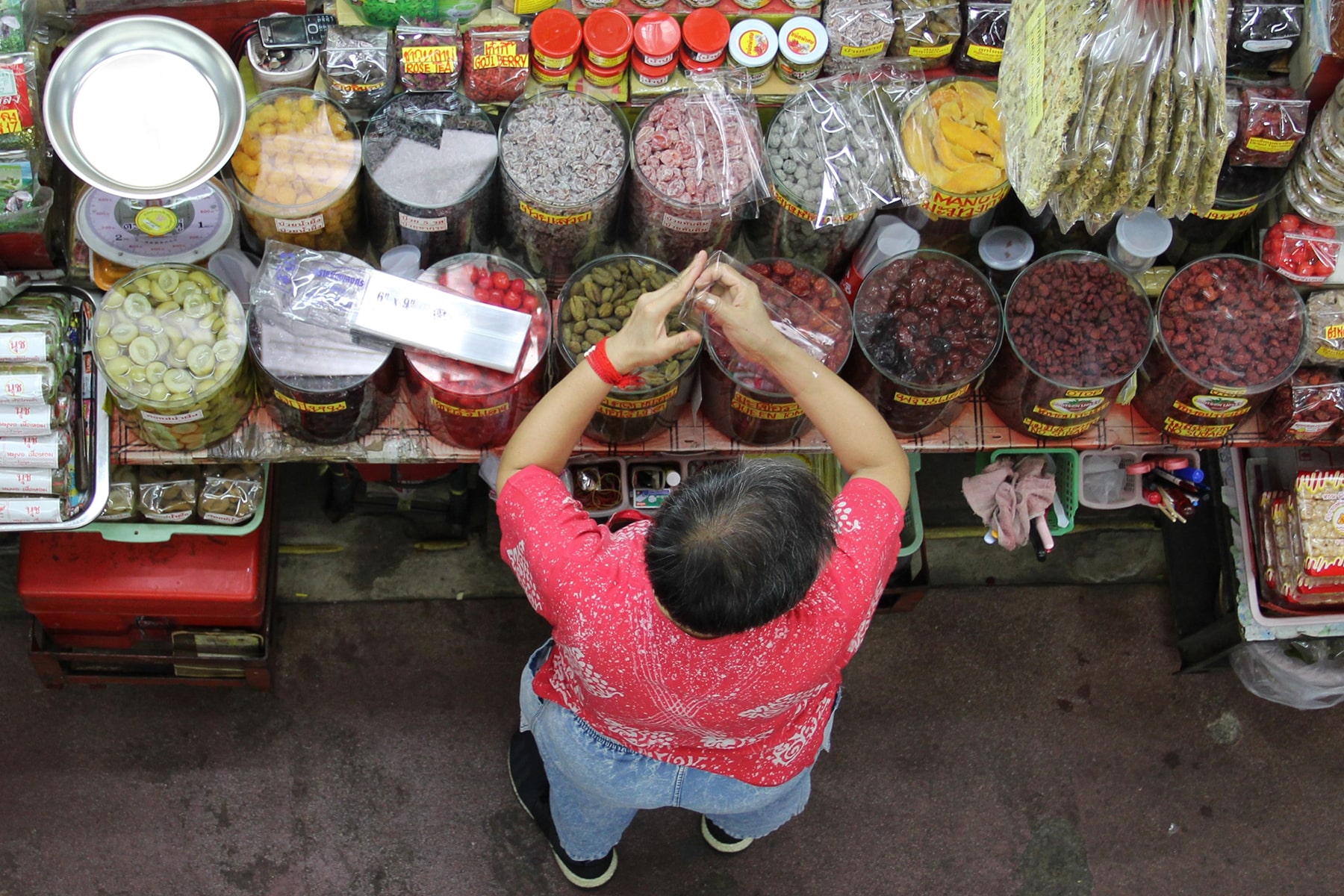 Around the city of Chiang Mai, you can find the Doi Suthep site, a temple perched on a hill. Initially we wanted to trek our way up the hill, following the so-called monk trail. However, no bus driver wanted to leave us at the bottom of the hill, saying that the trek was going to be too hard for us and we weren't going to manage. At the end we managed to find a compromise and we got off at Wat Phra Lat, a small temple half way up. Afterwards we continued walking up through a wonderful forest with huge majestic trees, following the orange fabric left by the monks indicating the way.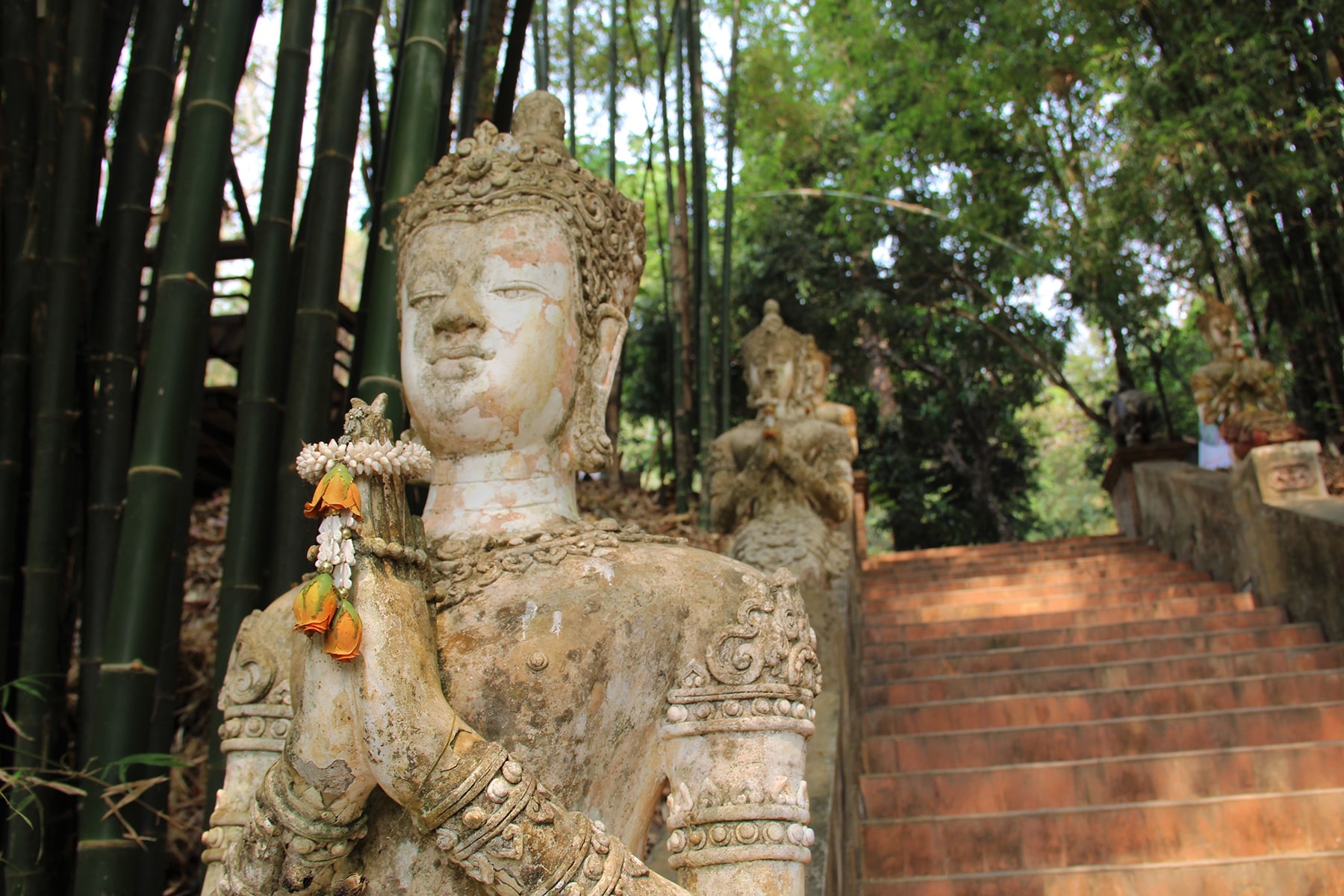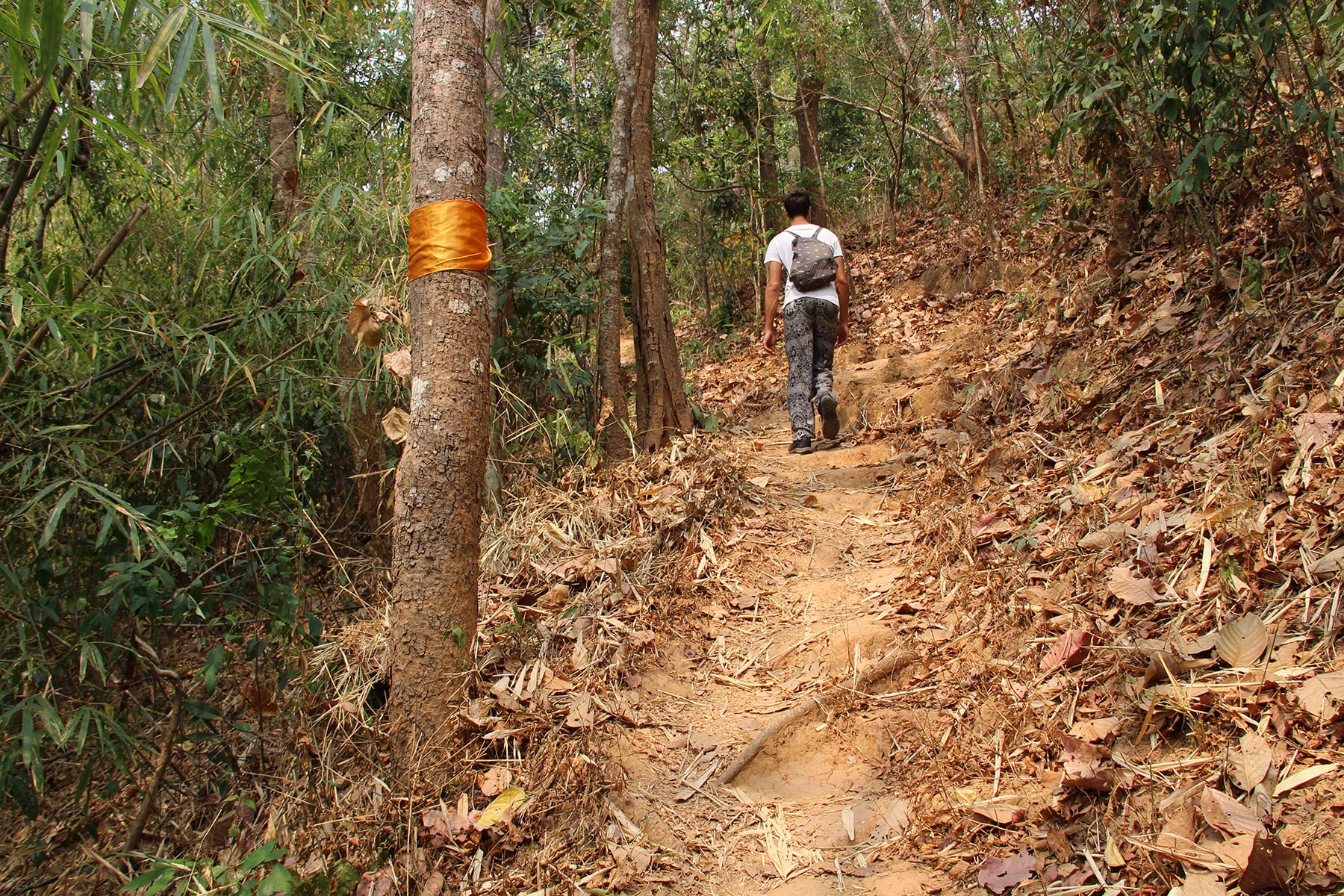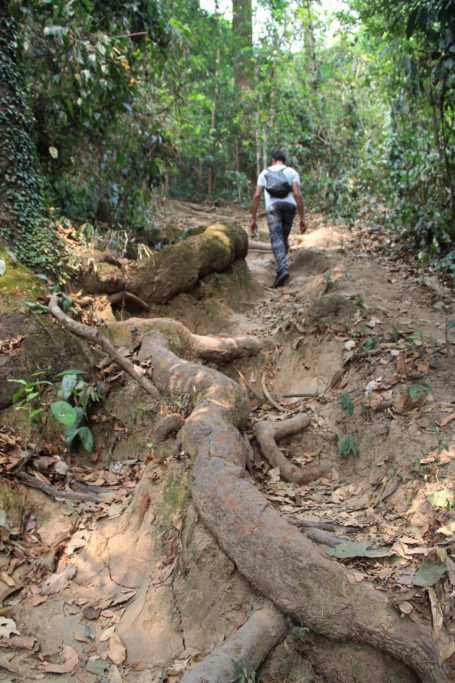 It took us roughly 1h20 to get up the hill and we accessed the temple from the village. This tiny temple is an explosion of gold and statues adorned with precious stones, and it is particularly crowded.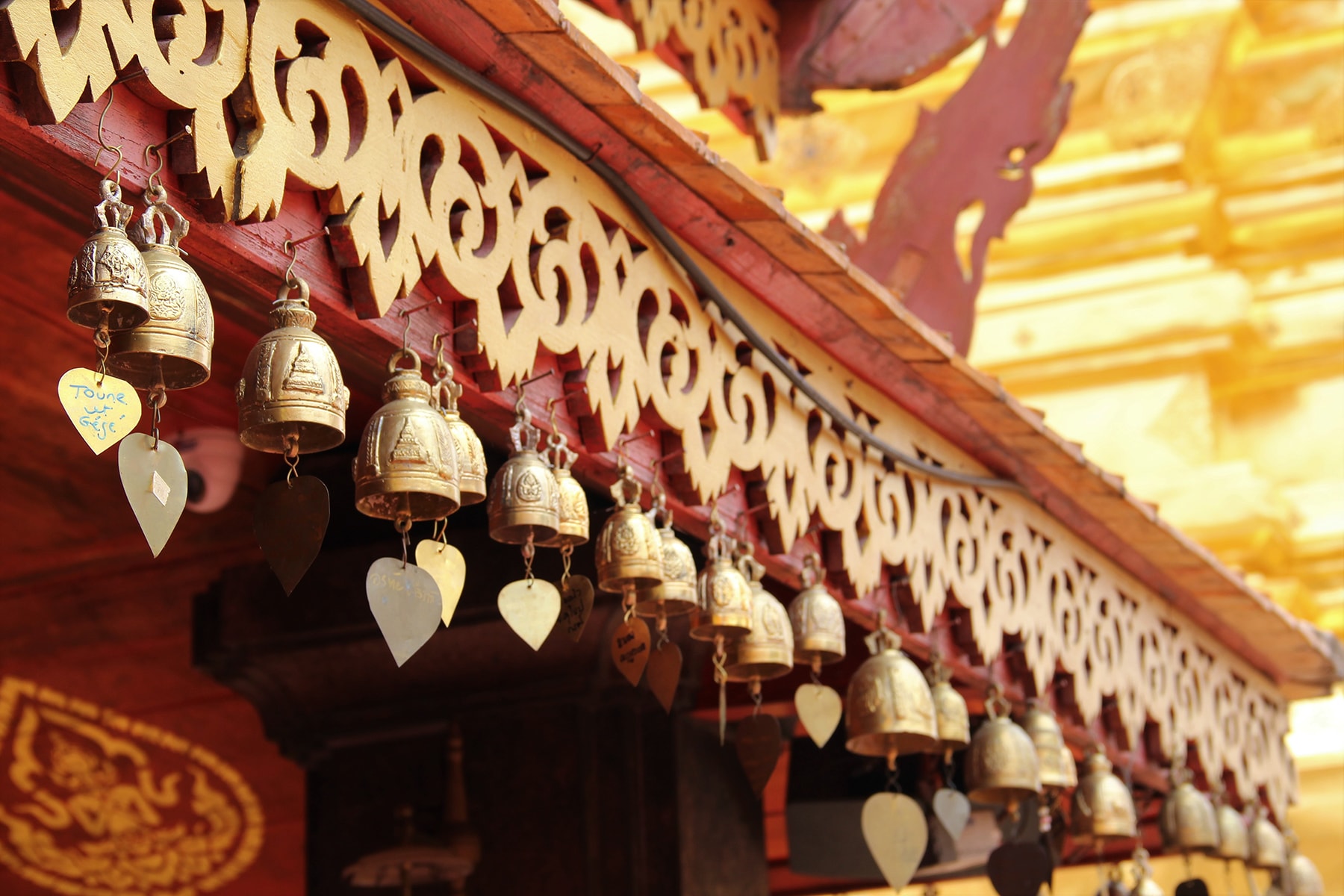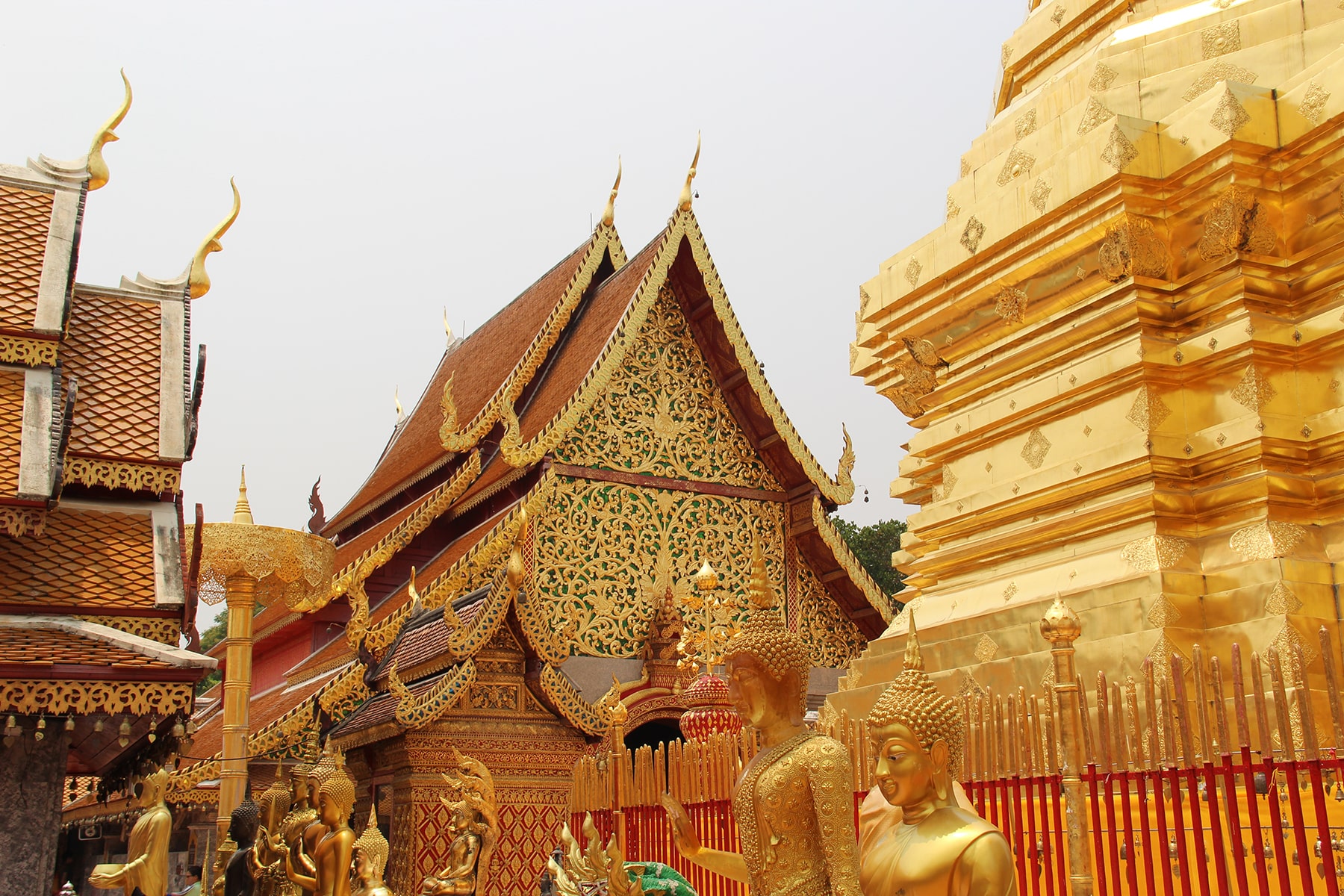 On the way back, we went down the 360 stairs of the temple main entry and we took a bus that brought us back to town.
Ticket Wat Chedi Luang: 40 bahts (1€); visit duration Wat Chedi Luang: roughly one hour.
Ticket Wat Phra Singh: usually 20 bahts (0.50€), but we went there after 6pm and we didn't have to pay; visit duration Wat Phra Singh: 30 min.
Ticket Doi Suthep: 30 bahts (0.80 €); visit duration Doi Suthep: 45 min roughly. Duration trekking + visit temple: 2h-2h30 roughly.
Bus city centre-Wat Phra Lat: 75 bahts (1.9€); journey time city centre-Wat Phra Lat: 20 min roughly.
Bus Doi Suthep-city centre Chiang Mai: 60 bahts (1.6€).
Bus city centre Chiang Mai-bus station: 40 bahts (1€).
Day 24-25: Chiang Rai
What we liked the most about the city of Chiang Rai was without any doubt the fantastic night market: noodle stands, fried food, soups, fish, you name it, all accompanied by singing and dancing shows. Another attraction of the city is the pretty kitsch golden tower clock, located in the middle of a roundabout in the busiest avenue of the city. On the stroke of 9 pm, the clock animates with music and many neon lights.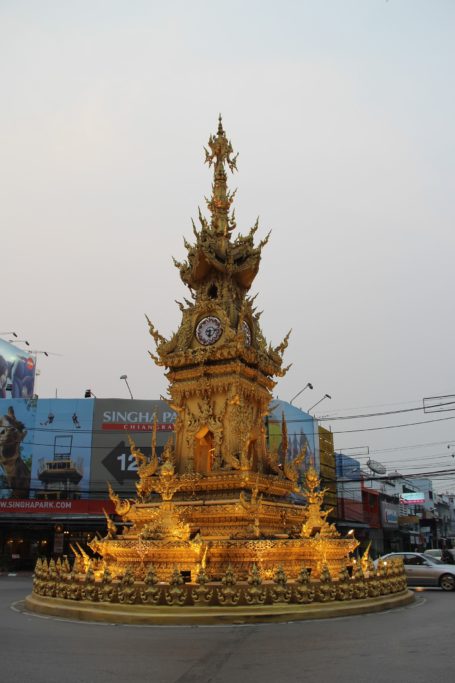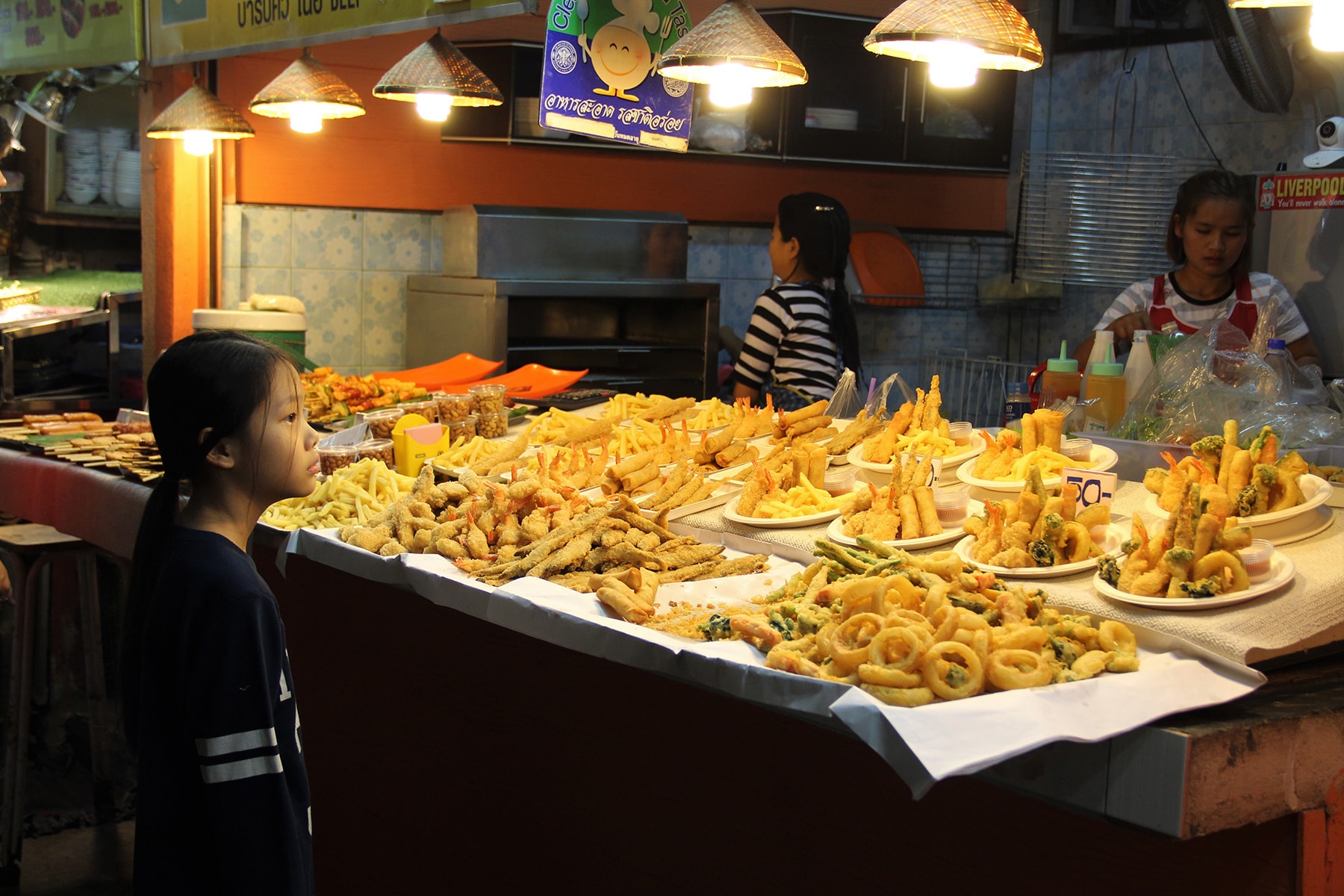 We rented a scooter to visit the natural hot springs of Pha Soet. It took us around 45 minutes to get there, but the road flanked by trees was beautiful and we got to see some jaw-dropping views on the surrounding hills. The hot springs are very small, but they are not crowded; we bought some eggs in a food stand next to the hot spring to cook in the spring boiling water.

Another attraction of the city is the white temple of Chiang Rai. We only saw the outside, where you can spot some decorations of demons, because the inside seemed exaggeratedly crowded (and there is an admission fee).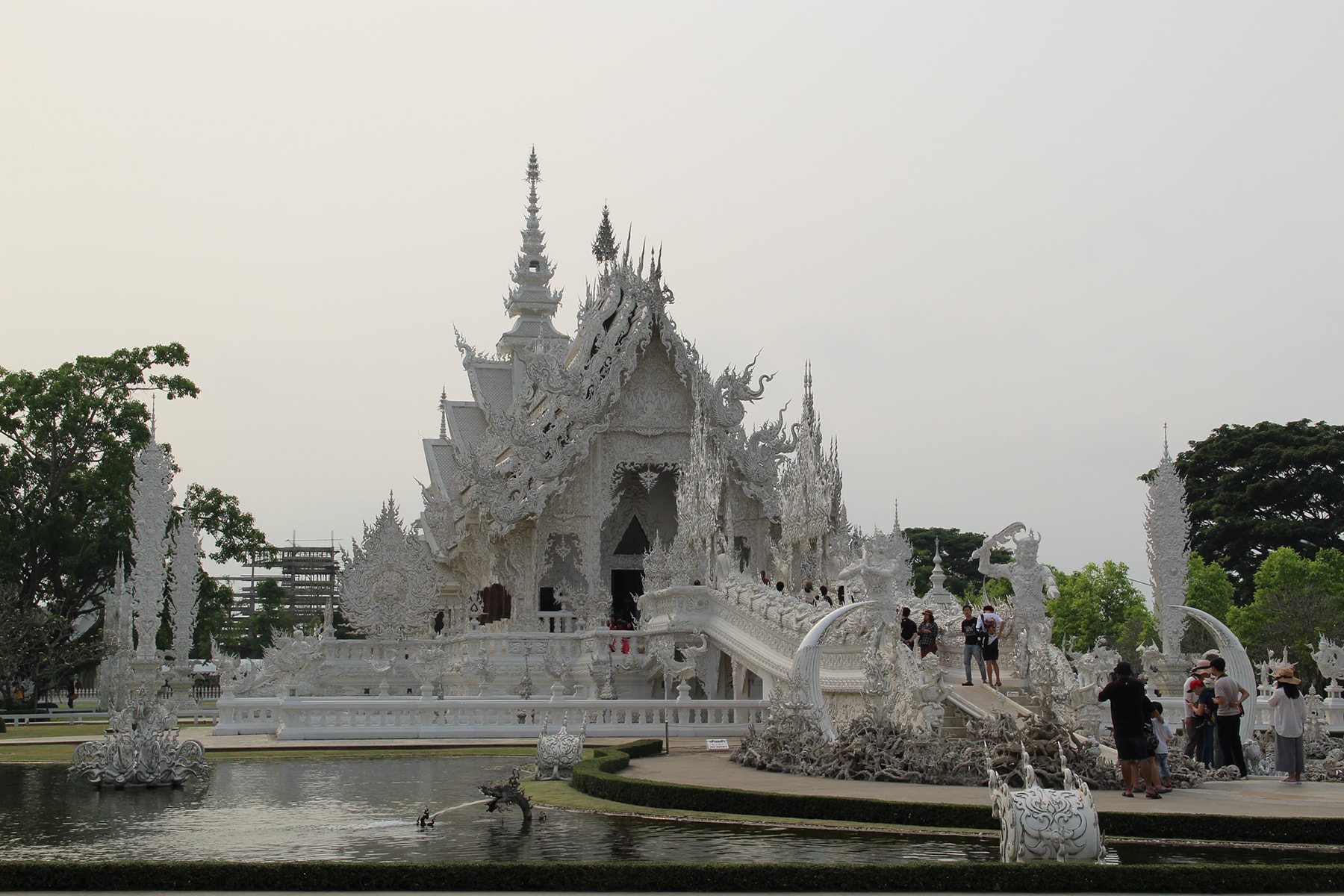 To conclude our day, we went to the Khun Korn national park; sadly, it was too late to see the waterfalls (the park closes at 4:30 pm), but we stopped to drink a beer in a very nice bar built on wooden rafts on the river.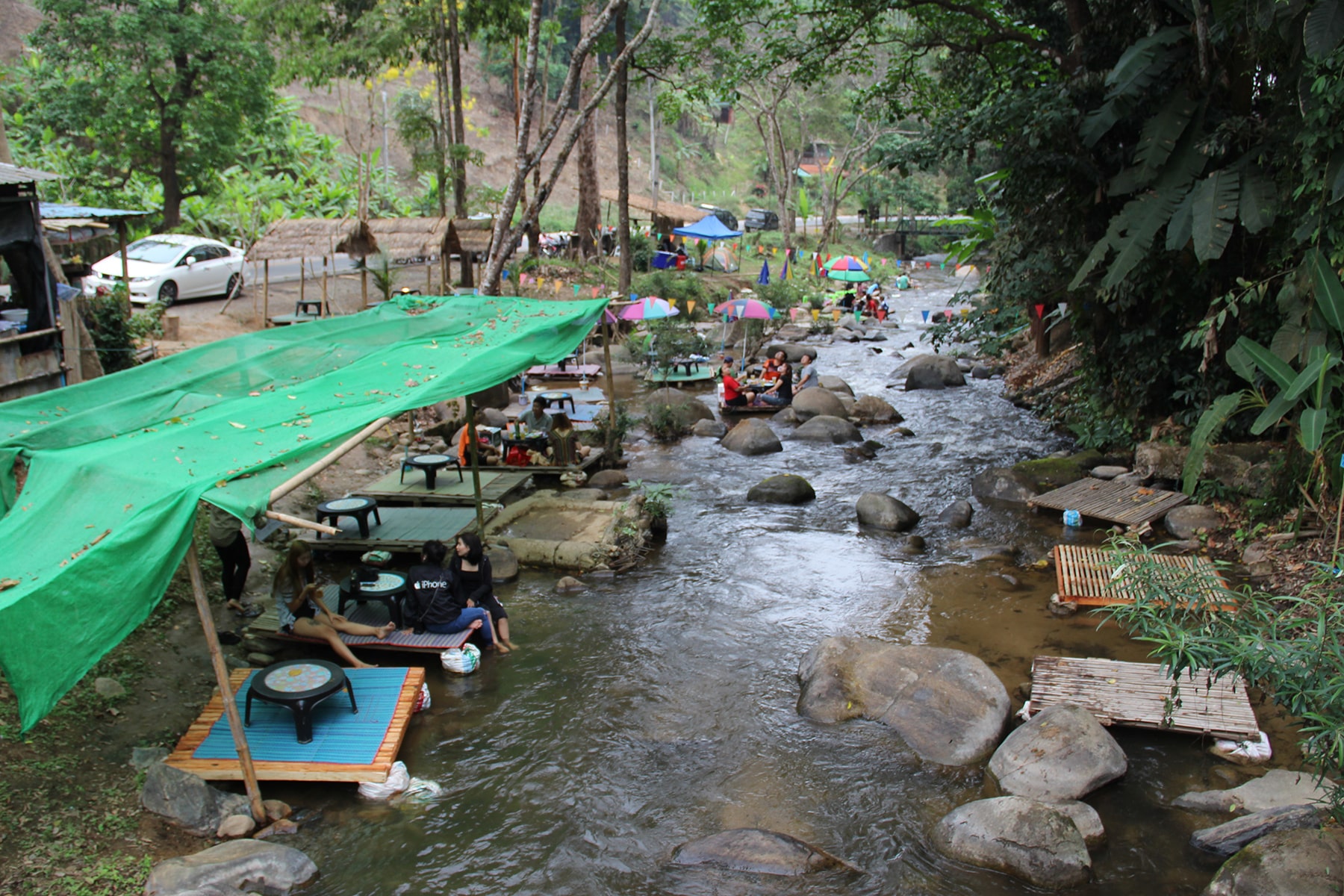 On the way back to town, which would have normally taken us 45 minutes, we punctured a tyre; luckily there are mechanic shops a bit everywhere in Thailand and with a bit of luck and the kindness of passers-by, we were driving back to the city in under an hour.
Ticket bus Chiang Mai-Chiang Rai: 166 bahts (4.4€); journey time Chiang Mai-Chiang Rai: roughly 3 hours.
Cost to rent a scooter in Chiang Rai: 200 bahts (5.3€)/ day.
Ticket natural hot springs Pha Soet: 30 bahts (0.8€).
Fixing up a punctured tyre: 150 bahts (4€).
Day 26: Leaving for Chiang Khong, border with Lao
We went to the city of Chiang Khong which is right beside the passage point on the border with Lao.
Ticket bus Chiang Rai-Chiang Khong: 65 bahts (1.7€); journey time bus Chiang Rai-Chiang Khong: roughly 2 hours.
Day 27: Leaving for Lao
A tuk-tuk brought us to the border with Lao and, after having received the exit stamp from Thai authorities, we took the bus crossing the Friendship bridge to Lao.
Good bye Thailand, see you in 2 months!
Tuk-tuk from the city centre to border: 60 bahts (1.6€); journey time: 10 minutes.
Back to Bangkok before leaving for Europe
At the end of our tour in South-East Asia, we came back to Bangkok for 2 full days, before taking the plane back to Europe. We got the chance to visit China Town again and to walk in the tiny dark alleyways and witness some culinary shows.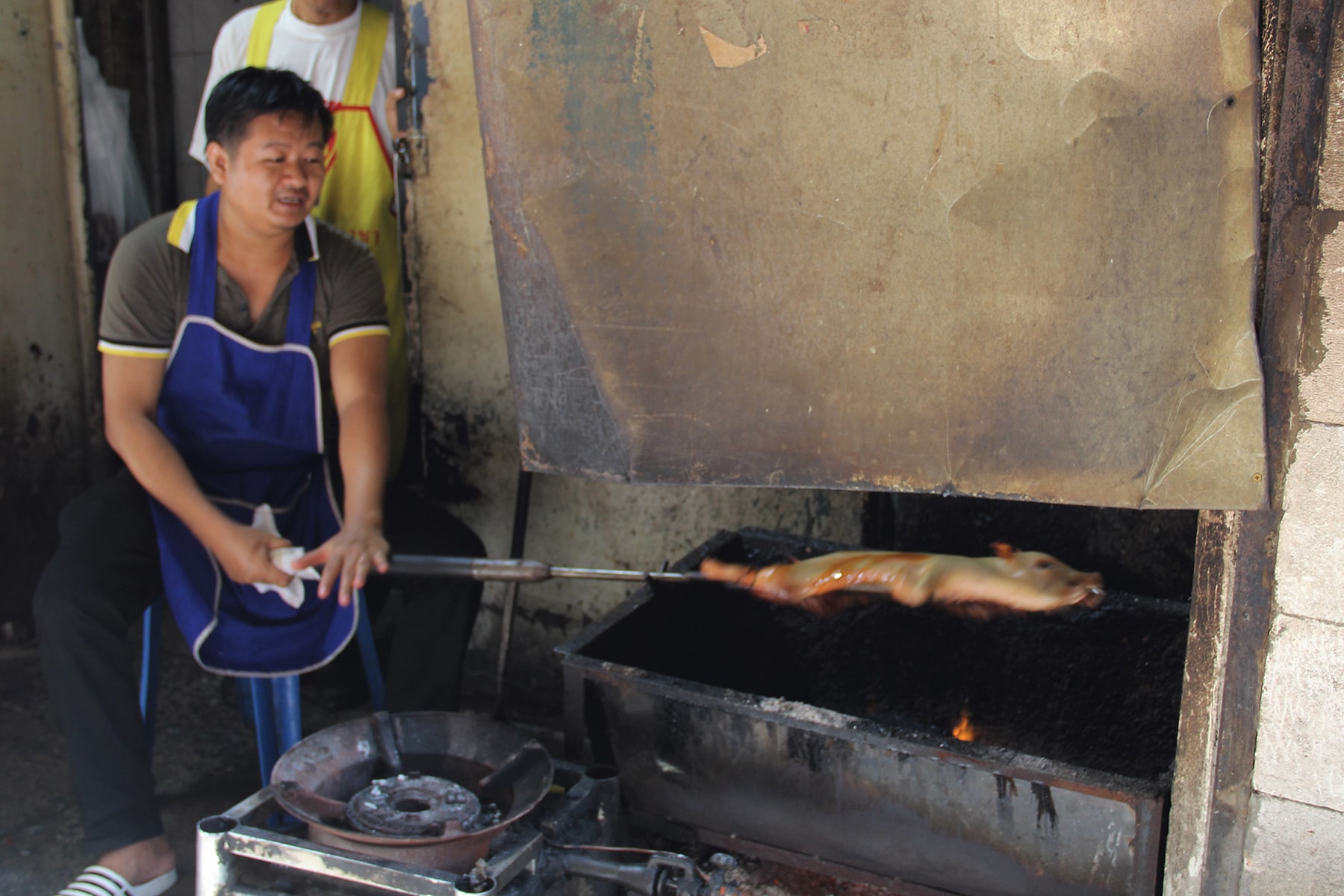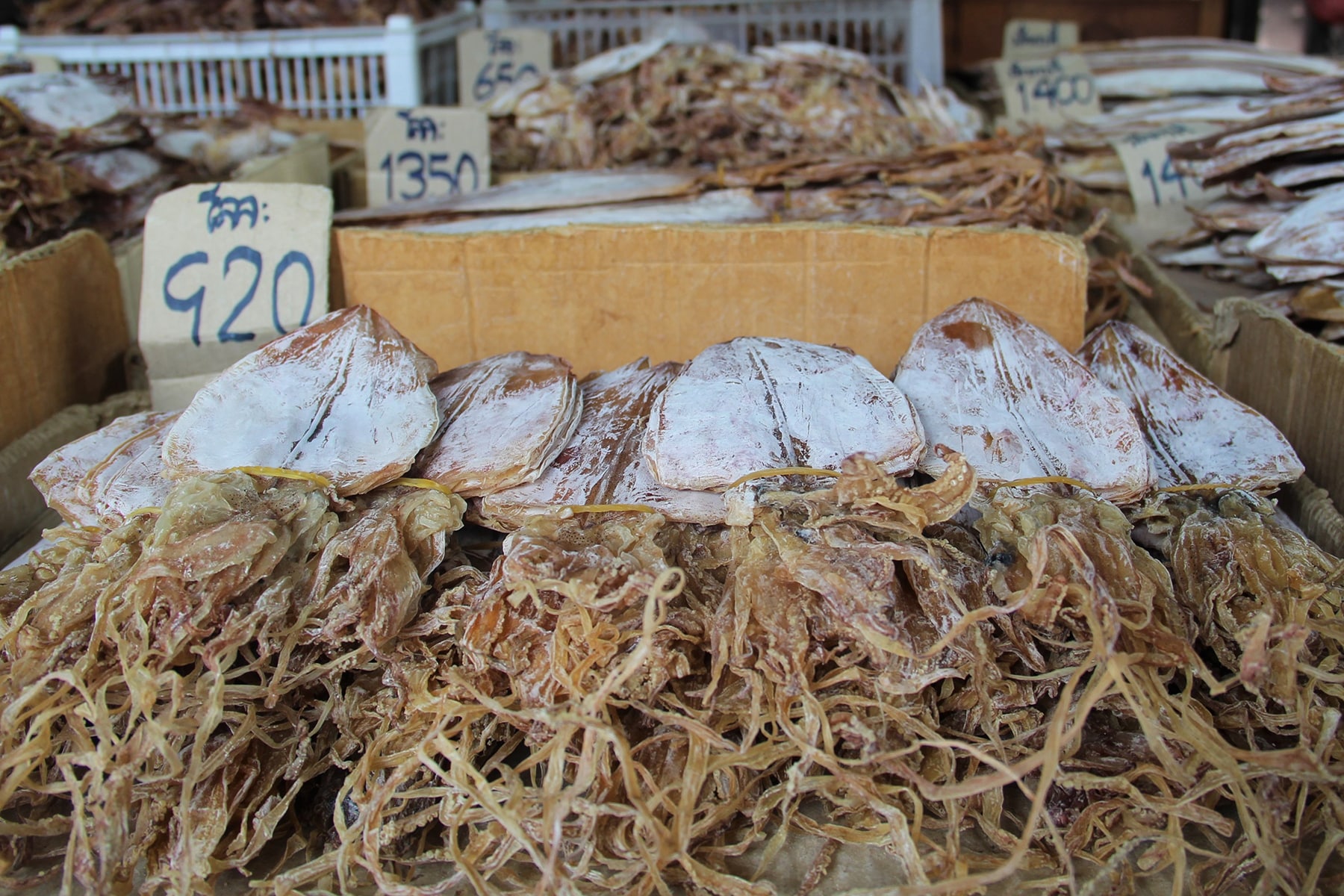 We also visited the Wat Saket, the Temple of the Golden Mount, located on a little hill with a nice view on the old and new city of Bangkok.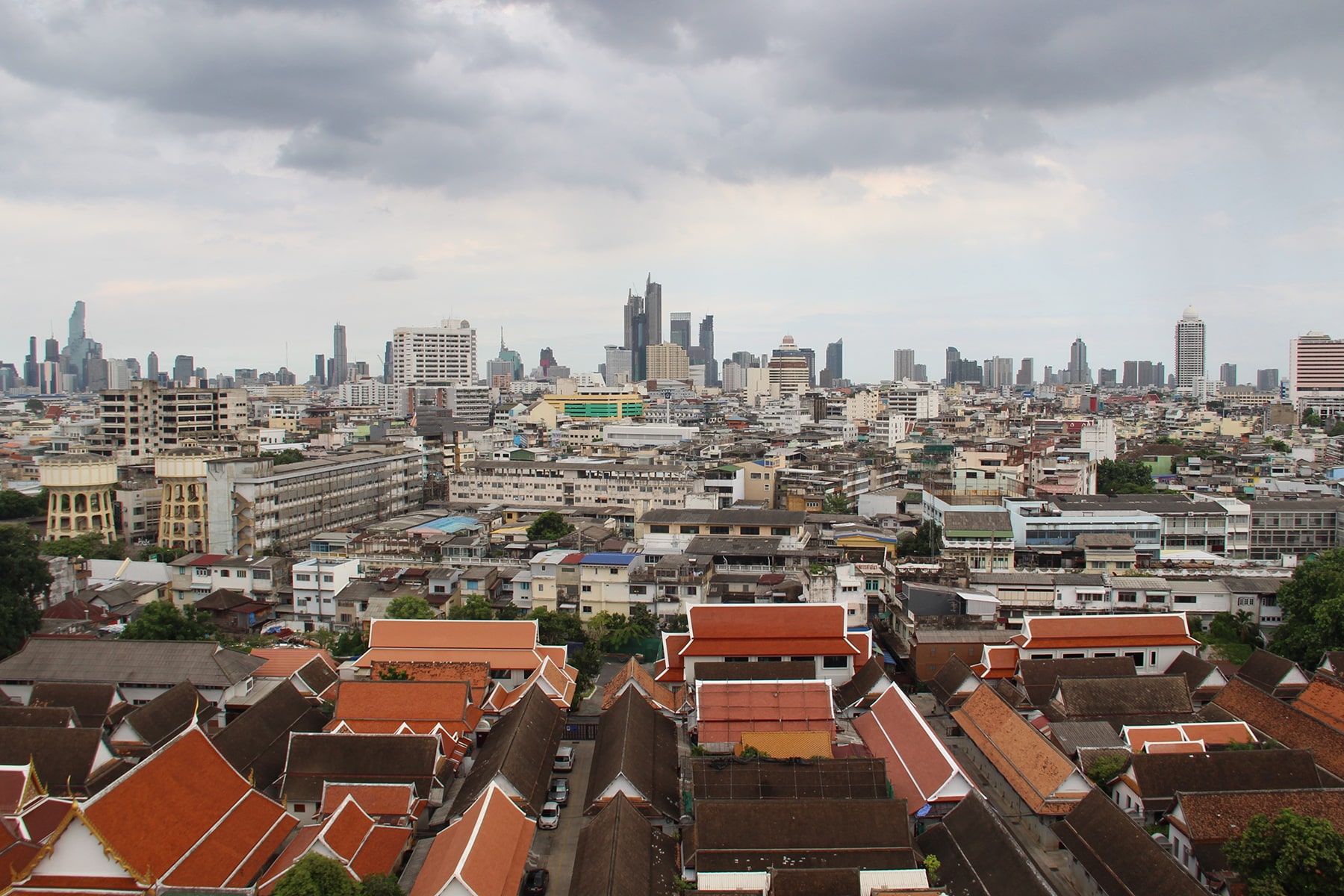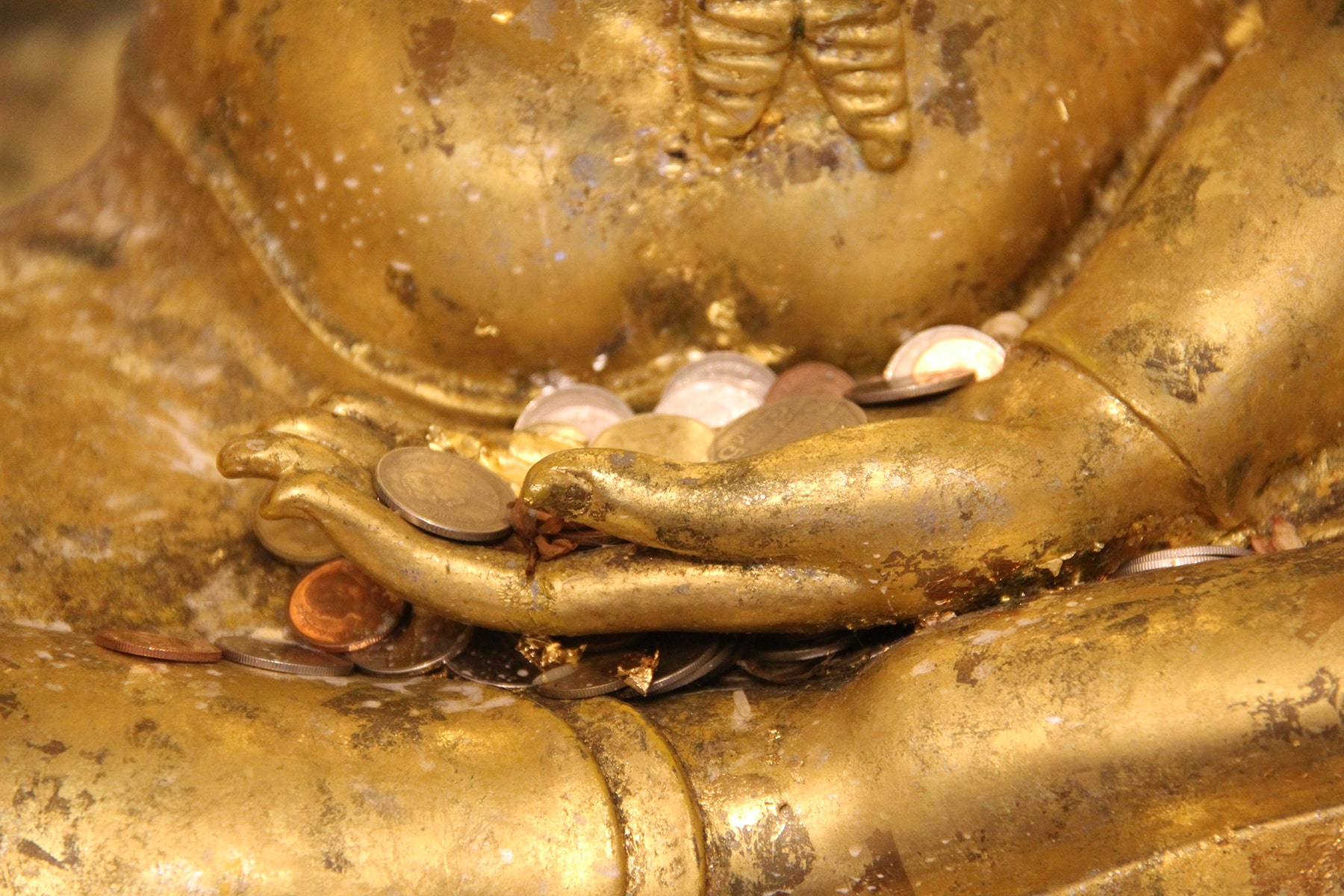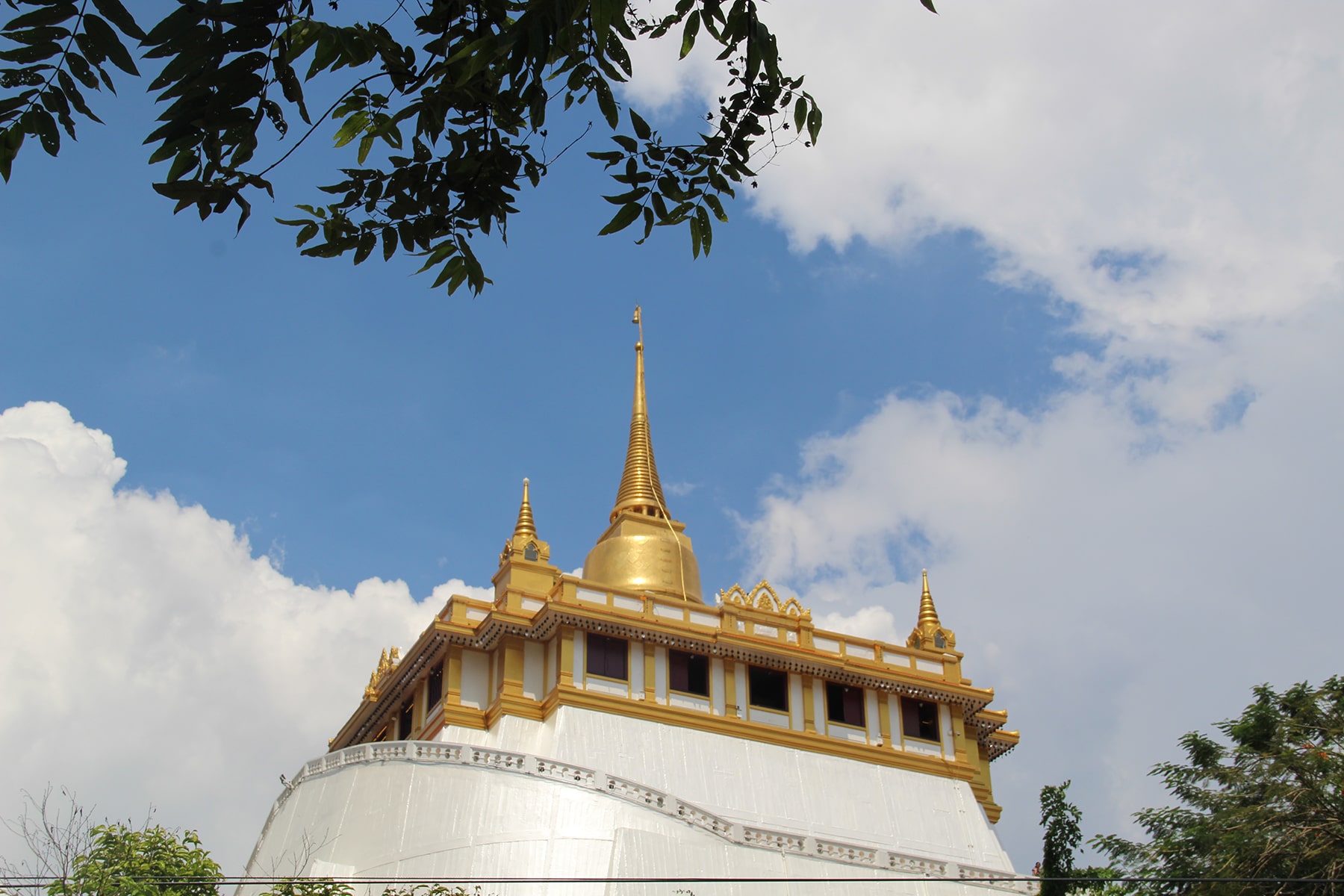 The next day we took the metro to Bangkok international airport.
Ticket Wat Saket: 50 bahts (1.3€); visit duration Wat Saket: 1h30 roughly, including walking up to the temple.
Ticket metro to Bangkok airport Suvarnabhumi: 65 bahts (1.7€).
Good bye Thailand, see you soon!
Tops and flops of Thailand
Top Thailand
Sunsets in Koh Lanta
Temples of Sukhothai
Kayaking in Koh Lanta mangroves
Pad Thai and Thai food in general
Kindness and cordiality of Thai people
Flop Thailand
Some tourist activities are expensive and don't respect nature and people
Touts in Chiang Mai
Party-tourists (the reason why we avoided the most touristic destinations)
| Top Thailand | Flop Thailand |
| --- | --- |
| Sunsets in Koh Lanta | Some tourist activities are expensive and don't respect nature and people |
| Temples of Sukhothai | Touts in Chiang Mai |
| Kayaking in Koh Lanta mangroves | Party-tourists (the reason why we avoided the most touristic destinations) |
| Pad Thai and Thai food in general | |
| Kindness and cordiality of Thai people | |