We've just stepped off our intercontinental 10-hour flight, when the humid hot air hits us right in the face. It's 5 o'clock a.m., welcome to Bangkok.

In the month of March 2018 we took off for a 3-month trip to South-East Asia and Bangkok was our gateway to Thailand, the first country on the list, in which we stayed for a whole month. We had only planned 2 full days in Bangkok before flying to the Southern islands and we soon realised that we had to hurry up if we wanted to properly visit the city. Luckily enough, at the end of our whole trip, we got to spend a couple of days in Bangkok before leaving for Europe and we had the opportunity to better see and experience this beautiful city.
Many surprises await those who are able to patiently navigate the chaos of Asian capitals: Bangkok offers monuments filled with precious stones, temples with huge Buddha statues, enormous markets where you can stock on Thai food and taste local delicacies. But this city is also much more than that. Besides its ancient city centre with beautiful monuments and little streets filled with market stands, the modern side of Bangkok aims at conquering heights with gigantic skyscrapers, huge shopping centres and blinding neon lights. The new and the old sides of Bangkok have one thing in common: traffic, a must in the city where scooters and tuk-tuks drive in all directions, dodging the cars waiting in front of red traffic lights.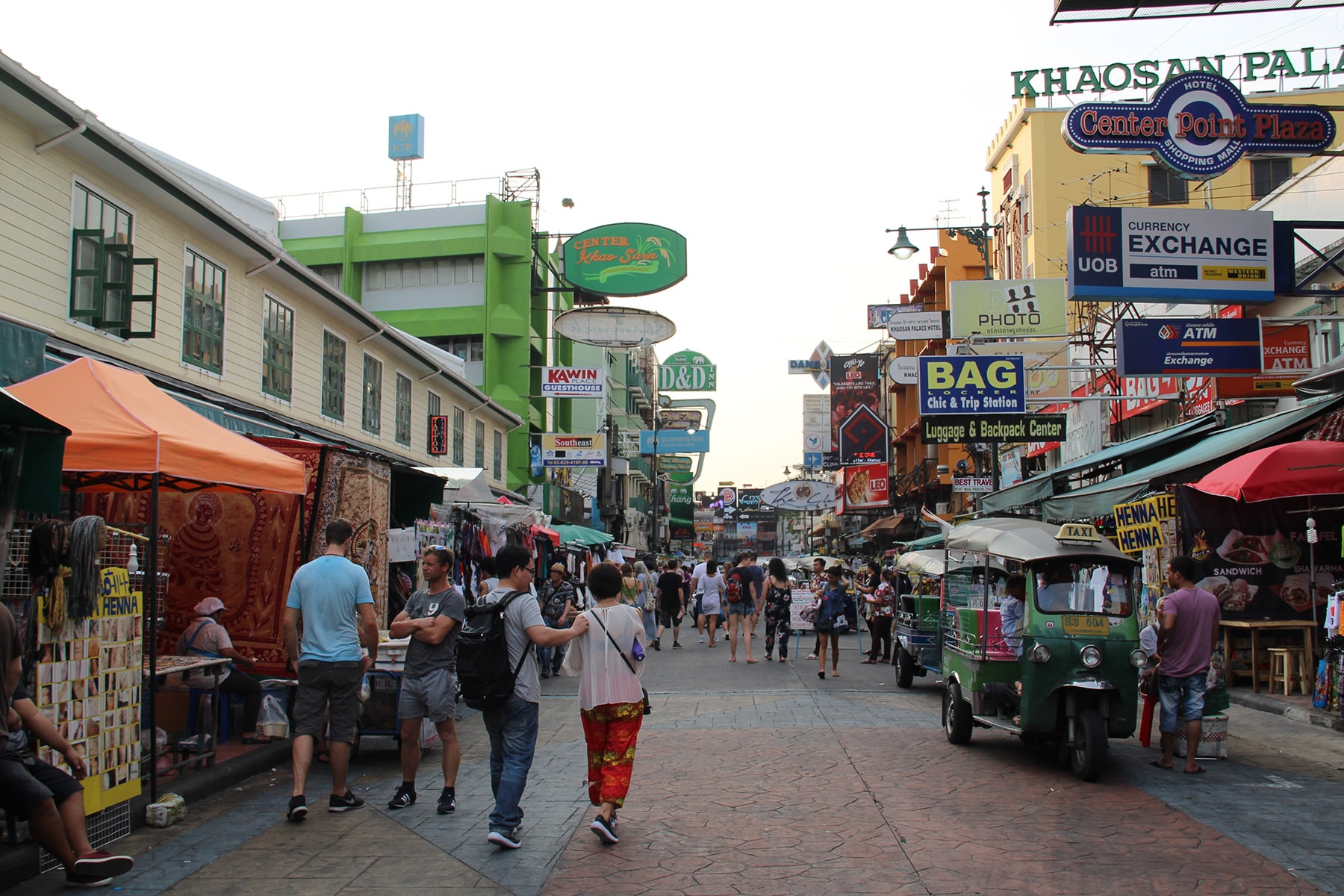 The first day of our trip was a constant struggle against the jet lag. The 7-hour gap and the brutal climate change from European winter to tropical sauna left us struggling for the whole day waiting for sunset to be finally able to sleep.  During our first days in Bangkok we slept in a very cheap (and a bit dodgy) hostel in the city centre, not very far from the pedestrian area where tourists gather at happy hour time. When we got to come back to Bangkok for the second time, we were of course more used to the Asian way of living after 3 months in the continent, and we booked a hostel in the more modern side of the city and we moved around by bus. Don't be afraid to take public transportation: buses might be a bit old and rusty, but they are surely big and comfy and ticket controllers are always very friendly. The tickets cost peanuts (depending on the bus type, with or without air con) and it's by far a lot more convenient than the tuk-tuk which will surely try to get some money off of you. If you want to take a taxi, make sure the taxi driver switches on the meter and insist if he/she doesn't do so.
Anyway, enough said. Here is 8 things to do in Bangkok in order of preference.
1- Wat Pho Temple
Whoever has been to Thailand knows that Wat means temple. The Wat Pho is a religious complex sprawled on 8 ha, 10 minutes by foot from the Grand Palace; it houses several temples and roughly 1,000 images or statues representing Buddha, such as the Reclining Buddha, one of the biggest statues of Buddha in Thailand.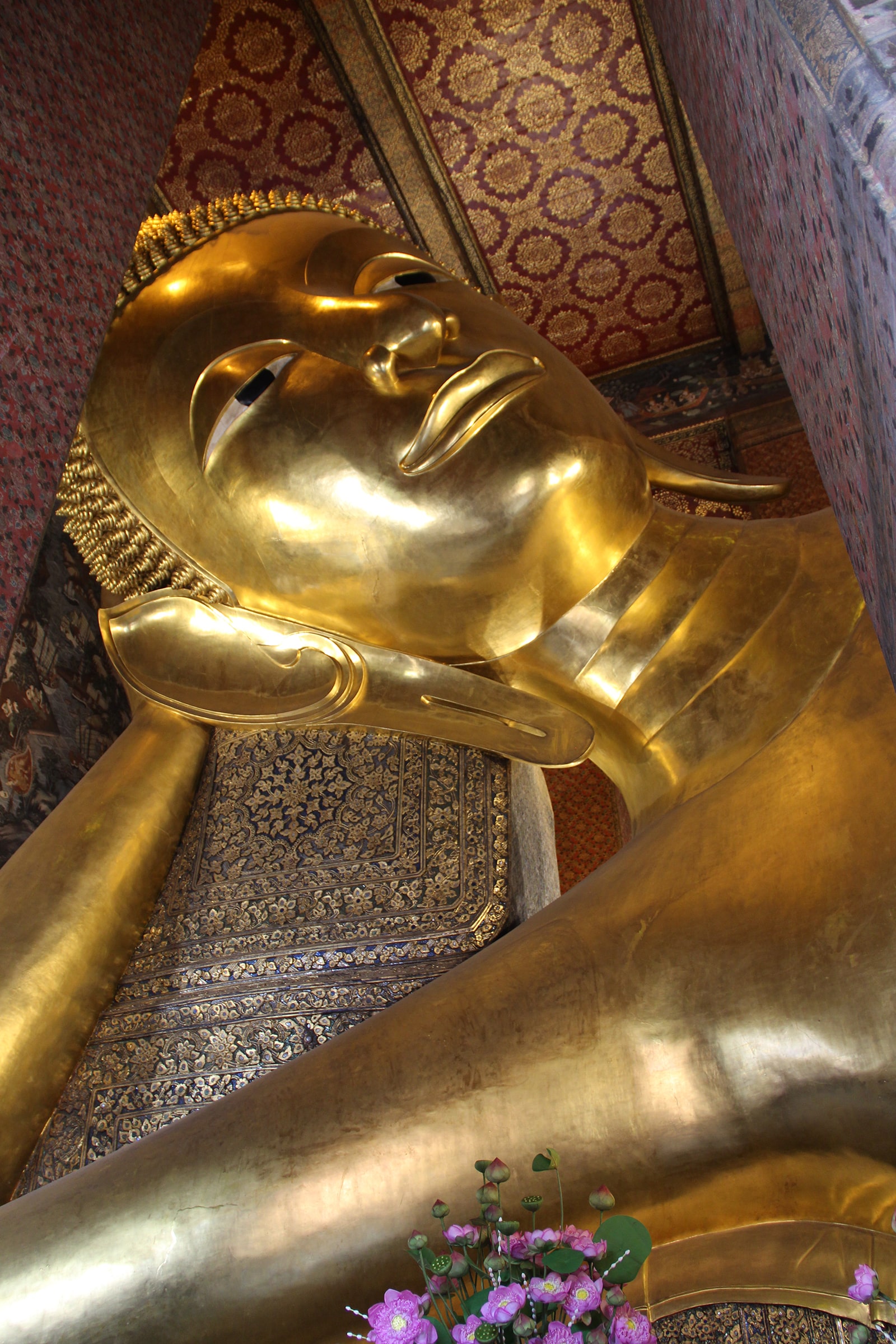 Despite its huge dimensions, it's easy to visit it all in 2 and a half hours - 3 hours. It was our favourite landmark in Bangkok thanks to the surrounding atmosphere of peace and the beauty of the temples meticulously decorated with coloured flowers and ornaments. The numerous statues, whether inside the courtyards or in the temples themselves, convey a feeling of deep harmony and the surrounding silence clashes with the hectic rhythm of life going on outside its walls.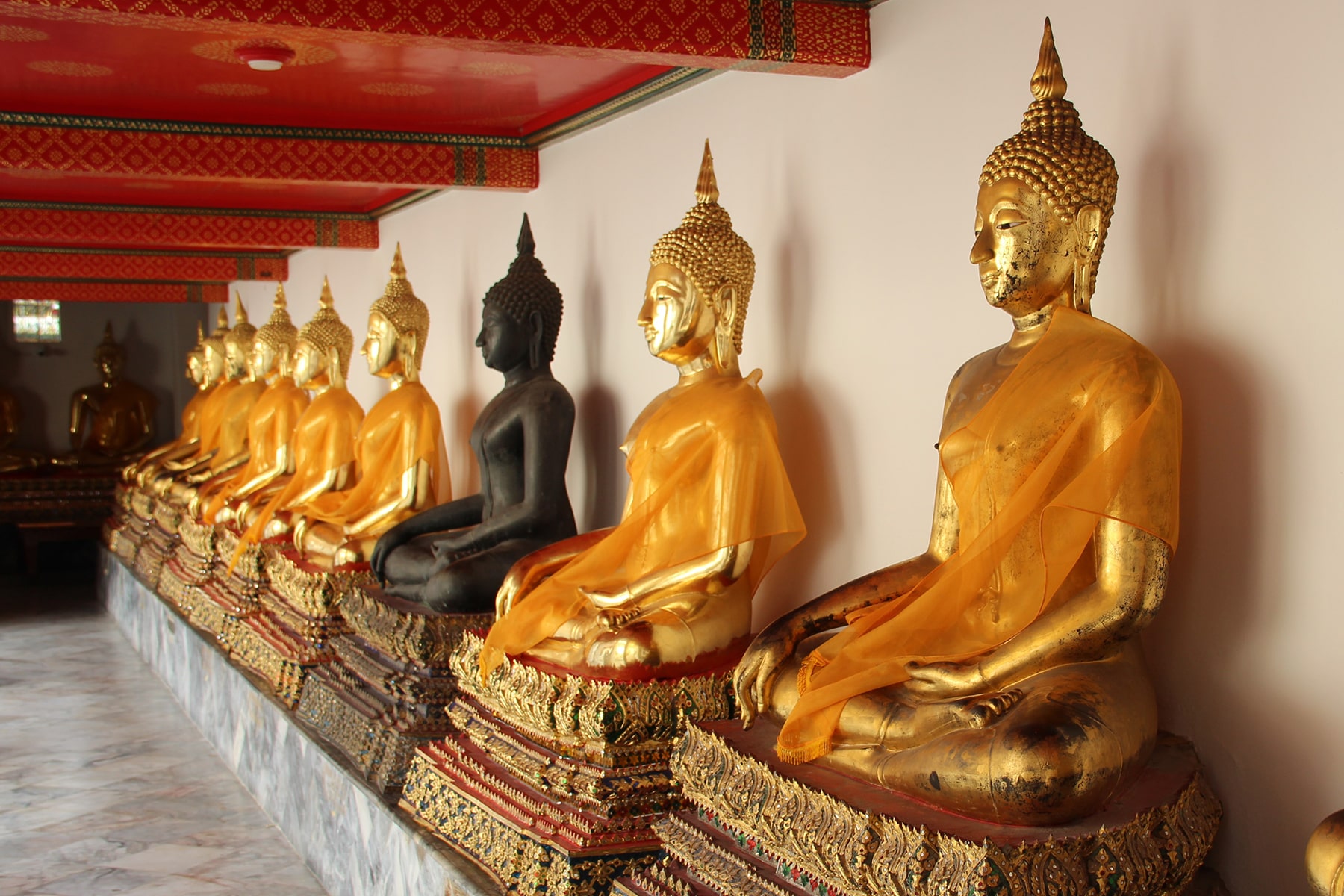 The humongous Reclining Buddha and the sacred Buddha of the Phra Ubosoth, a statue sitting on thousands of jewels, are particularly impressive.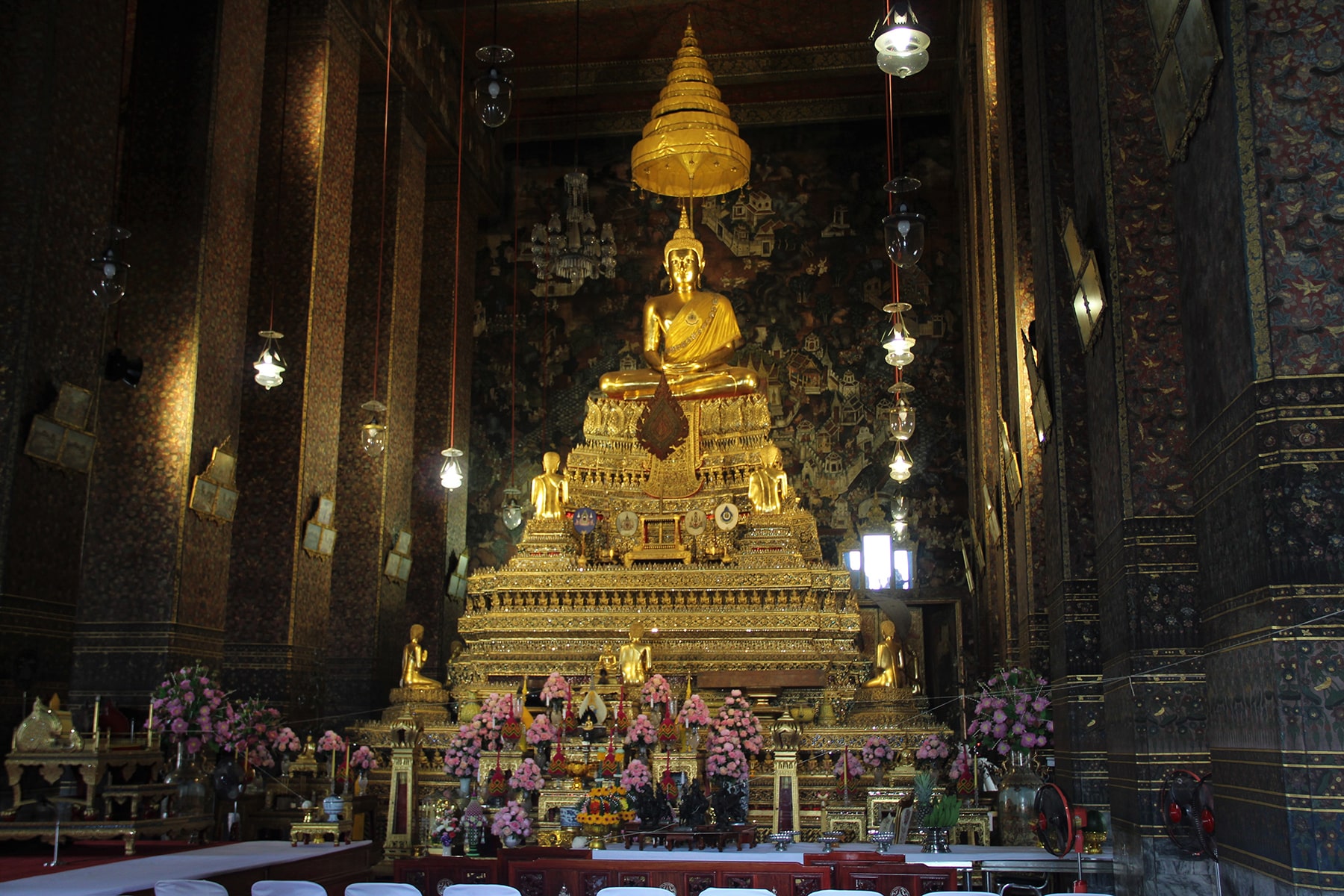 Furthermore, the site is full of little stupas decorated with flowers and includes a big garden with lots of trees and fountains; luckily enough, it's not crowded by hordes of tourists like the Grand Palace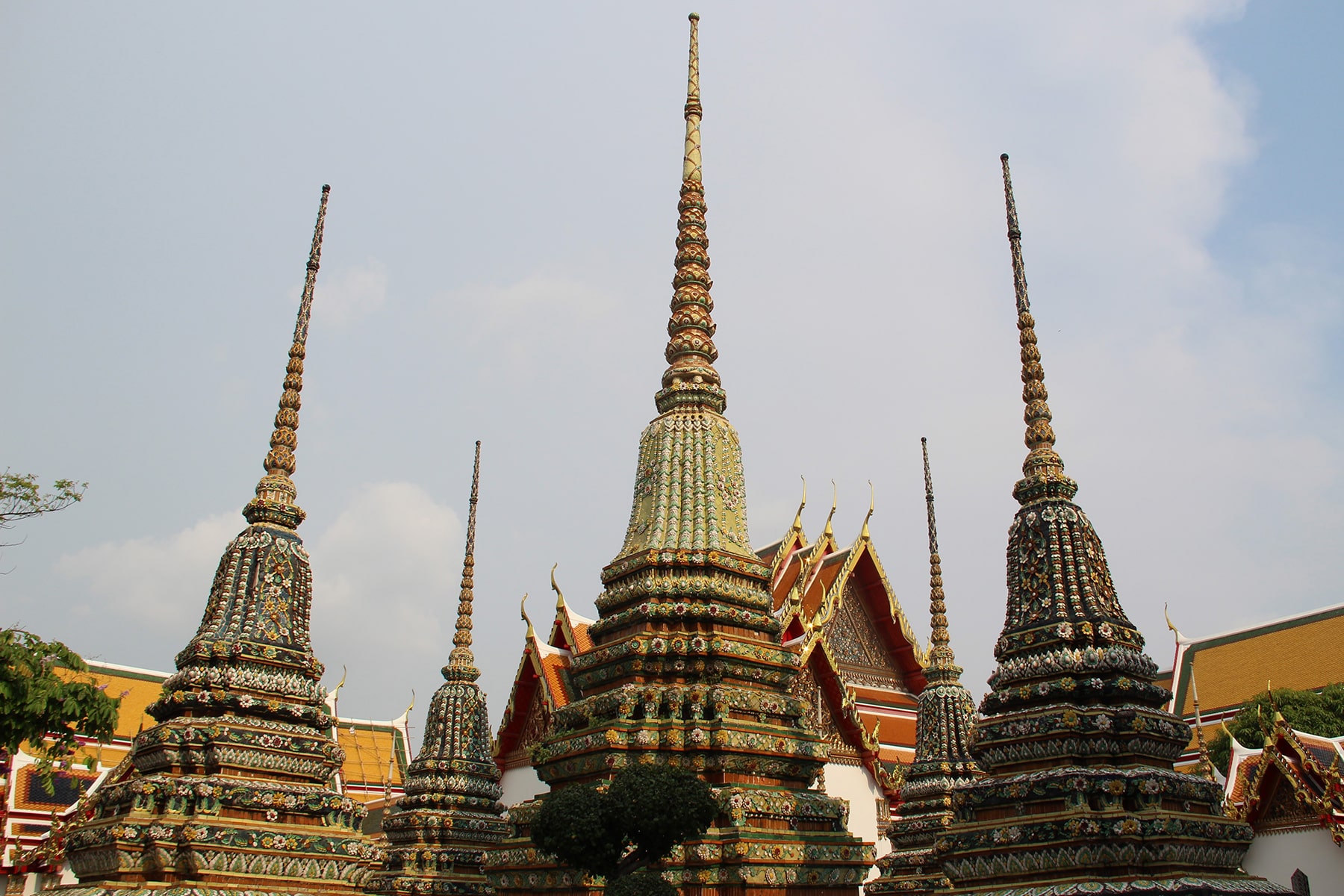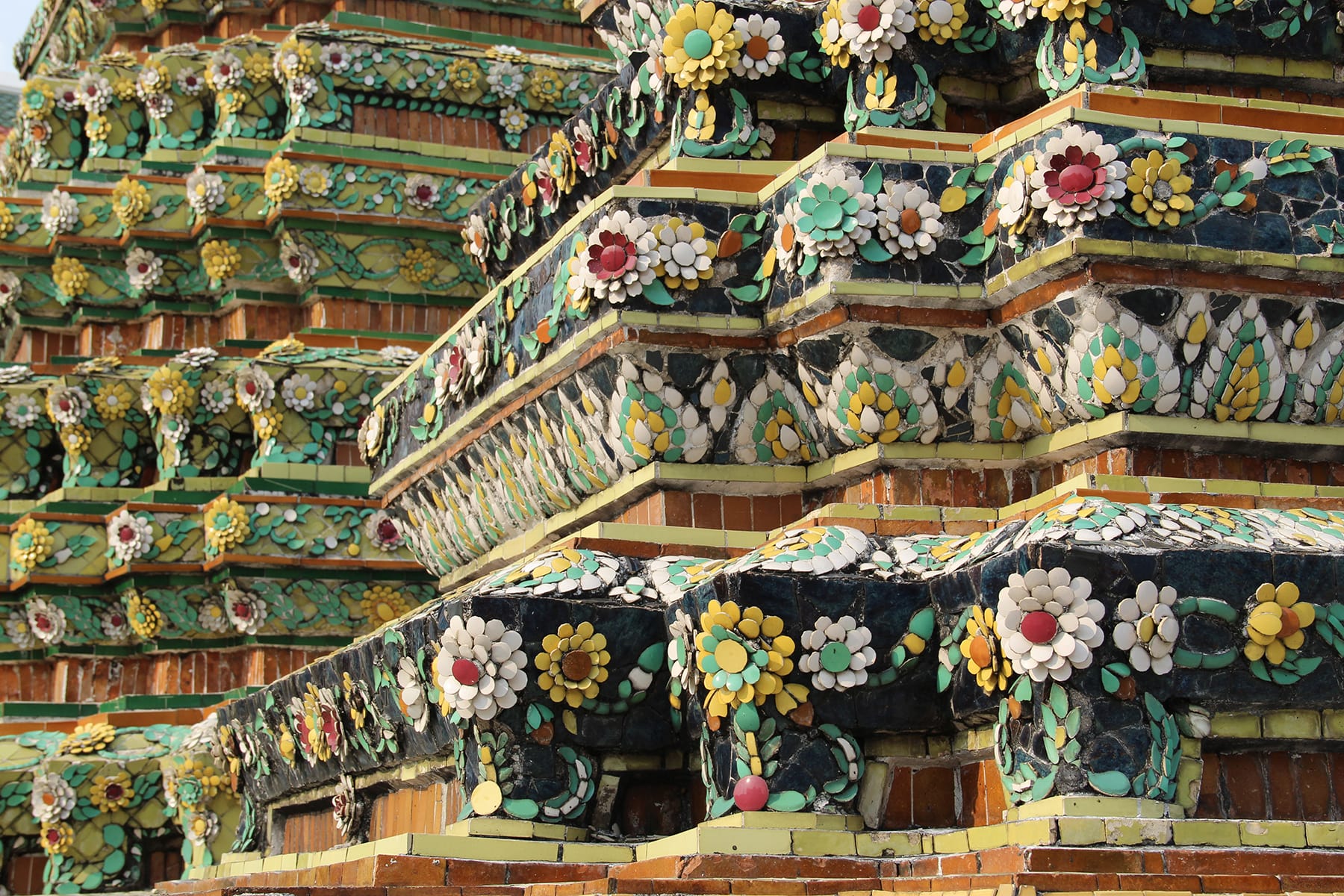 Information
Cost ticket Wat Pho Bangkok: 100 bahts (2.5 € according to the exchange rate during our trip). Visit duration Wat Pho Bangkok: roughly 3 hours.
2- The Grand Palace and Wat Phra Kaew
The Grand Palace has been the residence of Thai kings for many decades and is made up of various buildings and divided in two main parts: the temples and the governmental buildings. Upon entering we felt like we were going into a labyrinth adorned with precious stones and even with the free map given at the entrance, it's easy to lose orientation among all those buildings. Furthermore, this site is unluckily rushed by buses full of tourists making it crowded and claustrophobic despite its dimension.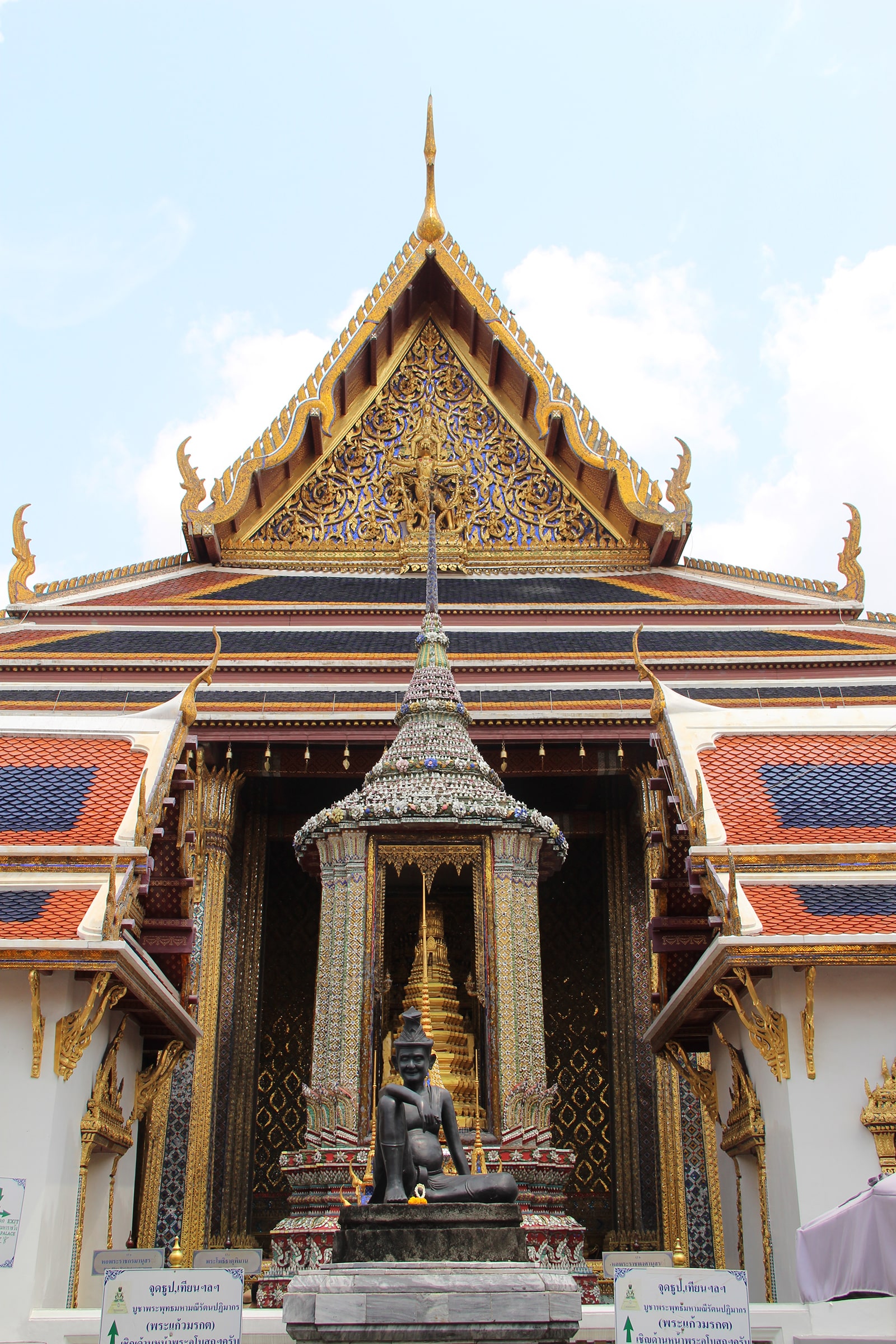 The part containing the temples and the religious buildings is called Wat Phra Kaew, and it also includes the home of the Emerald Buddha, a sacred statue symbol of Thai monarchy and hence destination of many pilgrimages.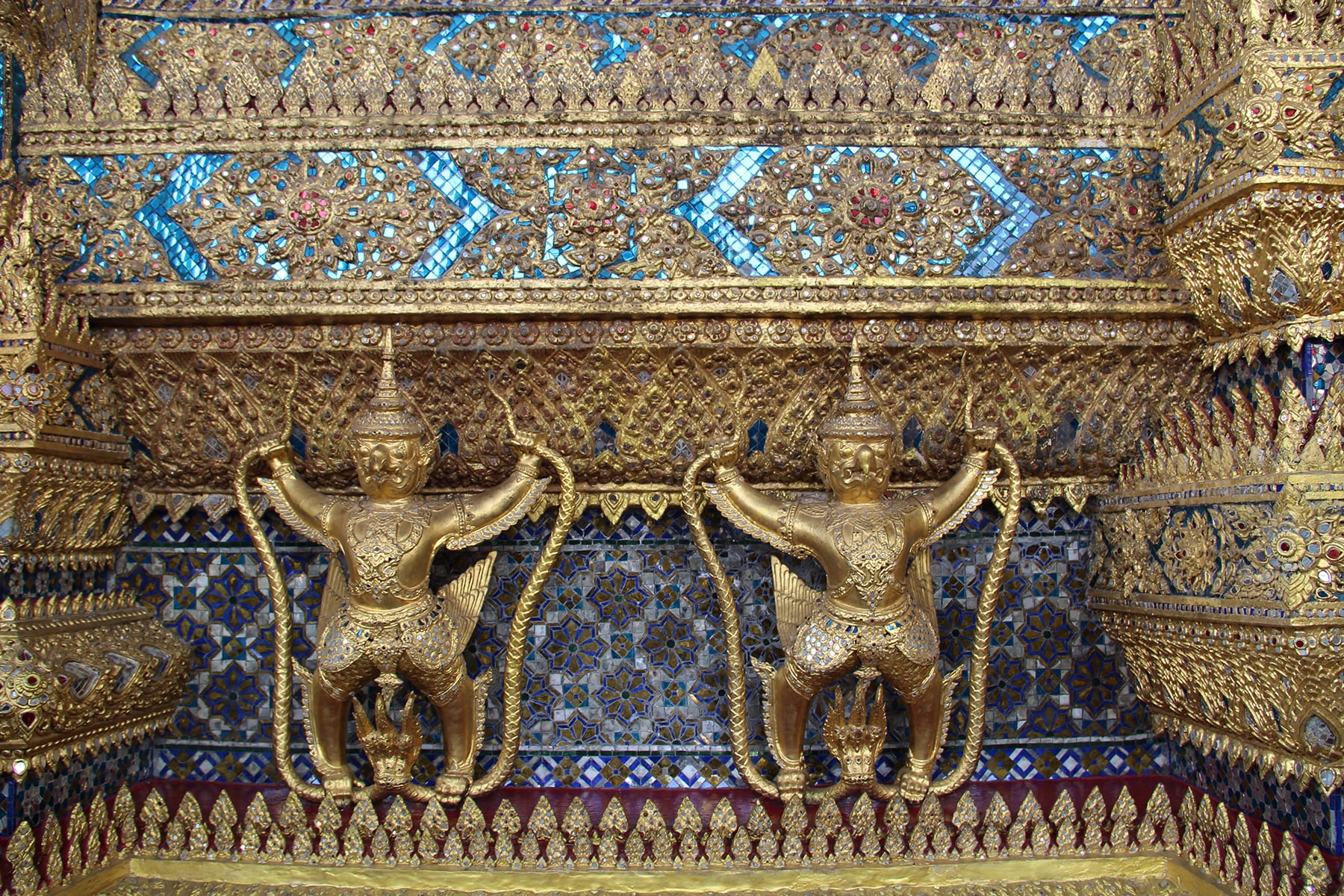 The buildings are decorated with precious stones shining under the Bangkok sun and little bells hang from the roofs of the temples and jingle with the breeze, so highly appreciated by all of us.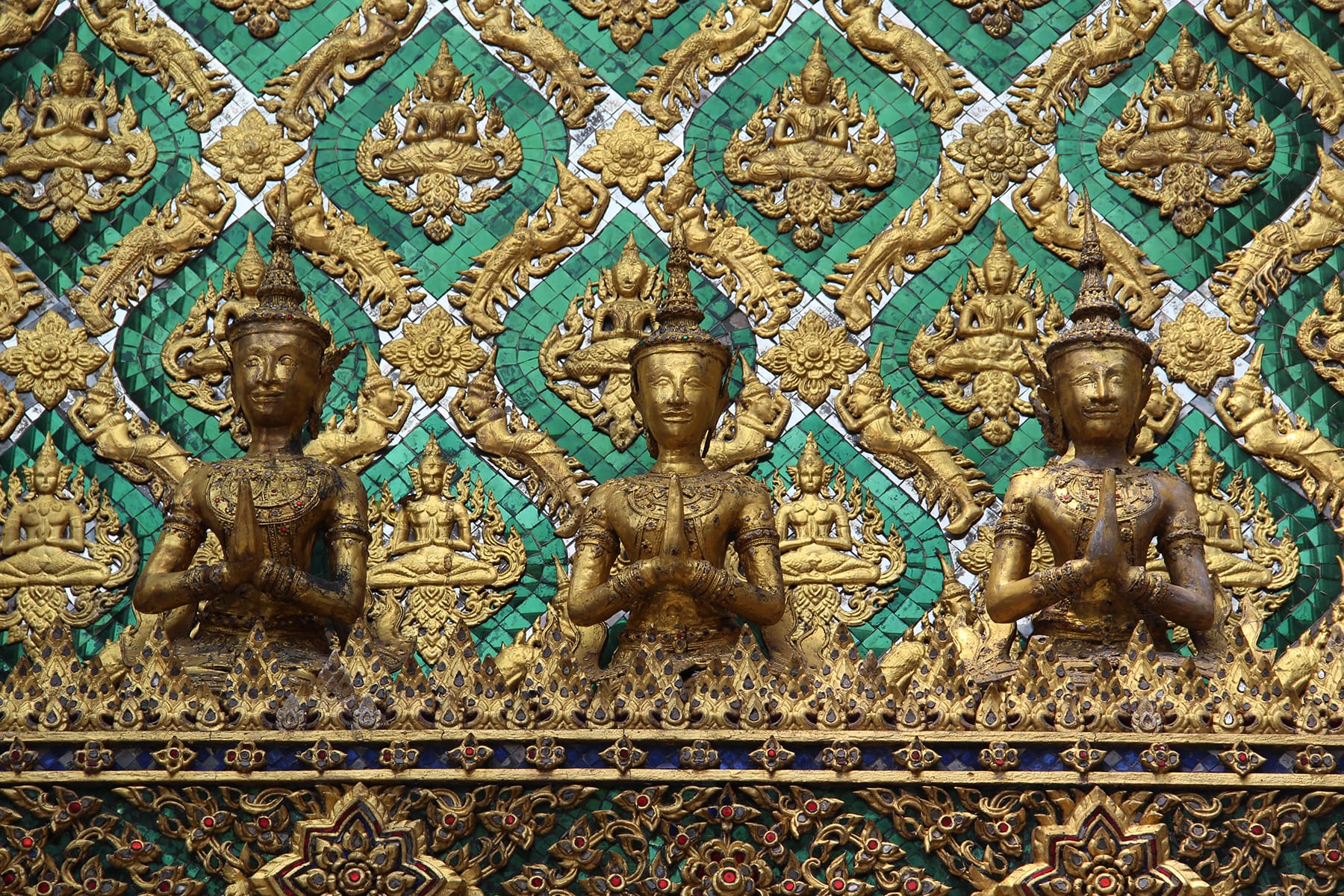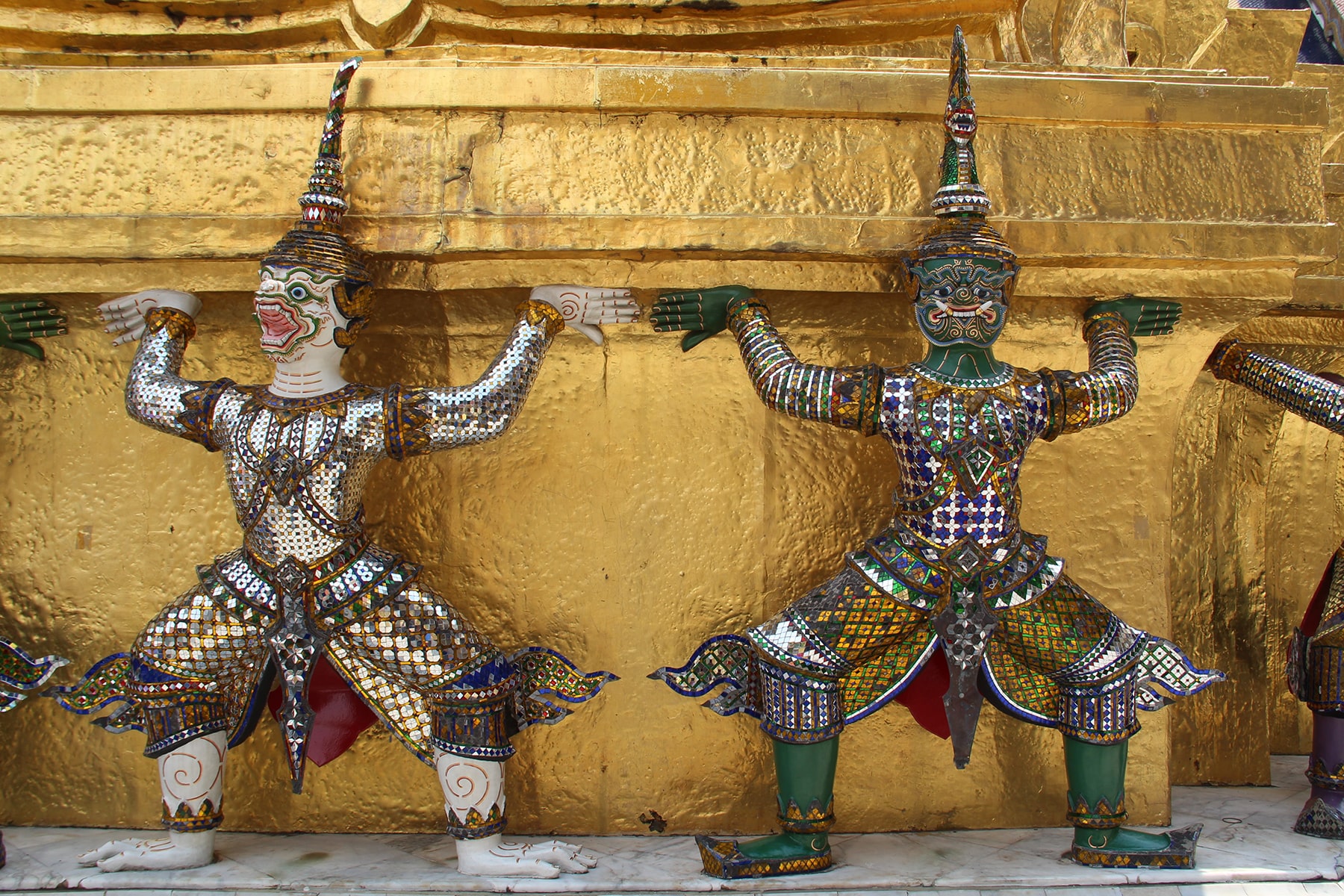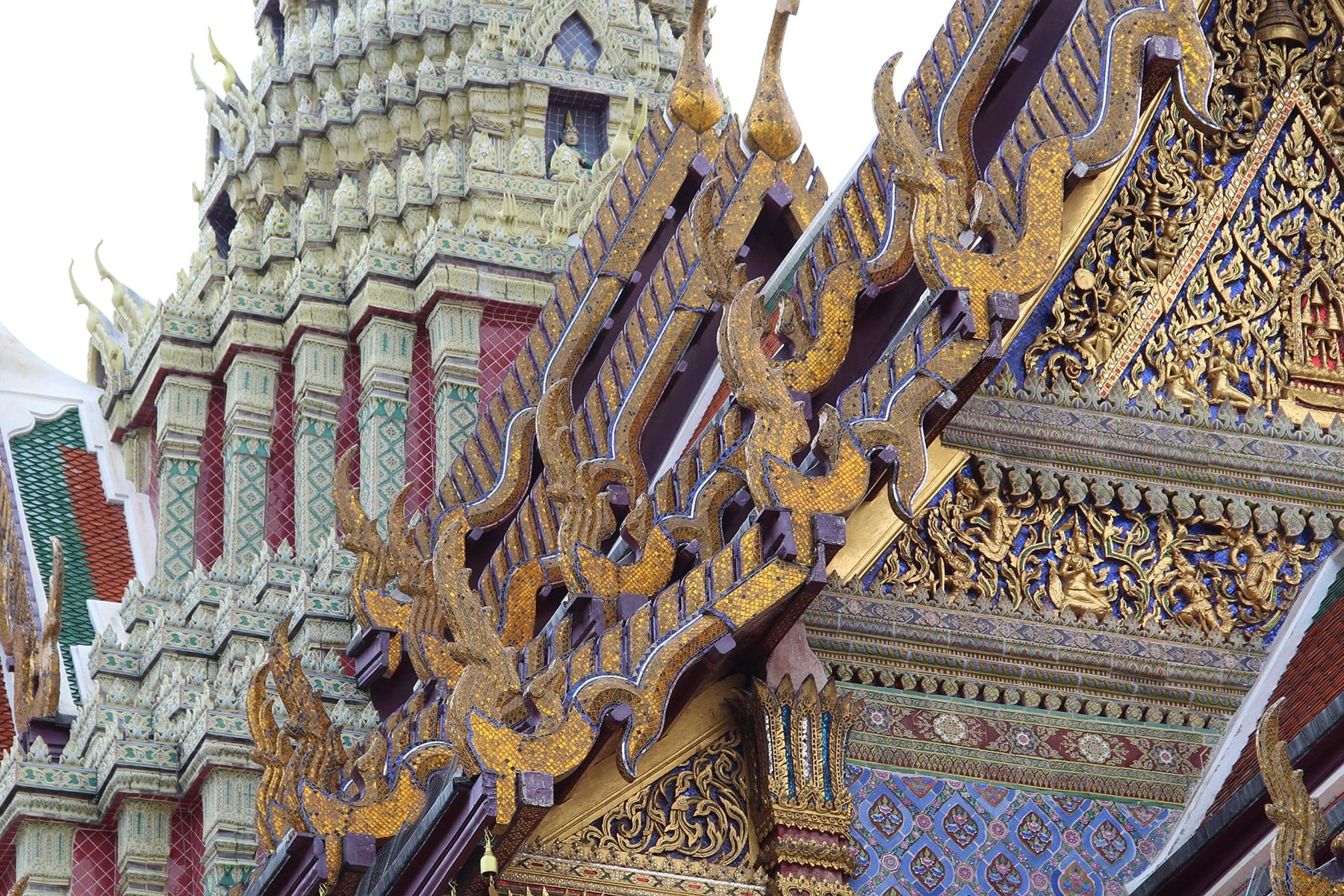 In the second part of the site, you can find governmental buildings which can be admired only from the outside and a little museum on Thai monarchy, which we visited to escape the scorching heat.
Our advice is to visit the religious part first, which is much more beautiful and decorated than the second part with administrative buildings.
Information
Cost ticket Grand Palace Bangkok: 500 bahts (12.5€). Visit duration Grand Palace Bangkok: roughly 3 hours.
3- Bangkok Street food
Bangkok is famous for the huge variety of food available at any hour of the day or night. The owners of food stands on the side of the road start to grill meat skewers early in the morning and don't stop until late at night. The most courageous amongst you are going to love tasting every delicacy that the local cuisine has to offer. You are going to see meat skewers and chicken tights on the grill accompanied by many sauces sold in little plastic bags full of air; for fruit-lovers there is the famous mango with sticky rice, or watermelon, dragon fruit or passion fruit; you can also find all type of desserts like little donuts, peanut bars and non-identified fried stuff, sometimes even fried fat. Beware of the durian, a big green jagged fruit with a putrid smell!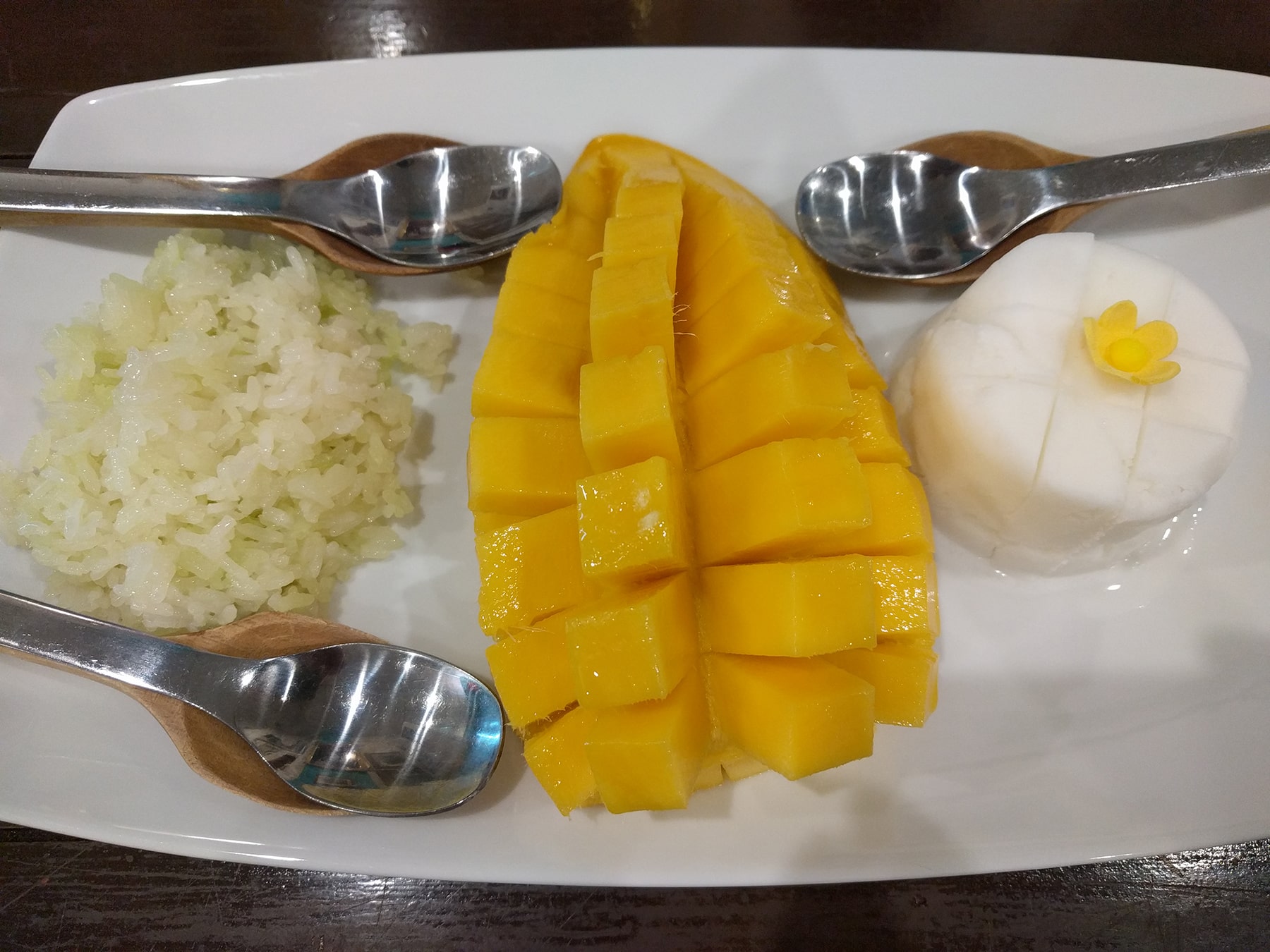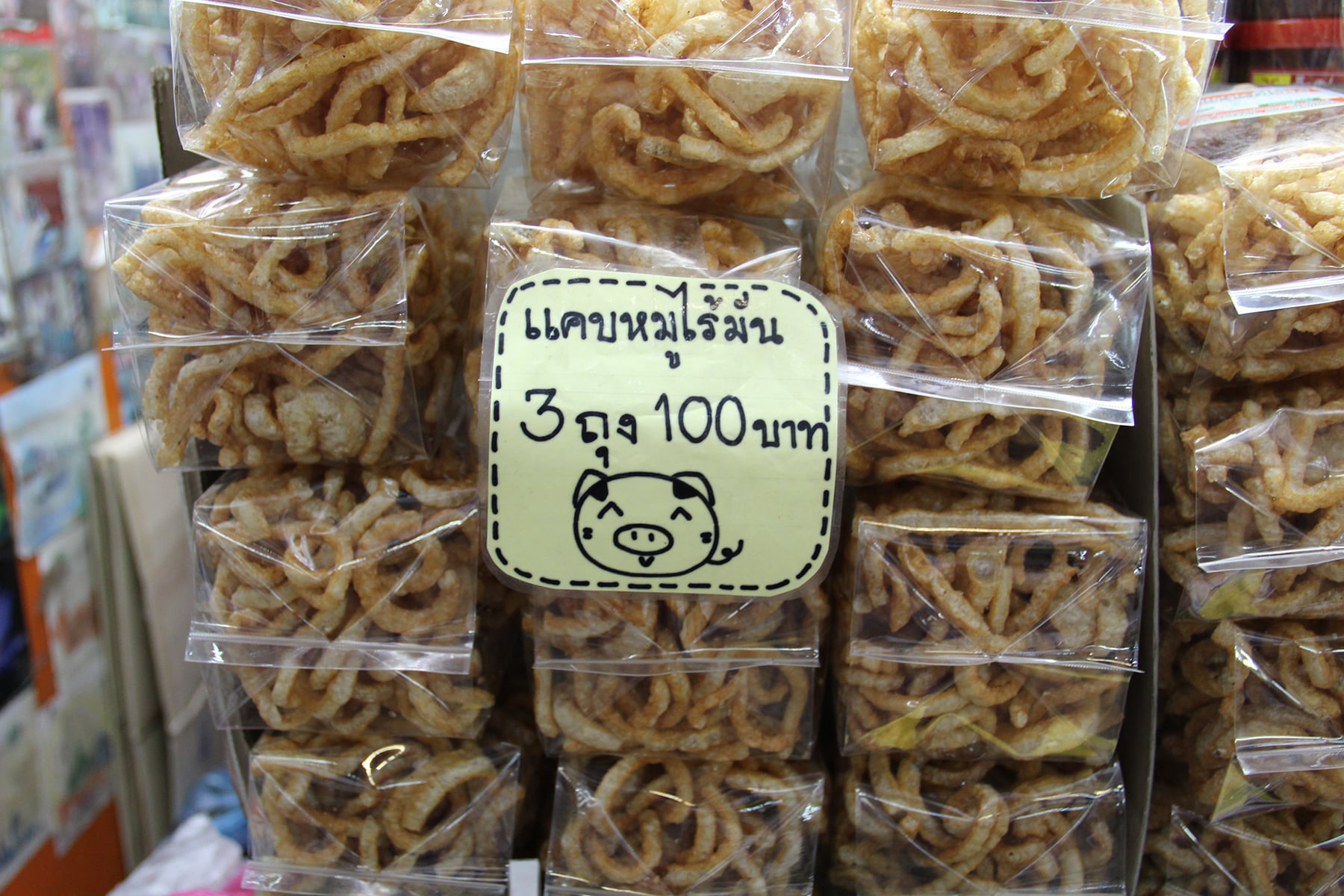 Duck is very appreciated in the Chinatown district, where it hangs behind many shop windows, dripping with sweet and sour sauce. Lastly, let's not forget insects which are sold in little cups in some markets.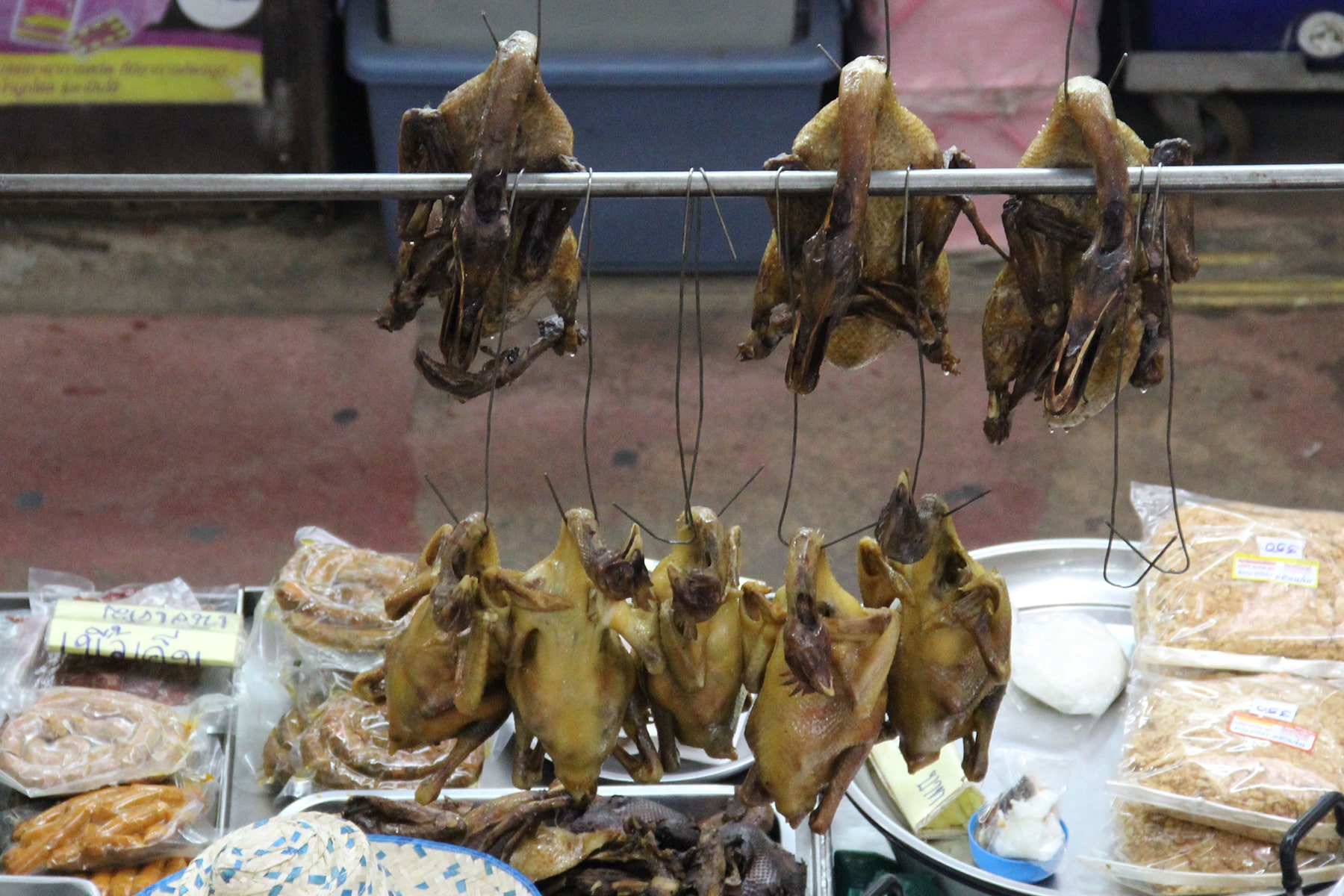 If eating street food scares you at first, you will find many little family-run restaurants which sell authentic Thai dishes for a little price; you will surely fall in love with the pad thai, the most famous speciality of the country. Remember that in Thailand "a little spicy" means very spicy and "spicy or very spicy" will burn your tongue.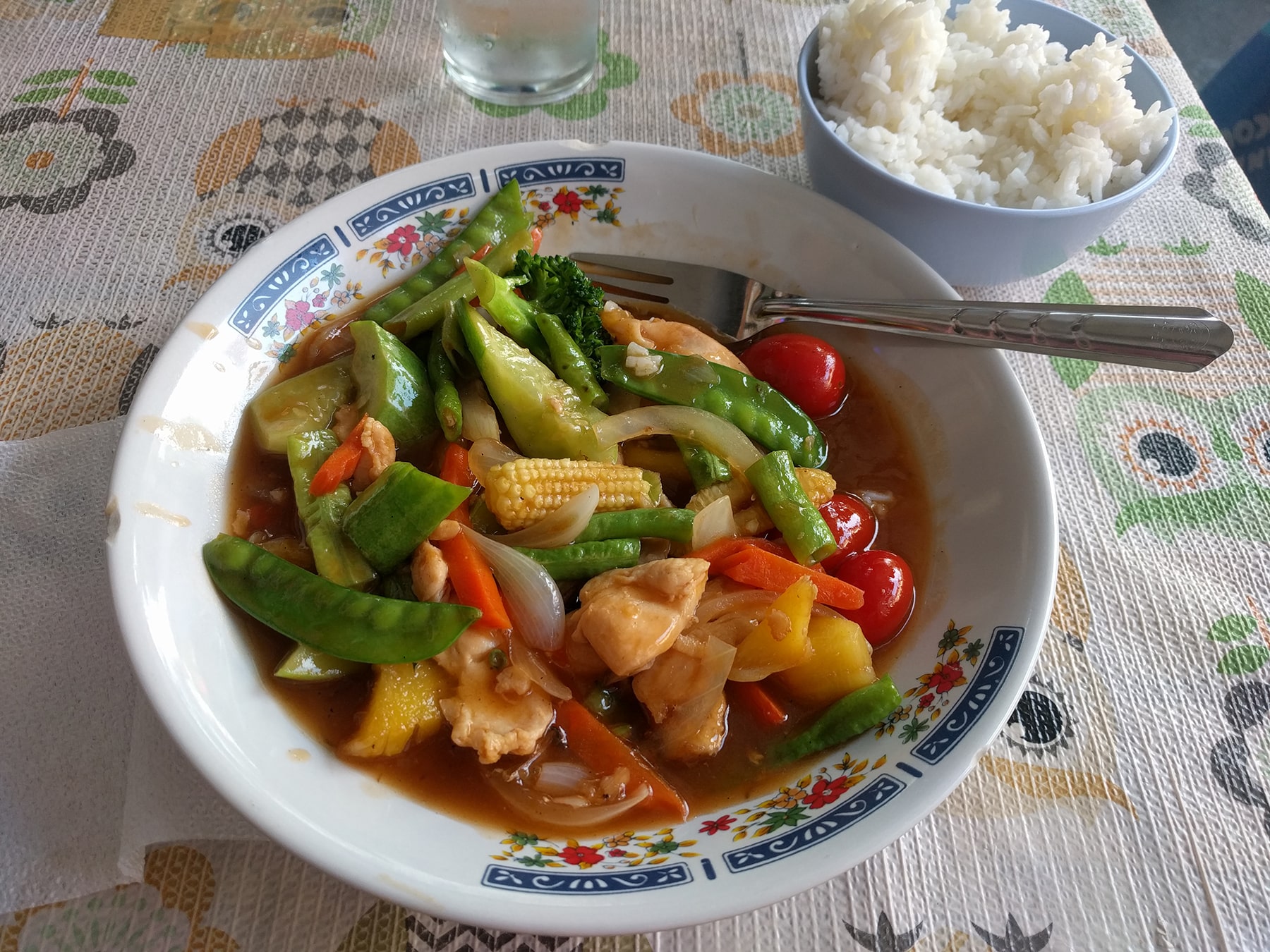 4- Chinatown
Chinatown is a district in Bangkok close to the city centre. It is crossed by a big central avenue with flashy red lights, where traffic flows non-stop and by little side streets, full of street vendors, little restaurants and bar. It is easy to recognise the district thanks to thousands of Chinese lanterns which flow in the wind.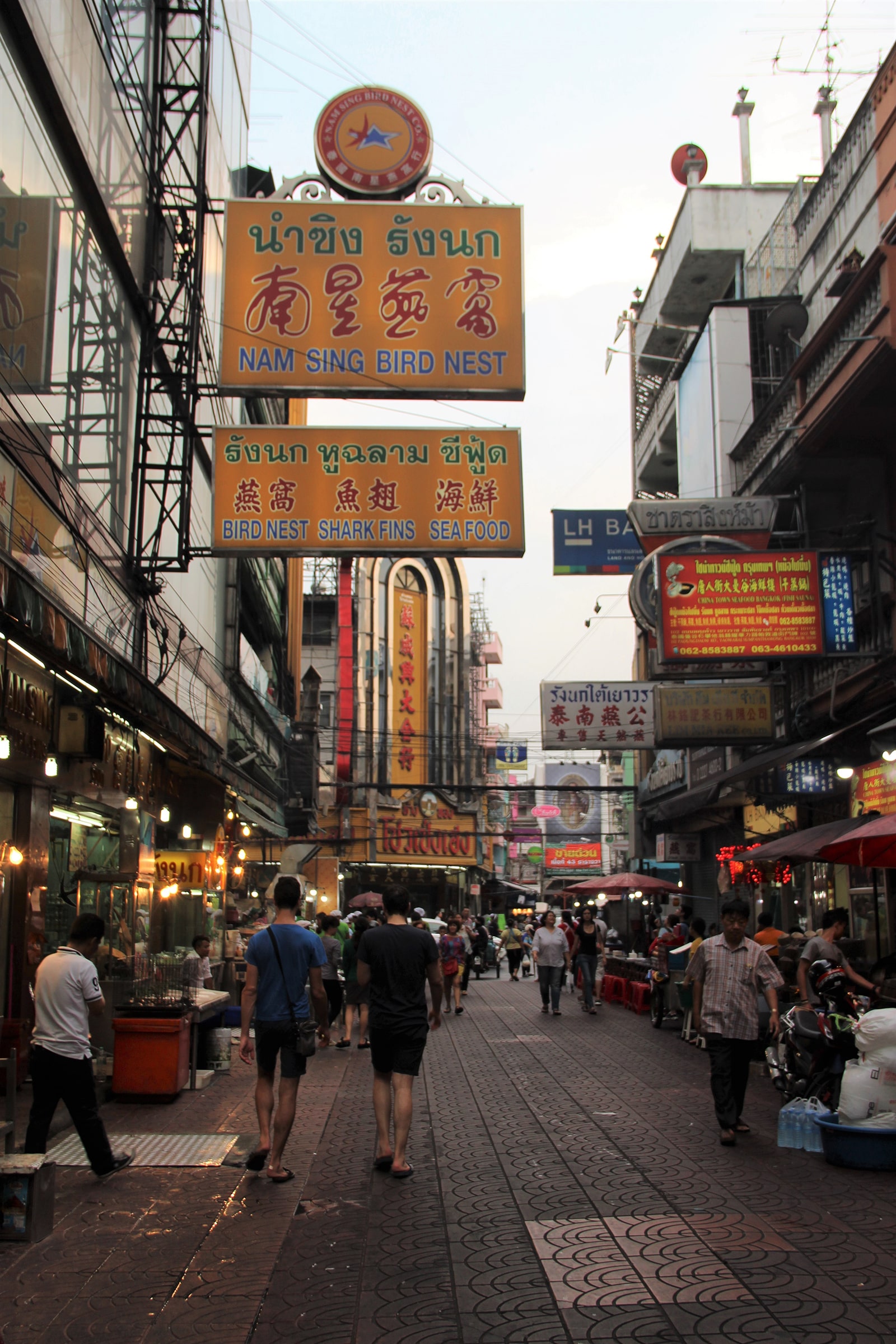 In Chinatown you must always follow the narrowest and darkest alley to be able to witness the show of local traditional cuisine, such as a whole pig roasted on a skewer, pig legs burned with a blowtorch or bowls filled with crabs and cuttlefishes dried in the sun. It truly is a gastronomic journey reserved for people with a strong stomach.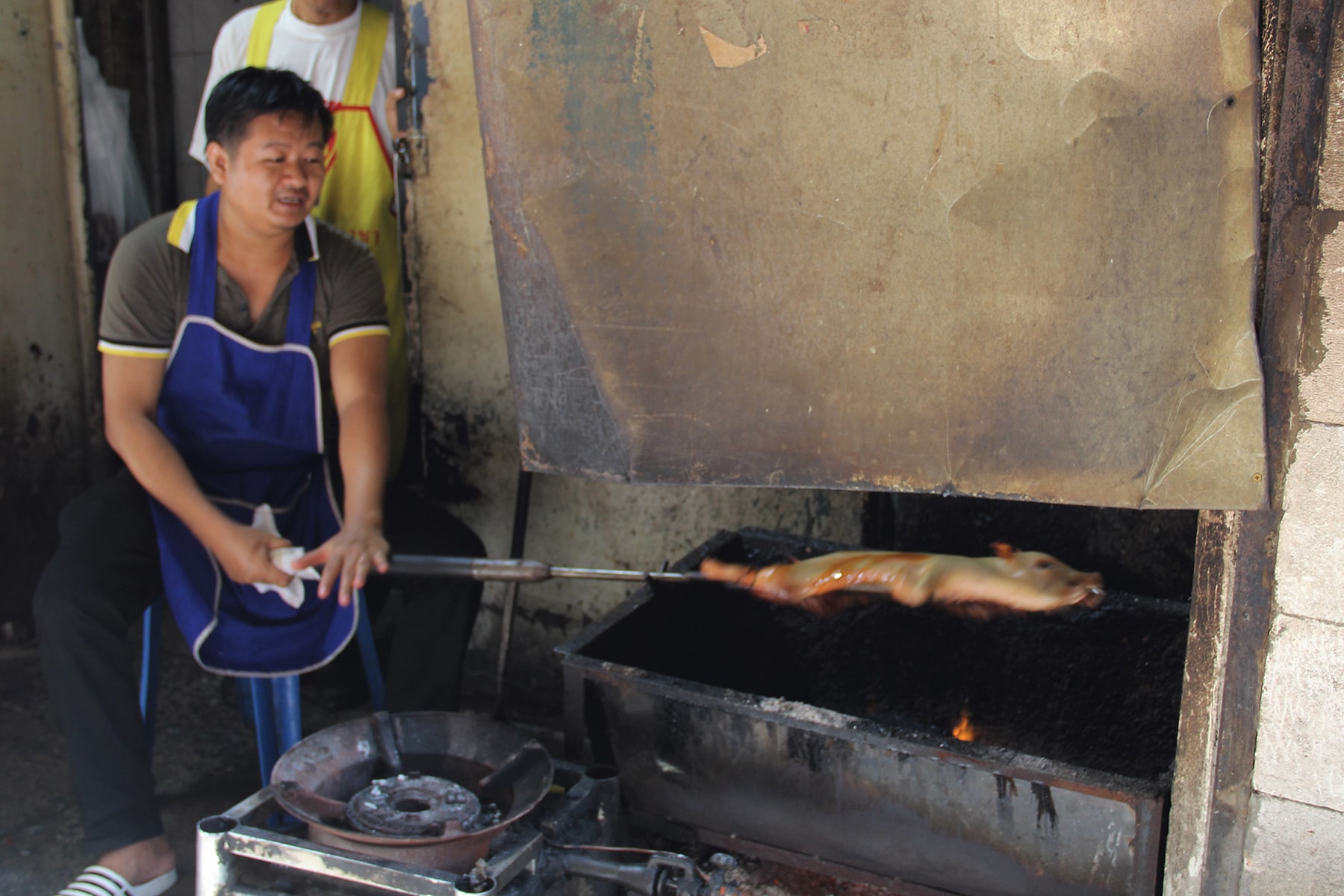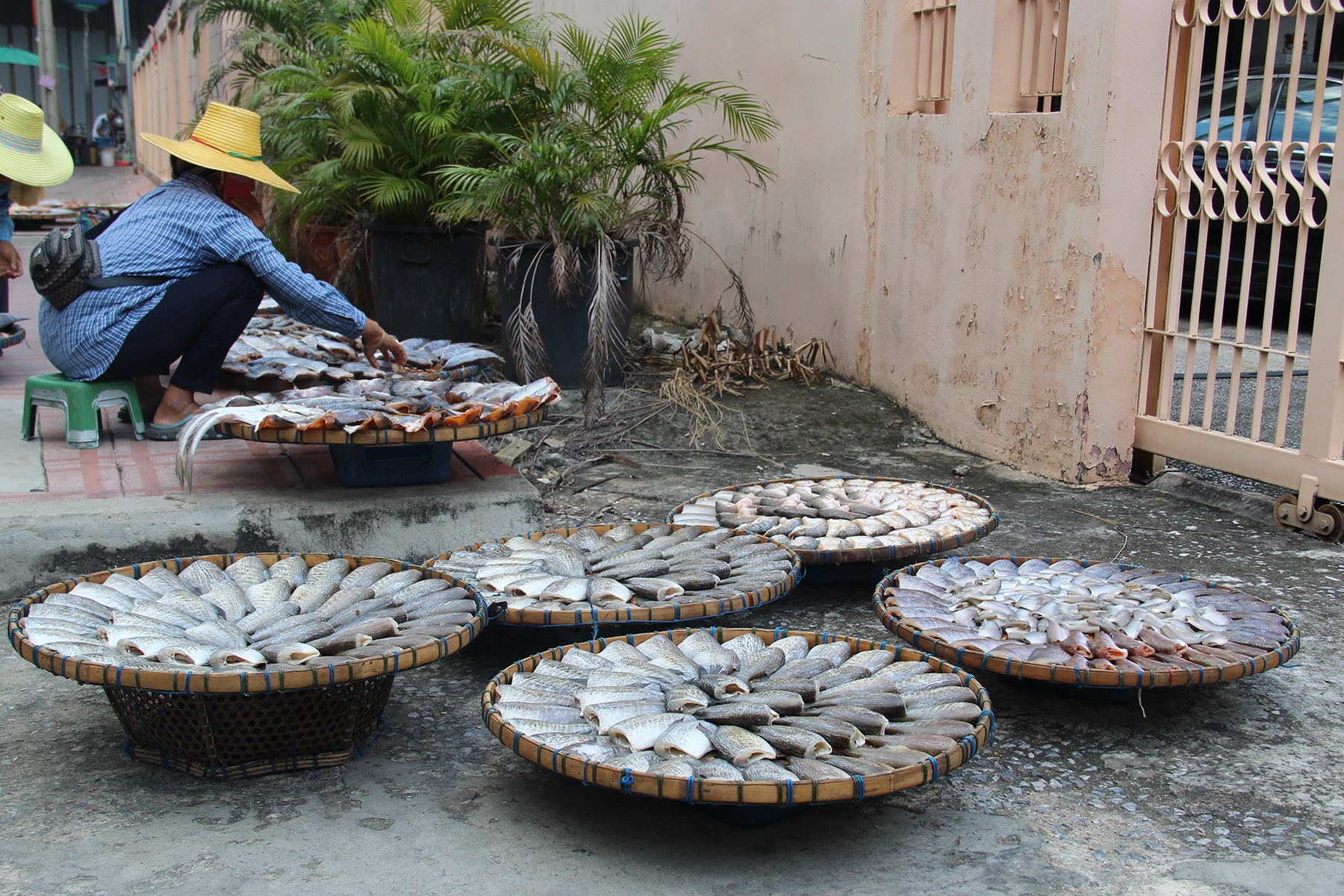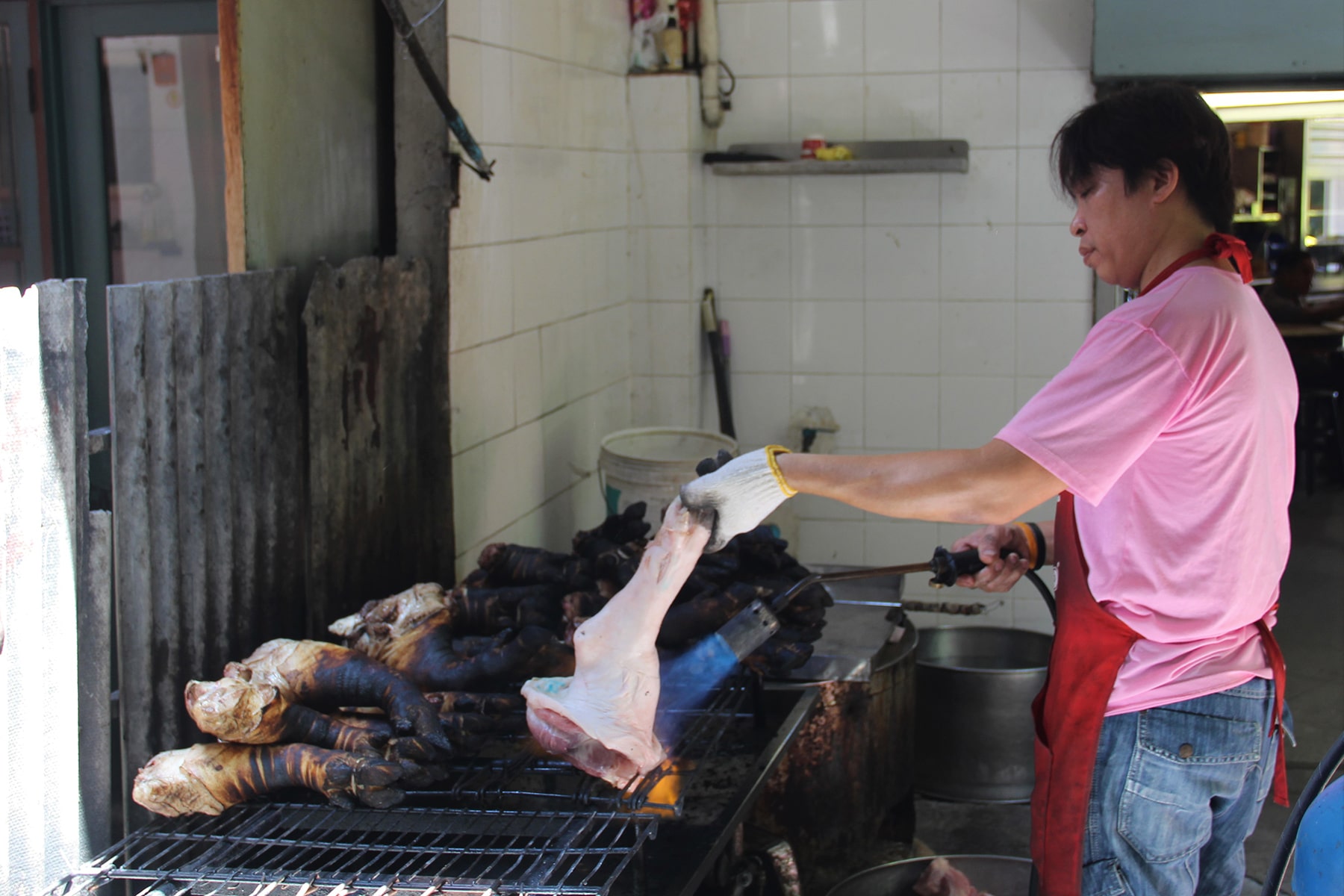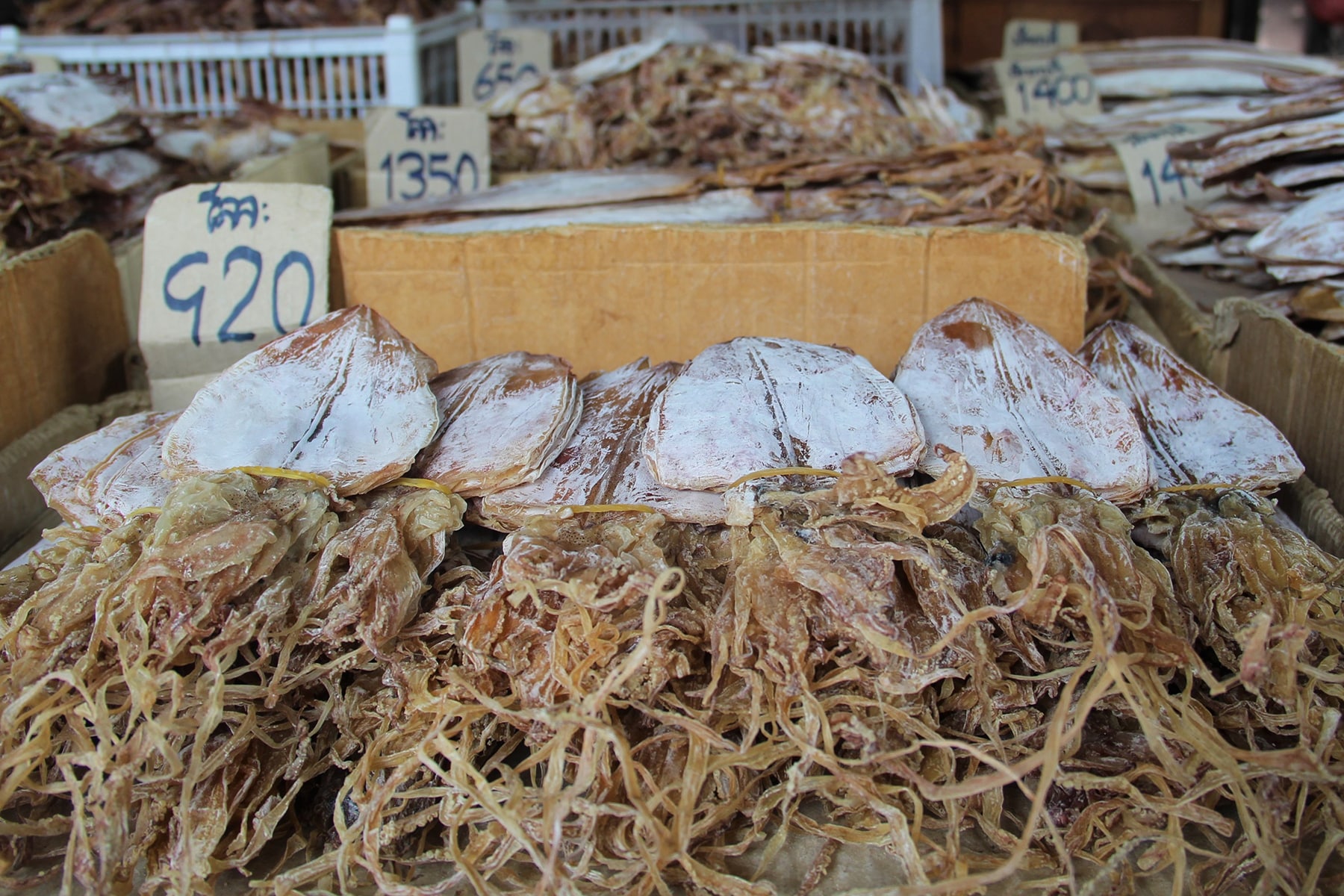 5- City centre VS modern city
Bangkok is a city with two faces: the most traditional and ancient area of the city centre VS the skyscrapers and shopping centres in its modern part. The more ancient part of the city, with its crumbling and shabby character, doesn't look like a modern metropolis at all; walking along the river, you end up at the amulet market, where stones and little statues are sold, and not very far from there, the royal palaces and the temples are witness of a cultural and religious tradition very dear to the country.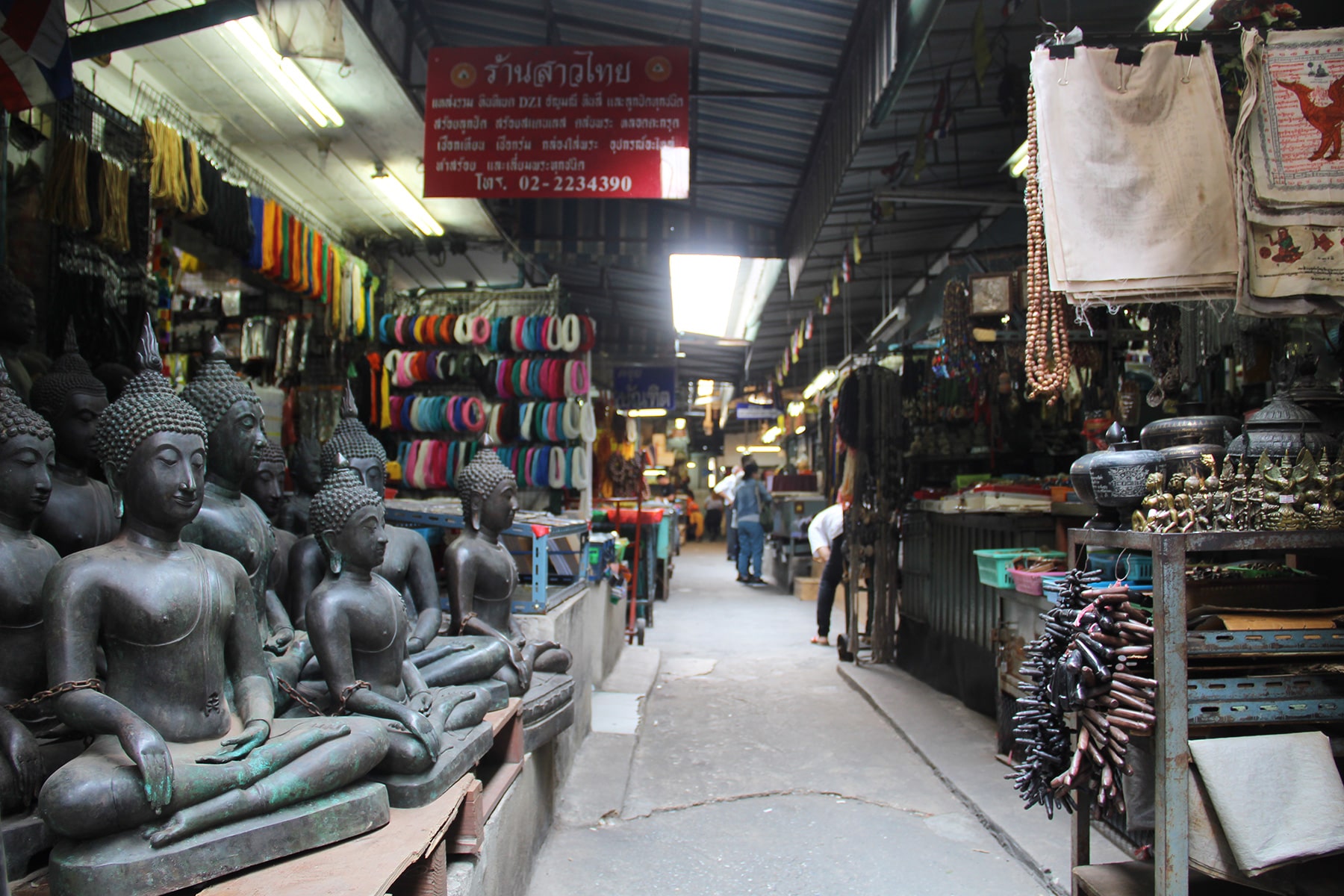 However, in the other side of the city, we discovered a very different metropolis with a skyline as impressive as that of American cities. Bangkok is truly surprising. Whether you love shabby and charming cities, or you prefer modern and shining metropolis, the secret to love Bangkok is finding the right balance.
6- Wat Saket or the Golden Mount
The Wat Saket, or Temple of the Golden Mount, was the last temple we visited during our 3-month-trip to Asia. Our guidebook warned us about a steep climb with thousands of steps (which by the way we're pretty used to, for instance, that time we climbed a whole mountain in Sri Lanka to reach a monastery). We were already picturing ourselves dripping with sweat climbing extremely steep steps, but instead the climb was pretty fast and pleasant, under beautiful willow branches that were shading the steps. Perhaps because we were trained by 3-month of visiting and climbing, or maybe the writer of the guidebook had one too many pad thais before going up, we will never know. The temple in itself did not blow our mind, but we were rewarded by the panorama: from the top you can see a 360° view of Bangkok which shows the ambiguity of this city, combining ancient and modern.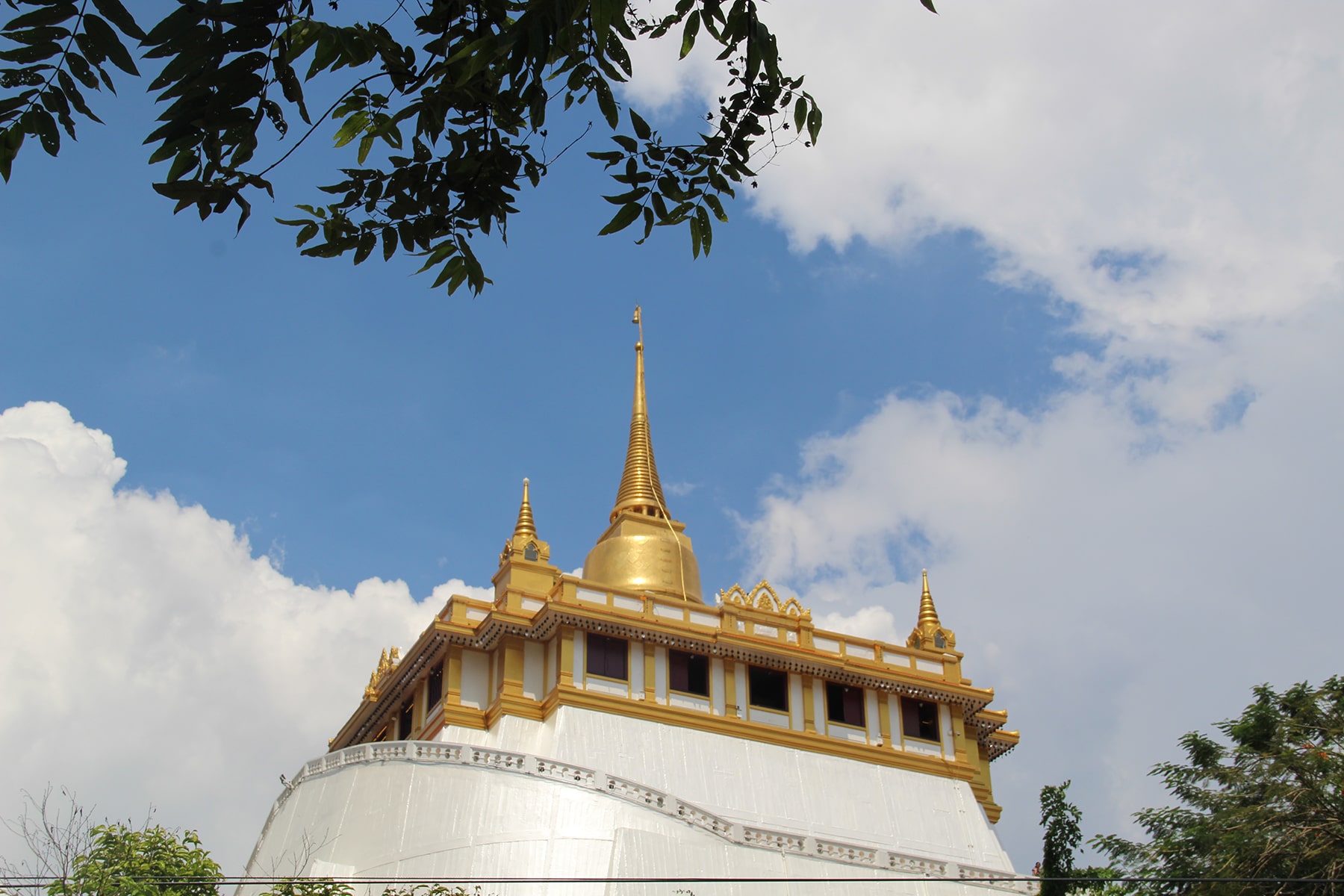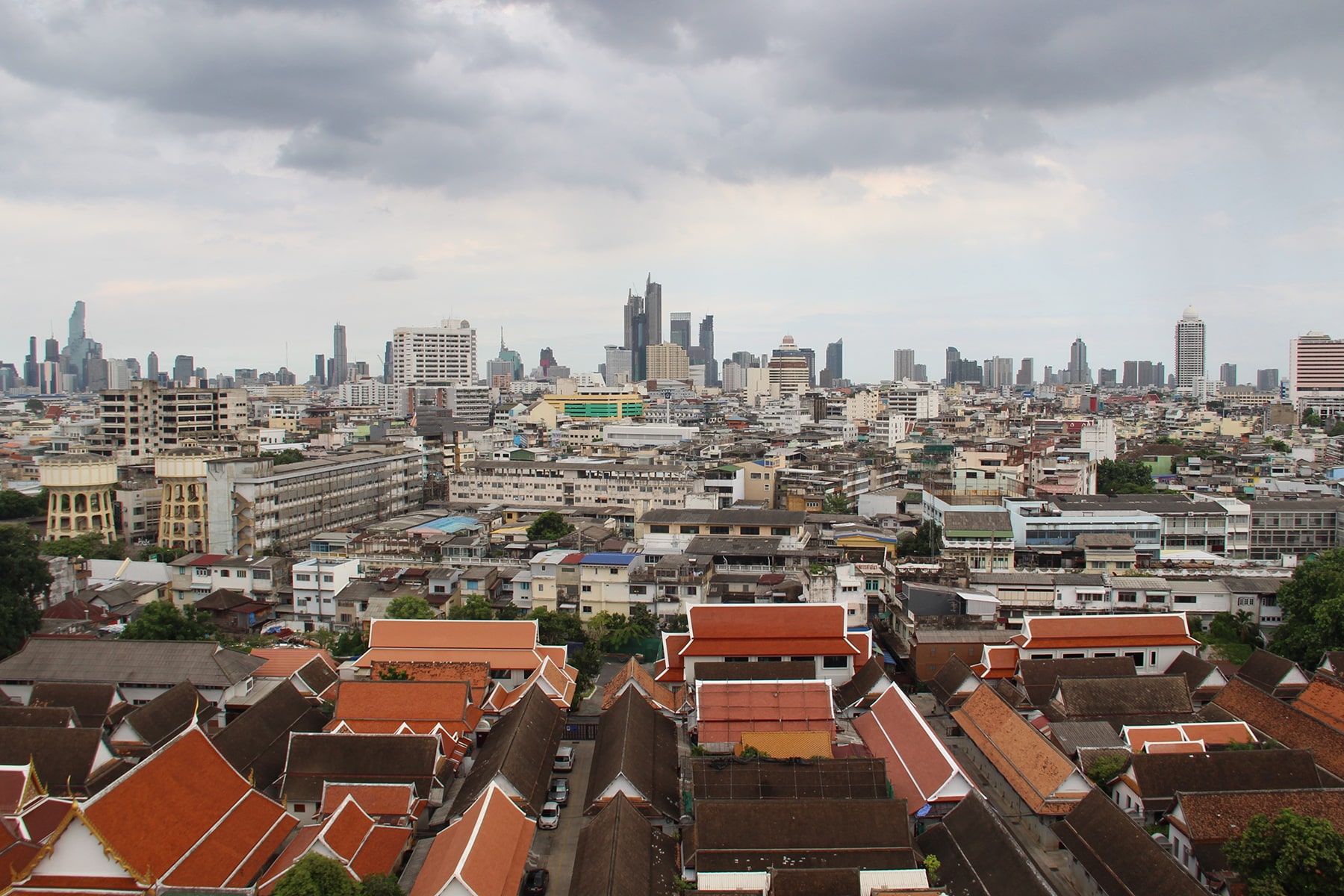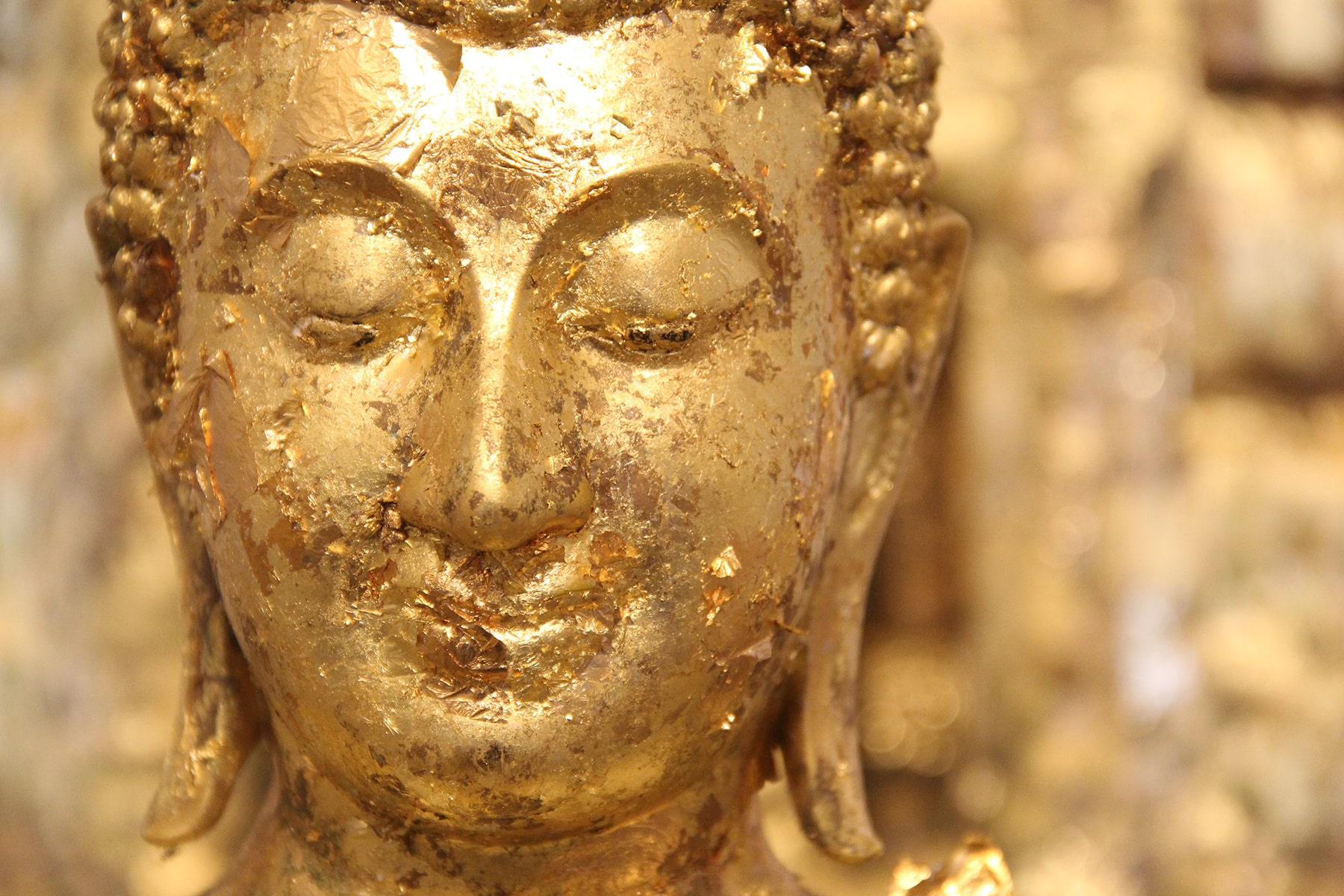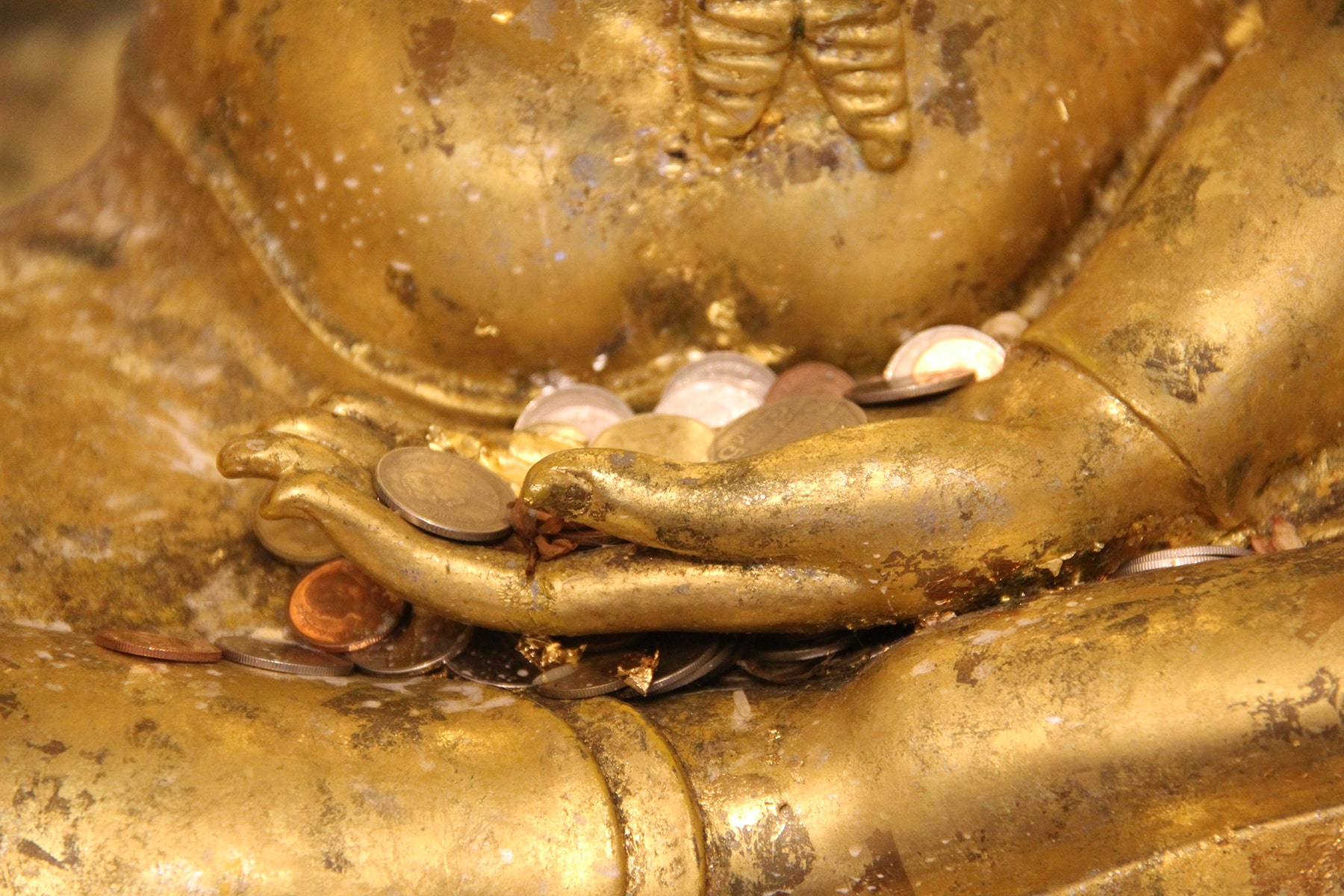 Information
Cost ticket Wat Saket Bangkok: 50 bahts (1.25€). Visit duration Wat Saket Bangkok: around 1 hour and a half.
7- Happy hour in Bangkok
In the ancient district of Bangkok, to be more precise in the northern part of the Phra Nakhon district, the streets transform into a party zone at happy hour time. During our trip we immediately found a little bar with blue plastic chairs on the street, which sold 66-cl beers for 70 bahts (i.e. less than 2€). After a hot day full of sightseeing, it is important to relax! The same streets fill with street vendors at dinner time and it is easy to taste many local dishes. It is a very touristic part of the city, but it's a nice place to relax and have a little fun.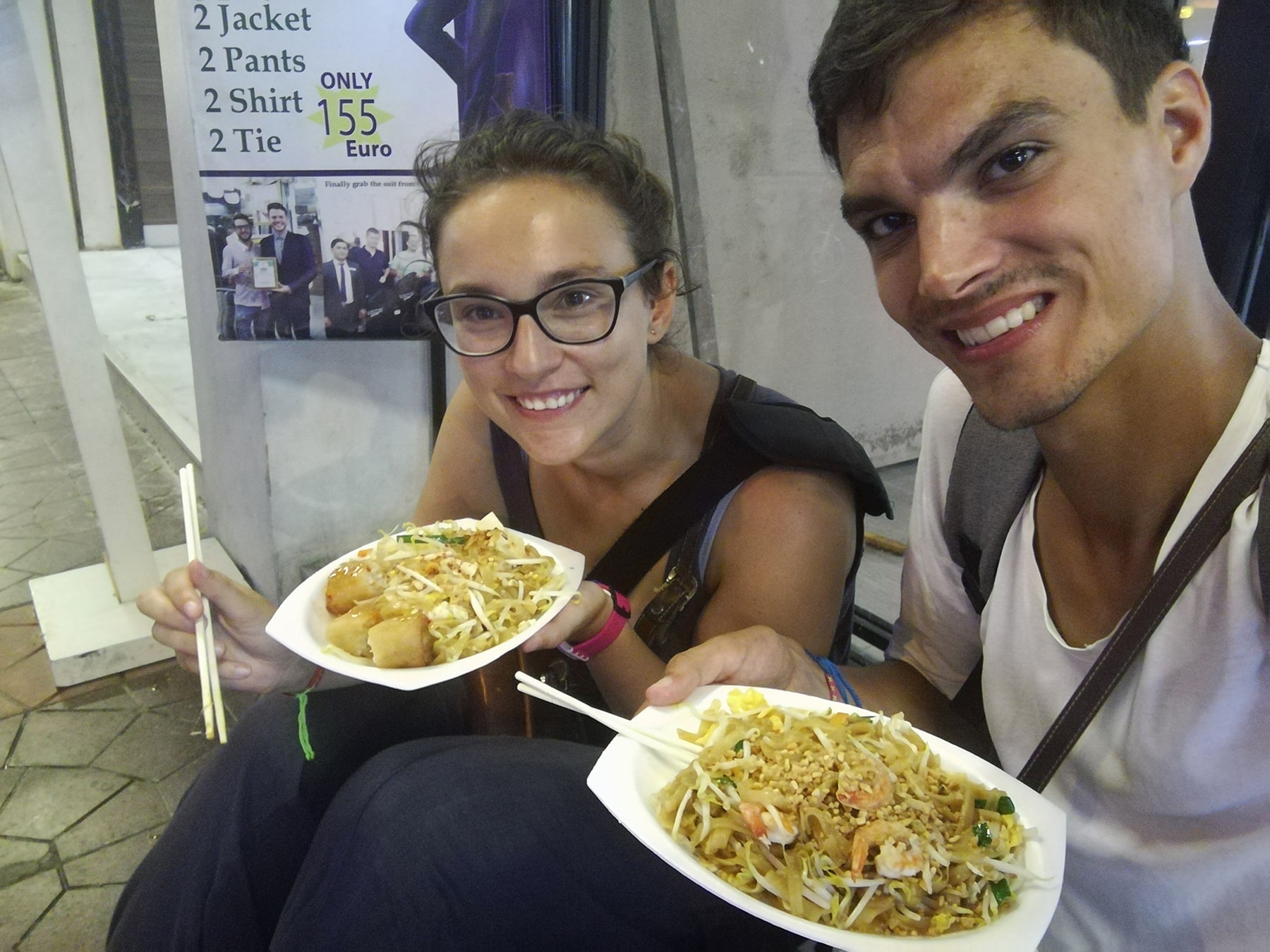 8- Red light district
This is not the usual district we would look for in a city, but the red light district of Bangkok is internationally renowned and one night we decided to go take a look out of curiosity. It is located roughly 30 minutes by car from the city centre, in the modern part of the city, and is made up of several streets with a myriad of bar with flashy signs.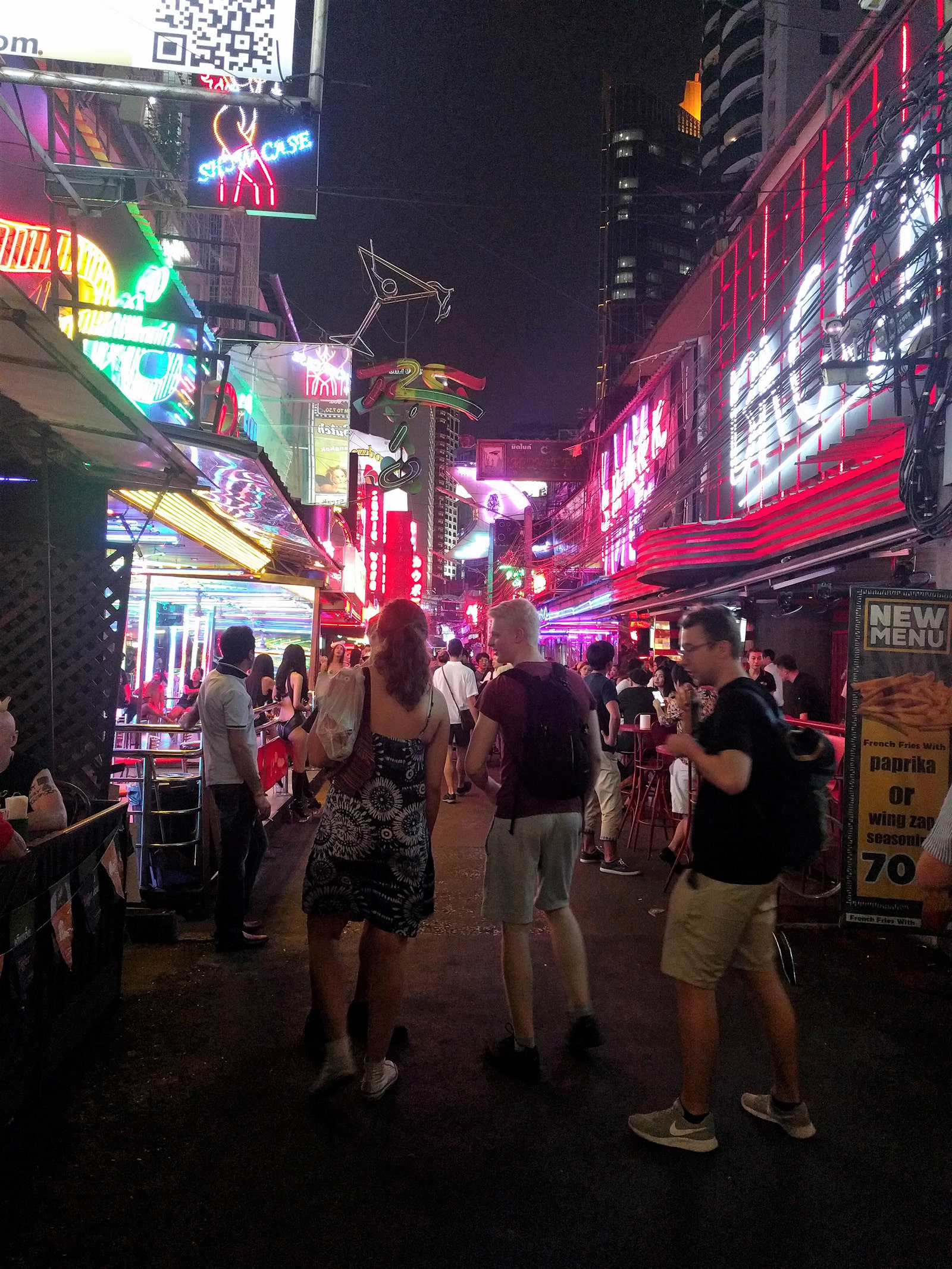 On the street girls wearing tight dresses call with high-pitched voices passers-by, trying to convince them to go into their bars. Besides these main streets, the district is filled with little ambiguous massage shops.
At the end of the day visiting the red light district turned out to be a pretty expensive experience for us. In fact we ate in a restaurant 15 minutes away from the district centre, which turned out to be the most expensive in the whole trip to Thailand. Maybe it wasn't really worth it...
That's it! This is the short summary of our four days in Bangkok, Thailand. We imagined a chaotic and polluted city, but the Thai capital surprised us and turned out to be a cosmopolite metropolis and at the same time an old, charming city, to explore in all its ambiguity! We hope to have given you some useful tips on what to see and what to do in Bangkok. Make sure to ask us questions if you are planning to visit it soon!