Organize your trip
Peru is the first South American country that we have ever visited. We spent roughly two weeks in Peru in November and we organised our trip itinerary according to the little time we had. We had to give up the Amazonian forest and the Northern part of the country; maybe one day we'll be back to visit that part too!
As soon as we booked the plane, we started looking for available dates for the Inca Trail: that's because, in order to preserve the track, the Peruvian government has limited entry to 500 people a day, agency staff included. That means that there are limited available spots which usually sell out even 5-6 months in advance during high season. Since we travelled in middle-low season, we managed to find two spots about one month before leaving and some guys in our group found two spots a couple of weeks in advance. Before organising your two-week trip to Peru, please bear in mind that the Inca Trail is closed for maintenance in the month of February (the month with the heaviest rains). You can check place availability on the Peruvian government website dedicated to the Inca Trail.
Then we had to choose the agency for the trekking. This was probably the most difficult part to organise, also because this trekking is pretty expensive and we wanted to avoid bad surprises. We started by checking out the websites of the agencies listed on the Lonely Planet guide as well as some blogs; we were specifically looking for well-known, eco-friendly agencies respecting their staff and which were not too expensive,; we were also checking online reviews at the same time. In the end we chose Alpaca Expeditions a very well-known agency with a lot of positive feedbacks offering an average price including baggage transportation. The agency also listed on its website several initiatives with which it supports local communities and women. As a matter of fact, it is important to know that, although Machu Picchu is one of the most visited archaeological sites in the world, tourism profits are not equally distributed within the area which is still one of Peru's poorest regions. Many young people from the mountain communities work in these agencies as porters, i.e. they carry bags and material necessary during the trek, where animals such as mules are not admitted. These people were pretty much exploited for a long time and, even if the situation has greatly improved and this job has been regulated by the government, this matter should still be taken into consideration before booking with an agency. Remember to check reviews on this matter by other tourists.
Once we had booked the Inca Trail, we organised the rest of the trip around these dates. Our itinerary also followed a gradually increasing altitude: from Lima on the sea level, to Arequipa (2,335m) and the Colca Canyon (3,650m), to Cuzco (3,400m), to the highest point in the Inca Trail (4,200m). This allowed us to acclimatise little by little to the altitude and to walk the Inca Trail without any problems. Remember to spend at least 2-3 days in the Cuzco area before starting the trek to let your body get used to the altitude, and drink lots of coca tea!ù
If you need some tips for your Peru trip itinerary, why not checking out our trip to Peru?
When to visit Peru
| Jan | Feb | Mar | Apr | May | Jun | Jul | Aug | Sep | Oct | Nov | Dec |
| --- | --- | --- | --- | --- | --- | --- | --- | --- | --- | --- | --- |
| | | | | | | | | | | | |
We visited Peru in the second and third weeks of November in middle season. The weather was pretty good in general, with some rainy days in Cuzco and on the second day of the Inca Trail. Remember to bring a rain jacket and rain trousers. In high altitude areas, especially in Cuzco, weather changes very often; the sun is very hot since we are higher up, but as soon as it gets cloudier, it gets colder straight away. Therefore we recommend wearing many layers. Do not forget to apply sun screen because, since you are closer to the sun, you are also more exposed to sun radiations. We have seen very sun-burnt tourists! If you decide to do the Inca Trail or any other mountain treks, bring some warm clothes with you, because its gets very cold at night time!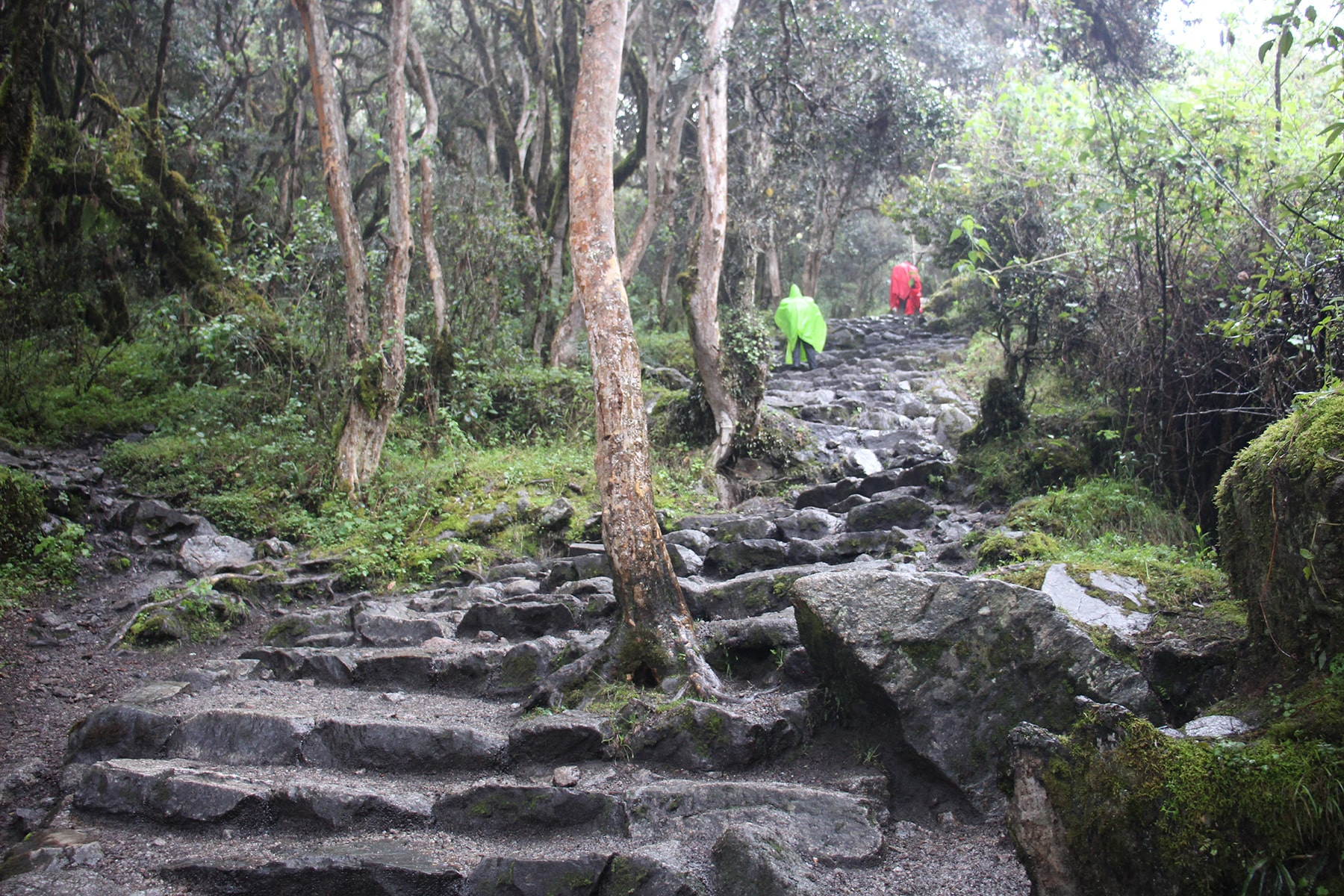 Visa
Peru gives a free 90-day visa which you can obtain at the airport with six month passport validity.
If you need further information on necessary documents or some precautions to take, please visit the Peruvian official website.
Vaccines
Before travelling to Peru it is recommended to get the following vaccines: hepatitis A and B and yellow fever, if you wish to visit the Amazon. Drinking tap water is not recommended. Single-use plastic is banned in some archaeological areas, including Machu Picchu, so we recommend bringing a canteen that you will fill with the boiled water that the agency will give you during the trek. However, we have seen many people filling plastic water bottle and nobody said anything.

Budget
The budget for a trip to Peru varies significantly whether you decide to trek the Inca Trail or not. As a matter of fact, this four-day trek to Machu Picchu costs on average 690-700 $ (tips not included); from we have seen on the websites of several agencies, other similar treks to Machu Picchu - like the very famous Saltankay Trek - cost around 300-400 $. That's why we have decided to give you two different budgets (one with and one without Inca Trail), so that you can figure out your own according to what you wish to do in Peru.
Budget trip to Peru 15 days per person with Inca Trail (flights not included): 6830.5 soles (±1897€) 🡪 455.4 soles (±126.5€) / day.*

Budget trip to Peru 15 days per person without Inca Trail (flights not included): 2961.5 soles (±822.6€) 🡪 197.4 soles (±54.8€) / day.

Budget return ticket plane Milan-Lima: 615€

Budget one-way ticket plane Cuzco-Lima: 54€

*Exchange rate during our trip to Peru in November 2019: 1€ = 3.6 soles.
Sharing of expenses
Total cost per person for:
Accommodation: 507.5 soles (±141€) 🡪 33.8 soles (±9.4€) / day
Food: 1106 soles (±307.2€) 🡪 73.7 soles (±20.5€) / day (groceries and water included)
Sites and monuments: 421 soles (±117€) 🡪 28 soles (±7.7€) / day without Inca Trail; 3870 soles (± 1075€) with Inca Trail, tips included
Miscellaneous: 402 soles (±111.7€) 🡪 26.8 soles (±7.4€) / day (laundry, medicines, souvenirs etc.)
Transportation: 525 soles (±145.8€) 🡪 35 soles (9.7€) / day (by bus and taxi, planes are not included, see above).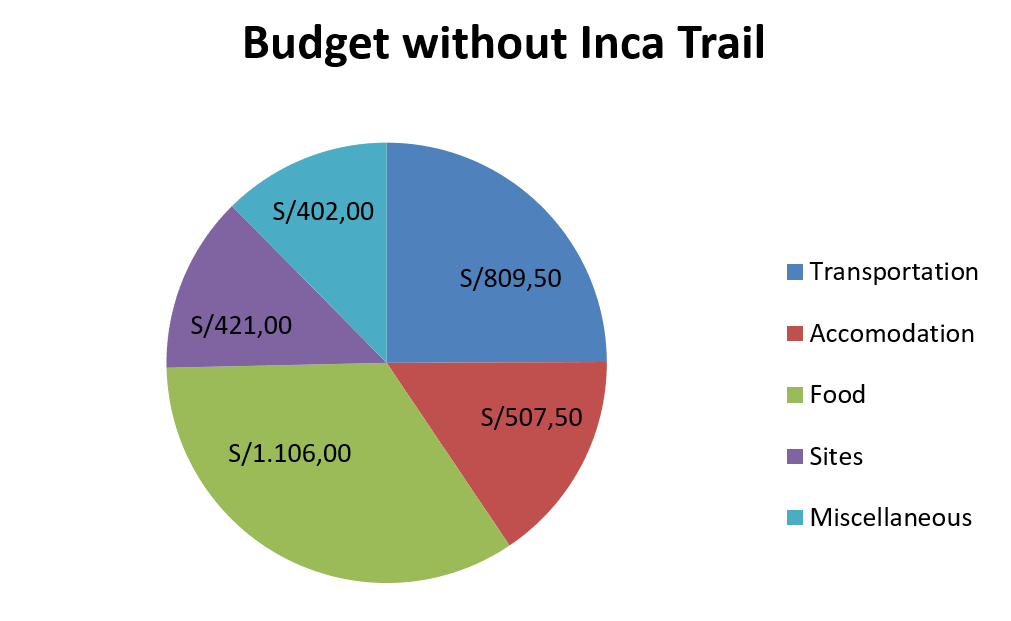 Hotels
We mainly booked cheap hotels and hostels during our trip to Peru. For the cities of Lima and Cuzco we had booked a little bit in advance, because they are more crowded; for Arequipa we booked the hotel on the day of our arrival. The price for accommodation in Lima and Cuzco is higher than that of Arequipa. In Lima we stayed in a family-owned B&B in the Miraflores neighbourhood, which is the safest and most touristic area of the capital city. In Arequipa and Cuzco we stayed close to the city centre; the main square in Peruvian cities is always called Plaza de Armas. Hotels often provide several types of services, such as shuttle or taxi service or tours around the city or region. You will also find a lot of agencies around Plaza de Armas, which will come pick you up at the hotel on the morning of your tour. Accommodation costs around 13-18€ per night; to give you a budget closer to reality, we have divided the total amount spent for accommodation by 10, instead of by 15 nights; that's because we had spent 5 nights outside during the treks, whose price was included in the trek total price.
NB - Remember that our trip was in the middle of November during the middle-low season; the situation changes if you visit during summer months.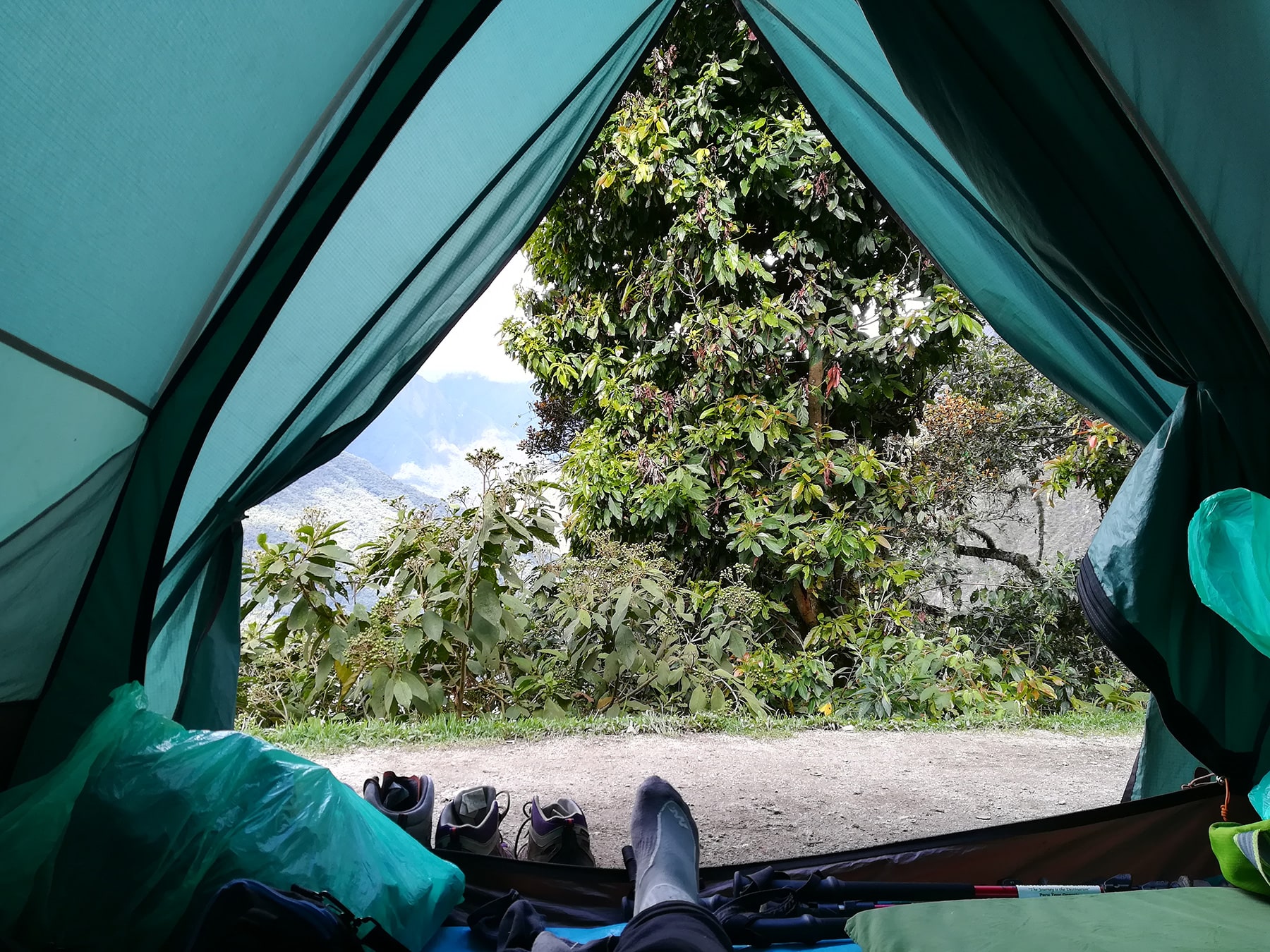 Average price hotel / each: 50.75 soles (±14€)

Food
Peru has plenty of culinary specialties to offer. Let's start by one of the weirdest delicacies: cuy, guinea pig, eaten during festivities, and which we did not try because it is very expensive and not so appealing (around 80 soles, 22€ for … a roasted guinea pig on a stick). Another specialty is the ceviche, a dish made with sea food, lemon, onions and spicy pepper. We tasted the rocoto relleno, a bell pepper stuffed with meat and cheese, chiccharón, fried pork, and lechón, baby pig. Other specialties are papas, local varieties of potatoes, several corn varieties (you will find many food stands selling popcorn for one sol), quinoa and plata (avocado) - all of them are local varieties stemming from Peru.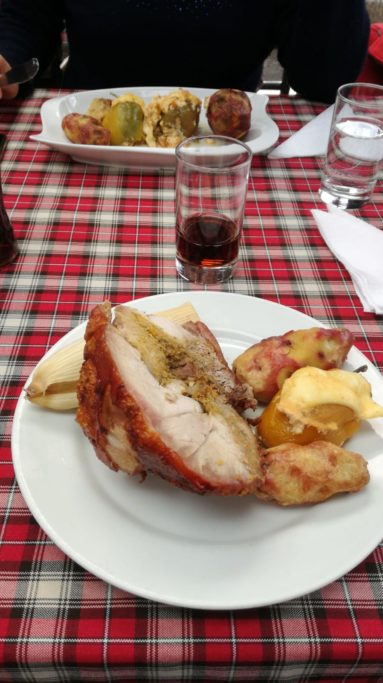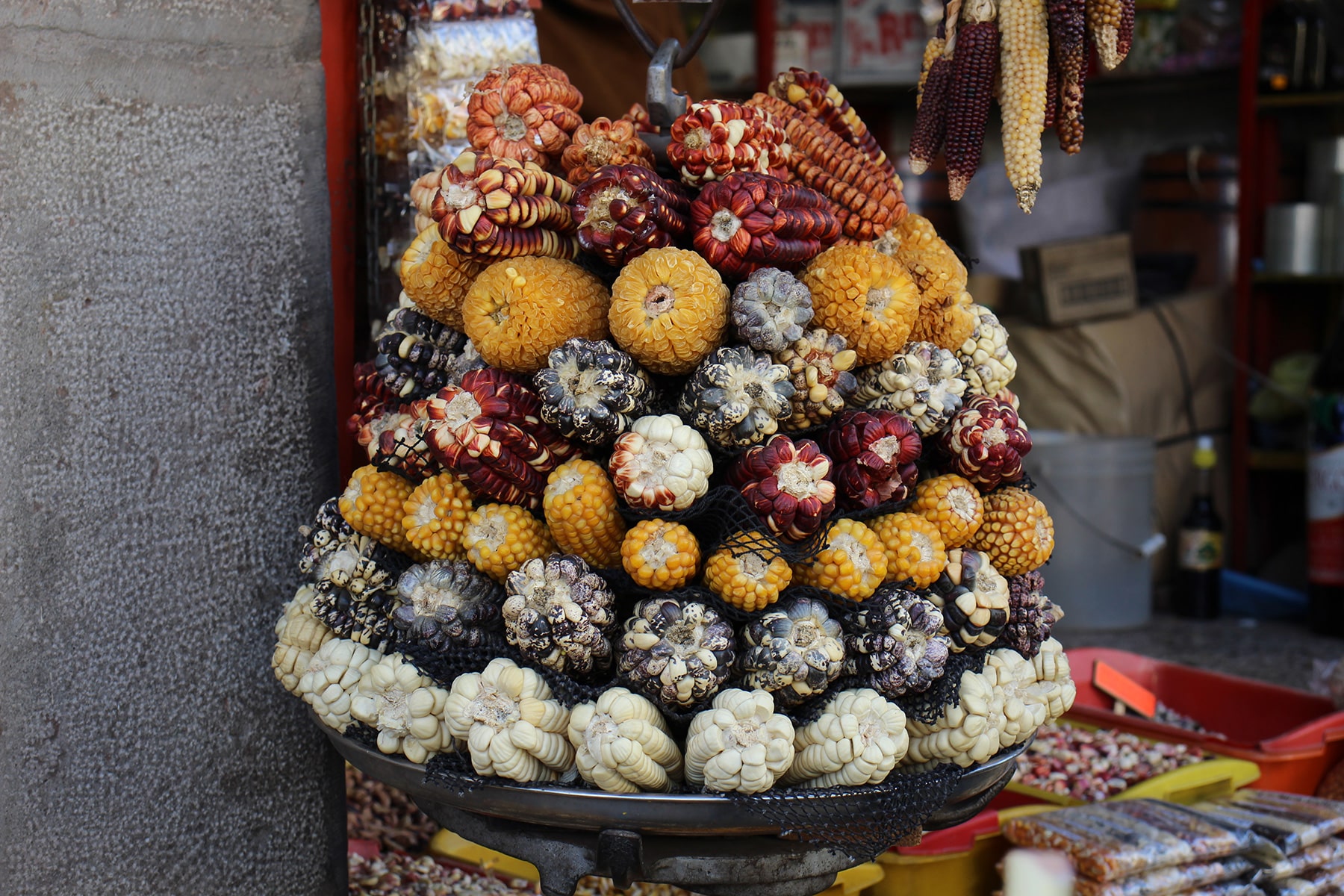 With corn you can also make drinks called chicha: it's a sort of corn beer with a sweet taste, which can be white or purple according to the corn variety used. Another very popular drink is pisco sour, made with pisco - a kind of grape brandy -, lime and sugar. And let's not forget the tea with coca leaves or the muña tea, a sort of Peruvian mint, both helping to fight altitude sickness.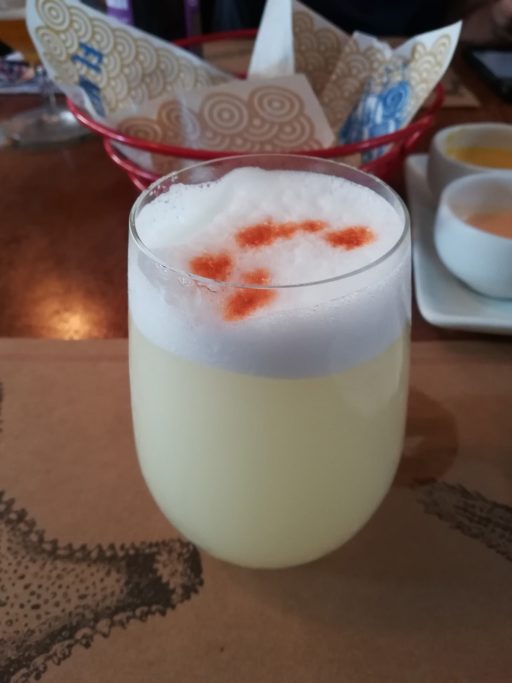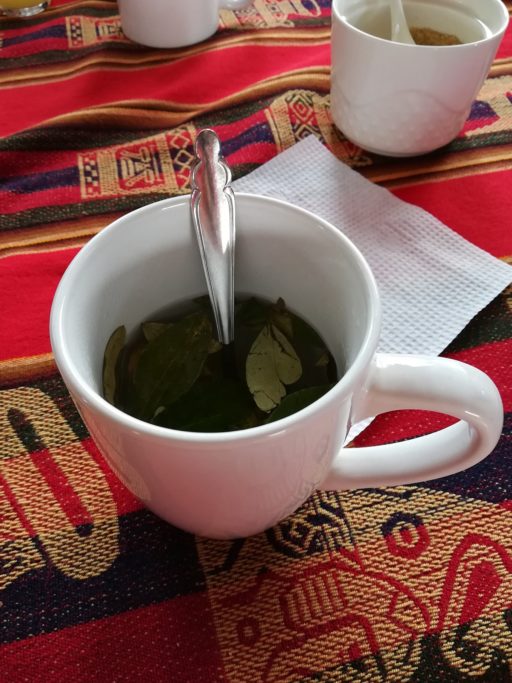 Lastly, we also tried alpaca meat which tastes a little bit like lamb to us.
We have noticed that two types of restaurants exist in Peru: a cheaper kind offering a fixed menu and a more expensive kind offering revisited versions of traditional Peruvian dishes. The former are little restaurants with menus ranging from 9 to 15 soles, including dishes such as caldo de gallina (a chicken broth/soup), a main dish, a dessert and a drink such as chicha.  They give bountiful portions and simple but tasty dishes for very very cheap.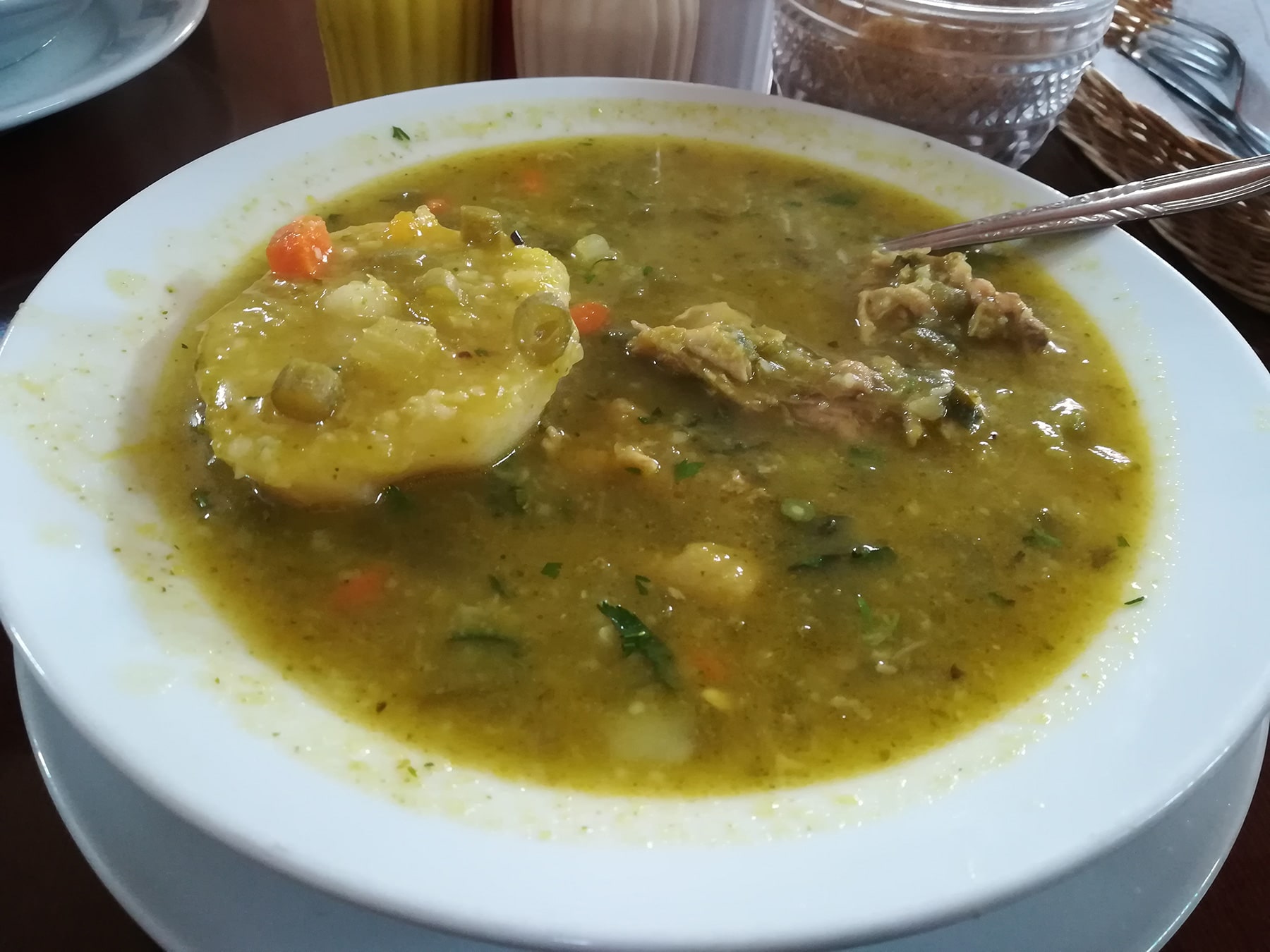 Then there are more sophisticated restaurants with 'European' prices offering modern and delicious dishes; we recommend the Zig Zag restaurant in Arequipa and the Chicha restaurant in Cuzco.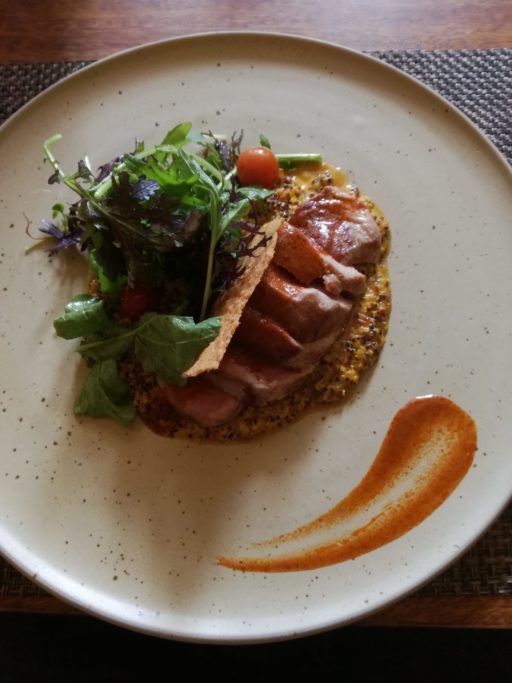 Prices are a lot higher in very touristic areas such as Aguas Calientes, close to Machu Picchu.
Average price restaurant / each (drink included): 75.7 soles (±21€)
Average price basic restaurant / each (drink included): 25 soles (±6.9€)
Average price fancy restaurant / each (drink included): 118 soles (32€)
We took night buses to travel long distances between cities. From Lima to Arequipa we chose a company called Oltursa, which we booked online. We travelled first-class with seats reclining down to 180° and they provided us with dinner and breakfast. In front of the seats there was a screen with a film selection. A ticket cost 158 soles (43.8€) and the trip lasted 17 hours.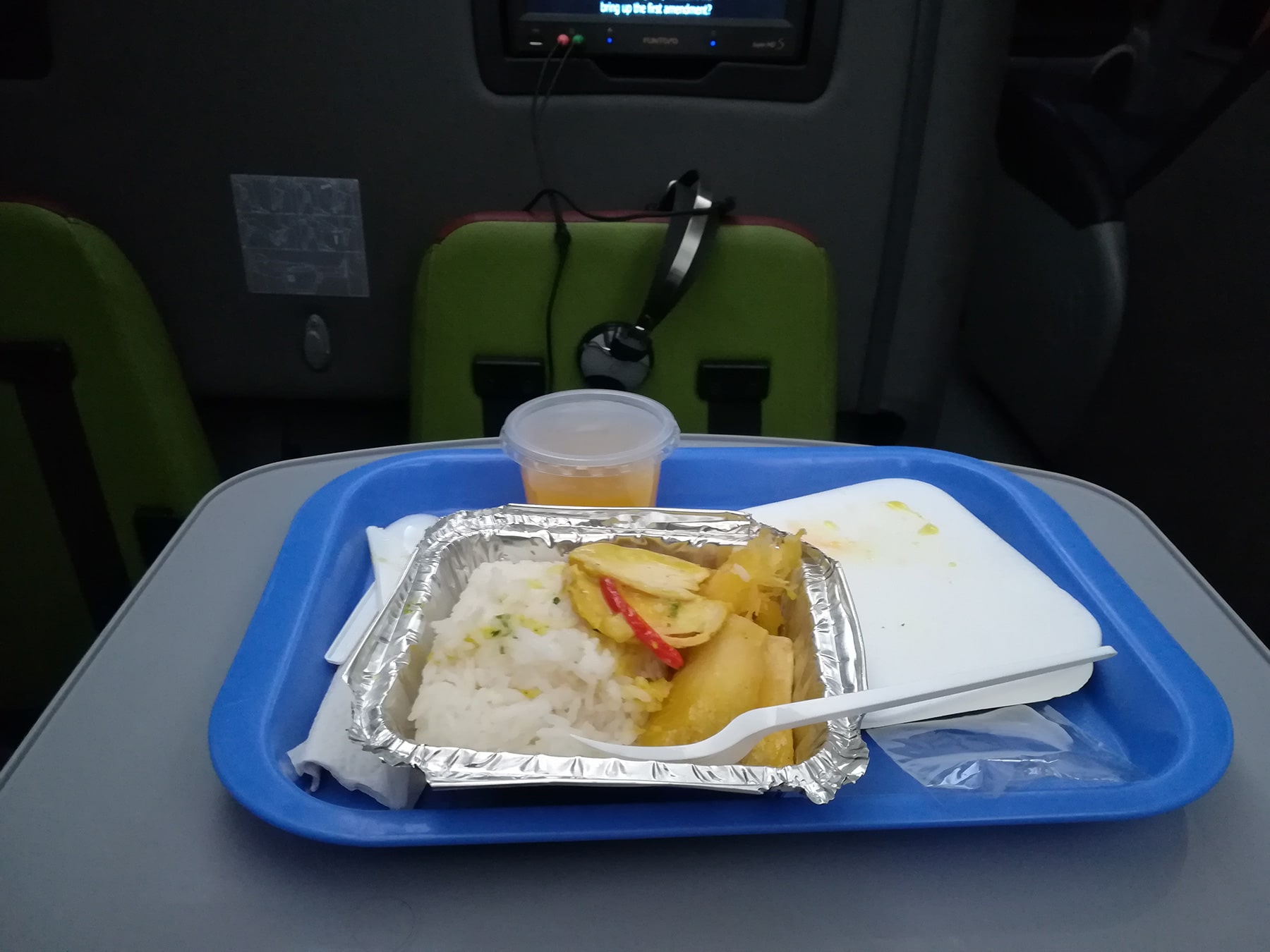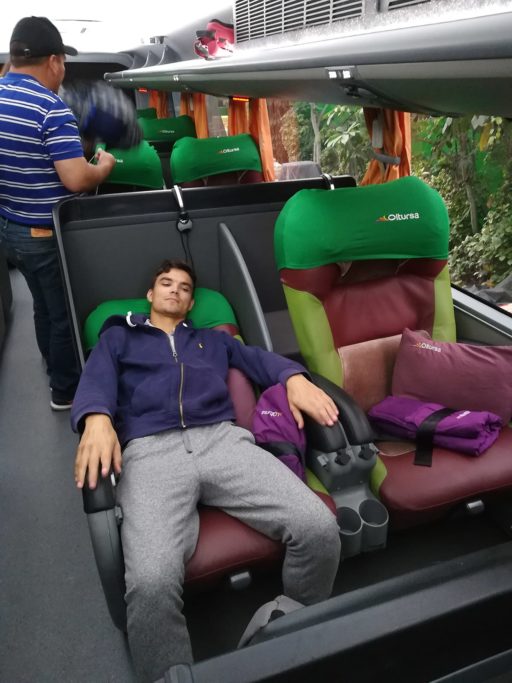 For the trip from Arequipa to Cuzco we chose a company called Cruz del Sur which we found to be less comfortable than the first one. Dinner consisted in only a small sandwich and the seats were less comfortable, but overall the trip was good. We paid 142.5 soles (39.5€) for a 10-hour trip.
To go from Cuzco to Lima we took a plane with a company called Avianca. We had read some very bad reviews on other plane companies offering a cheaper price for the same trip, but we didn't experience any problems with Avianca. We have noticed that the flight prices on the website in English were higher than those on the Spanish website; we don't know if it was a coincidence, but it's worth taking at look at it. We paid 54€ each for a 1:30-hour flight.
We always took the taxi for long distances within the cities. An average trip from the bus station to the city centre costs around 8-10 soles and taxi drivers usually do not increase prices too much for tourists and are very friendly. Be careful when taking a taxi: take only official taxis with the licence plate number painted on the doors and sides. To avoid any problems, book a taxi with your hotel to travel to and from Lima airport.
Security
In Peru, like in many South American countries, it is best to avoid certain areas: check on your guide or ask local people. Avoid the area around Lima airport. Be careful with taxis; as we mentioned in the previous paragraph, only take official taxis with the license plate numbers painted on the side doors. Do not show off bags or cameras when you're walking around at night.
Peruvian people were lovely and very friendly, ready to help us whenever we needed. The only problem we had was with a laundry shop which lost some of our clothes: we had to fight a little bit to make them reimburse us for the laundry and some of the lost clothes. 
USEFUL ADVICES FOR CASH WITHDRAWAL AND EXCHANGE
Many banks apply very high commissions for cash withdrawal. According to our guide, Banco de la Nación was the only bank which did not apply commissions, but many foreign cards (like ours) did not work there. We had read that BCP bank allowed one free-of-charge cash withdrawal, but in the end we managed to withdraw there every time without any commission, taking out a maximum of 700 soles (195€) each time. We exchanged money in Lima in an agency in the Miraflores neighbourhood in José Larco boulevard, where they had a good exchange rate without commission.
TIPS FOR SOUVENIRS
Plunge in the markets of Arequipa and Cuzco to buy a typical Peruvian sweater; they will tell you that they're made of alpaca mother wool, but it might be a mix of alpaca wool and synthetic fibres. You can distinguish them by touching the fabric: alpaca wool sweaters should feel cold to the touch. If you're brave enough, buy a scarf made of baby alpaca wool in a market or in a shop, although you might end up paying a lot for it in a shop. Somebody told us that the city of Chincheros is the ideal place to buy alpaca wool clothes, but it was already too late for us. Lastly, Peru also makes the most refined fabric in the world: vicuna wool - a very small wild camelide - whose price is obviously very very high.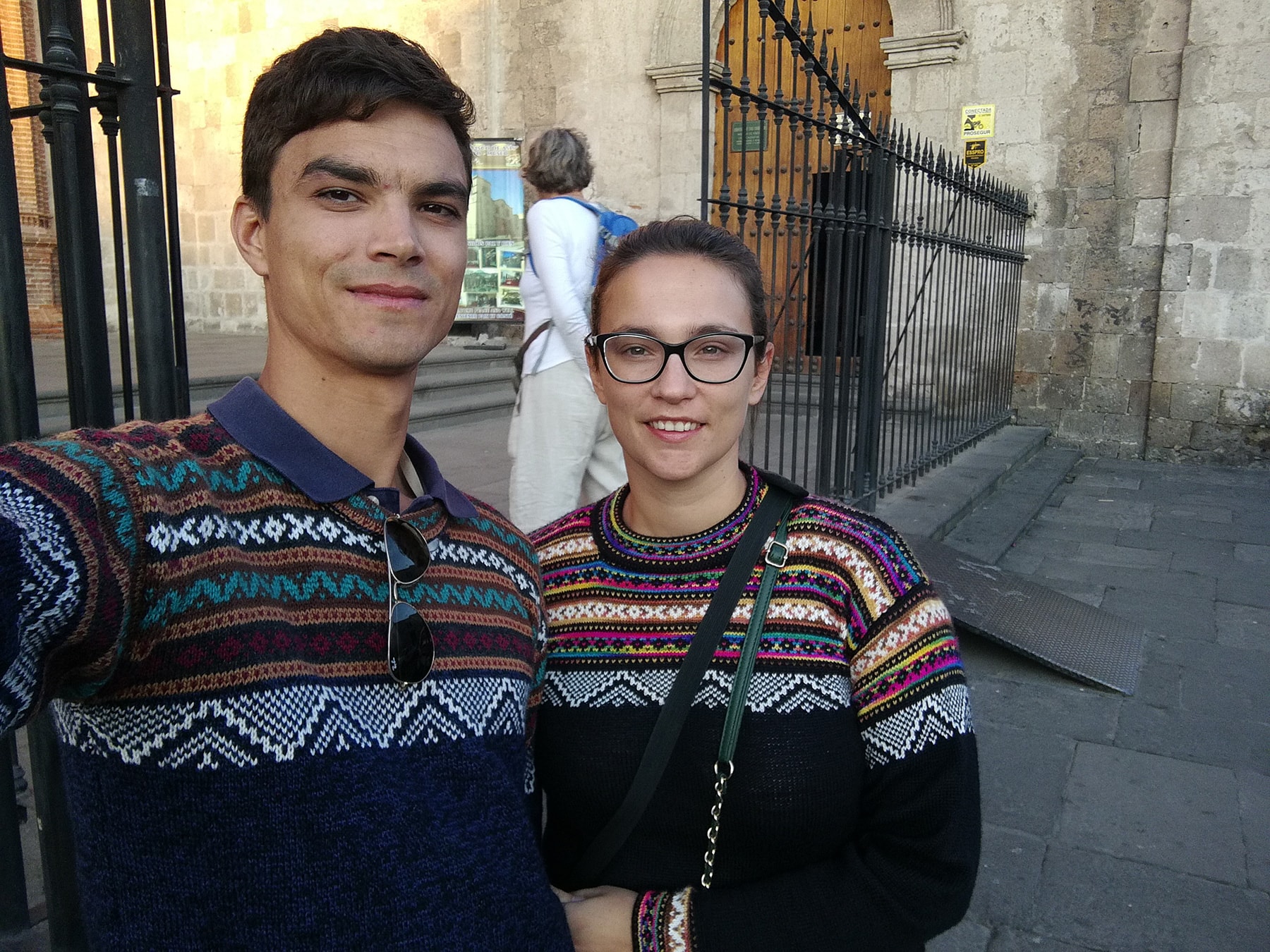 Here are our useful tips for an incredible two-week trip to Peru. We wish you an amazing trip!