In the month of November 2019 we went on a two-week trip to Peru. It was our first time in Peru and in South-America in general and we didn't know anything about the Inca Trail, so we had to do a lot of research before leaving. Let's see what the Inca Trail is, how you can organise the Inca Trail and let's try to answer some questions that we also had before leaving. If you are also interested in reading a story of our Inca Trail, of the Inca sites and of Machu Picchu, don't forget to check out our article on the Inca Trail day by day.
What is the Inca Trail?
The Inca Trail is a 45-km hike starting at km 82 close to the city of Ollantaytambo and finishing at Machu Picchu. The whole track can be covered over 4 or 5 days and it includes three mountain passes of the Andes (Dead Woman's pass at 4,200m, Runkuracay at 4,000m and Phuyupatamarca at 3,680m). This track used to be a pilgrim route that Inca people or Inca messengers took to reach Machu Picchu; many places of worship or priests' houses were built along the path, where people used to stop to rest or pray. The stone path - which is for the most part still the original one - is surrounded by blooming vegetation: luxuriant jungles, huge valleys with breathtaking views, majestic snow-clad mountains. Along the path trekkers can detect the presence of deities such as Pachamama - mother nature -and Apus - the mountains - adored by the Incas; we offered them coca leaves or the first mouthful of a meal, as Incas used to do as part of a typical thanksgiving ritual.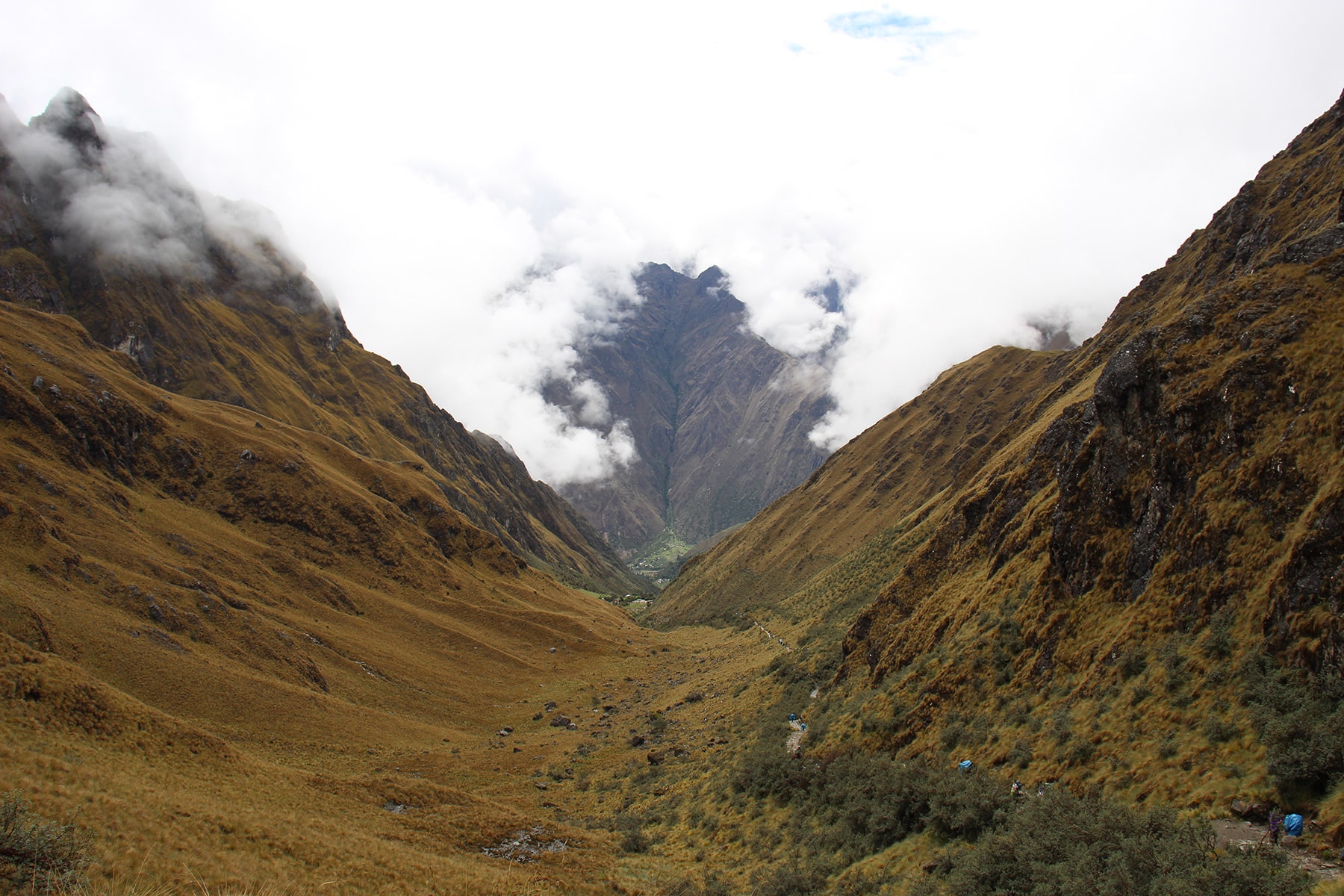 Is it worth it?
This is the main question that aroused in our minds before leaving: is it worth spending all this money for a trek or is it a tourist trap? As a matter of fact, the Inca Trail costs on average 650-750$ for a 4-night trek in a 16-people group and the price skyrockets if you wish to have a private guide.
Investing such a high sum of money in just one activity was obviously quite worrisome, but we must admit that it was totally worth it. It is one of those activities that you do once in a lifetime and we told ourselves that, since we had come such a long way, why not having this unique experience?
It is a prohibitive price for many people: luckily there are alternative treks which are way less expensive, which you can also consider if the Inca Trail were to be sold out. The most famous one is the Saltankay Trek, priced at around 350-400$; we cannot give any information on this trek, though, since we did not do it. Some people hike this trek even without a guide, but we recommend looking well into it before doing it on your own. Before leaving, remember than the Inca Trail is closed for maintenance for the whole month of February - the month with the heaviest rains.
Which agency should I choose?
First of all, remember that you have to book the Inca Trail well in advance. If you plan on going to Peru in high season, e.g. summer months, book the Inca Trail 6-7 months in advance. If you go during the low season, there is far less demand; we booked roughly one month in advance. This is because entry to the trail is restricted to 500 people per day, including agencies' staff, to avoid overcrowding. Once you have booked with an agency, they will contact government authorities and ask for an entry permit on your behalf.
Choosing the agency for the trek is without a doubt the most difficult part to organise. The success of the trek depends on this choice, so take all the time you need. Looking on the internet, you can find a lot of agencies with different prices. How can you go about choosing an agency which can guarantee a good experience? We adopted a multilateral approach, using all communication channels at our disposal: Lonely Planet guide, online blogs and reviews of the agencies. We took the agencies recommended on the Lonely Planet guide and carried out a cross search on all sources; we then created the classic 'pro and cons' list for each agency. Little by little we eliminated those agencies that had negative reviews, prices which were too high for us or which didn't reply to our e-mails. We were looking for an agency which could offer a good balance between reasonable prices, respect for employees, especially porters, and respect for the environment. That's because, even though Machu Picchu is one of the most visited archaeological sites in the world, its region is still one of Peru's poorest. Many young people from local communities work as porters in the agencies. They carry bags, tents and all necessary material on the trek, where animals like mules are forbidden in order to preserve the path. You can also check on their websites to see whether agencies organise activities to support local communities, but make sure to also check online reviews to see how staff is really treated.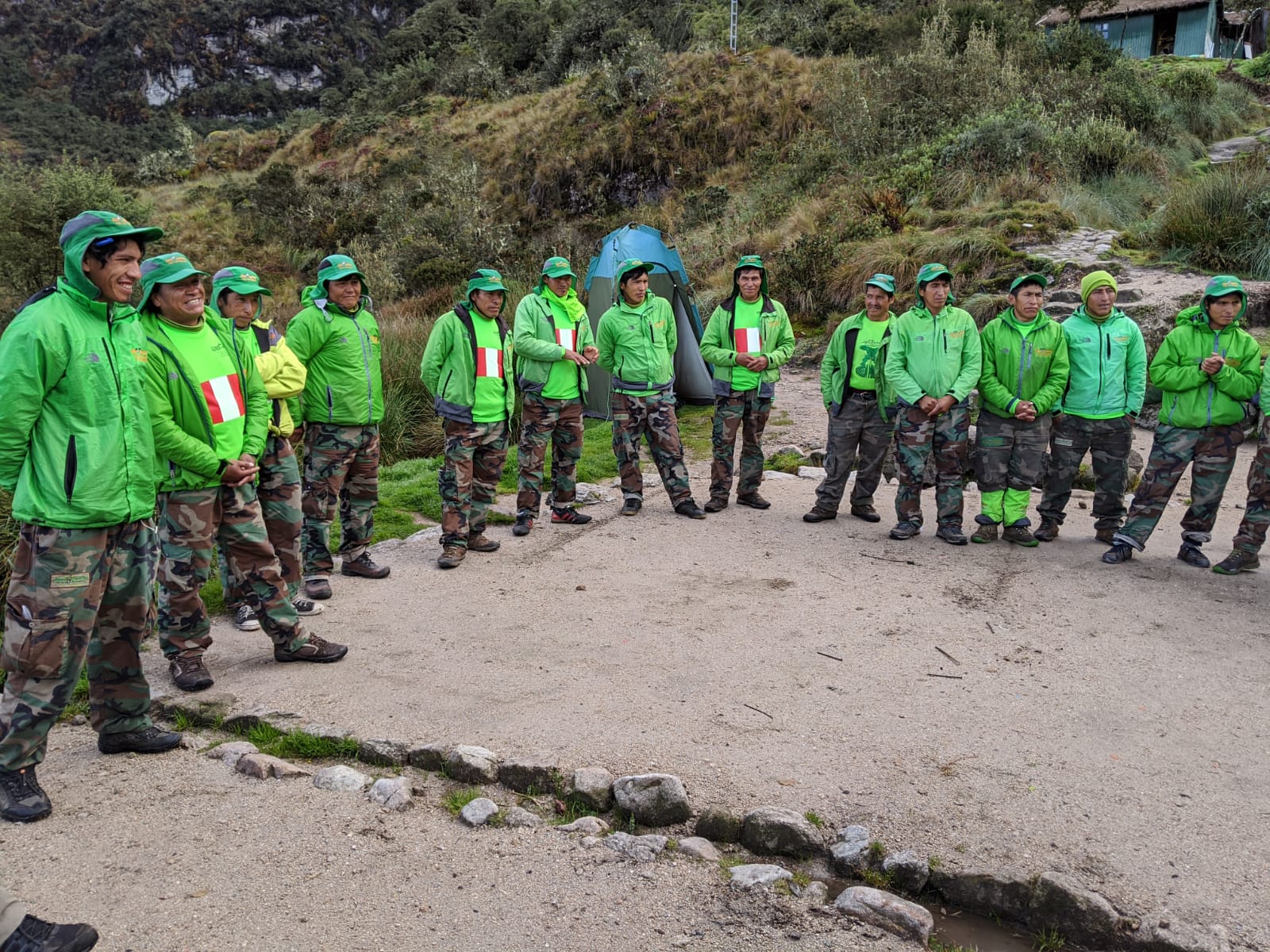 In the end, we chose an agency called Alpaca Expeditions, whose price also included porters (even though the price wasn't too low as to suggest potential exploitation). If it can be of any help, these are the three agencies with made it to the top of our list: beside Alpaca Expeditions, Wayki Trek and Llamapath. We had a very good experience with Alpaca Expeditions, with both our guides and the whole staff made of about 18 people who took care of building the tents every day before our arrival and of making delicious meals.
Agencies also rent several accessories, such as hiking poles, inflatable mattresses and sleeping bags. We didn't have enough room in our bags to bring all of this stuff from home, so we rented sleeping bags and hiking poles which we highly recommend, seeing the gruelling rocky descends which are particularly bad for the knees. We didn't rent the inflatable mattresses, since our agency gave us a foam mattress which was enough for us. You'll attend a meeting the night before the beginning of the trek, where they will give you a duffel bag which you will have to fill with everything you need for these four days. Read the question 'what should I bring?' to see what you should put in the bag and what you need during the Inca Trail.
Our package included the panoramic train ticket which brought us from Aguas Calientes close to km 82; agencies also offer the option to travel first class in more comfortable seats with bigger windows to admire the view. We didn't choose this option and we do not regret it. You can see the view from the many windows of second class; the train is very comfortable and quite luxurious (it's only for tourists) and after four intense days of trekking, you will surely fall asleep at some point, wasting the extra 50-70$ that you had to pay for a better view.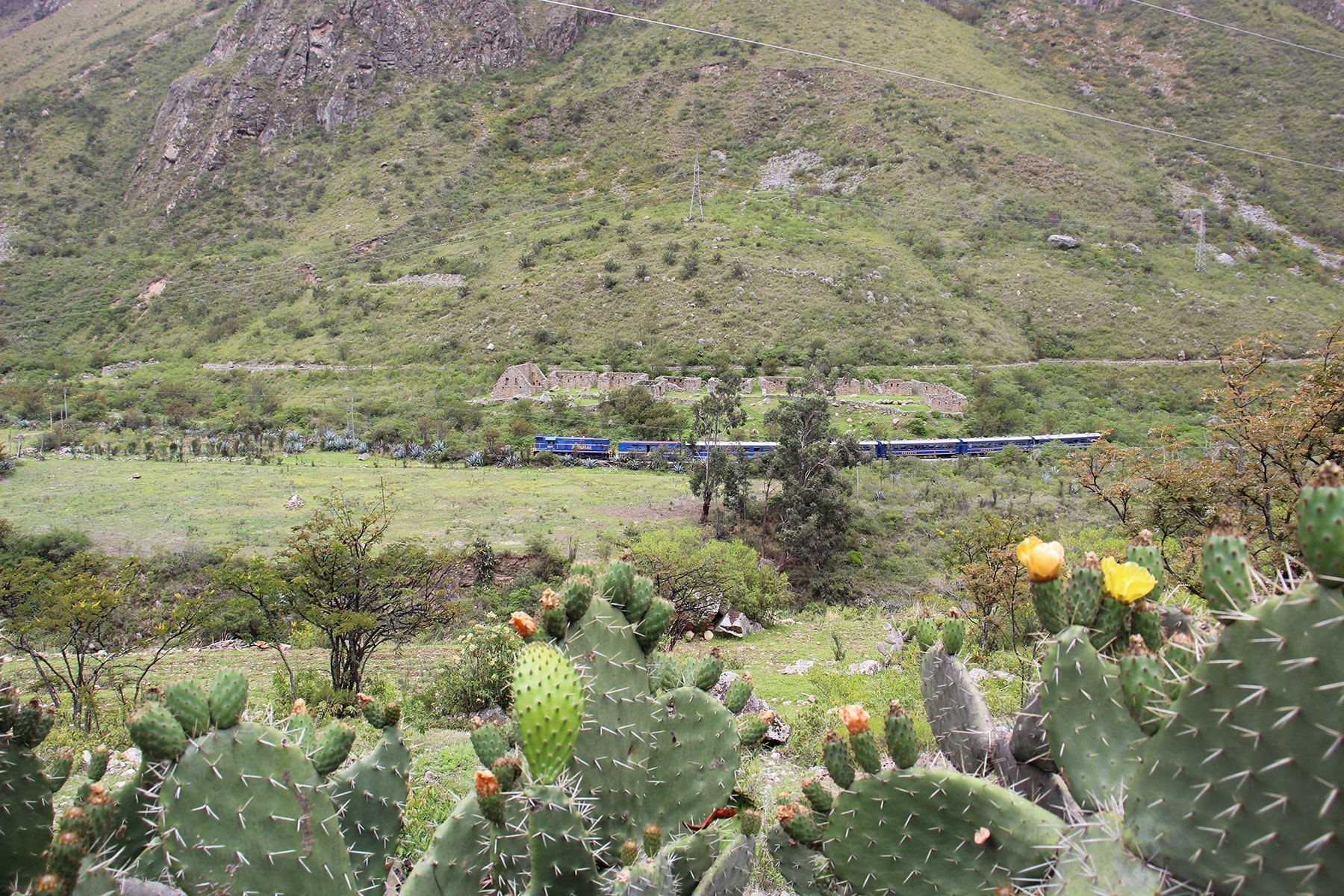 Another optional activity that agencies offer is the additional trek to Wayna Picchu, the mountain that you see on all classic pictures of Machu Picchu. Paying an extra fee, you can climb the mountain and get an unusual view over Machu Picchu ruins. It is required to reserve in advance, you cannot decide once you are there. We didn't do it; if you want to do, just keep in mind that you will be tired after four days of trekking and the Wayna Picchu trek shortens your Machu Picchu visit.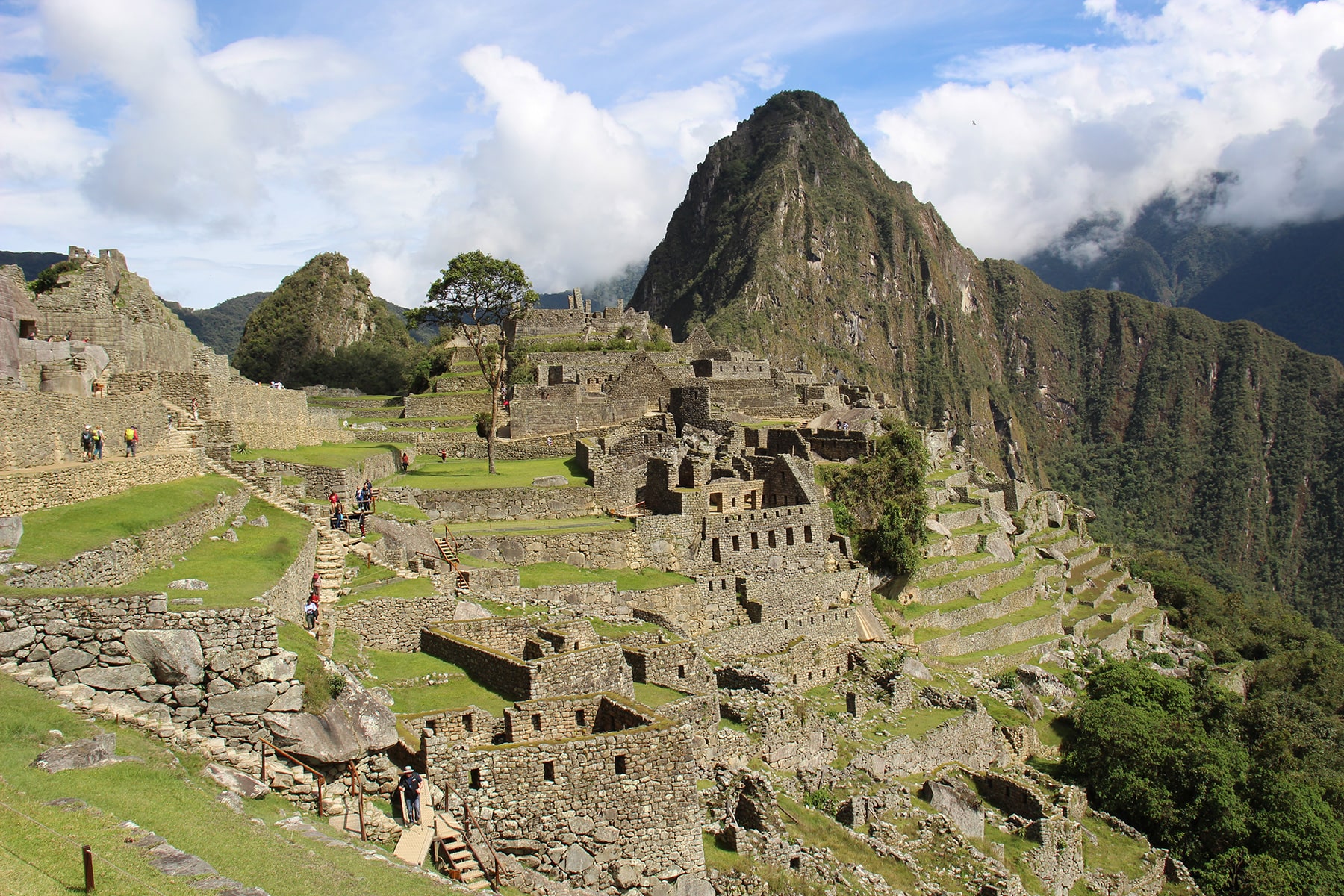 Where do I sleep? Are meals and drinks included?
During the Inca Trail you sleep in a tent; our agency provided each couple with green four-person tents. The tents were thus very big and we could also fit our bags inside. Agency's employees carried the tents and built the camp before our arrival every day. Upon arrival, our tents were built, our bags were placed in front of them along with a basin of lukewarm water to clean our faces and hands (or armpits).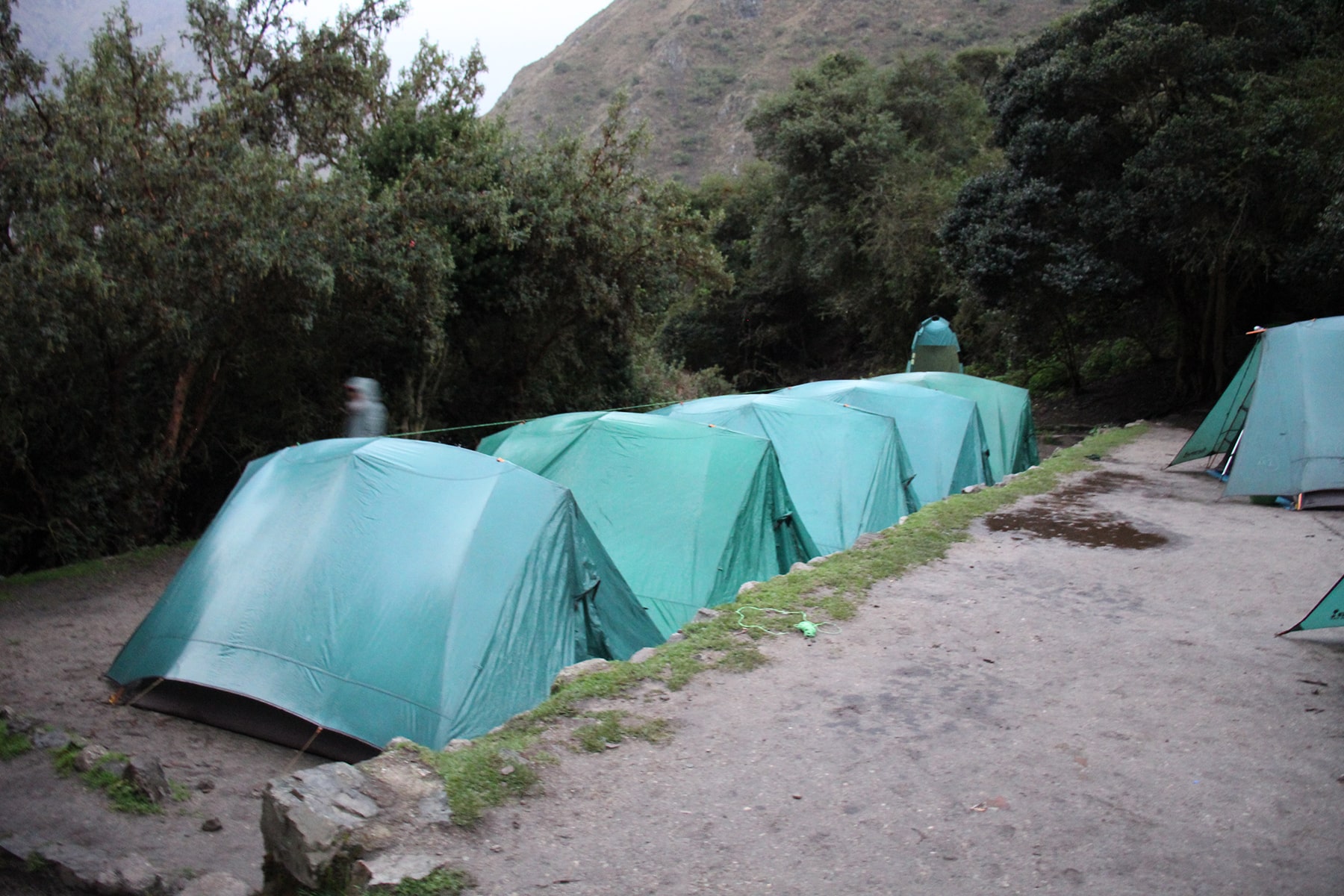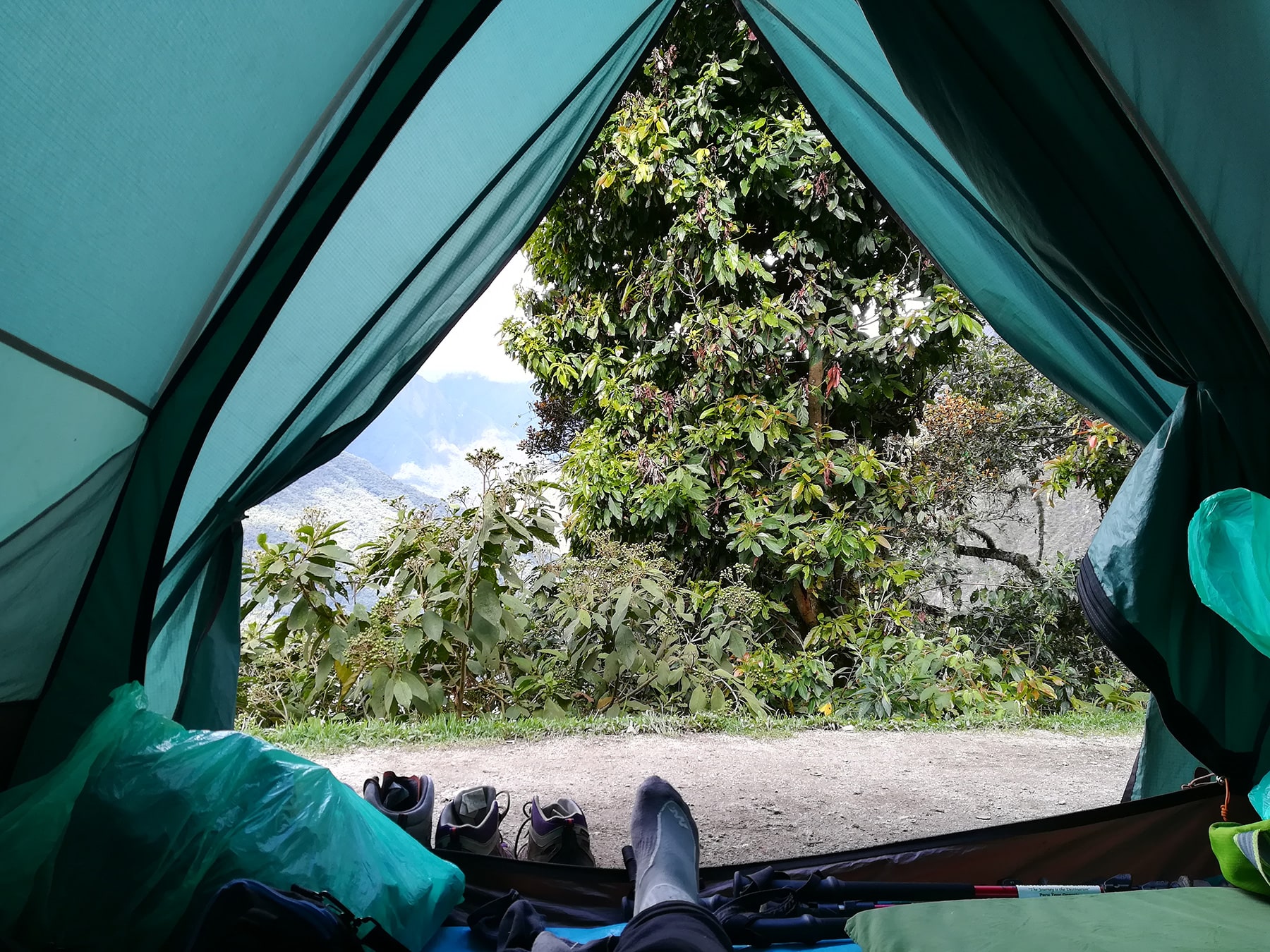 There is then a bigger tent, divided into two sections: in the smaller part there is the kitchen and in the biggest part there is a big table around which the whole group seats during meals. All meals are included in the price, except lunch on the last day, which will be in a very touristic restaurant in Aguas Calientes. We have to say that, just like we had read in almost all reviews, the food was really exceptional. Not only was it delicious, but it was also extremely varied and portions were really big. At lunch and dinner time, they cooked 6-7 dishes belonging to Peru's traditional cuisine, as well as different options for vegetarians. After having reached the campsite at around 5-6 in the afternoon, we also had a happy hour with tea with coca leaves and muña (Peruvian mint) - both really effective against altitude sickness - along with popcorn, made from local Peruvian corn.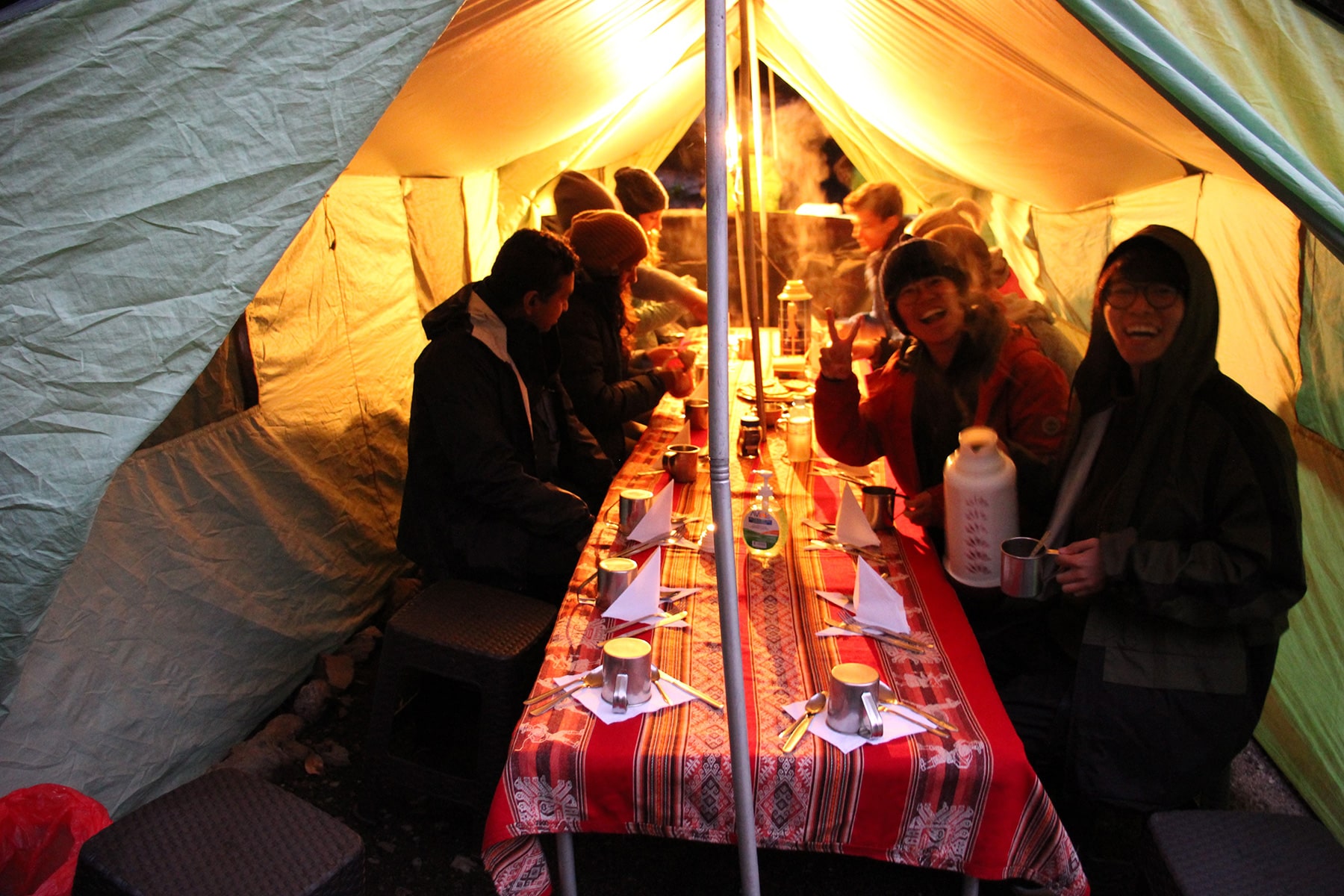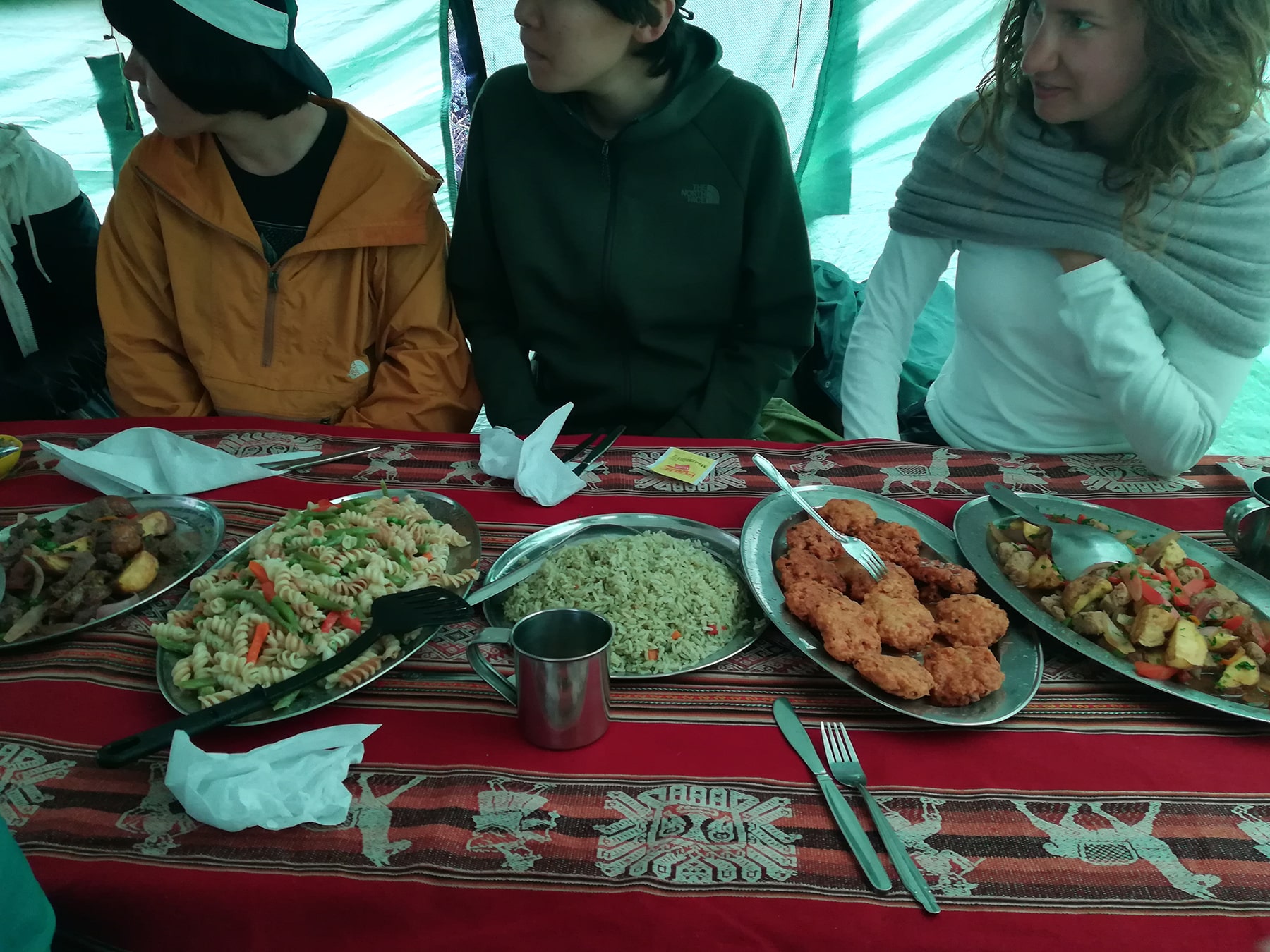 As usual, we celebrated the last evening on the Inca Trail with a cake made by our chef. It is incredible how he can cook in such narrow spaces, such as tents or accommodation facilities along the path, and with limited material.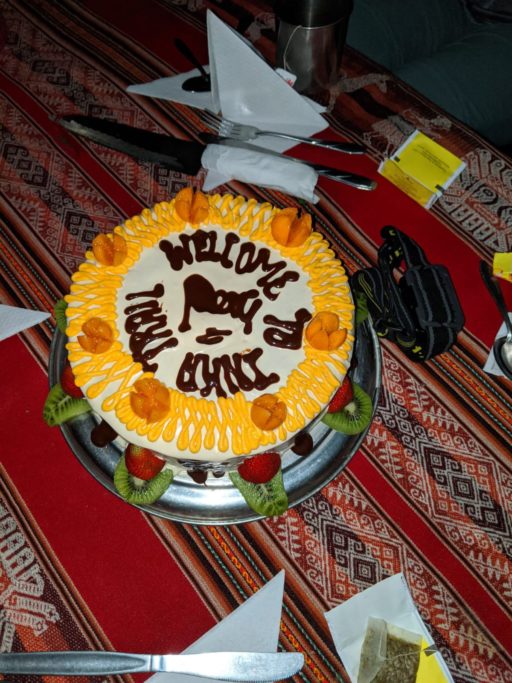 Drinks are also included. Every day after breakfast and lunch, you can fill your bottles from a tank of boiled water, so that it can be safely drunk. We could take two litres each both times. It is important to keep well hydrated with water and tea to fight altitude sickness. On the first two days of the hike, you can also stumble upon small local shops selling snacks and drinks.
What's the toilet situation?
At the time of our trip, Alpaca Expeditions was one of the few agencies providing a portable toilet. It is a small tent located slightly outside the campsite with a little chemical toilet. Plus, agencies settle their campsite next to facilities which include toilets, sometimes in good, sometimes in bad conditions, without toilet paper. The campsite on the third day had showers with freezing cold water (Florian managed to shower, but Marianna didn't have the courage to and preferred staying smelly one day longer).
What did we bring with us? (clothes, medicines etc.)
On the evening before leaving for the hike, we met at the agency headquarters in Cusco for a preparatory meeting; they gave us a duffel bag for our clothes and belongings. This bag shall not weigh more than 7 kg; it will be weighed at the beginning of the trek and you will have to carry all the excess weight in your small rucksack, so be careful. You can access this bag only in the evenings, since it will be carried by a staff member during the day.
Apart from what we were wearing (i.e. sports trousers, a cotton t-shirt, a fleece sweater and a light wind breaker, and trekking shoes, very important!), we put in the big bag (remember that our trip to Peru was in the winter time):
1 heavy pyjama
underwear and trekking socks
3 spare cotton t-shirts: 2 with short sleeves and one with long sleeves (the agency will give you a colourful t-shirt on the last day to wear upon arrival at Machu Picchu)
1 heavy sweater
1 spare pair of sports trousers
1 small toiletry bag with cream samples, toothpaste and toothbrush, insect-repellent spray (which we didn't use), wipes.
Remember to put your clothes inside plastic bags, since duffel bags are not completely waterproof. Sleeping bags and a small pillow that the agency will give you on the first day will have to fit in the duffel bag; they take up around half of the room so don't overfill the bag.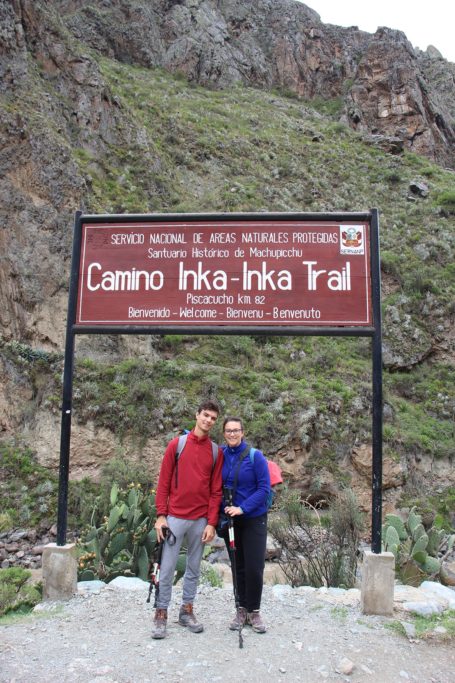 In our small rucksack which we brought with us during the day, we put:
1 canteen and one water bottle, some snacks
1 pair of gloves (waterproof would be better)
1 pair of rain trousers and one poncho (the agency gave us a green plastic poncho which easily broke and one cover for our bag)
1 small toiletry bag with sunscreen, plasters for blisters, anti-diarrheal tablets, painkillers, disinfecting wipes. One thing we did not have, but which could be helpful in case of dehydration, is rehydrating electrolytes
toilet paper
There is no electricity on the hike, so bring spare batteries for your camera or one power bank for your phone.
Which documents and how much money should we bring with us?
Remember to bring your valid passport with you; it must be the same one with which the agency requested the entry permit, otherwise they won't let you in. If you need to renew your passport after having booked the trail, like we had to, don't worry. You can book with your old passport number and once you get the new one, you will only need to tell the agency and they will update the entry permit with your new passport number. We recommend bringing both the old and the new passport with you just in case, even if they never asked us to show the old one.
You will only need money in the Inca Trail either to purchase water/drinks and some snacks during the first two days of the trek (after that there are no more stands) or to tip the agency staff. Count around 300 soles each for tips. You will need to tip your two guides and each staff member. It may be a bit weird for people like us that are not used to leaving big tips (culture wise, not because we are stingy!), but keep in mind that even if the trek is very pricey, staff members do not perceive extremely high salaries and often come from poor communities. Anyway, staff members and guides were so nice and extremely efficient, so they deserved all our tips.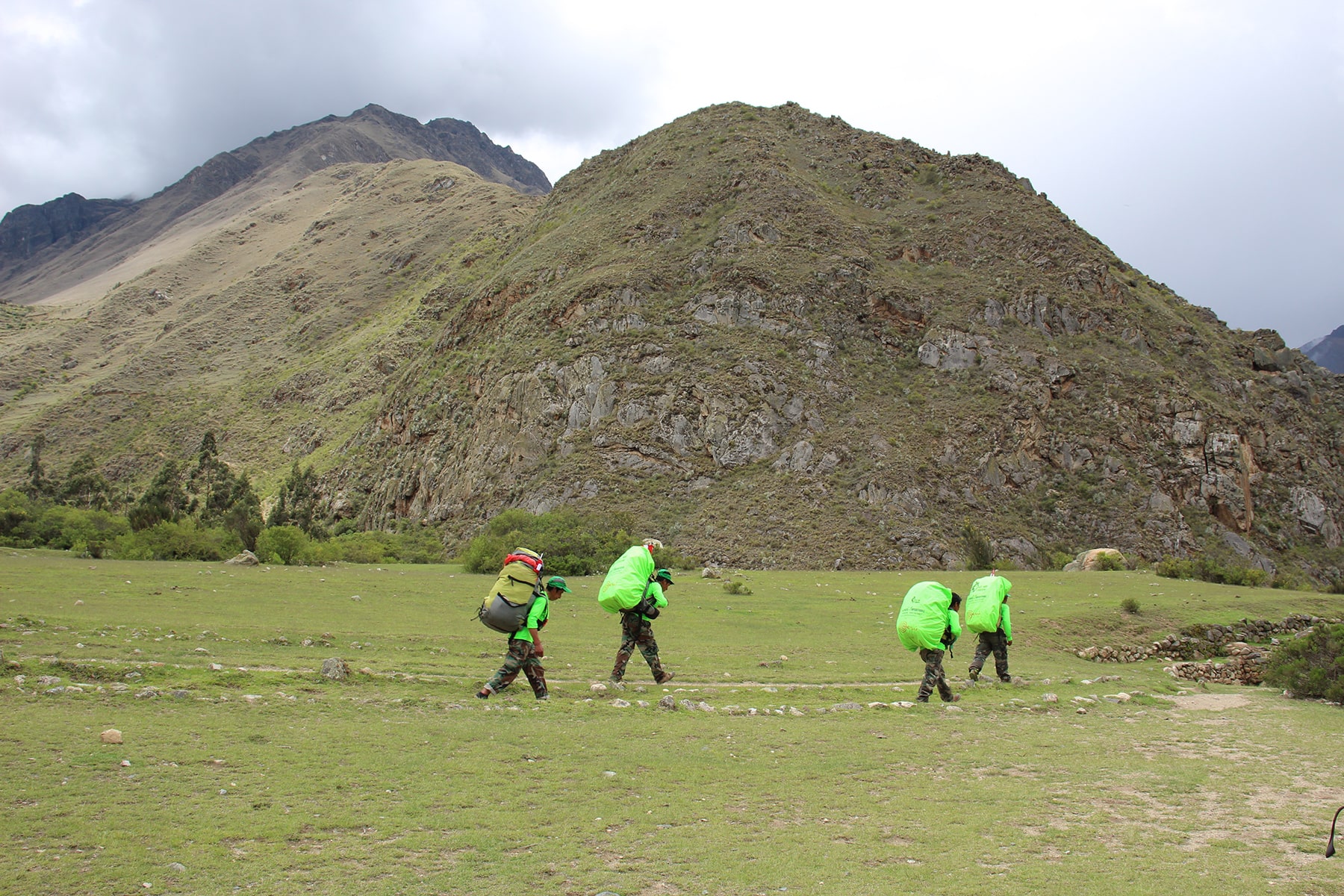 What level of preparation do I need for the trek?
The trek is 45km long and the main difficulty is altitude, as well as repeating the same effort over four days in a row. Before leaving for Peru, we hiked some hills wearing the same shoes that we were going to bring on the trek; it is especially important if you plan on wearing new shoes.
The most important thing to do is spending some days in Cusco before leaving for the Inca Trail, to get used to altitude. During our trip to Peru, we gradually increased altitude and we probably ended up struggling more during our trek in the Colca Canyon. On the second day of the Inca Trail you will have to reach 4,200m altitude; the higher you go, the shorter your breath gets and the heavier your legs become. Go at your own pace, guides will always wait for you.
Altitude sickness is a pretty serious illness; a couple of guys in our group experienced it for the first two days with strong headaches and some struggles walking. Another couple of guys suffered from a mixture of altitude sickness and food poisoning and they unfortunately missed the first two days of hike.
The hike is made of steep uphill and downhill; be careful for your knees and bring with you or rent hiking poles. That being said, if we managed, you can manage, too!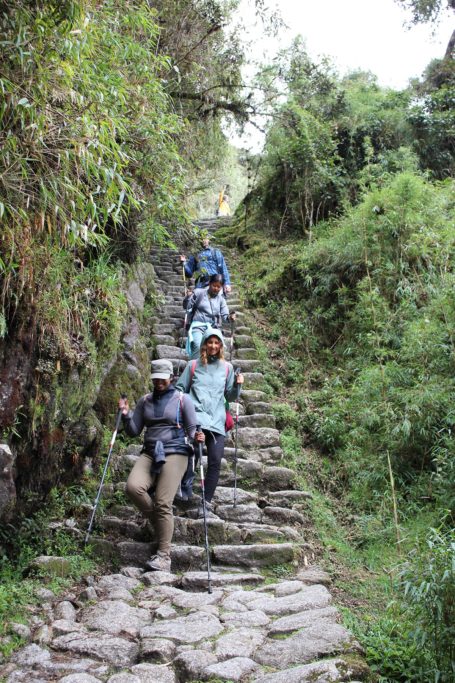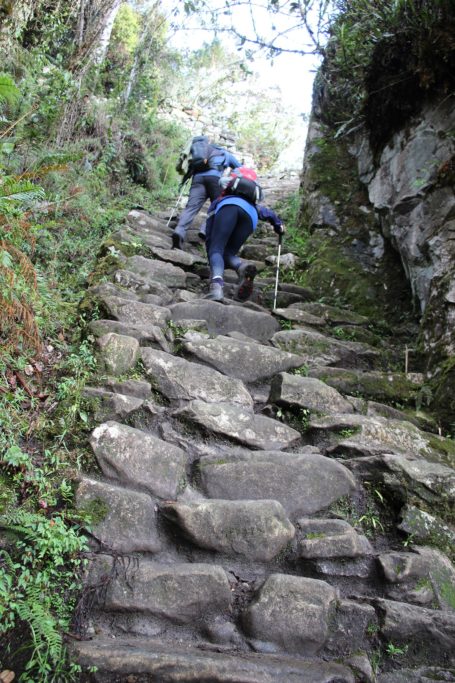 Conclusion
To sum up, walking the Inca Trail is one of those once-in-a-lifetime experiences. Landscapes are mind-blowingly beautiful, ruins are charming and you can breathe in the mystical air of the mountains. The guides will help you feel the sacredness of the place and arriving at the Sun Gate and seeing Machu Picchu will make for an unforgettable memory (even if it's covered by fog). The only downside could be that you might not feel at ease letting the agency's employees carrying your bags and heavy material. This is quite a thorny issue: on one side, young people from local communities get a job, but on the other side they always have to tend to the 'rich tourist'. Before leaving, we researched this issue and chose an agency which seemed to guarantee an equal treatment of staff members. Employees sleep in a house close to km 82 before leaving for the trail, they organise activities among themselves and go on a trip in February to visit Machu Picchu with their families. The agency also supports local communities, for instance building schools.
Anyway, we will never forget both their beautiful landscapes of the Inca Trail and the people that made it possible.